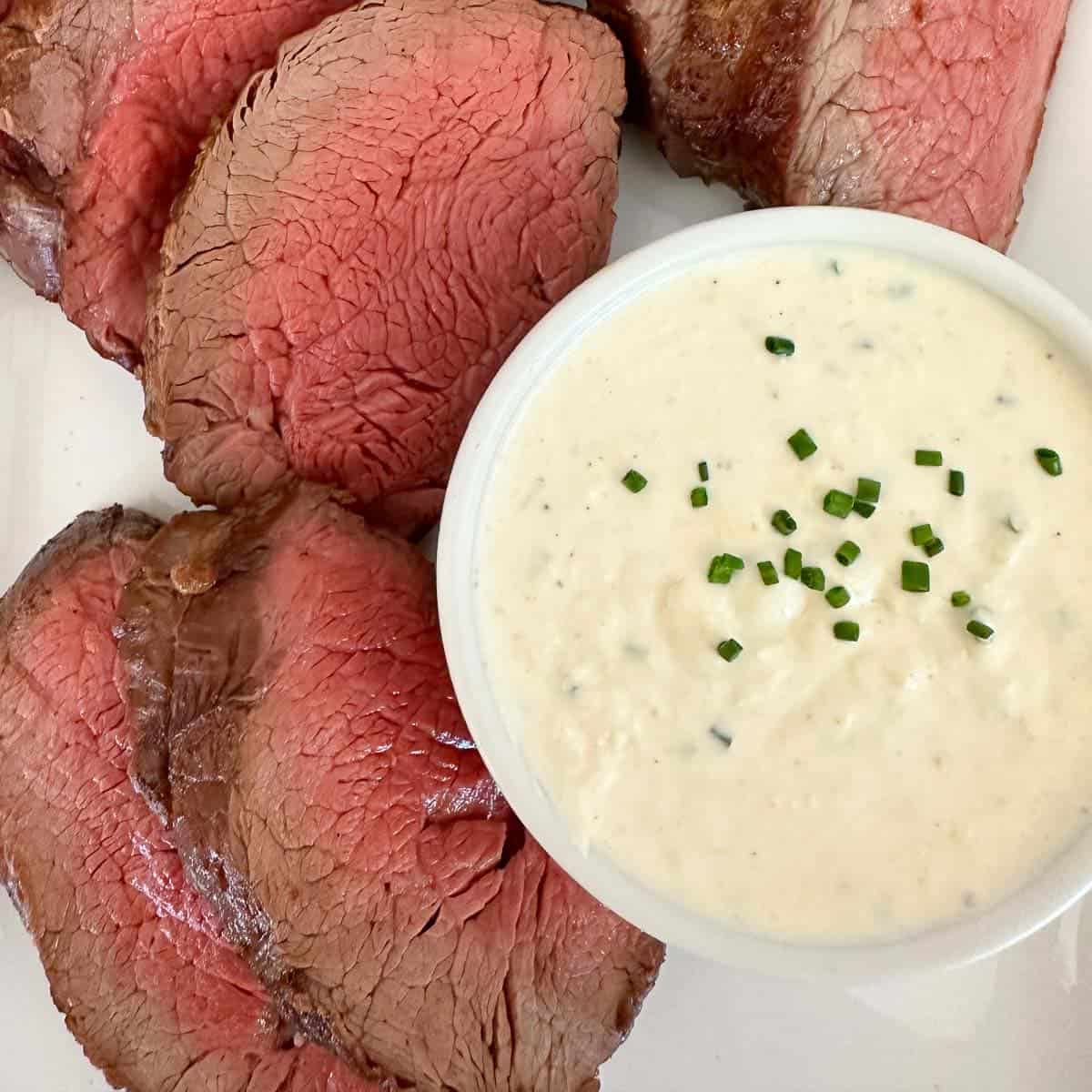 Recipe
Comments
Save
Go to Collections
This post may contain affiliate links. Please read my
disclosure policy.
When treating your taste buds to the epitome of indulgence, few dishes rival the elegance and flavor of a perfectly cooked beef tenderloin roast.
This classic centerpiece is more than just a meal – it's a culinary masterpiece that transforms special occasions into a memorable gastronomic affair. It's the perfect holiday main dish as impressive as a traditional prime rib roast.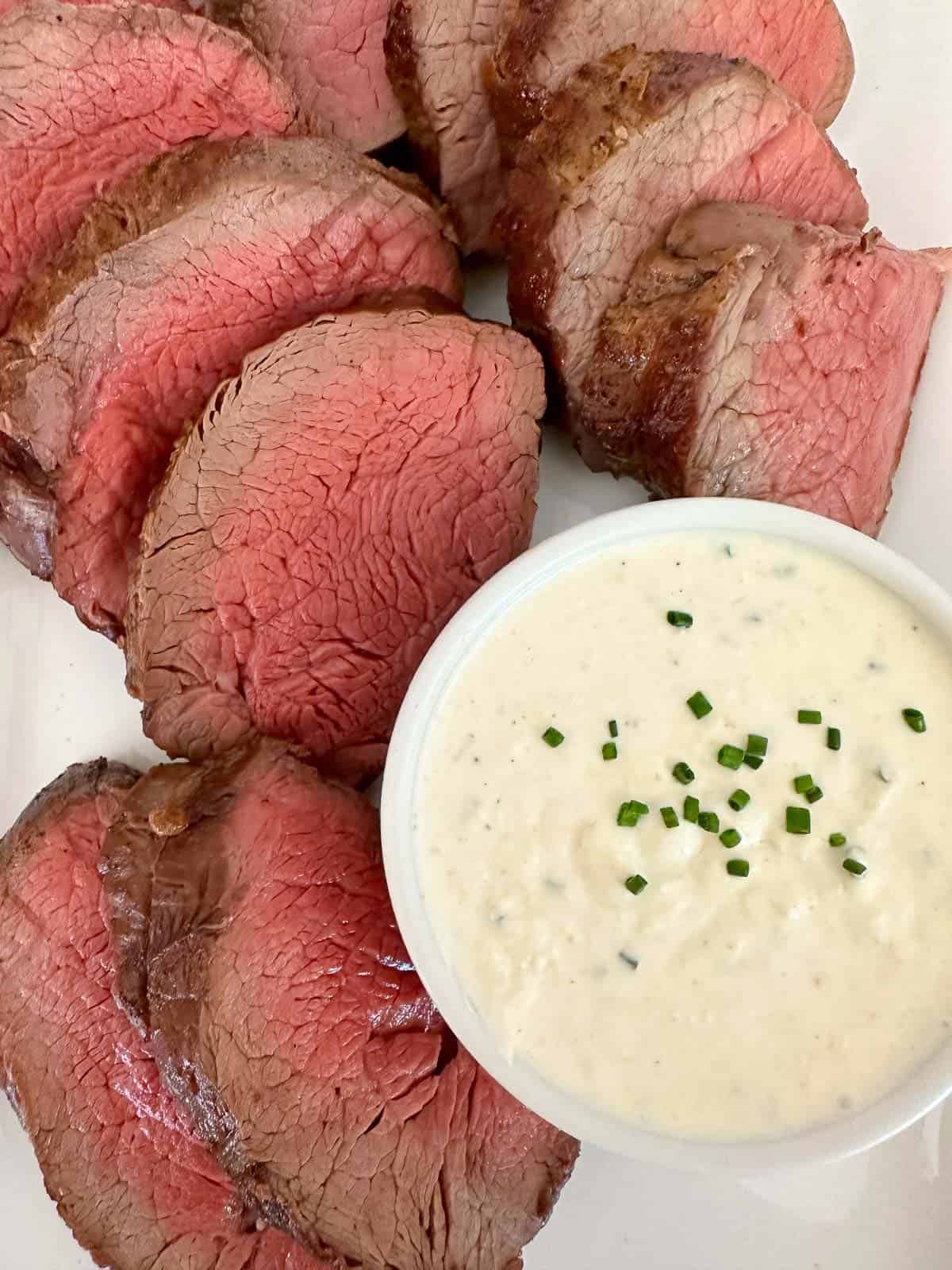 This comprehensive guide will walk you through mastering a beef tenderloin roast that's a tender, juicy, and savory delight.
Whether you're a seasoned chef or a passionate home cook, our step-by-step instructions and tips and tricks will ensure you can craft an exceptional beef tenderloin roast with resounding success.
recipe Techniques That Work
What Is a Beef Tenderloin?
Beef tenderloin, often called "Filet Mignon," is renowned for its unmatched tenderness and buttery texture. This coveted cut comes from the loin region of the cow, and its lean yet marbled nature makes it a prime choice for a roast that promises melt-in-your-mouth perfection.
The tenderloin roast is an impressive holiday centerpiece roast.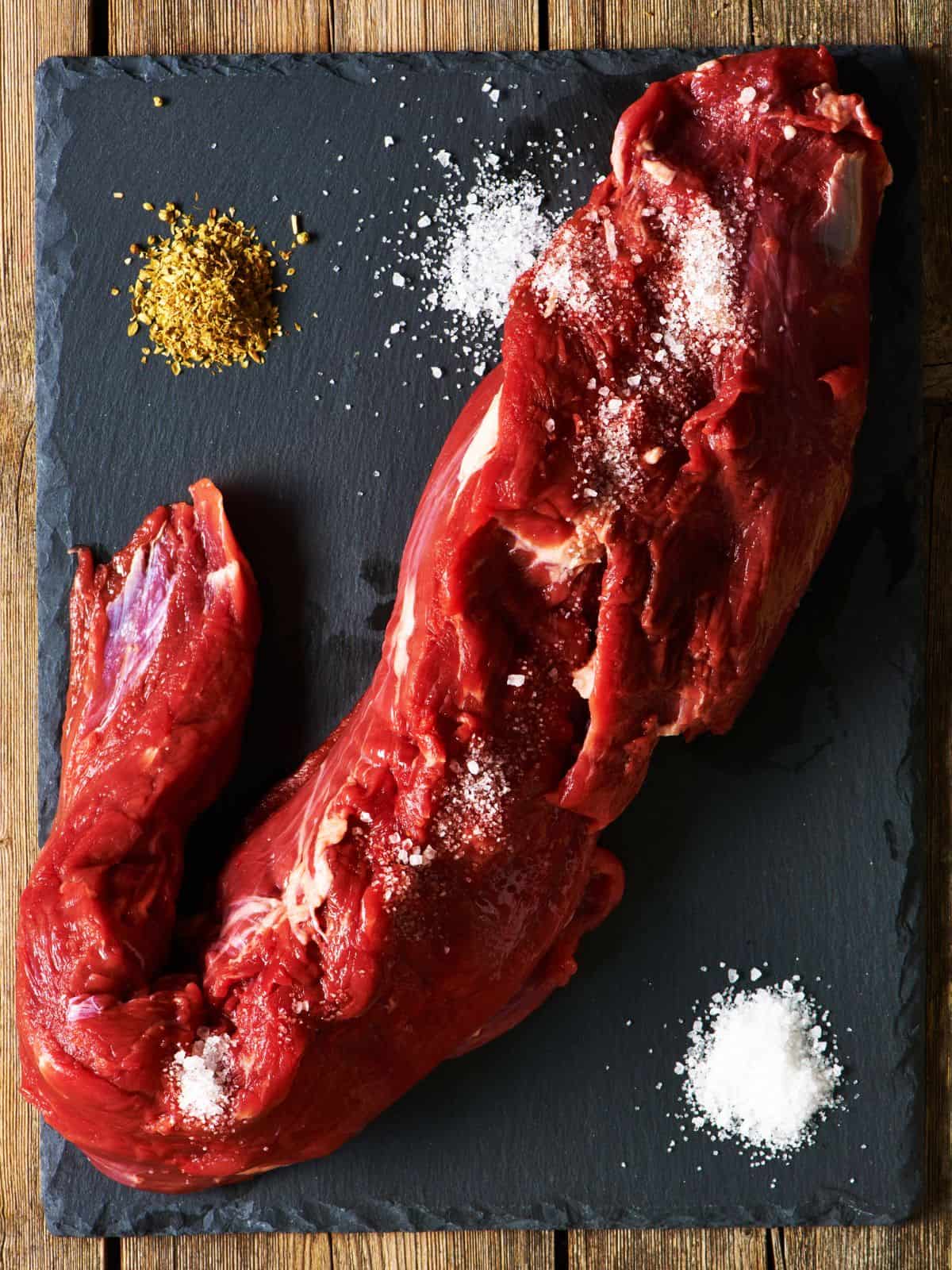 A full beef tenderloin roast is comprised of three distinctive parts
Filet mignon steaks are cut from the thick end of the tenderloin roast.
Chateaubriand is the center cut of the tenderloin. This part of the roast has the most flavor but still maintains the prized tenderness of the filet. When cooking for a smaller group, I ask the butcher to give me the Chateaubriand roast or the center cut of the beef tenderloin roast.
Beef tips: The end portion of the beef tenderloin is usually used when you see a recipe for beef tips. This part of the roast can't be used for steak cuts, so it is an affordable way to enjoy this tender cut of beef.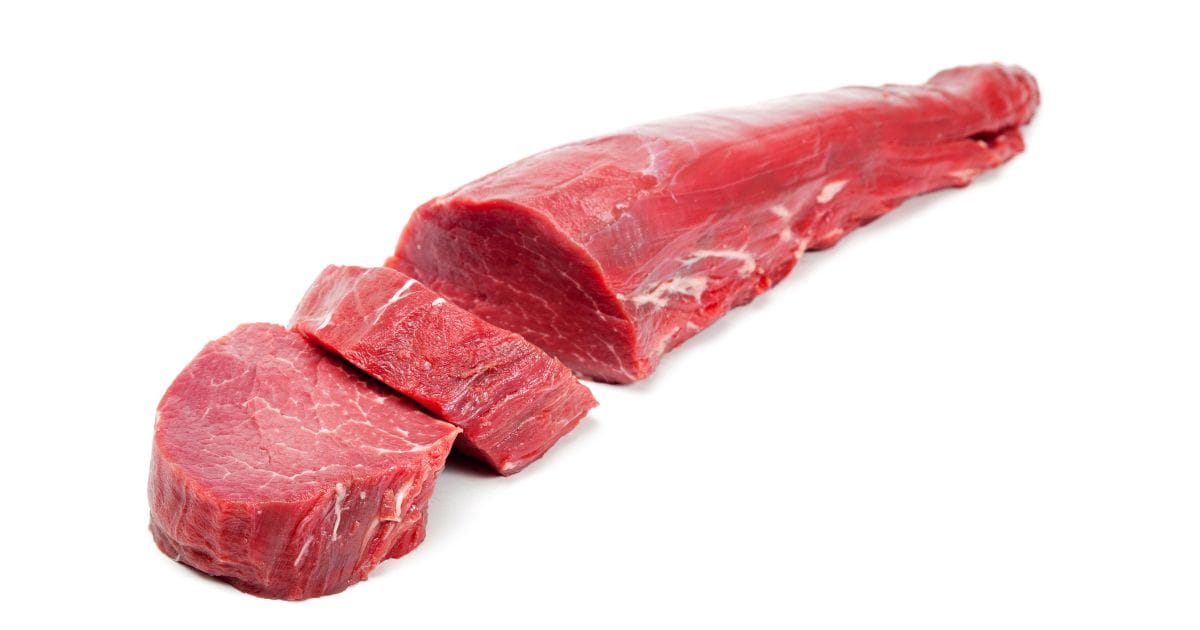 How To Prepare Beef Tenderloin Recipe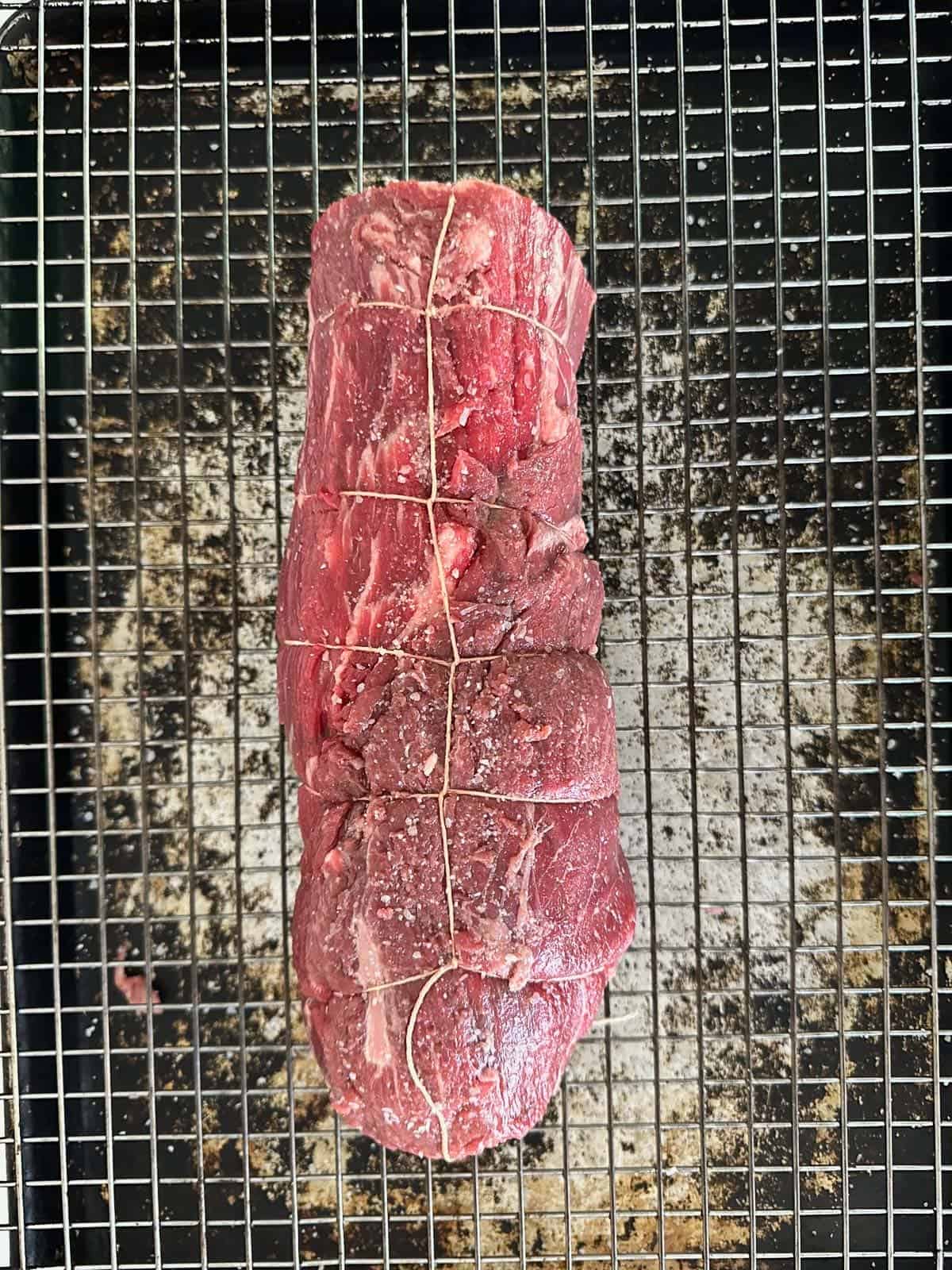 How To Cook Roast Beef Tenderloin
There are many ways to cook a beef tenderloin roast. After much research, I am using J. Kenji Lopez-Alt's method for slow-roasting this beef tenderloin at a low temperature. This method produces a flavorful and perfectly evenly cooked tenderloin roast.
Roasting at a high temperature yields a roast that is more well done around the outside. Because the tenderloin roast is a leaner cut of meat this well-done temperature is less than optimal for producing the best flavor. In general, leaner cuts of beef should be left rarer, with medium-rare being the most done that is recommended.
A fattier cut, such as a prime-rib, can be cooked to medium-rare or even medium and still have a great flavor and mouthfeel.
What Temperature To Cook Beef Tenderloin?
To slow-roast beef tenderloin, it will be cooked at 225℉ for 2 to 3 hours, depending on its size.
I've put together a cooking temperature chart. You'll find everything you need to know about safe cooking temperatures for beef, pork, and chicken. Plus, how…
What Temperature Should Beef Tenderloin Be?
The internal temperature of this beef tenderloin roast should be 120℉ (49℃) when it is removed from the oven. This will allow for a little extra cooking as you develop the outer crust with seasoned butter.
After searing the roast, either under the broiler or in a skillet the internal temperature will rise to 125℉ (52℃) for rare and 130℉ (54℃) for medium rare.
There is no need to rest this roast before slicing. Normally a roast like a prime rib might rest for up to an hour before slicing.
Using a meat thermometer is crucial. Without a probe thermometer you cannot accurately measure the internal temperature.
What To Serve with Beef Tenderloin
My favorite thing to serve with a beef roast is a Horseradish Cream Recipe.
If you're counting carbs, cauliflower mash is an excellent substitute for traditional mashed potatoes. A few expert tips will ensure you get perfectly smooth, creamy,…
This pot roast recipe contains everything you want in a family favorite comfort food dinner: melt-in-your-mouth beef, carrots, and potatoes, all swimming in a succulent…
This delicious Japanese Beef Curry recipe is an umami-packed beef stew with carrots and potatoes simmered in a subtle but savory Japanese curry sauce. Let…
Braised Korean Short Ribs are a tender melt-in-your-mouth explosion of flavor. They're slow-cooked in a flavorful broth and are perfect for making sandwiches, tacos, burritos,…
Juicy, tender, perfectly cooked steak is an easy skill to master. With just a few simple tips, you can learn to how to grill a…
There's no doubt that beef short ribs are the ultimate comfort food recipe. Serve this tender, fall off the bone beef with mashed potatoes OR…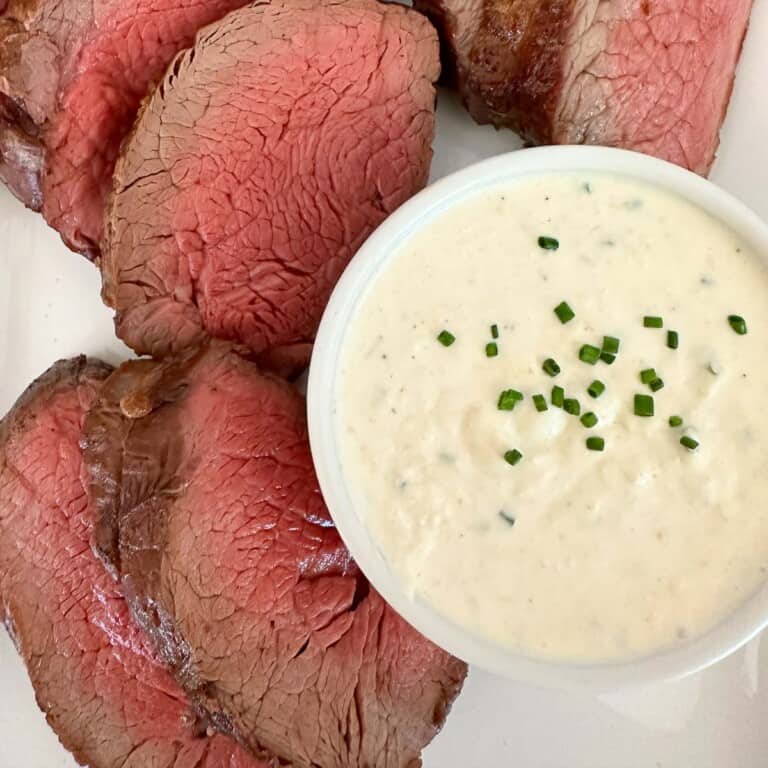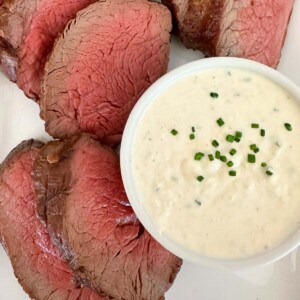 Slow Roasted Beef Tenderloin
Serve this beautiful beef tenderloin roast for a holiday dinner. It's a perfect alternative to prime rib.
Ingredients
Seasoned Herb Butter
unsalted butter

,

[note 2]

fresh thyme

fresh rosemary

shallot

garlic
For Serving
fresh chives

,

finely minced

fleur de sel

(affiliate link)

,

or maldon salt
Instructions
The day before: Prepare the roast by tying it with butcher's string and seasoning it well with salt and pepper. Place the seasoned roast on a wire rack set over a heavy baking sheet. Place the roast into the fridge and let it sit overnight to dry brine. [note 3]

When you're ready to cook: Place the oven rack in the center position of the oven. Preheat the oven to 225℉ (107℃). Place the roast in the oven and cook until the internal temperature reaches 120℉ (49℃).

Rest for 10 minutes: Remove the roast from the oven and set it aside to rest for 10 minutes. Remove the butcher's twine and get ready to finish the roast in a skillet or under the broiler.

Prepare the herb butter: Add the butter to a skillet and heat over medium heat until the butter is lightly browned. Add the fresh herbs and the shallots.

To finish in the skillet: Add the roast to the skillet, and use a spoon to distribute the butter over the roast. Turn the roast every 30 seconds until you have a nicely browned outer crust. It takes about 1 to 2 minutes. The internal temperature should be 125℉ (52℃) for rare and 130℉ (54℃) for medium rare.

To finish under the broiler: Adjust the oven rack to sit 6 inches from the broiler. Pour over the butter and herb mixture. Place the roast under the broiler. Turn the roast every 30 seconds until you have a nicely browned outer crust. It takes about 1 to 2 minutes. The internal temperature should be 125℉ (52℃) for rare and 130℉ (54℃) for medium rare.

Resting: Because this roast is slow-roasted at a lower temperature, it does not need to have s significant resting time before slicing.

Serve: Serve with Horseradish Cream Sauce, fresh chives and a sprinkle of coarse salt, such as fleur de sel or Maldon salt.
Laura's Tips + Notes
I used the center cut for this recipe. However, this recipe can be made with a whole tenderloin roast (serves 10 to 12) or the smaller center-cut chateaubriand (serves 4 to 6). Ask your butcher to trim the roast to save time.
You can vary the fresh herbs that are used for the herb butter. The browned butter gives the roast a beautiful color and flavor.
The overnight dry brining serves two purposes. It dries out the outside of the roast to encourage better browning and adds flavor through osmotic diffusion.
YOUR OWN NOTES
Nutrition
Calories:
414
kcal
Protein:
27
g
Fat:
33
g
Saturated Fat:
14
g
Cholesterol:
106
mg
Sodium:
74
mg
Calcium:
11
mg
Iron:
4
mg