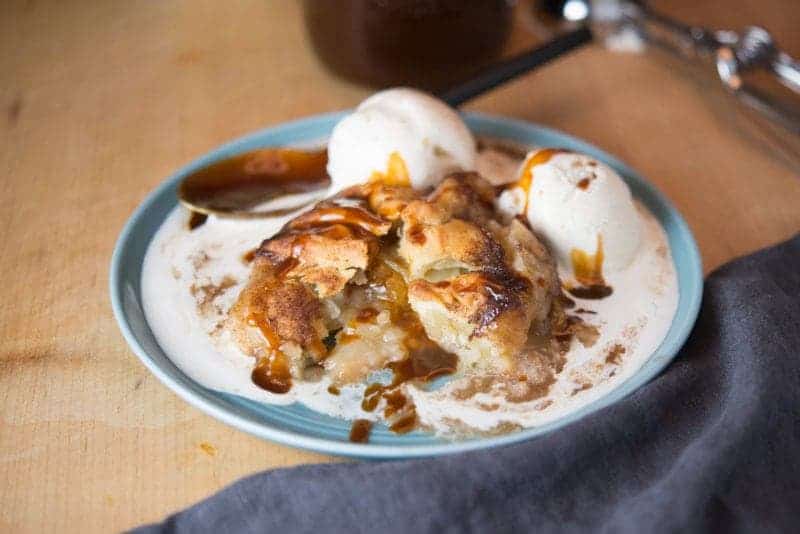 Jump to Recipe
Print Recipe
Fall means the Holidays are coming
The holidays are fast approaching, and with them come family gatherings and memories. One of the family memories that I have are these apple dumplings with caramel sauce.
The last time I visited my Grandma Sisson she whipped up a batch of these magical apple dumplings for me. My grandma has always had a knack for throwing together something super fast using just what she has on hand in the kitchen. Grandma Sisson had nine kids. She is the master of cooking for a lot of people! Her food is always really simple but super delicious.
These apple dumplings are really easy to make. In less than an hour you can have sweet, cinnamony, pie crust-wrapped apples baked in a yummy caramel sauce. You have ice cream right? Because, seriously if anything can make ice cream happier…it's these apple dumplings.
So hold on and prepare for fall apple greatness
My husband described these apple dumplings as being "everything that he loves." When I asked exactly what that meant, he said it was like having everything he loves in a bowl: super delicious pie crust, baked apple filling – all gooey, doughy, caramel, sugary – with ice cream…yeah, all that together in one thing. [You may notice I wasn't on the list of everything he loves, we may have to talk about that later.]
Don't miss any of your holiday favorites! Sign up with your email to get the latest recipes and insiders content delivered directly to your inbox.
[mc4wp_form id="1940″]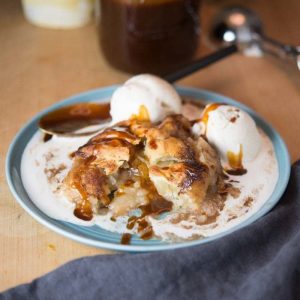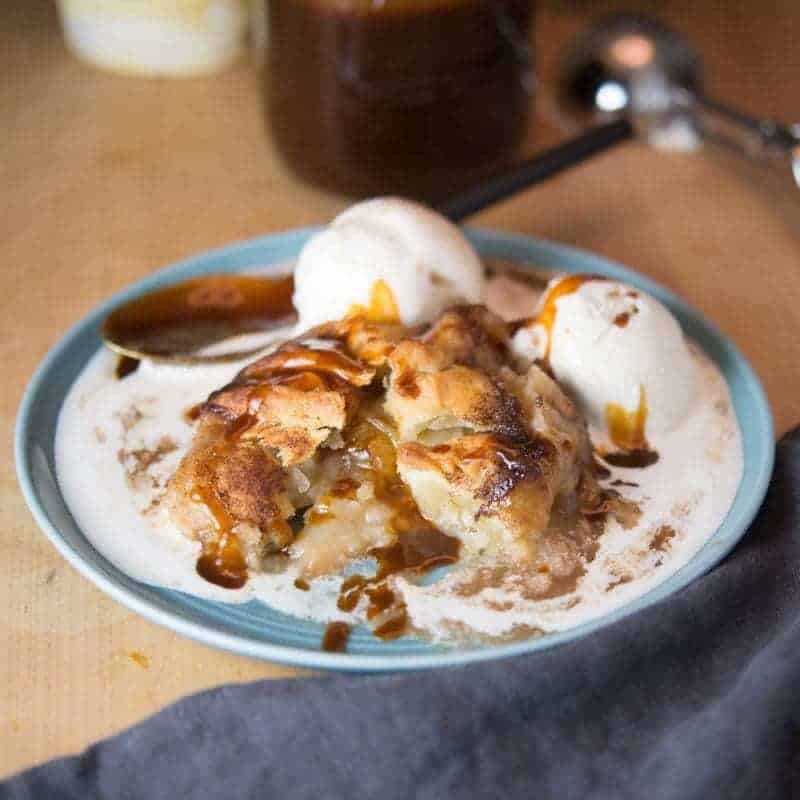 Grandma Sisson's Apple Dumplings
The best ever apple dumplings in a delicious caramel sauce. Perfect for fall.
Print Recipe
Pin Recipe
Instructions
Crust
Add flour and salt to a food processor. Pulse to mix.


Add diced butter. Pulse until the texture of coarse sand.

Add milk. Pulse to bring together.

Turn out on a lightly floured surface. Roll out and cut into 6 separate pieces.
Assembly and Baking
Peel and slice 5 apples. Set aside. You can cover in cold water, or squeeze on some fresh lemon juice to keep them from turning brown.

Seal apples inside dough, resulting in 6 individual dumplings.

Place the dumplings in a 9" x 9" baking dish.

Make sauce in a sauce pan. Pour over dumplings.

Bake for 35 minutes at 350℉ or until golden brown.
Notes
My grandma always used shortening. I replaced the shortening for butter, but you could also substitute coconut oil.
You don't have to use the food processor for the dough, my grandma always just mixed it up in a bowl.
Vegan Substitutions: 
Coconut oil = Butter
Almond milk = Milk
Serve with some delicious vanilla ice cream!
Nutrition
Calories:
516
kcal
|
Carbohydrates:
54
g
|
Protein:
5
g
|
Fat:
32
g
|
Saturated Fat:
19
g
|
Cholesterol:
83
mg
|
Sodium:
213
mg
|
Potassium:
240
mg
|
Fiber:
5
g
|
Sugar:
16
g
|
Vitamin A:
1060
IU
|
Vitamin C:
7
mg
|
Calcium:
59
mg
|
Iron:
2.2
mg
(Visited 54 times, 1 visits today)