Do you love the taste of warm apples with a crispy topping? If so, you're going to love this apple crisp recipe. It's quick and easy to make, and it's perfect for serving at family gatherings or parties. Plus, it's a great way to use up any leftover apples you may have. So what are you waiting for? Try this delicious recipe today!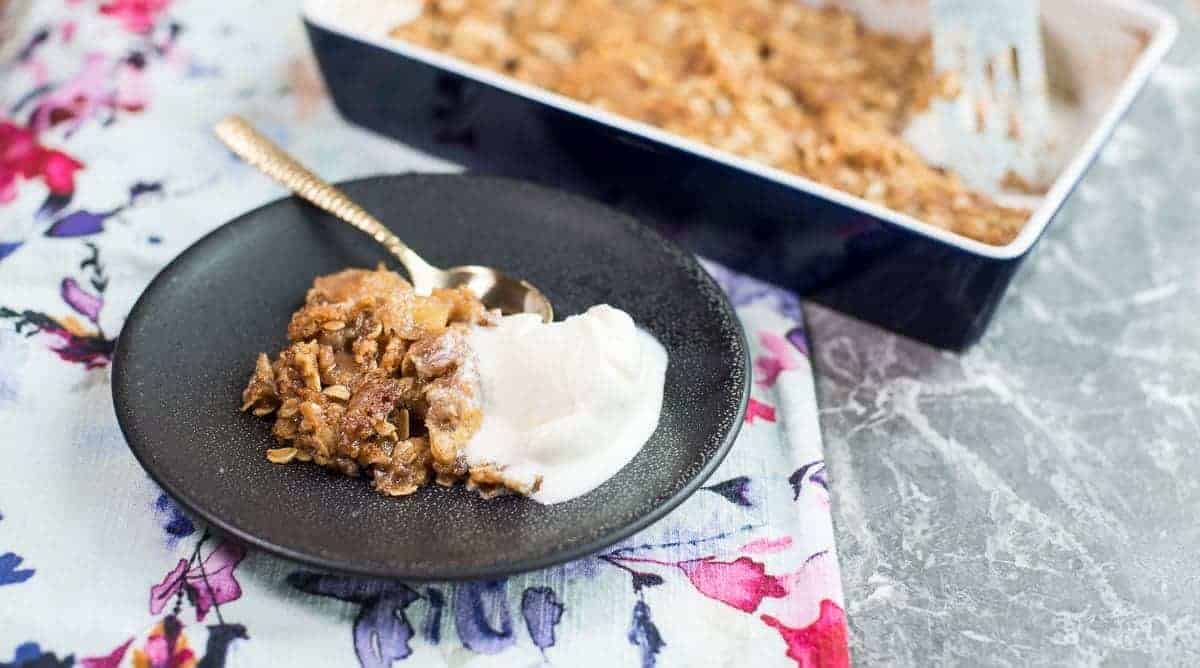 This Easy Apple Crisp Recipe is made with simple ingredients in the old-fashioned way. All you need are fresh apples, oats, flour, sugar, and butter! You end up with a sweet apple cinnamon filling topped with a buttery oat crumble.
Are there any special recipes in your life?
In mine, two specific recipes come to mind; my Great-Grandmother Minta's Sticky Buns and Gracie Olinger's Apple Goodie.
Why do these two stand out? My great-grandmother used to bring sticky buns to EVERY meal…yes, even dinner! These were the most amazingly gooey, sinfully wonderful buns! Even as a kid, it seemed just decadent to eat them with dinner.
These buns were always warm and gooey, straight from the oven – even if we weren't at her house.
It was a raised yeast dough. She never measured the ingredients, nor was the recipe written down. She could make them with her eyes closed. My grandmother learned how to make them, as did my mother; but none were as good as Minta's. (My mom put nuts and raisins in her version which, as kids, we found blasphemous!)
Sadly, this recipe was forever lost…
We'd always talked about getting everyone together for a lesson with Minta. Regretfully, we never got around to it. Minta died when I was in college. My mother and grandmother also passed some years later. I so wish we'd made the effort. Not only would the recipe persist, but we would have had a blast doing it.
Gracie Olinger's 'Apple Goodie'
I'm happy to report that we did better with Gracie's Apple Goodie recipe…partly as a result of missing the opportunity with Grandma Minta's Sticky Buns, and because it was already written down.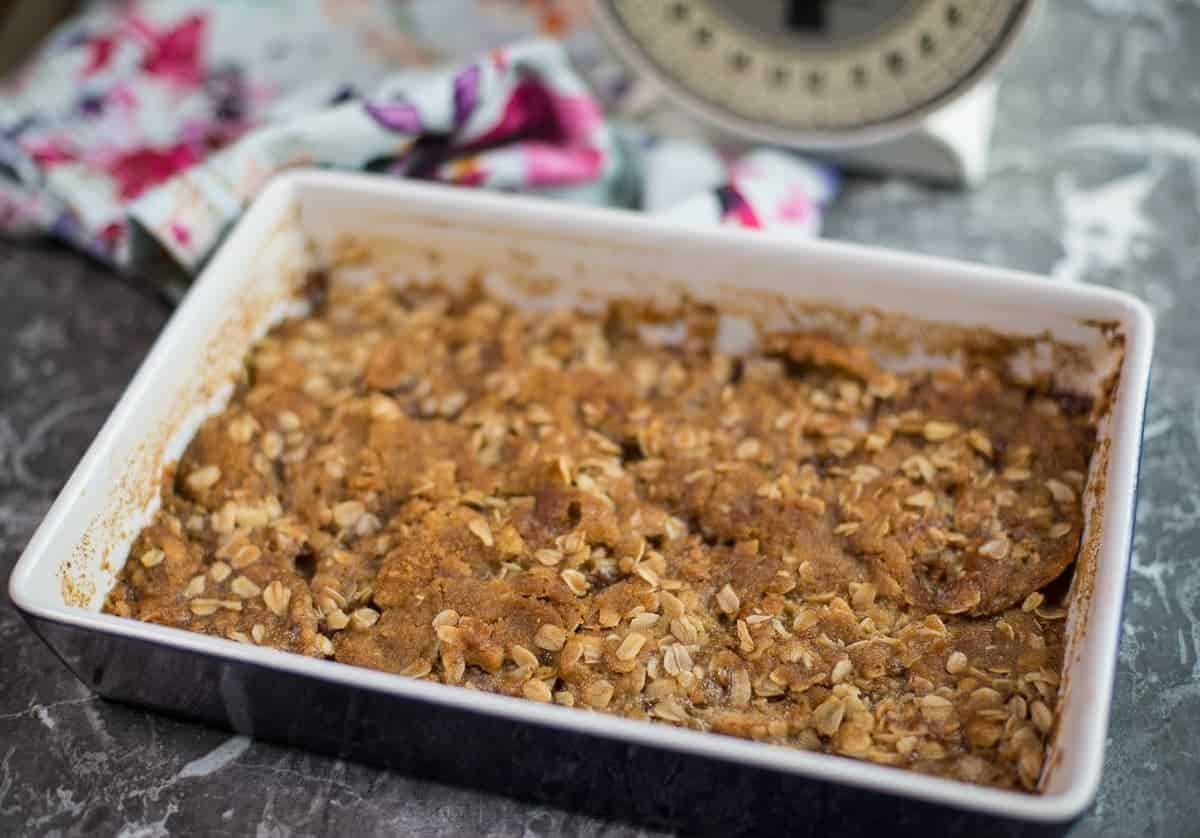 You can even enjoy Gracie's 'Apple Goodie' (Crisp) recipe here.
This recipe is special to me for a number of reasons.
First, it really celebrates good apples. Second, it reminds me of two very special women – Gracie, and my mother – in their own handwriting. Gracie was a warm loving woman who used to take care of me.
My mother was a super-intelligent, confident woman who liked to lead with her viewpoint on a situation.
I LOVE that my mom has made annotations all over Gracie's original recipe – to make it even better.
Mom could never leave well enough alone! She is bossy even in writing!
Cooking is more than following a recipe.
It's a creative and sensory experience for the cook that's also about preparing a culinary experience for the diner. It's also about playing with science and technique. And mostly – it's about making memories.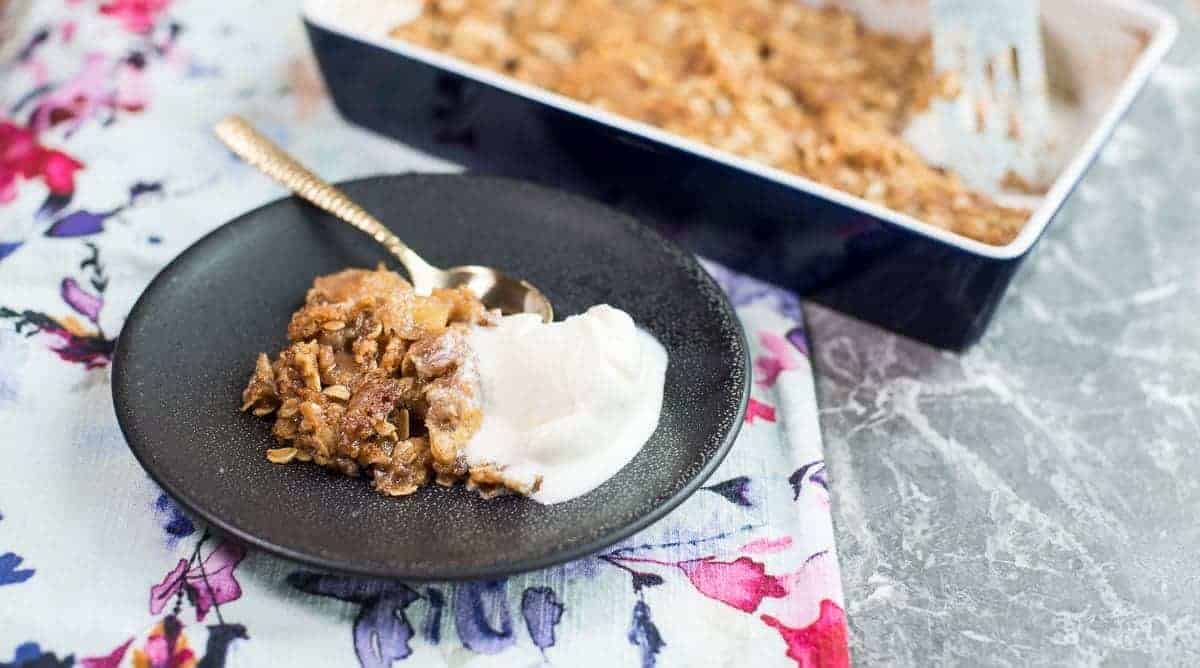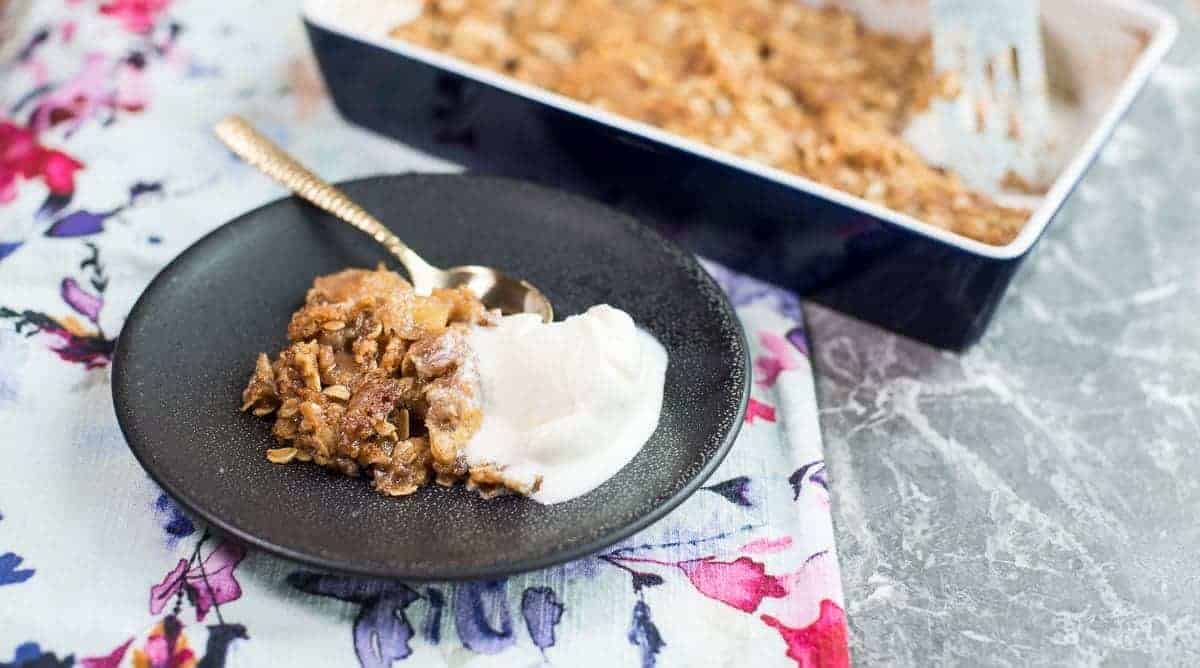 Easy Apple Crisp
This informal apple crisp is a quick delicious summer dessert. It is perfect for a BBQ.
Ingredients
Topping:
½

cup

oatmeal

½

cup

brown sugar

¼

cup

flour

4

tbsp

butter

,

cold, plus a little extra for greasing the pan
Instructions
Preheat the oven to 350 ℉.

Use extra butter to grease an oven proof (serving) dish that holds roughly 2-3 quarts.

[A 13×9 pan will also work.]
Filling:
Peel and core apples. Cut into thick slices, place in a large bowl.

Combine sugar, cinnamon and flour. Sprinkle over cut up apples. Stir to coat apples with sugar mixture.

Pour the apples into your greased dish, layering them as necessary so that they all fit. [Keeping some gaps between the individual slices allows for the topping to seep into the filling while it cooks. This results in 'caramelized wonderfulness.']
Topping:
Combine all of the dry topping ingredients together in a bowl.

Dice the butter into small cubes and add it to the dry topping mix.

Sprinkle the topping over the apples.

Bake for roughly 20 minutes 'until the apples are done' …until the dish is bubbling hot.
Laura's Tips + Notes
Vegan and Dairy Free Adaption: Use vegan butter in place of dairy butter.
YOUR OWN NOTES
Nutrition
Calories:
255
kcal
Carbohydrates:
46
g
Protein:
1
g
Fat:
8
g
Saturated Fat:
4
g
Cholesterol:
20
mg
Sodium:
74
mg
Fiber:
2
g
Sugar:
35
g
Calcium:
27
mg
Iron:
0.7
mg