Apple Crisp Recipe: Foolproof & Deliciously Crisp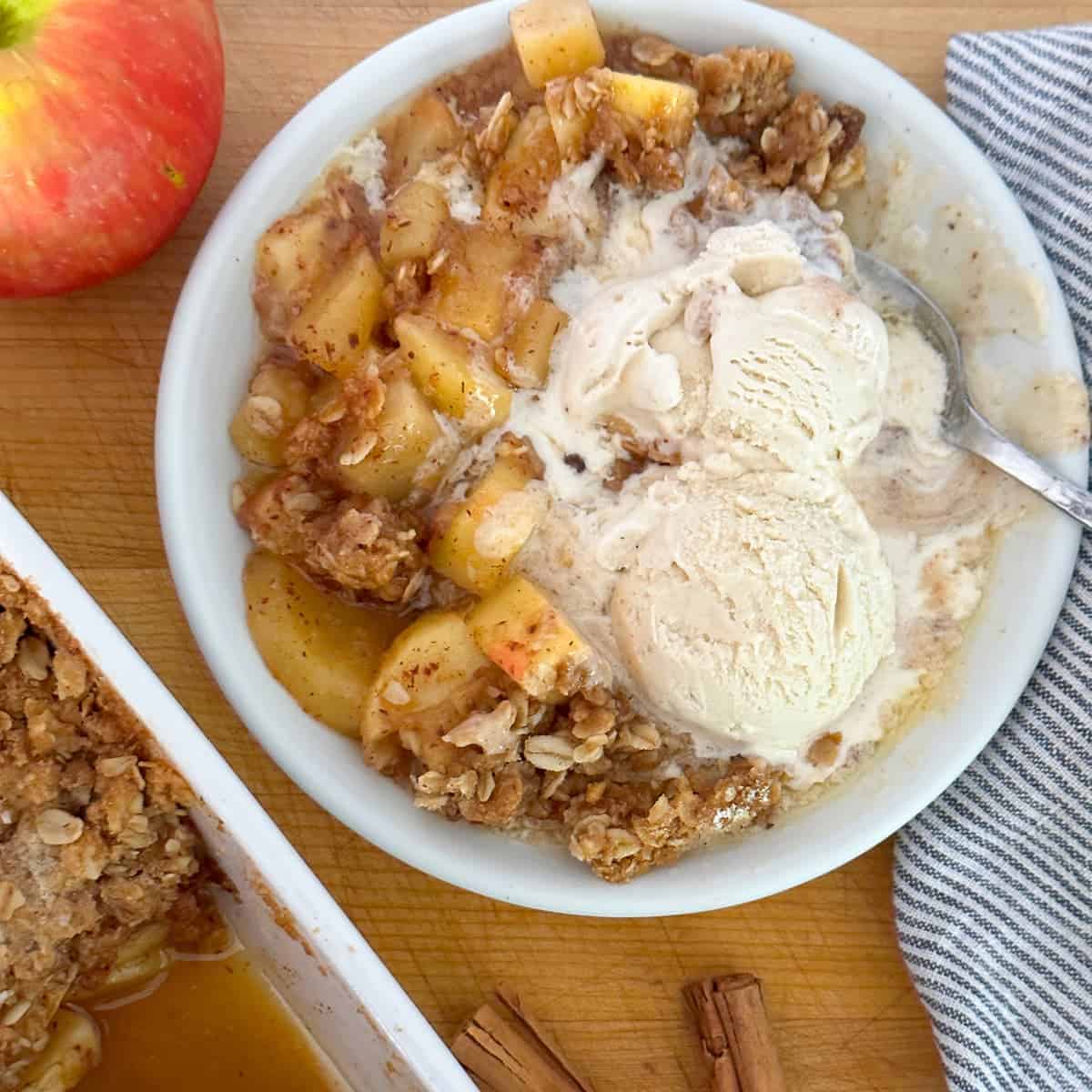 Recipe
Comments
Save
Go to Collections
This post may contain affiliate links. Please read my
disclosure policy.
Get ready to indulge your taste buds with a mouthwatering treat that will satisfy your sweet tooth like no other. Introducing our foolproof apple crisp recipe that is guaranteed to have you coming back for seconds. This deliciously crisp dessert is the perfect way to showcase the flavors of fresh apples while satisfying your craving for something sweet and comforting.
Our recipe combines the perfect balance of tart and sweet apples, a crunchy and buttery oat topping, and a hint of warm spices to create an irresistible dessert. With just a few simple steps, you'll have a dessert that will impress family and friends and have them asking for the recipe.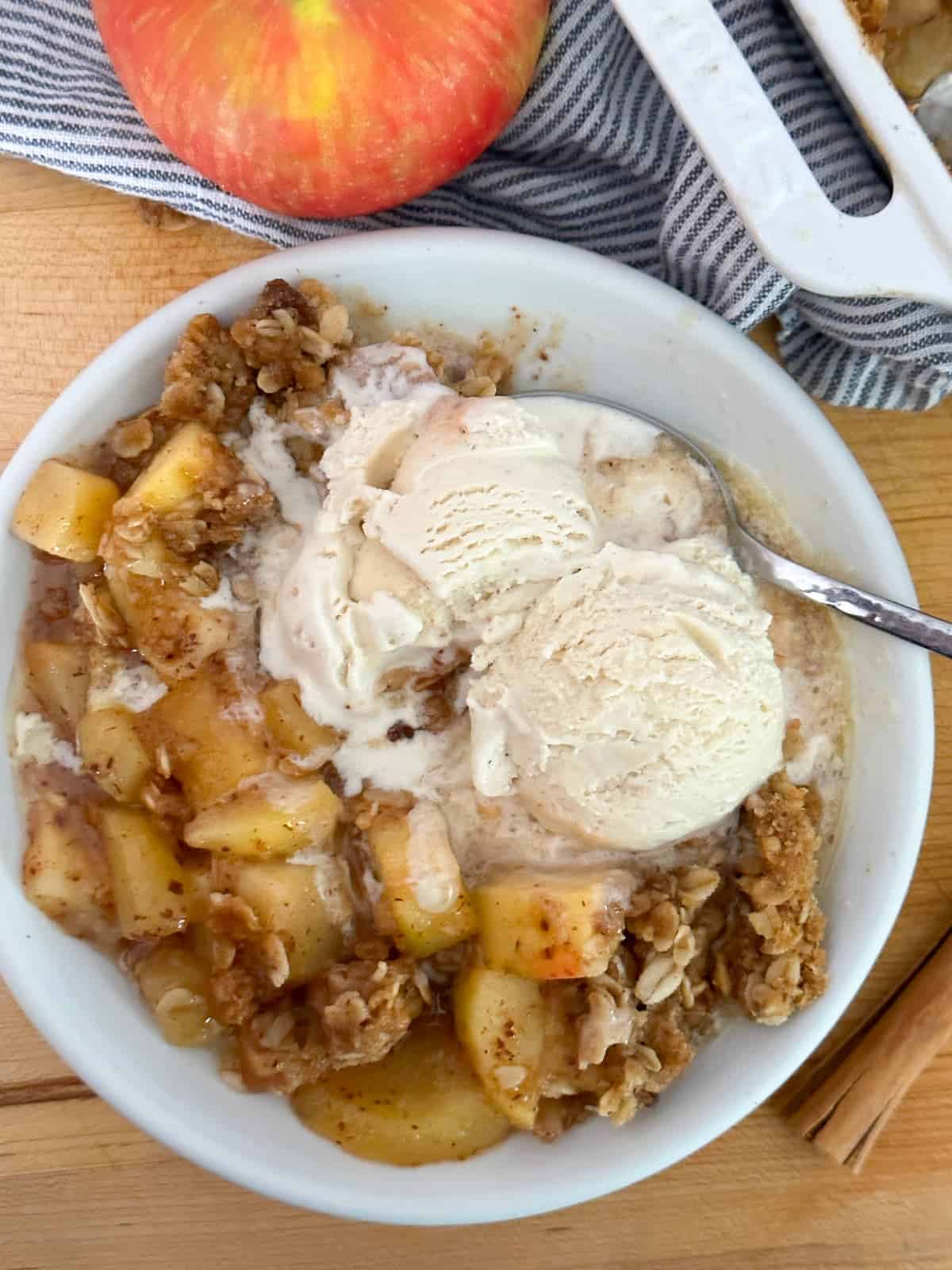 Whether you're hosting a dinner party, preparing a special treat for yourself, or looking for a comforting dessert to enjoy on a cozy evening, this apple-y fall dessert recipe is a must-try. So grab your apron and get ready to savor the deliciousness of our easy and foolproof recipe.
A brief history of Apple crisp
Apple crisp, also known as apple crumble in some parts of the world, is a classic dessert that has been enjoyed for centuries. Its origins can be traced back to England, where it was traditionally served as a Sunday lunch pudding. The dish gained popularity in North America during colonial times and has become a beloved dessert in many households.
ingredients for a delicious apple crisp Recipe
To make a delicious fruit crisp, you'll need the following key ingredients:
Apples: Choose a mix of tart and sweet apples for a well-balanced flavor. Popular choices include Granny Smith, Honeycrisp, and Jonathan apples.
Flour: All-purpose flour is used to create the crisp topping.
Oats: Rolled oats add a delightful crunch to the crumbly topping.
Brown Sugar: Provides sweetness and helps create a caramelized texture.
Butter: Adds richness and flavor to both the filling and the topping.
Cinnamon: A warm spice that complements the apples beautifully. You can also add nutmeg and cardamom.
How To Make Apple Crisp
Now that you have gathered all the necessary ingredients, it's time to get started. Follow these step-by-step instructions for a foolproof result:
Step 1—Preheat the oven
Preheat your oven to 375°F (190°C) and grease a 9×9-inch baking dish.
Step 2—Prepare the apples
Peel, core, and dice or slice the apples into thin, even slices.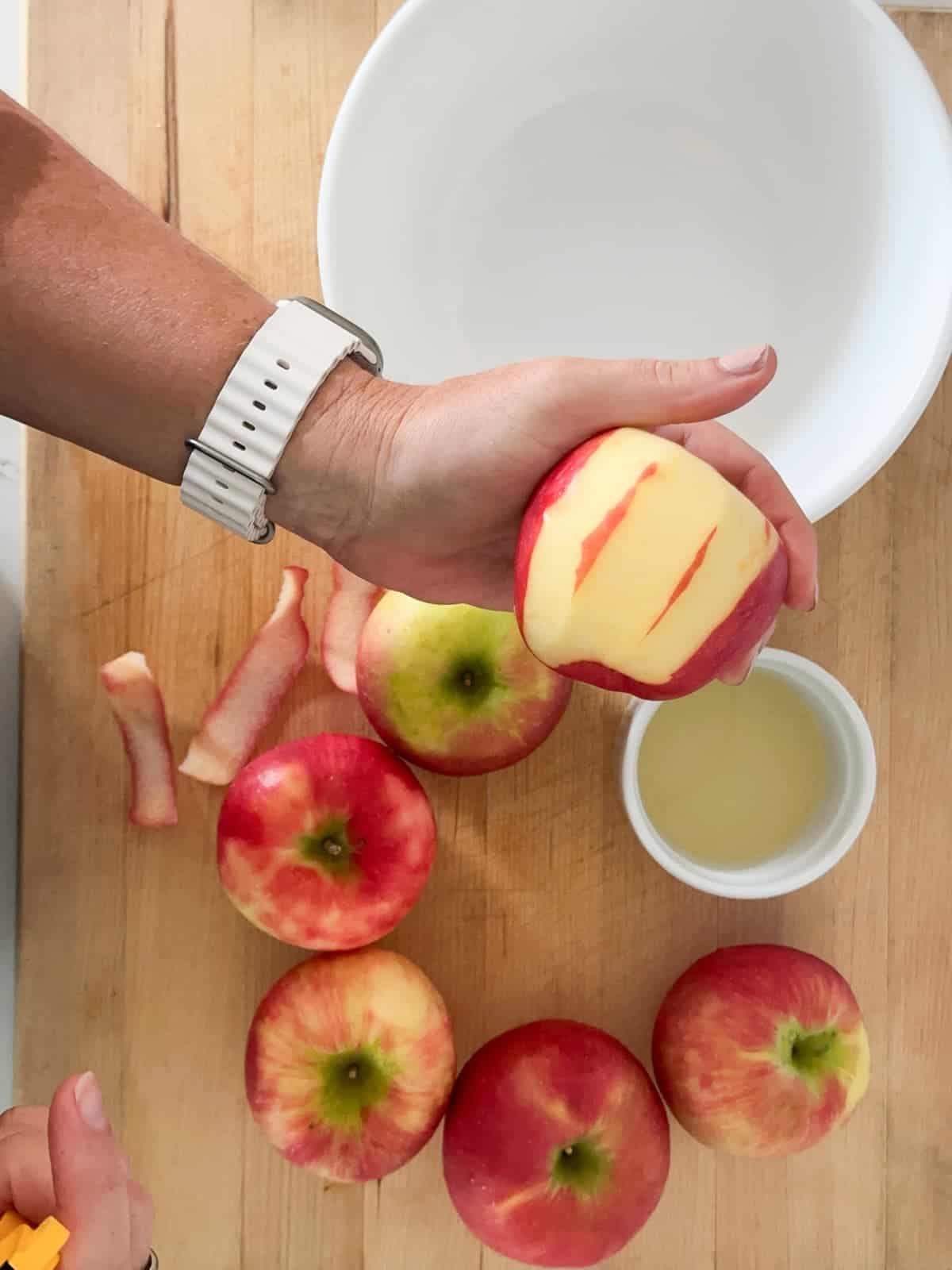 Step 3—Season the apples
Combine the sliced apples, brown sugar, flour, and cinnamon in a large mixing bowl. Toss until the apples are coated evenly.
Transfer the apple mixture to the greased baking dish, spreading it out evenly.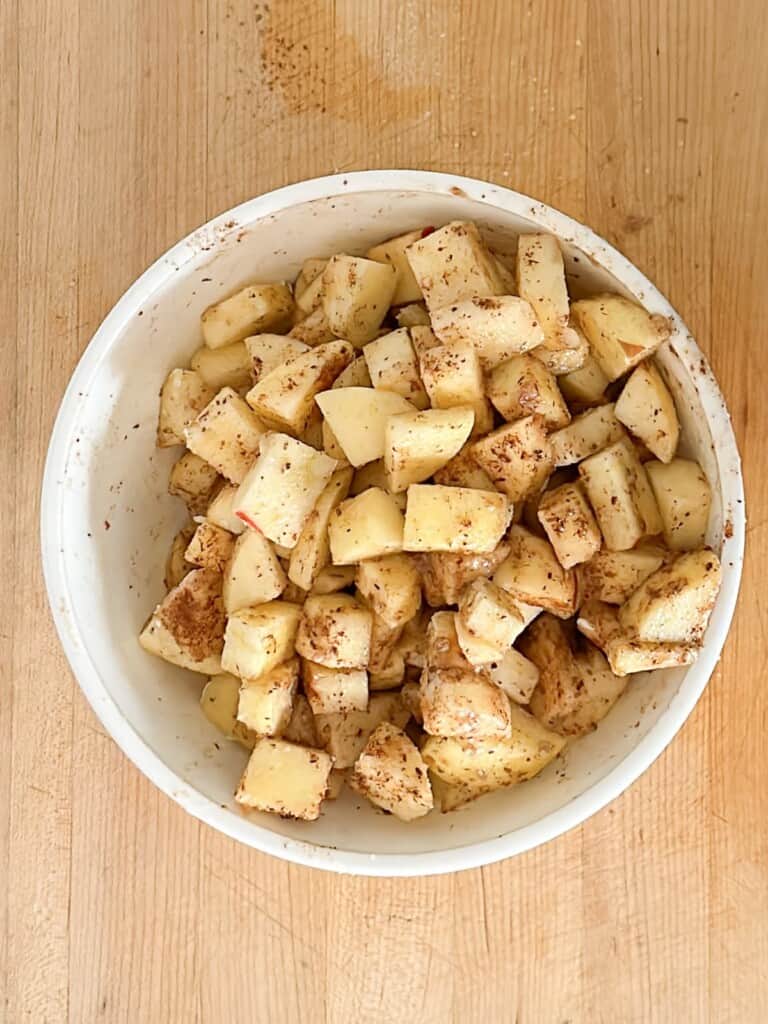 Step 4—Make the oat crumble topping
Mix the oats, flour, brown sugar, and melted butter in a separate bowl until the mixture resembles coarse crumbs.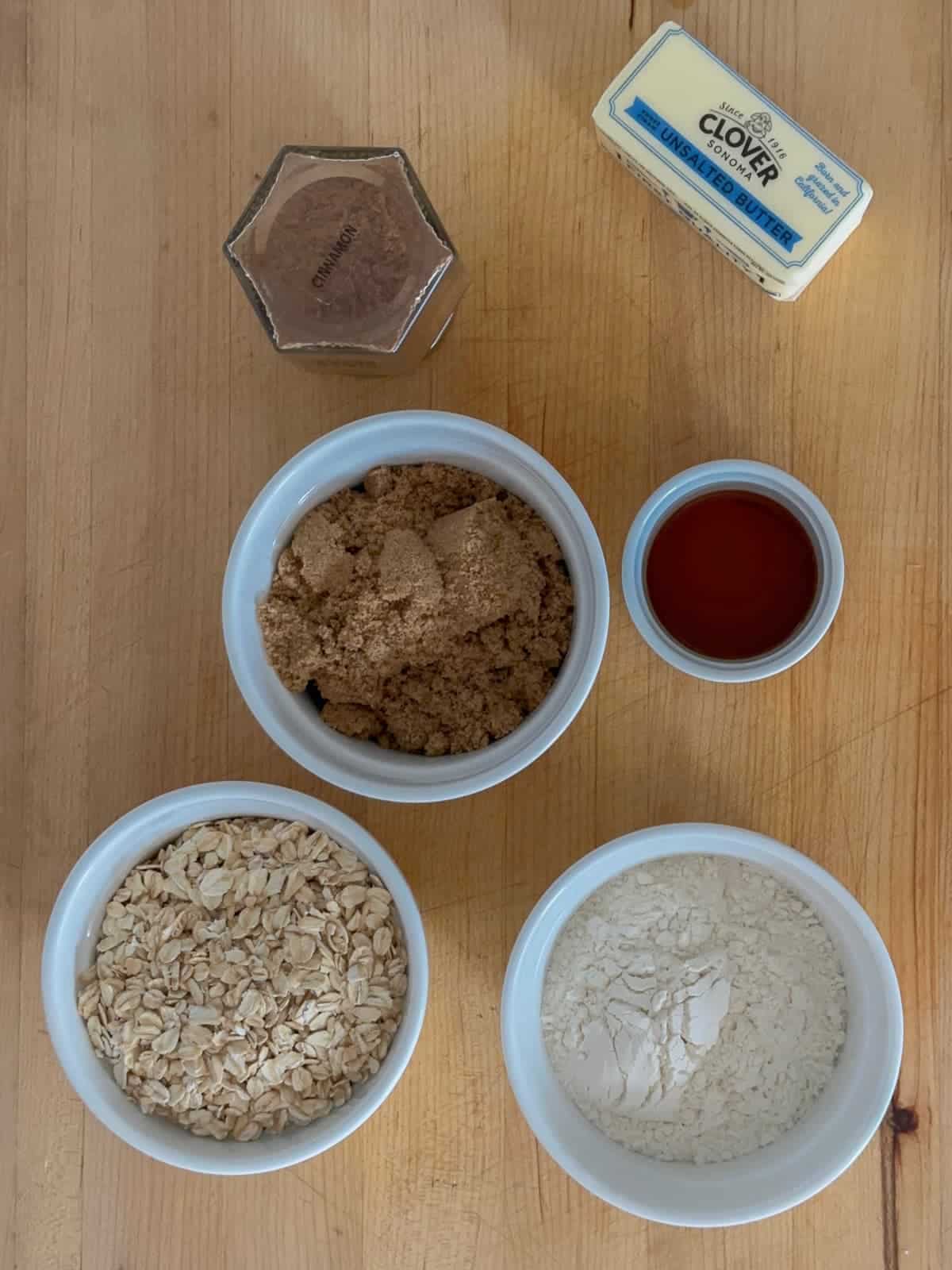 Sprinkle the oat mixture evenly over the apples in the baking dish.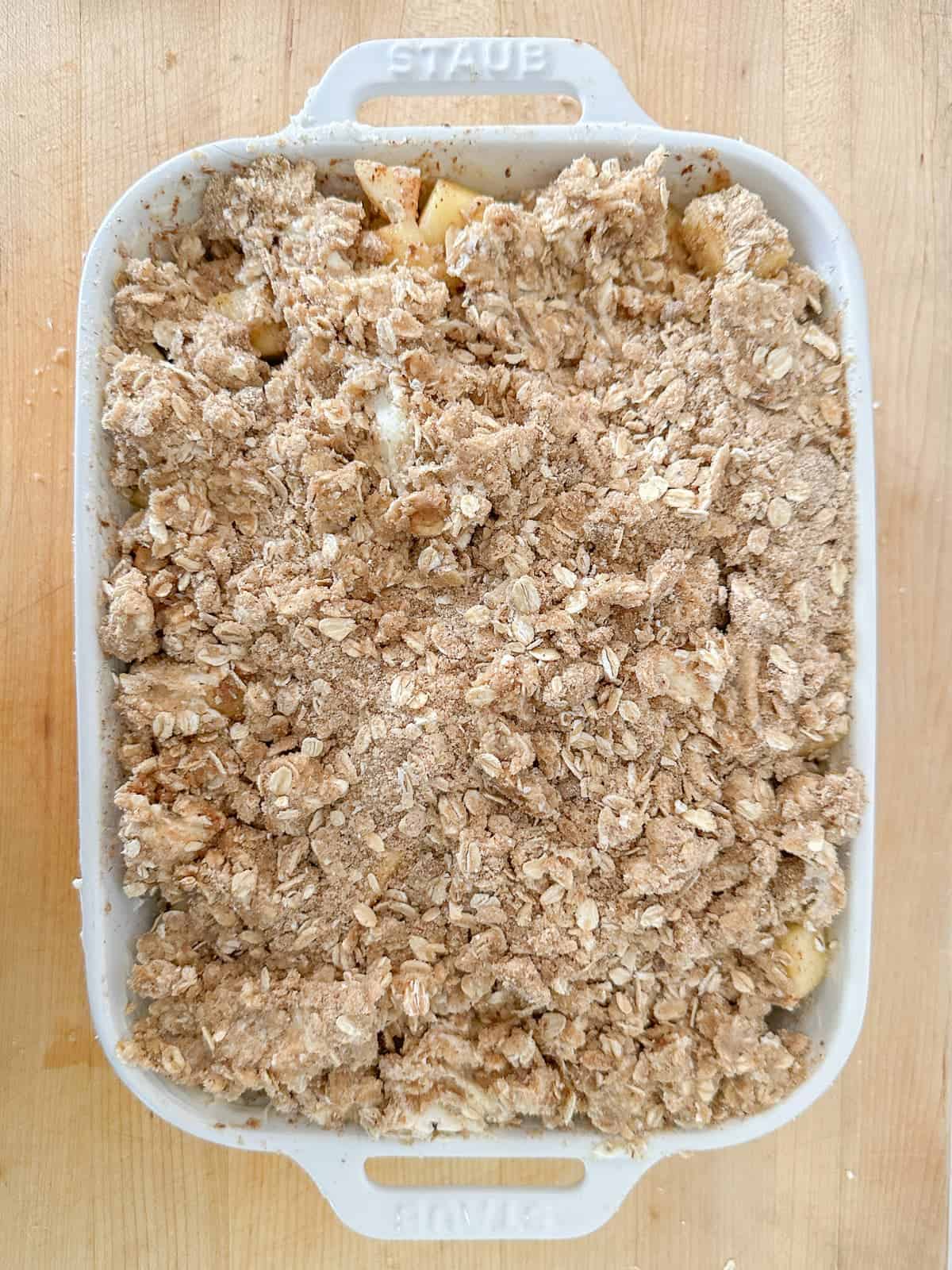 Step 5—Bake
Bake in the preheated oven for 40-45 minutes or until the topping is golden brown and the apples are tender.
Remove from the oven and let it cool for a few minutes before serving.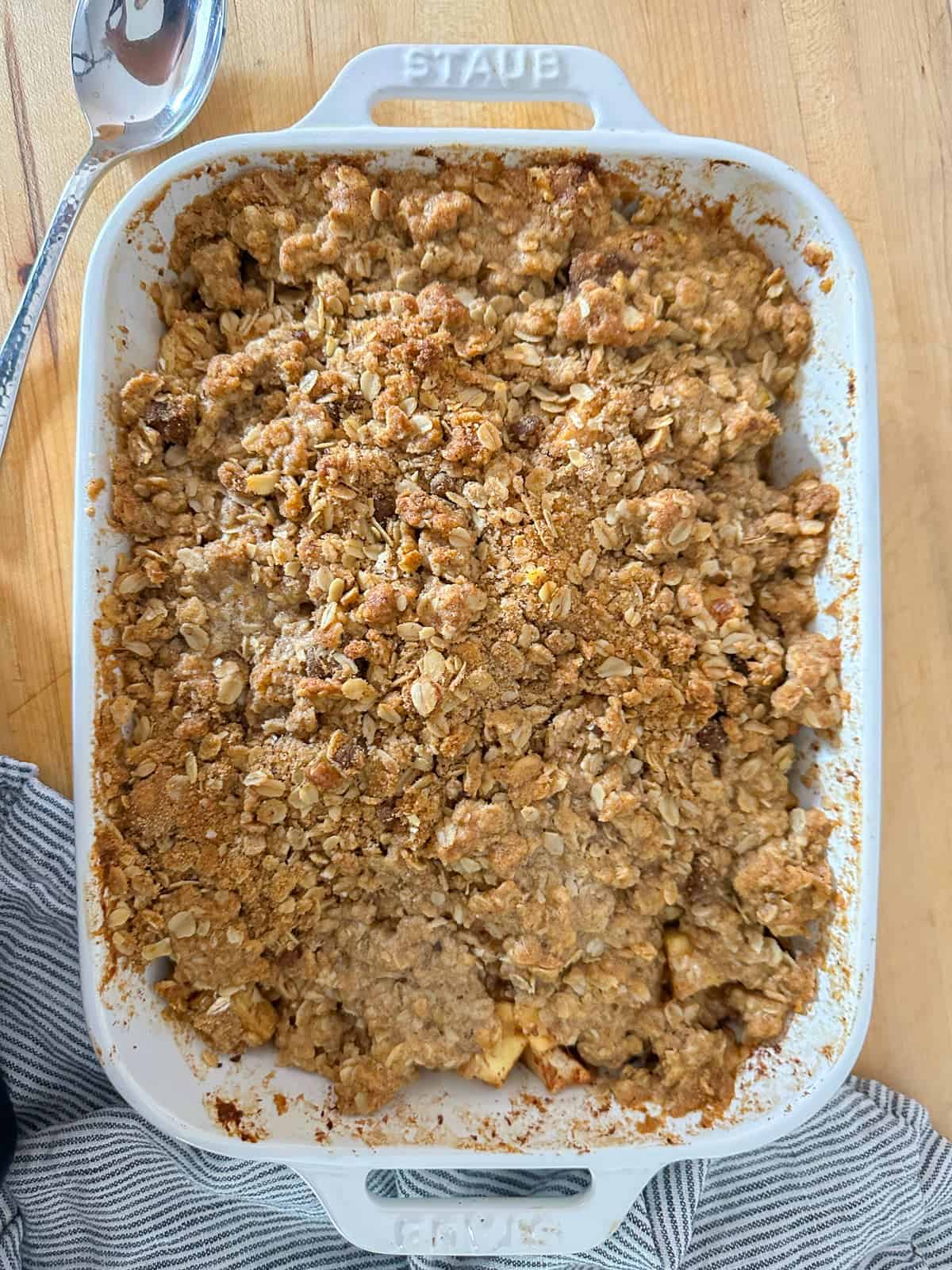 Expert Tips and tricks for apple crisp
To take your apple crisp to the next level, consider the following tips and tricks:
Use a mix of apple varieties for a more complex flavor profile.
Experiment with different spices like nutmeg, cardamom or ginger to add depth to the dish.
Add chopped nuts such as walnuts or pecans for an extra crunchy topping.
Serve the apple crisp warm with a scoop of vanilla ice cream or a dollop of whipped cream.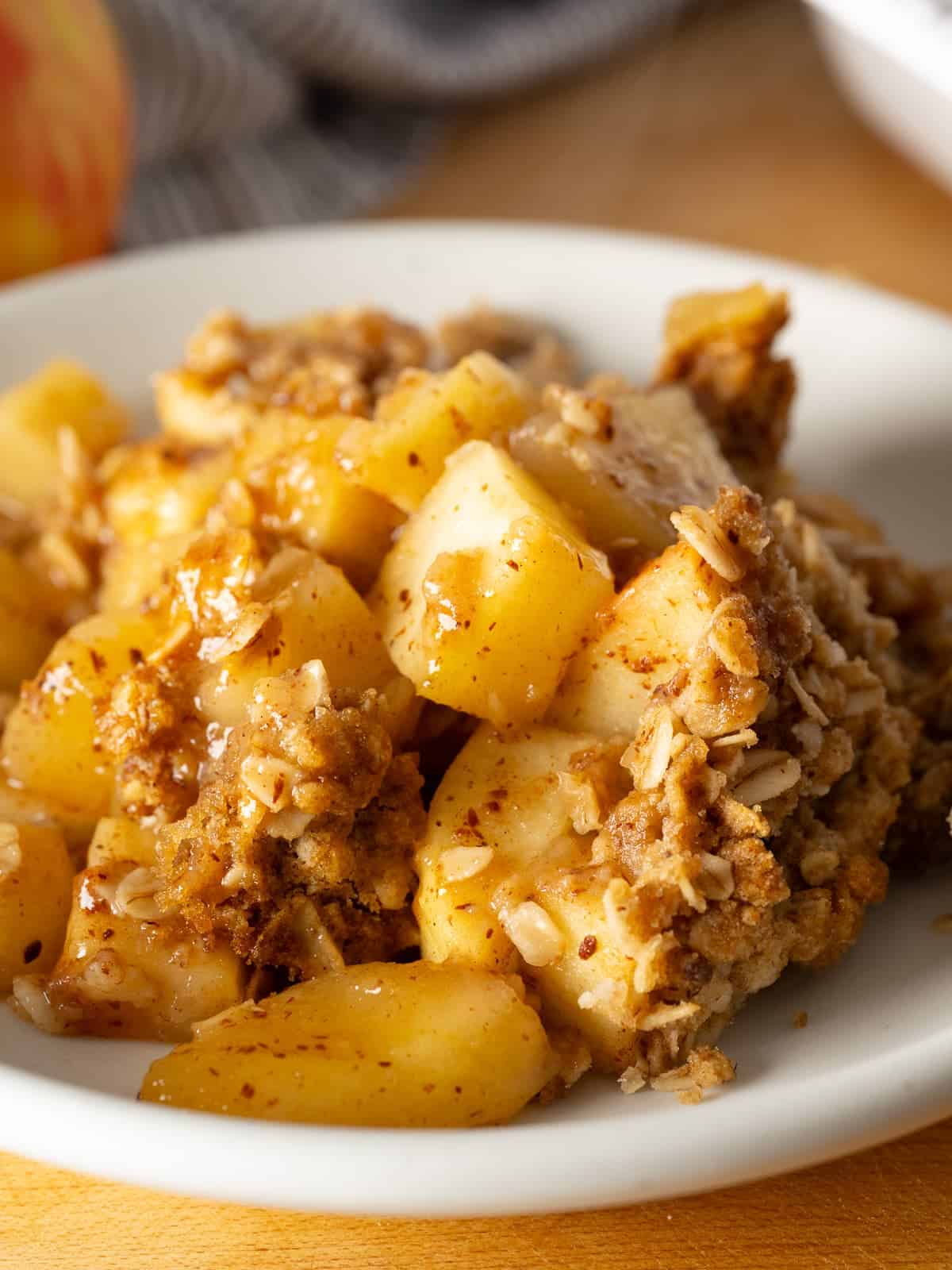 Recipe Variations
While traditional apple crisp is delicious on its own, you can also experiment with variations and additions to enhance the flavors. Here are a few ideas to get you started:
Add a handful of fresh or frozen berries to the apple mixture for a burst of color and sweetness.
Experiment with different in-season fruits. Peaches, pears, plums, and even fresh cherries all work beautifully in a fruit crisp recipe.
Drizzle caramel sauce over the finished apple crisp for a decadent twist.
Add a splash of lemon juice to the apple mixture to brighten the flavors.
Serving suggestions for apple crisp
This apple crisp recipe is a versatile dessert that can be enjoyed in various ways. Here are some serving suggestions and accompaniments to consider:
Serve warm with a scoop of vanilla ice cream for a classic combination.
Top with a sprinkle of cinnamon sugar and a drizzle of caramel sauce for an extra indulgent treat.
Pair with a cup of hot apple cider or a warm mug of coffee for a cozy autumnal experience.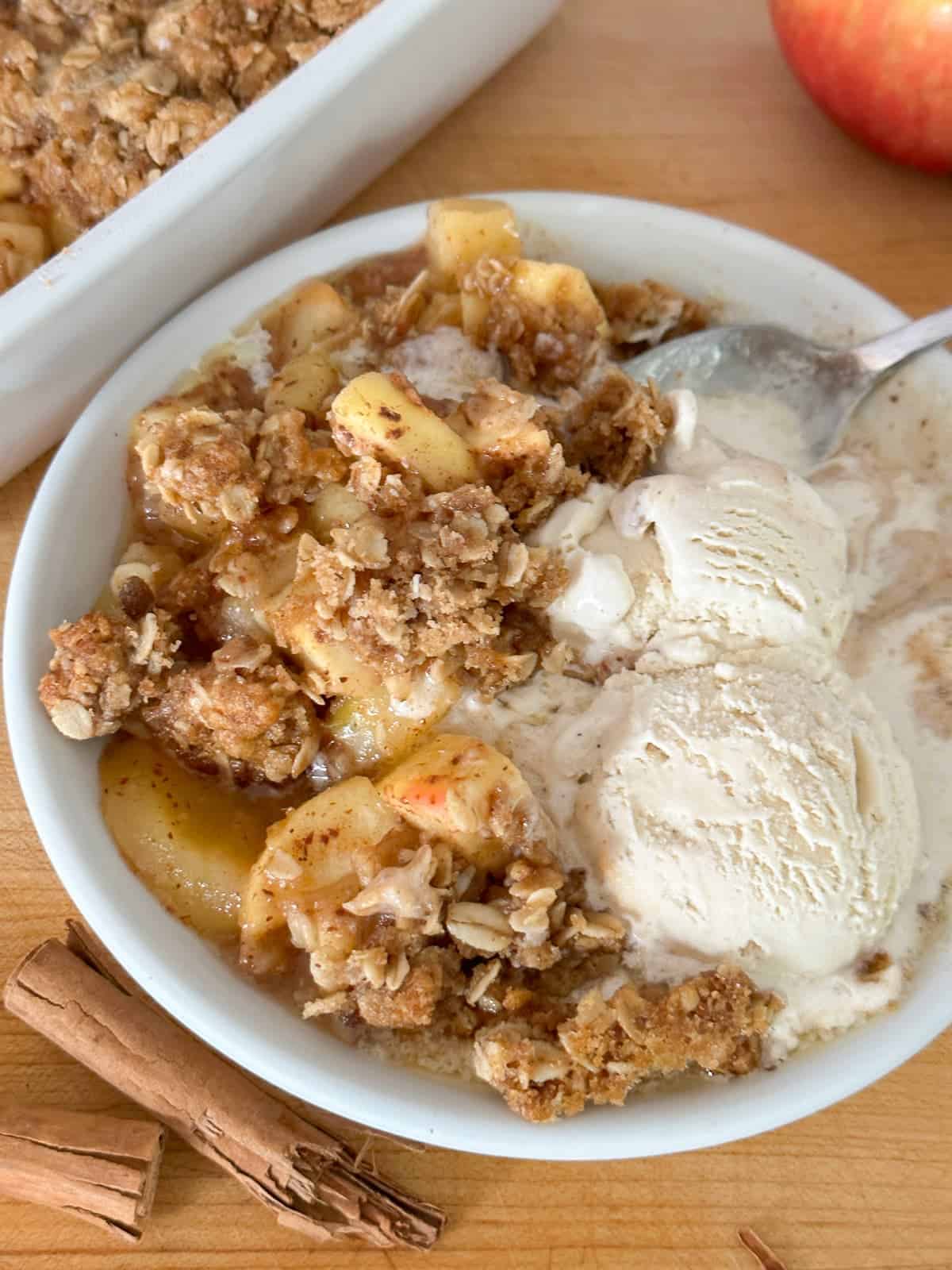 Storage and reheating instructions
If you have any leftovers, you'll be glad to know that apple crisp can be stored and reheated for future enjoyment. Follow these simple instructions:
Allow the crisp to cool completely before covering it with plastic wrap or transferring it to an airtight container.
Store it in the refrigerator for up to 3 days.
To reheat, preheat your oven to 350°F (175°C), and bake the apple crisp for 15-20 minutes or until warmed.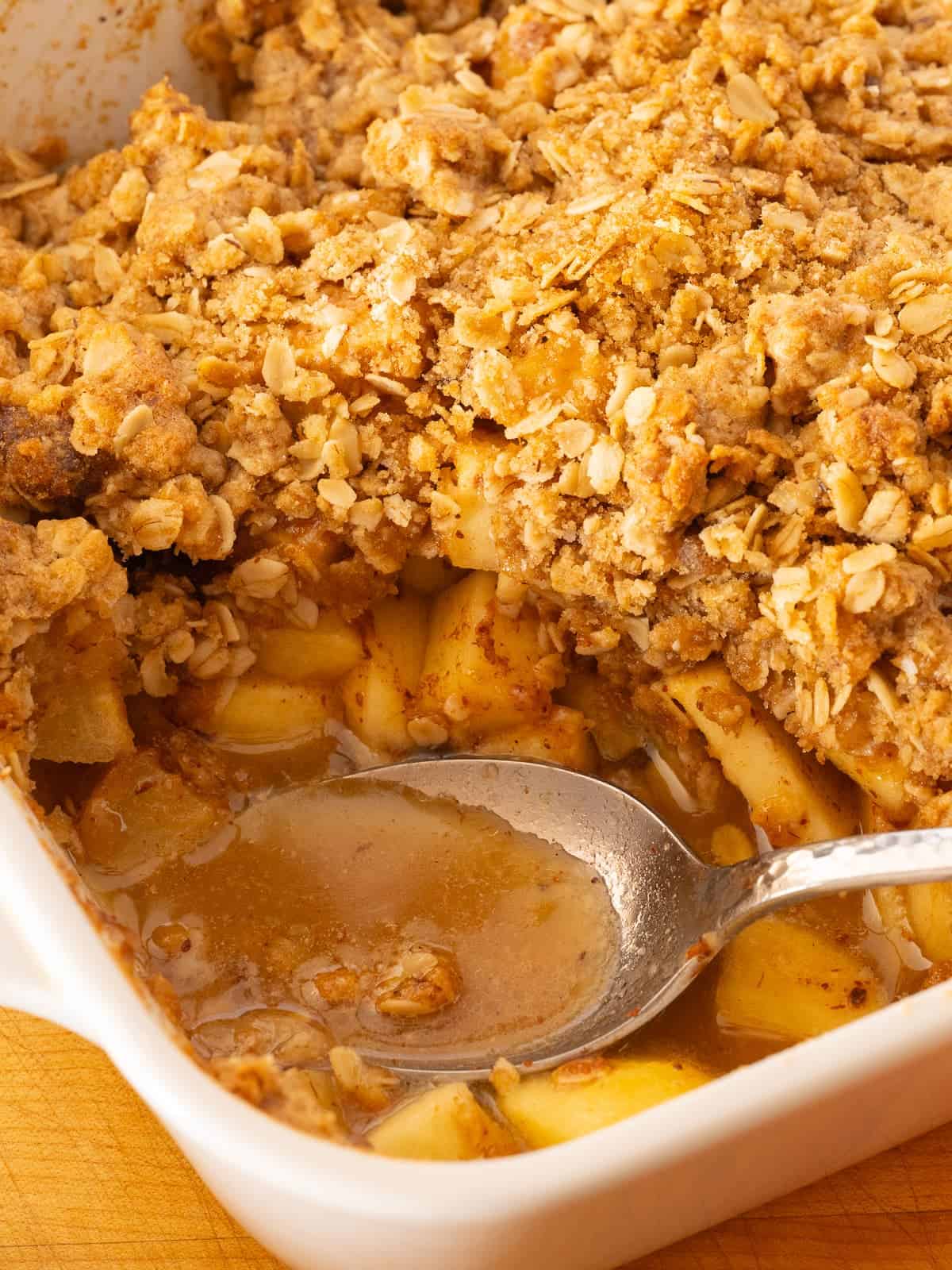 Frequently asked questions about apple crisp
What apples for apple crisp?
Can I use pre-made apple pie filling instead of fresh apples?
While using pre-made apple pie filling is convenient, it won't give you the same fresh and crisp texture as using fresh apples. We recommend using fresh apples for the best results.
Can I make apple crisp ahead of time?
Yes, you can prepare the apple crisp ahead of time and store it in the refrigerator until ready to bake. However, we recommend assembling the apple crisp before baking for the best texture.

Can I freeze apple crisp?
Yes, apple crisps can be frozen before or after baking. To freeze before baking, assemble the crisp as instructed, but do not bake it. Cover it tightly with plastic wrap and aluminum foil, then freeze for up to 3 months. To freeze after baking, allow the apple crisp to cool completely, then wrap it tightly and freeze for up to 3 months. Thaw in the refrigerator before reheating.
What size pan to use?
A 9×9-inch baking dish is recommended. However, a deep dish pie pan will work.
What's the difference between an apple crisp recipe and an apple crumble?
How do you know when apple crisp is done baking?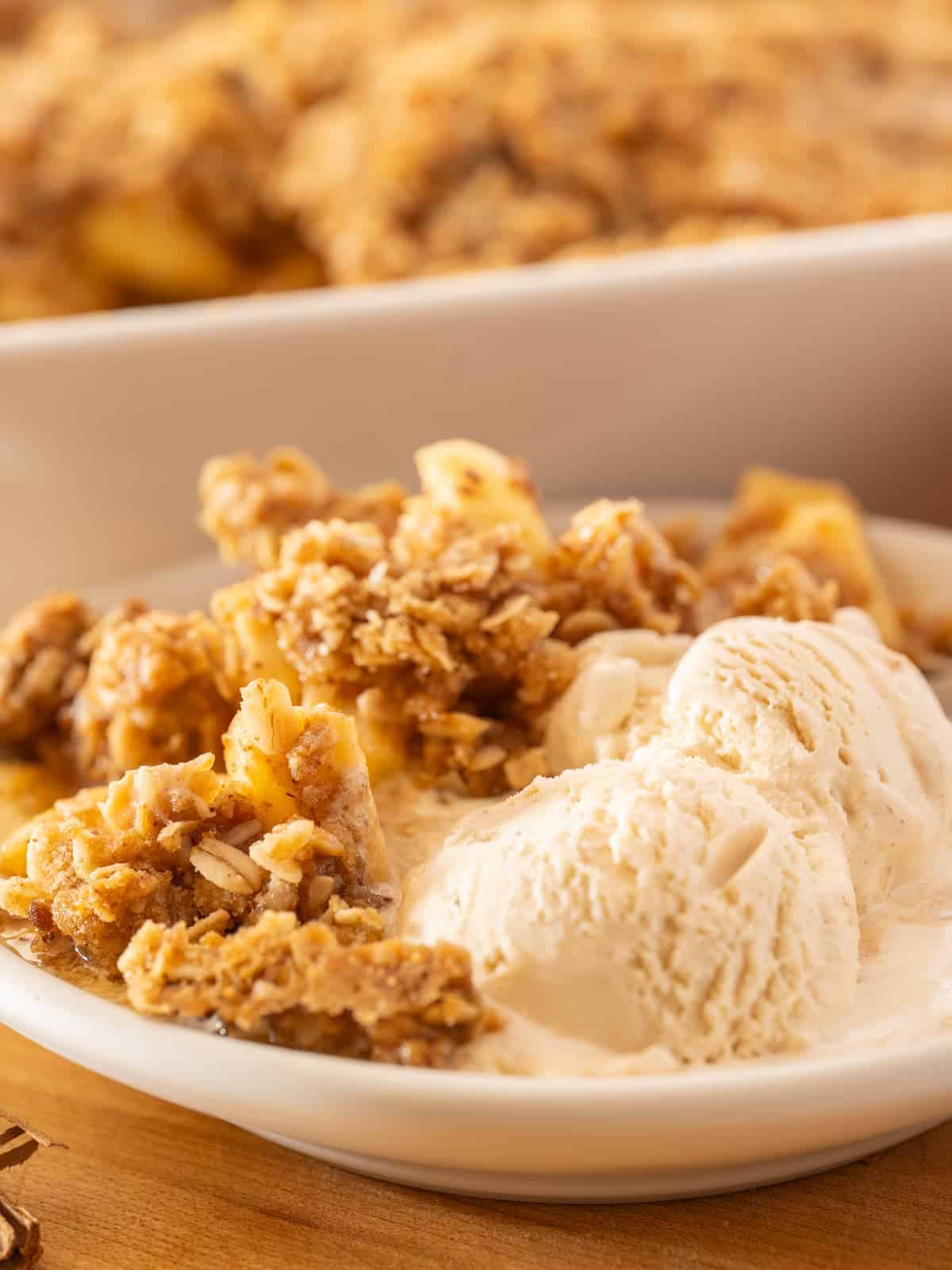 Now that you have the foolproof apple crisp recipe and all the tips and tricks to perfect it, it's time to get baking! Whether you're hosting a dinner party, preparing a special treat for yourself, or looking for a comforting dessert to enjoy on a cozy evening, this apple crisp recipe is sure to impress. So grab your apron, follow the simple steps, and savor the deliciousness of your homemade apple crisp!
Hungry For More Apple Desserts?
When autumn rolls around, warm apple spice is at the top of my list. Apple desserts bring all the #fallfeels.
These apple cider donuts are tender and crispy on the outside, coated with cinnamon sugar, and full of apple cider flavor. Reduced apple cider and…
Leave A Review
Did you make this recipe? Leave a comment and a 5 ★ review. Your feedback helps other readers and helps me continue to offer recipes at no cost. Happy Cooking!!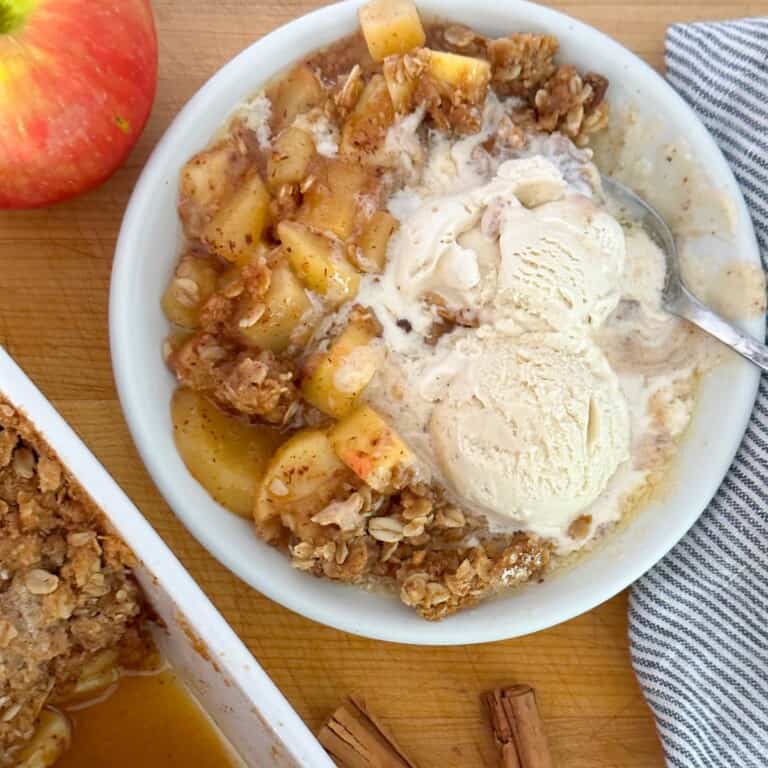 Easy Apple Crisp Recipe
Introducing our foolproof apple crisp recipe that is guaranteed to have you coming back for seconds. This deliciously crisp dessert is the perfect way to showcase the flavors of fresh apples.
Instructions
Preheat the oven to 375 ℉.

Use butter to grease a baking dish.
Prepare The Apples
Peel and core the apples. Cut them into thick slices, and place in a large bowl.

Add the lemon juice, granulated sugar, cinnamon, and flour to the sliced apples and stir to coat.

¼ cup granulated sugar,

1 ½ teaspoons cinnamon,

2 tablespoons all purpose flour,

1 tablespoon lemon juice

Pour the apples into your greased dish, layering them as necessary so that they all fit. [Keeping some gaps between the individual slices allows for the topping to seep into the filling while it cooks. This results in 'caramelized wonderfulness.]
Oat Topping
Combine all of the dry topping ingredients together in a bowl.

1 cup steel cut oats,

¾ cup all-purpose flour,

¾ cup brown sugar,

¼ teaspoon kosher salt

Dice the butter into small cubes and add it to the dry topping mix. Use your fingers to pinch the butter and the dry ingredients together until you have a crumbly texture.

Sprinkle the oat topping over the apples.

Bake for roughly 40 to 50 minutes. The apples should be tender and the top should bubbly and caramalized.
Laura's Tips + Notes
Substitutions
Gluten-free flour: gluten-free flour or almond flour can be used as a substitute for traditional flour in this recipe.
Sugar substitutes: To lower the amount of sugar in this recipe you can use a sugar substitute such as Lankanto or Swerve.
YOUR OWN NOTES
Sign In to add your own private notes
Nutrition
Serving:
0.75
cup
Calories:
342
kcal
Carbohydrates:
55
g
Protein:
4
g
Fat:
13
g
Saturated Fat:
7
g
Trans Fat:
0.5
g
Cholesterol:
31
mg
Sodium:
80
mg
Fiber:
5
g
Sugar:
31
g
Calcium:
36
mg
Iron:
2
mg