How To Make the BEST Cheese Plate
I've always considered cheese to be special. Seriously. As food goes cheese is in its own category, a bit like wine and chocolate. Heck, the three things together are even better! Think about it, someone figured out how to make grapes into wine, cocoa beans into chocolate and milk into cheese! That is some serious culinary magic when you really start to consider the science.
What is life without cheese:
Imagine traditional French onion soup without cheese! Sure it would taste good, but it would be a boring brothy bowl of onions with soggy bread.
One of the sadder stories I ever heard was Glynneth Paltrow explaining that she only allows herself to eat cheese at Christmas. Wow.
Wallace and Gromit and Gwyneth Paltrow aside, if you 'do dairy', cheese can be seriously handy to have around. Not only does it add some excitement to your morning scrambled eggs; but it can also make a quick appetizer when friends stop by to watch a movie or the game.
Cheese makes an easy centerpiece when you are hosting.
It can be dressed up or down, looks cool, and tastes great.
A 'cheese plate' can even serve the dietary needs of your friends who are gluten-free, dairy-free, Paleo, or vegan IF you include a bit a variety for everyone – add fruit, nuts or meats.
This gives everyone options that work for them. There is no need to make different dishes for each 'dietary camp' at the party.
How to Make a Beautiful Cheese Plate
The trick to making a good cheese plate is to make it look as pretty as it tastes.
Ideally, pick three different types of cheese.
Look for a variety of texture and flavor.
Brie — soft and mild
Blue Cheese — medium texture and stronger in flavor
Gruyere — a hard cheese with a 'middle ground' flavor
No need to break the budget by buying something fancy.
Buy what you like and dress it up. Use fruit or herbs to add some color. If you use fruit, make it bite-sized. Grapes and (fresh or dried) stone fruits work great!
Add a few fancy accouterments
Add a small bowl of high-end jam or honey. Treat it like a spread. Serve it all at room temperature. Don't forget the crackers!
Remember if you're trying to meet a wide variety of dietary needs – think in terms of each camp.
Want to cook something for guests instead?
Pull out the puff pastry! Puff pastry can make even the simplest of efforts look like you went to culinary school. Here are two of our favorites:
After the pastry dough thaws the assembly of this dish takes about 5 minutes. It looks rustic and tastes fantastic. The colors and textures are gorgeous.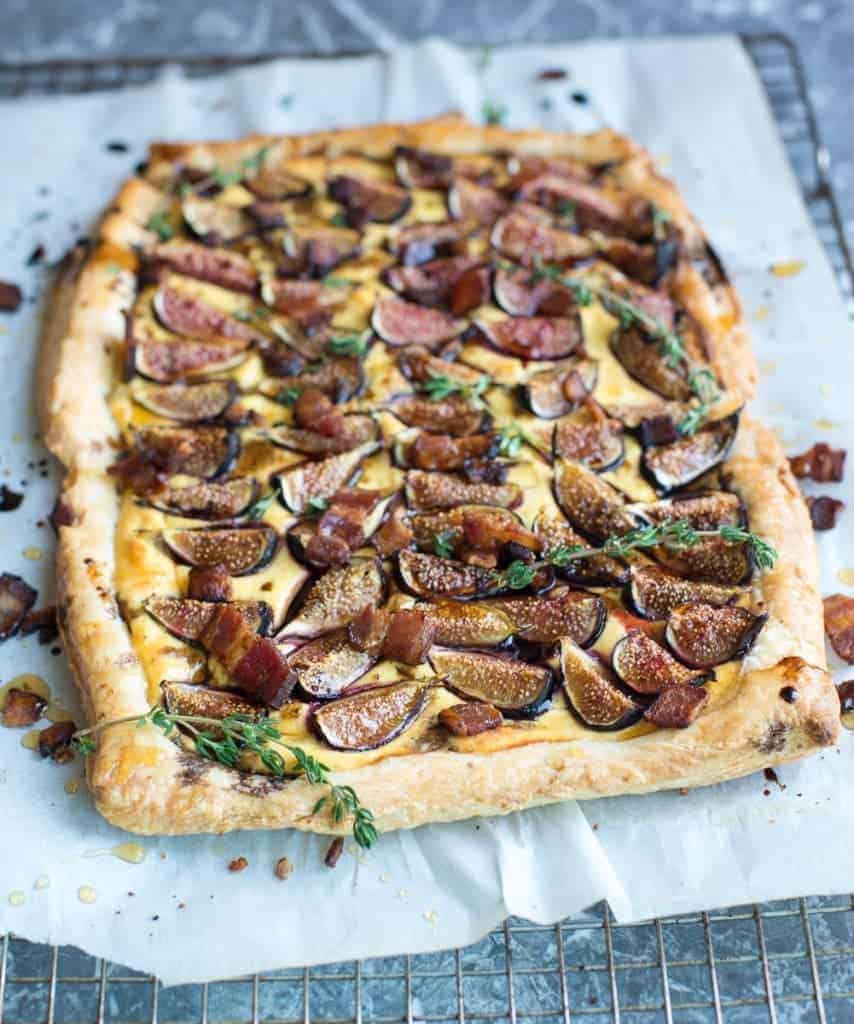 This is a bit trickier than the tart, only because you have to roll it up! Don't like ham? Switch it out.
One of the easiest ways to create something special for guests is to wrap up a yummy combination of flavors into a fun shape and throw it in the oven.