This post should really be called 'Playing with Puff Pastry'!
Ham and Cheese Palmiers are only one of many things you can create with puff pastry.
Jump to Recipe
Print Recipe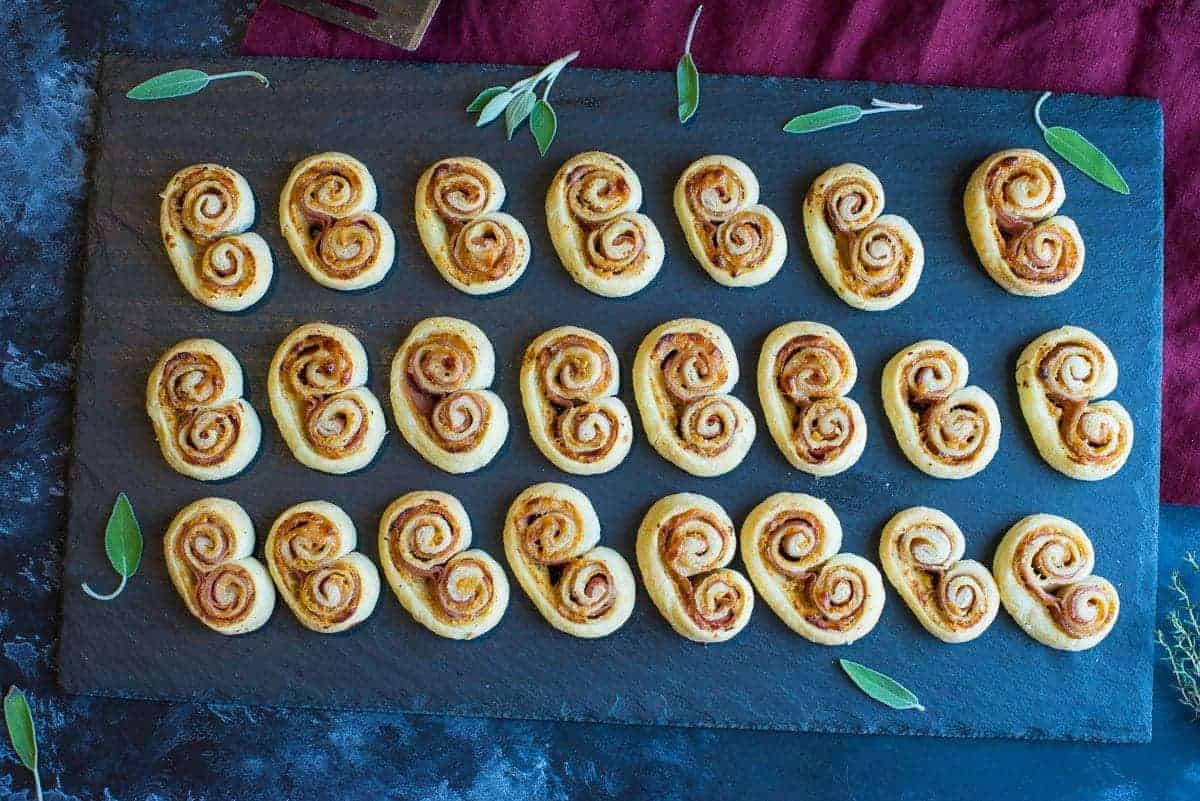 Tis the season for entertaining. When I have people over, one thing that often leaves me feeling in a rut is appetizers. My general go-to is to put together a colorful plate of veggies and dip….or a cheese plate…or a bowl of nuts. While these are perfectly reasonable, delicious and visually appealing options that allow guests to have something to snack on while keeping their nutritional goals in line, they are also just getting a bit – well – boring.
This time of year my creativity for cooking ramps up and my usual go-to approach just feels uninspired. It's natural that this seasonal creative motivation might be applied to appetizers, too!
Enter puff pastry!
One of the easiest ways to create something special for guests is to wrap up a yummy combination of flavors into a fun shape and throw it in the oven. The flavor combinations are almost endless. Just pick a your 'wrapper of choice' and go to town with stuffings or toppings. My favorite 'wrapper' is puff pastry. There is something magical about how flaky and elegant it turns out. [Maybe this fascination is rooted in my life-long challenges with making a really good pie crust.]
Wrapper Ideas:
puff pastry – my favorite…as it is both easy to use and delicious.
phyllo dough – a little trickier to work with, but equally versatile
won ton wrappers
Stuffing Ideas:
ham, mustard, and cheese – Gruyere/Parmesan) – [The recipe for this specific combination is below]
prosciutto, tomato paste, Parmesan cheese, and basil
chicken, pesto and cheese – Mozzarella or Parmesan
Do you see a theme here? (1) a not-too-wet sauce, (2) something melty – like cheese, and (3) a thin-sliced (or small diced) protein.
There is really no end to the combinations…try olive tapanade, jam (savory or sweet), dried fruit, blue cheese, mushrooms, diced shrimp, diced sausage, turkey, chocolate and cream cheese… You could also just keep it simple and do a spread all by itself. Let your imagination go wild.
While the possibilities ARE endless, there are a few rules of thumb to consider: How does the filling you've chosen react to being heated in the oven? Do the flavors and textures you've chosen work together when warm?
If all this is just too much creativity for you- or if you have guests coming up the front walk – just follow the recipe below.
Sign up so that you don't miss a thing. Also, please share your creative culinary escapades! We love to hear from you.
[mc4wp_form id="1940″]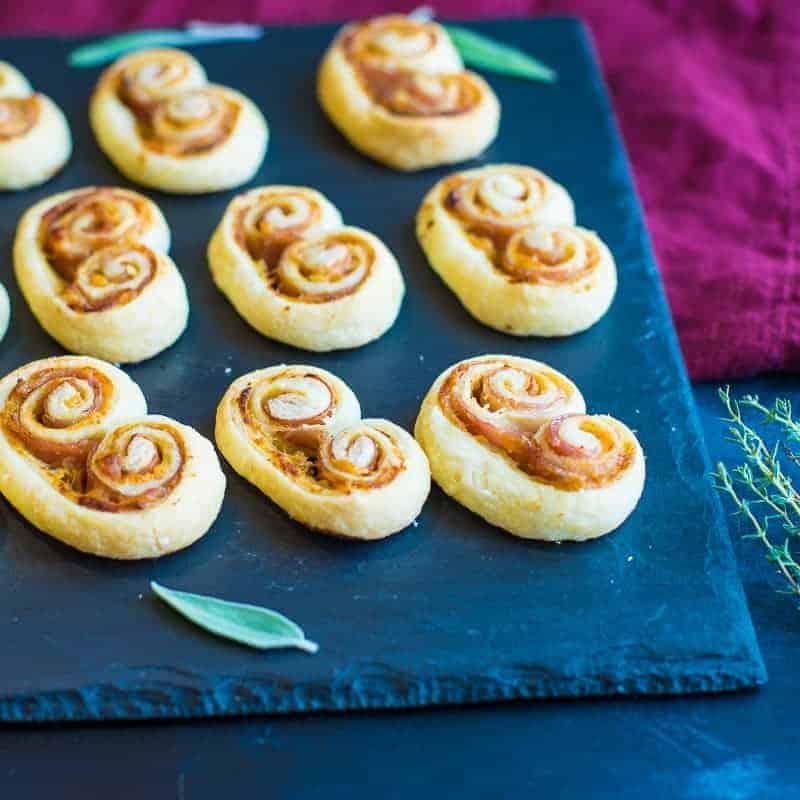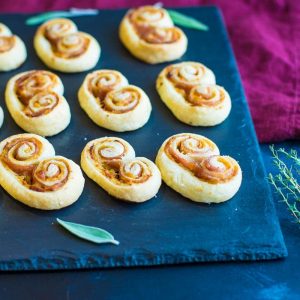 Ham and Cheese Palmiers
This is an easy to prepare, elegant appetizer. They can also be made at the last minute.
Print Recipe
Pin Recipe
Ingredients
1

sheet

puff pastry

thawed

2

tbsp

hot sweet mustard

1

cup

Gruyere cheese

shredded

1/4

cup

Parmesan cheese

finely grated

4

oz

baked ham

very thin deli slices
Instructions
Preheat oven to 425 degrees.

On a lightly floured surface, roll out puff pastry to a 10 x 14" rectangle.

Spread a thin layer of mustard over the pastry.

Sprinkle the two cheeses evenly over the top of the mustard.

Arrange the ham in a single layer over the top of the cheese.

Lay a piece of waxed paper (or parchment) on top of the ham. Use a rolling pin to gently compress the layers together. Carefully remove the waxed paper.

Cut the rectangle in 1/2 to make two 10 x 7" bands. Take one band - gently roll one long edge of the band to the center (rolling the the ingredients to the inside). Repeat this with the opposite edge so that the two rolls meet in the middle. (You should end up with a scroll shape.)

Use a VERY SHARP knife to slice each band into 1/2" slices. Place on a parchment-lined or non-stick baking sheet.

Bake 10-12 minutes until golden brown. Let cool on a rack and serve just slightly warm.
Notes
Swiss cheese may be substituted for Gruyere cheese.
You can assemble the scrolled logs of filled pastry in advance. They will keep in the refrigerator for several hours. Do not slice them until you are ready to bake them.
If you have been watching too many baking competition shows and want to make your puff pastry by hand. It IS possible, however as one who is challenged to create a truly flaky pie crust, I'll stick to prepared puff pastry dough.
Nutrition
Calories:
66
kcal
|
Carbohydrates:
3
g
|
Protein:
2
g
|
Fat:
4
g
|
Saturated Fat:
1
g
|
Cholesterol:
6
mg
|
Sodium:
83
mg
|
Calcium:
46
mg
|
Iron:
0.2
mg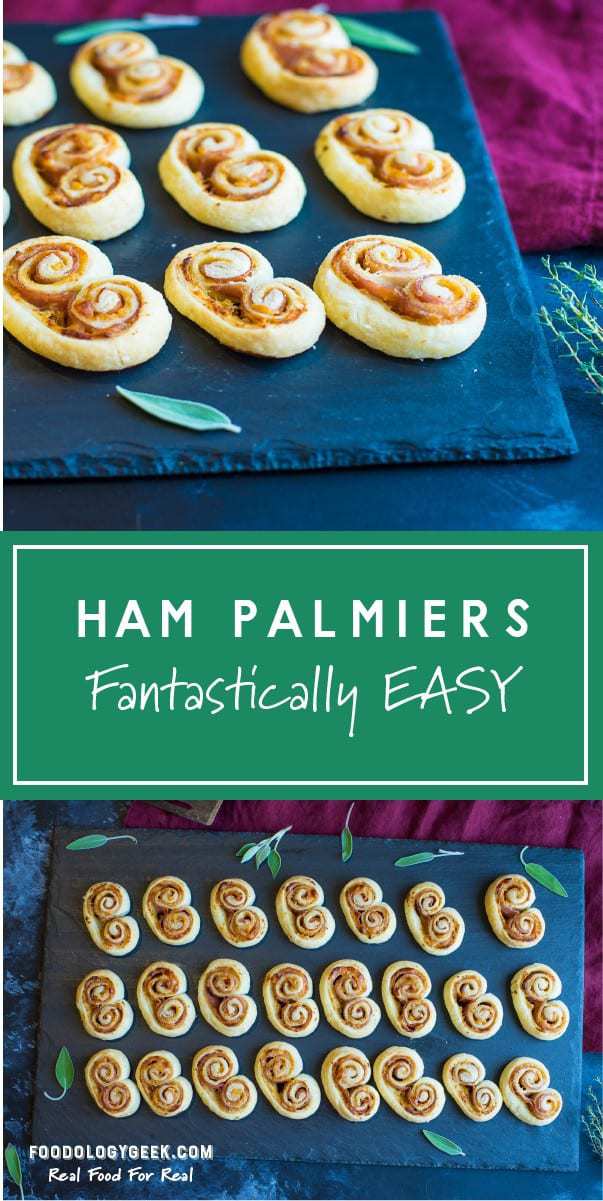 (Visited 329 times, 1 visits today)