If you're like me, you love beef jerky. It's the perfect snack to pack in your lunch or take on a hike. But store-bought jerky can be expensive, and it often contains unhealthy additives.
So why not make your own? This easy beef jerky recipe is sure to become a favorite. Plus, you can customize it to your liking by adding different spices and flavors. So get ready to enjoy the best jerky ever!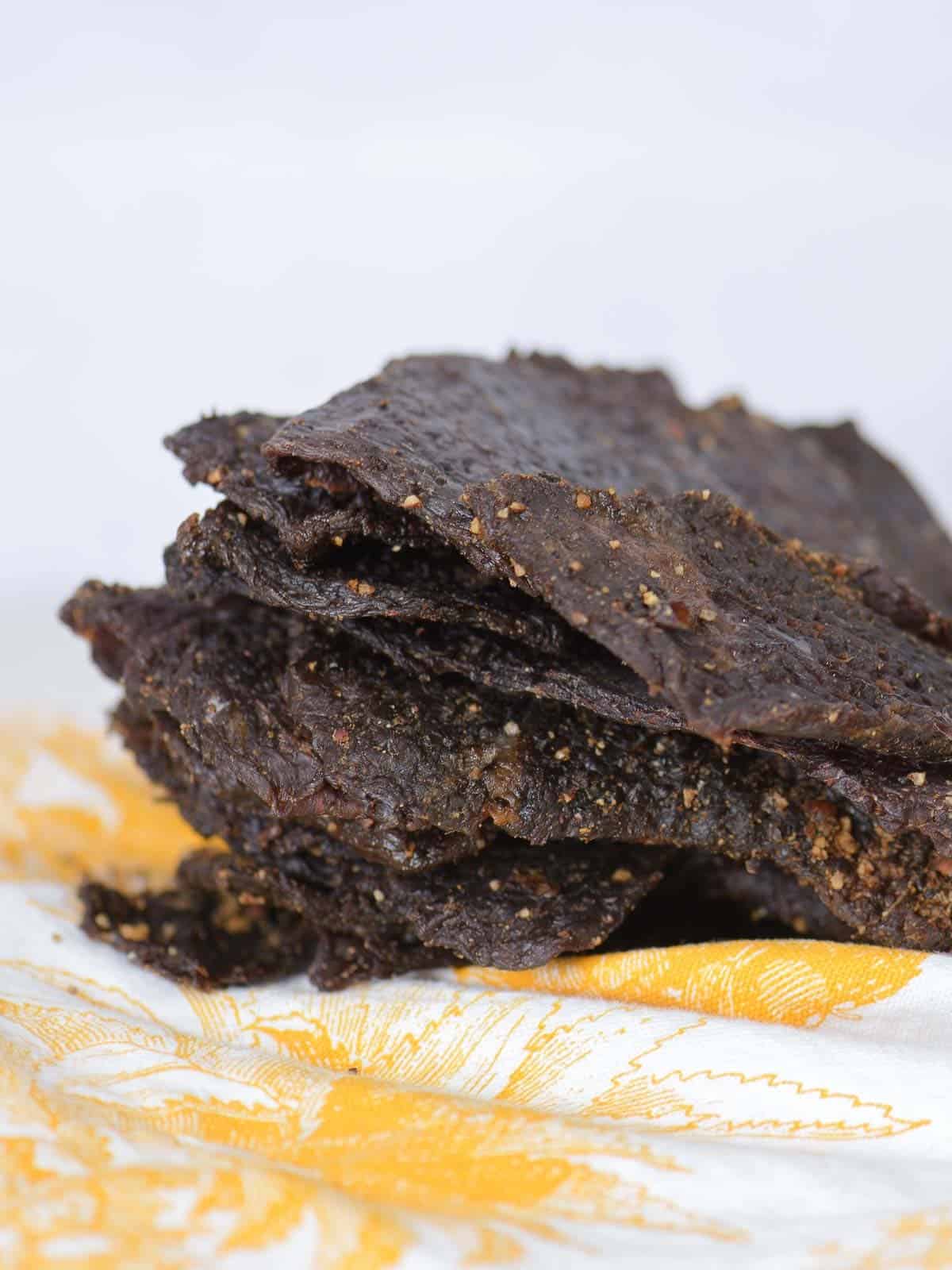 My mom makes Beef Jerky for Christmas every year. We can't get enough of it. She has to hide it, so it doesn't get eaten before it's time to give it as gifts.
Homemade Jerky Is The Best!
Store-bought jerky is usually super expensive and way too sweet for my taste. Homemade beef jerky can be made at a fraction of the cost and you can season it however you like.
I like my jerky savory and peppery, not to mention with a big kick of spiciness. You can also check out my Hawaiian Beef Jerky Recipe which is savory-sweet with a little bit of Island umami.
Once you make your own jerky, you'll never go back to buying store-bought jerky again.
What Kind of Beef To Use
A lean cut of meat is best for making dehydrator jerky. Lean cuts are best because the fat will not render at low temperatures.
The best lean cuts of beef are:
london broil
flank steak
eye of round roast
top round
sirloin
Where To Buy Beef
When you're making beef jerky you want to use the highest quality meat you can find. I like to use grass-fed beef because it has a healthy fat profile than corn-fed beef. If you need a resource for sustainably grown meat and poultry here are a few resources.
What could be better than grass feed beef delivered right to your door?
US Wellness Meats (affiliate link)
Butcher Box (affiliate link)
Snake River Farms (affiliate link)
How To Slice The Beef
You can slice the beef yourself at home or ask your butcher to do it. The butcher has industrial-grade slicers that make it easy to get thin slices of beef.
If you are going to slice the beef yourself, put the beef in the freezer for a few hours before slicing. When the beef is extra cold, it will be easy to slice. Make sure you have a heavy cutting board and a sharp knife.
You want to slice the meat into thin strips (about one-quarter inch thick). Thick slices will be hard to chew and will take forever to dry.
Against The Grain Or With The Grain
The direction in which you slice beef will affect its texture. This is a highly debated question amongst jerky lovers. But in the end, it comes down to your preference.
When you cut the beef against the grain you end up with a more tender, and in my opinion, easier-to-chew bite of jerky.
Cutting the slices with the grain keeps the longer muscle fiber intact and will be chewier.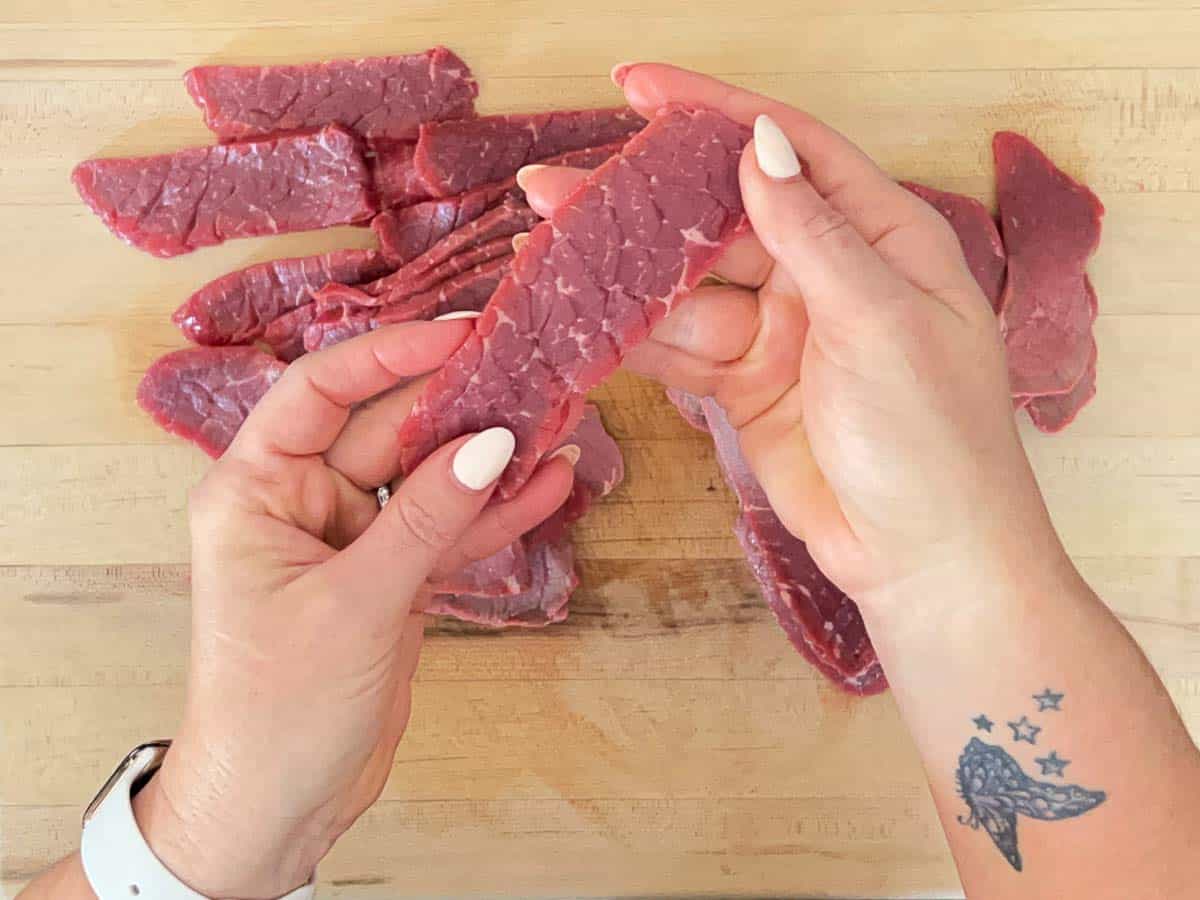 Meat Tenderizer
I use the texturized side of a meat tenderizer tool to pound the meat slices. Tenderizing the meat this way has two main benefits.
Pounding the meat will ensure it's more even so it will dry more evenly. The texturized face of the meat tenderizer tool also helps to break up the connective tissue. The result is tender and tasty beef jerky.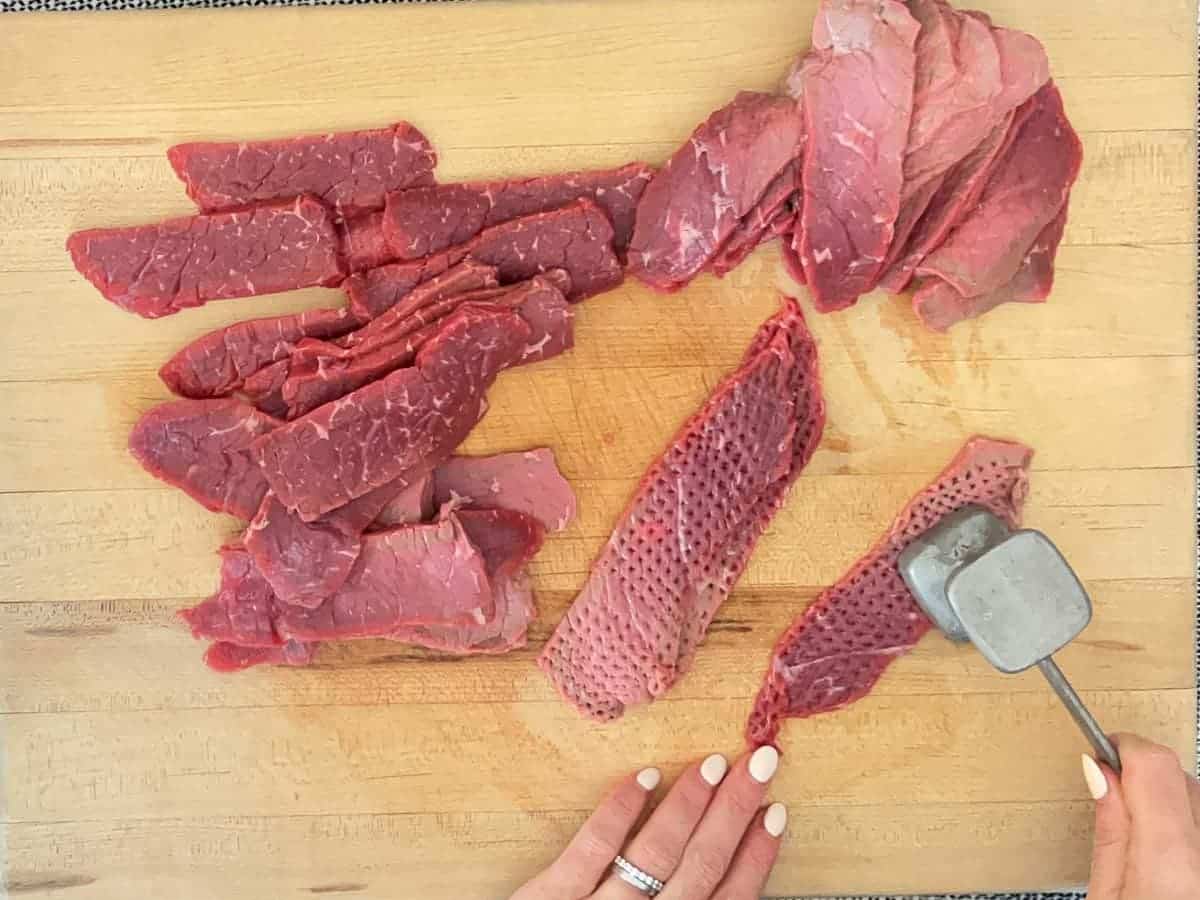 Certain ingredients in the marinade also contribute to the tenderness of the meat. You can add one or a mixture of these ingredients.
Meat tenderizer – Commercial meat tenderizer is a powder that contains an enzyme called papain. Papain is an enzyme derived from papayas and is an incredibly efficient, tenderizer.
Fresh pineapple juice – Fresh pineapple juice contains the enzyme bromelain. Bromelain works well as a meat tenderizer. Remember that pasteurization kills this enzyme, so canned juice will not work the same way as fresh pineapple juice.
Beer – Beer contains alpha acids and tannins that help break down fibers in meat, making it more tender and flavorful.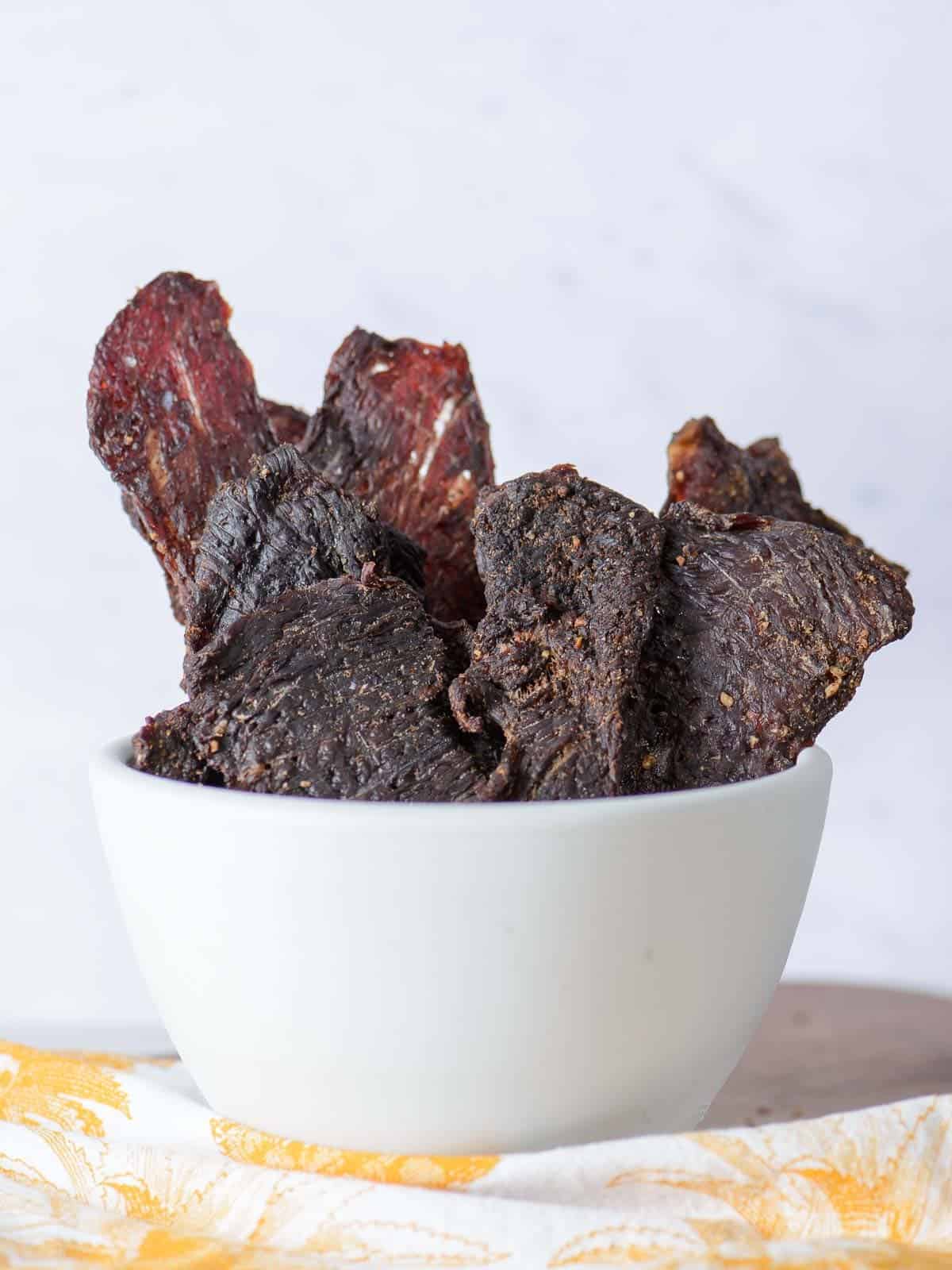 Jerky Marinade
There are a lot of different ingredients that can go into a jerky marinade but I like to keep it simple. I still want my beef jerky to taste like beef. You don't want to overwhelm the meat with too much seasoning or sweetness.
I have two main versions of marinade that I use for making beef jerky. One is this recipe with I call Steakhouse marinade. It's simple and has a similar flavor to what I would use marinate a steak before grilling.
This marinade has great flavor and is a perfect simple marinade to start with if it's your first time making beef jerky. You can start with this homemade beef jerky recipe and then tweak it to make it sweeter, spicier, or more garlicky.
The second version has a Hawaiian twist and is a bit sweet and spicy. This recipe is coming soon. Grab the recipe NOW in the download!!!
Ingredients For The Marinade
Here's a list of the basic marinade ingredients you'll need to make jerky and a few substitutions that you might find helpful.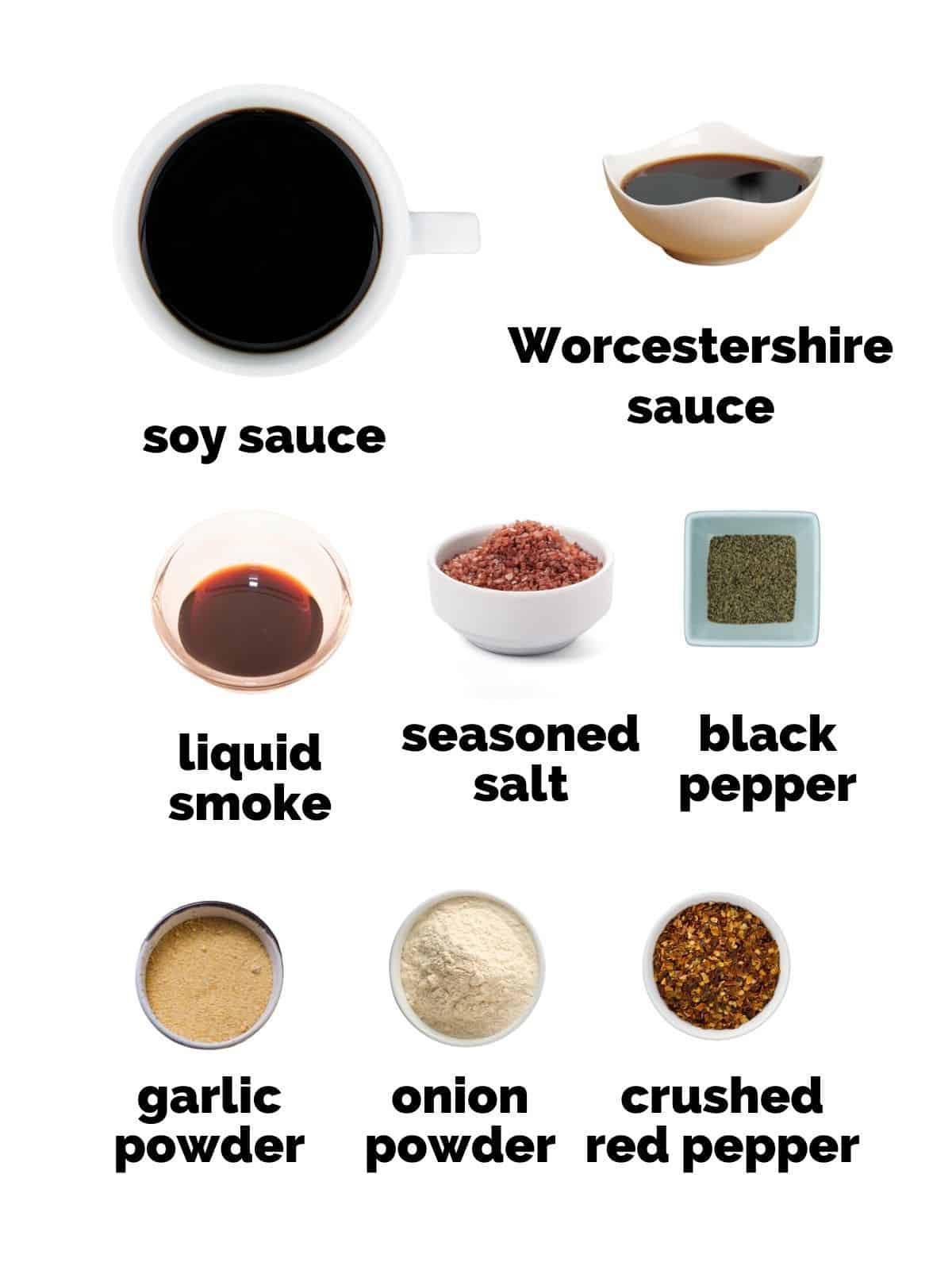 Soy sauce adds saltiness and flavor to the jerky. You can opt for low sodium soy sauce. You can also substitute tamari or liquid aminos for soy sauce.
Worcestershire sauce adds umami to the marinade.
Liquid smoke will add a smoke flavor to the meat without the actual smoking. You can use Hickory or Mesquite.
Garlic powder.
Onion powder.
Seasoned salt. I use Ono Hawaiian Seasoning

(affiliate link)

. Smoke salt is also a good option.
Black pepper.
Red pepper flakes. Optional. Adjust to your level of spiciness. I usually like it extra spicy.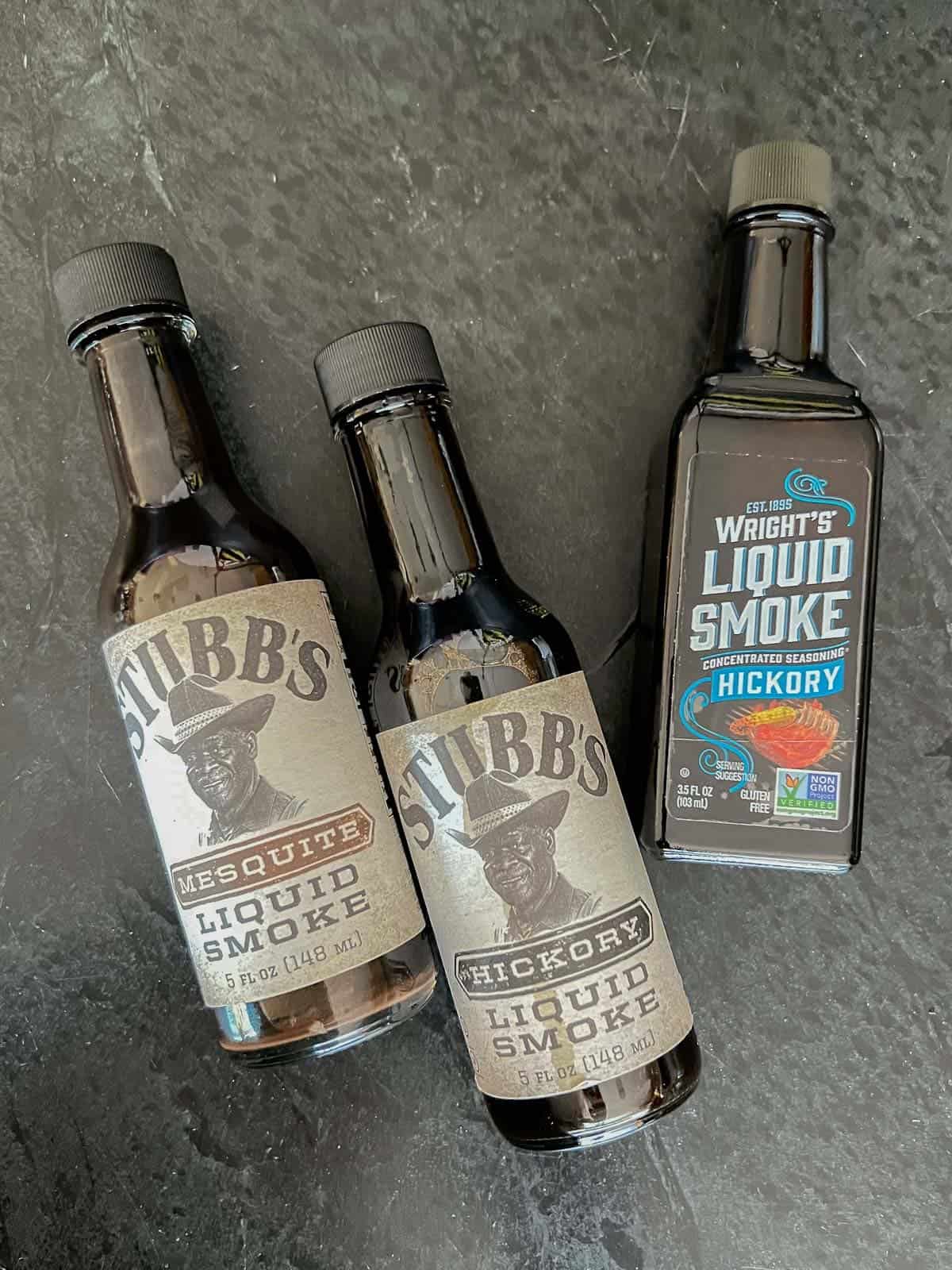 The Best Way To Marinade Beef Jerky
The easiest way to marinate beef jerky is in a large ziplock bag. You can mix all of the ingredients for the marinade right in the bag, then simply add the thinly sliced beef to the bag. Marinate for at least two hours, up to overnight.
I usually make my jerky marinade in the morning and let the meat marinate all day. Then I will dry the jerky overnight.
You can also use a shallow dish to marinate the meat.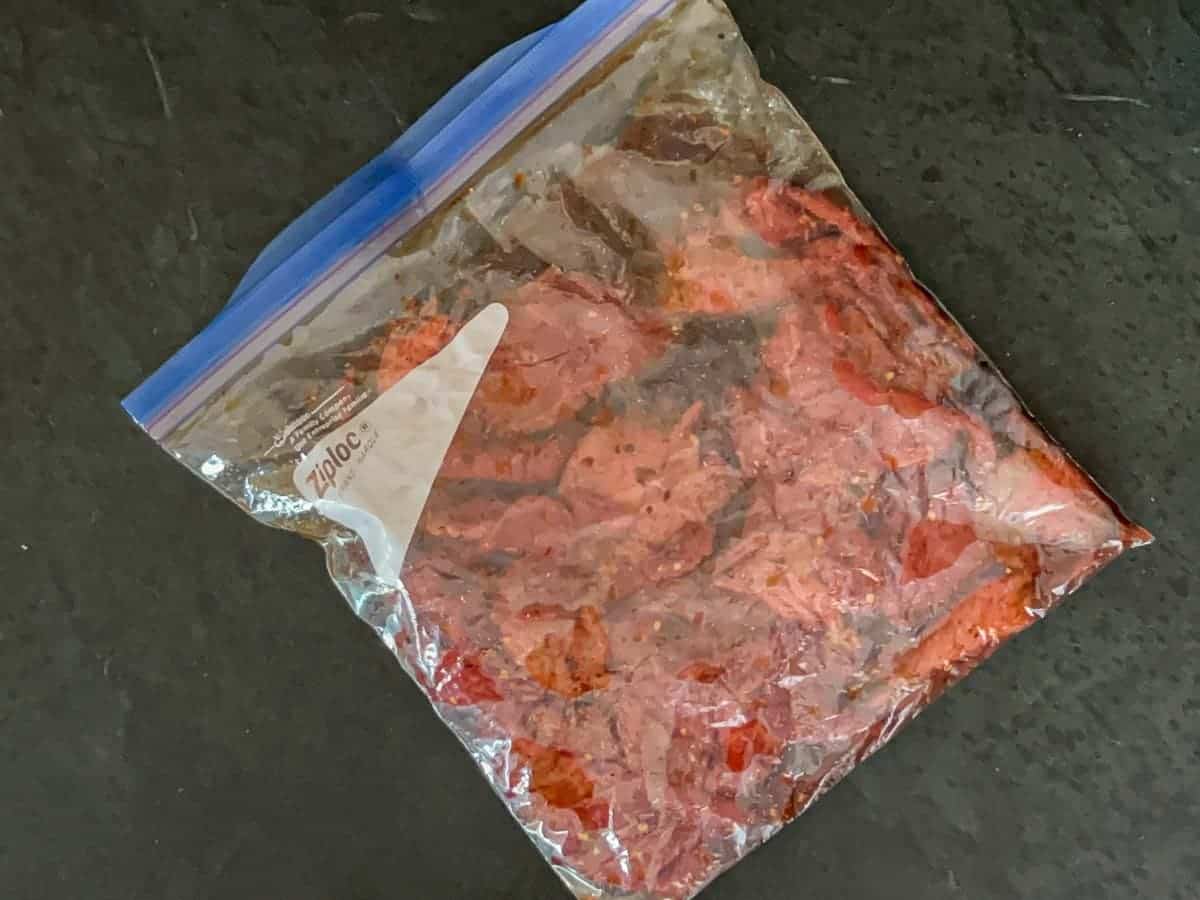 How To Dry Beef Jerky
Beef jerky can be dried over a fire, in a smoker, in the oven, or a dehydrator. All these methods work great and will give you those chewy, savory jerky strips you're craving.
Dehydrator Beef Jerky
The easiest way to make beef jerky is in a food dehydrator. A good food dehydrator can keep its temperature consistent and has a powerful fan directing air over a small space. The result is evenly dried beef that is virtually hands-off once you start.
I have the old-school Nesco dehydrator I have had since the late 90s. I have often thought about upgrading but hate buying something new until the old one breaks. So… Nesco dehydrator, I'm still rocking it.
Drain off the excess marinade in a colander.
Place the beef slices in a single layer on the dehydrator trays.
Set the dehydrator temperature to 145 to 160℉.
Dehydrate the jerky for 8 to 10 hours. The jerky closest to the fan may dry out faster, so check in with it and rearrange the trays and/or slices of beef if needed.
The strips of beef should be flexible and chewy. You don't want the pieces of beef to be so dry that they crack.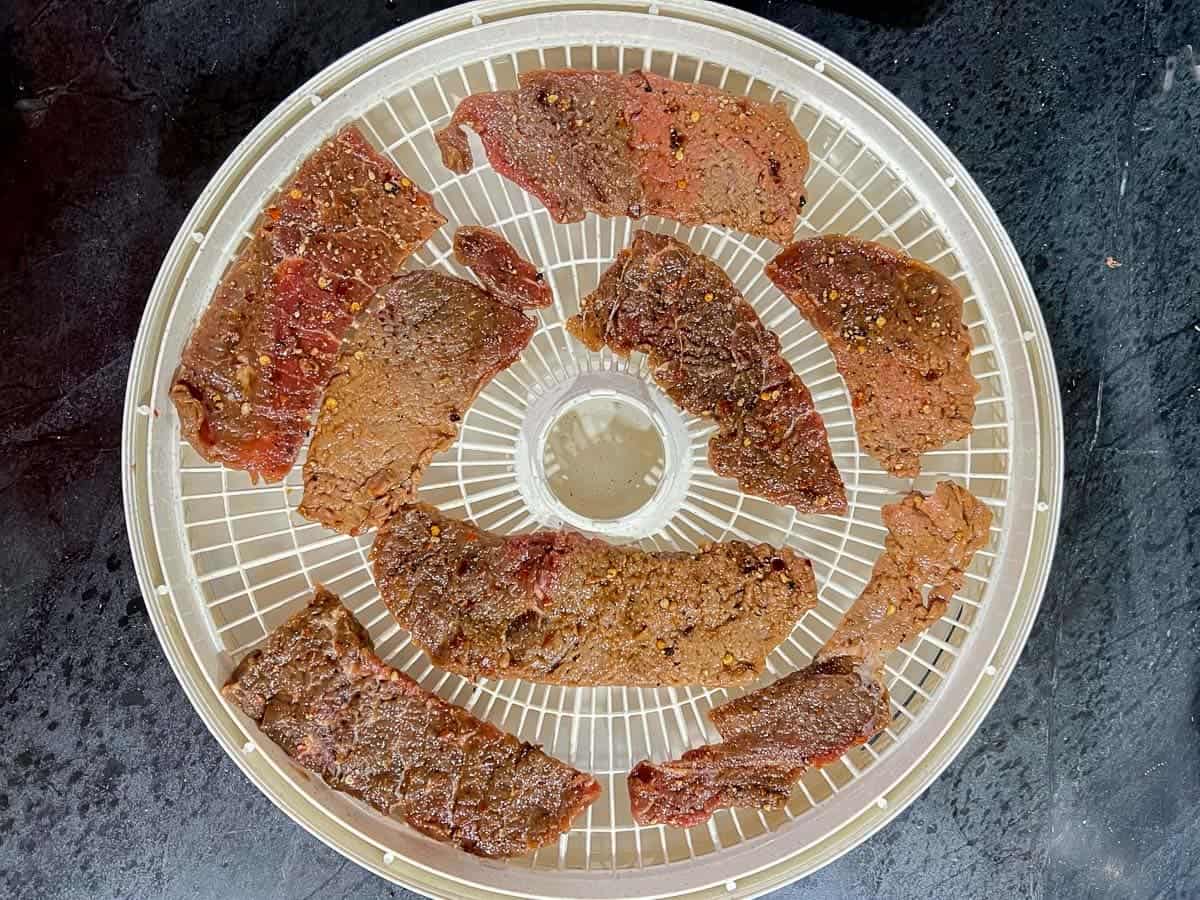 Oven Beef Jerky
The oven method is also great, but you must have four to five large sheet pans and baking racks.
Set the oven racks to be centered and evenly spaced in the oven.
Preheat the oven temperature to 145 to 160℉.
Drain off the excess marinade in a colander.
Line your baking sheets with aluminum foil and place a wire rack over each baking sheet.
Place the beef slices in a single layer on the wire racks.
Dehydrate the jerky for 8 to 10 hours.
Beef Jerky On A Smoker
On a smoker. The smoker method is probably the most advanced method for making jerky. If you are skilled with a smoker, I highly recommend it.
I will save my beef jerky smoker recipe for a separate post. Stay tuned!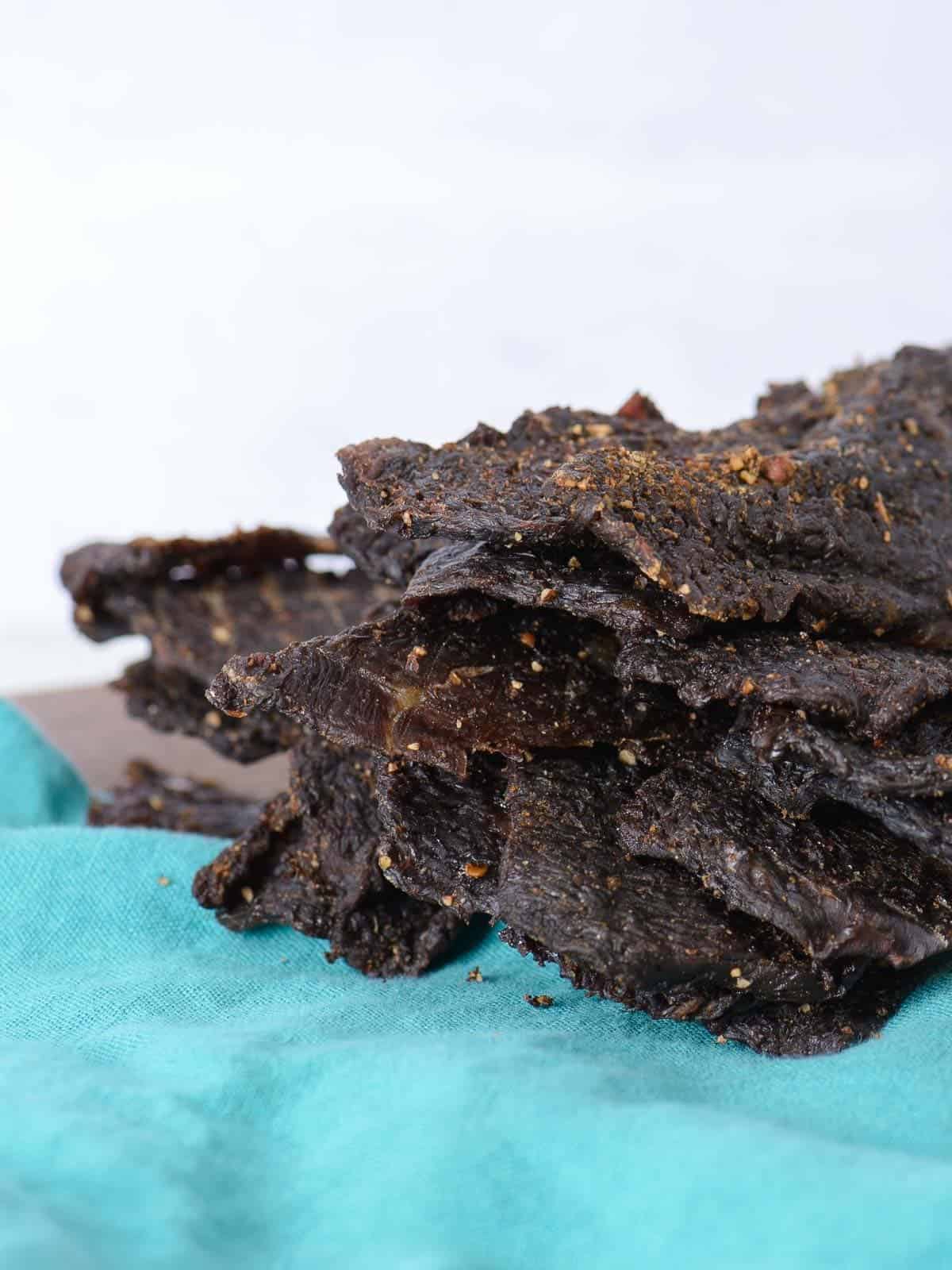 How To Store Beef Jerky
Store beef jerky in an airtight container. I usually keep it in the refrigerator, but you don't have to. Beef jerky keeps longer in the fridge.
In our house, the beef jerky is gone before we ever have to worry about storing it. A lot of time, half the batch is eaten right out of the dehydrator.
I'm seriously considering an industrial food dehydrator just for making beef jerky!!
Hungry for more healthy snack recipes?
When you've got a craving, it shouldn't be denied!!! Find snack recipes that will healthily satisfy your cravings.
➽ Did you make this recipe? I love to see what's going on in your kitchen. Show me what you're cooking. 🍳 Tag me @foodologygeek on your favorite social channel! Facebook, Instagram & Pinterest. If you loved ❤︎ this recipe, please leave a five ★ review and a comment!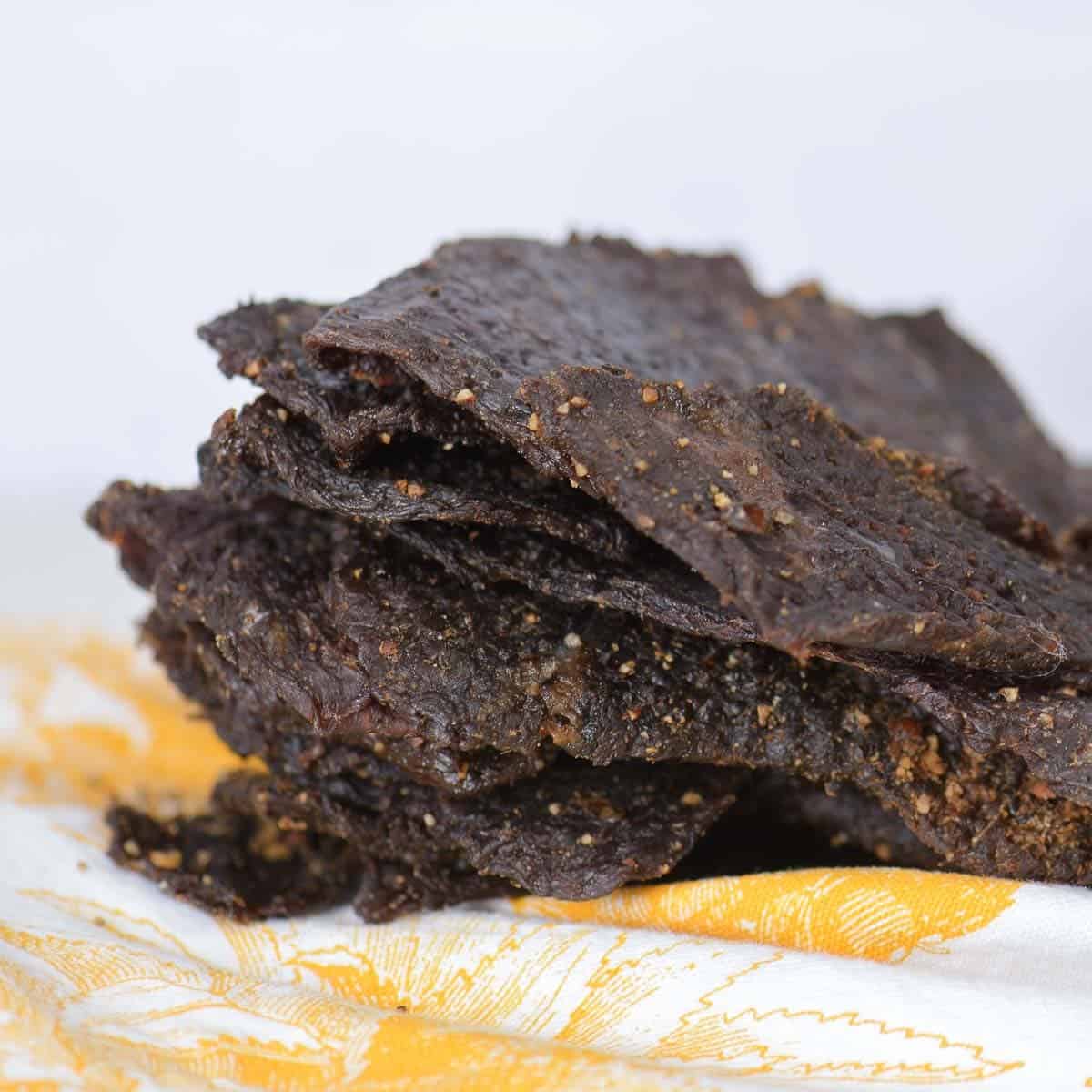 Beef Jerky Recipe
I'm not sure about you, but I love beef jerky. It's the perfect snack to take on the go, and it's always satisfying. If you're looking for an easy and affordable way to make your own beef jerky, then this beef jerky recipe is for you.
Instructions
Slice the beef. Freeze the beef for an hour or more so that it is very cold but not frozen solid. This makes it easier to slice. You could also ask your butcher to slice the beef into ¼-inch slices.

Tenderize the beef. Using a meat mallet, pound the beef so that it is about ⅛th of an inch thick. You want the thickness to be even so that the beef dries evenly.

Make the marinade. Mix the ingredients for the marinade together in a zip top bag or in a bowl.

½ cup soy sauce,

2 tablespoons Worcestershire sauce,

1 teaspoon liquid smoke,

½ teaspoon garlic powder,

1 teaspoon onion powder,

1 teaspoon seasoned salt,

1 to 2 teaspoon black pepper

Marinate for 8 hours. Add the beef to the marinade and mix to make sure the beef is entirely covered. Marinate in the refrigerator for 8 hours. I you're in a hurry, I recommend a minimum of 2 hours of marinating time.

Dehydrate the beef jerky. Place the slices of meat in a single layer on your dehydrator trays. Set the dehydrator to a temperature between 140 and 160℉. Start to check on the jerky at around 4 hours. It will take 4 to 8 hours, depending on the thickness of the jerky slices.
Laura's Tips + Notes
The oven method is also great but you need to have four to five large sheet pans and baking racks.
Set the oven racks so that they are centered and evenly spaced in the oven.
Preheat the oven temperature to 145 to 160℉.
Drain off the excess marinade in a colander.
LIne your baking sheets with aluminum foil and place a wire rack over each baking sheet.
Place the beef slices in a single layer on the wire racks.
Dehydrate the jerky for 8 to 10 hours.
YOUR OWN NOTES
Nutrition
Serving:
2
ounces
Calories:
151
kcal
Carbohydrates:
1
g
Protein:
11
g
Fat:
11
g
Saturated Fat:
4
g
Trans Fat:
1
g
Cholesterol:
40
mg
Sodium:
610
mg
Fiber:
1
g
Sugar:
1
g
Calcium:
15
mg
Iron:
1
mg