One of my most absolute favorite desserts is S'mores! Even better with HOMEMADE MARSHMALLOWS! The flavor of freshly made marshmallows is so good! Plus, you can make them in different gourmet flavors.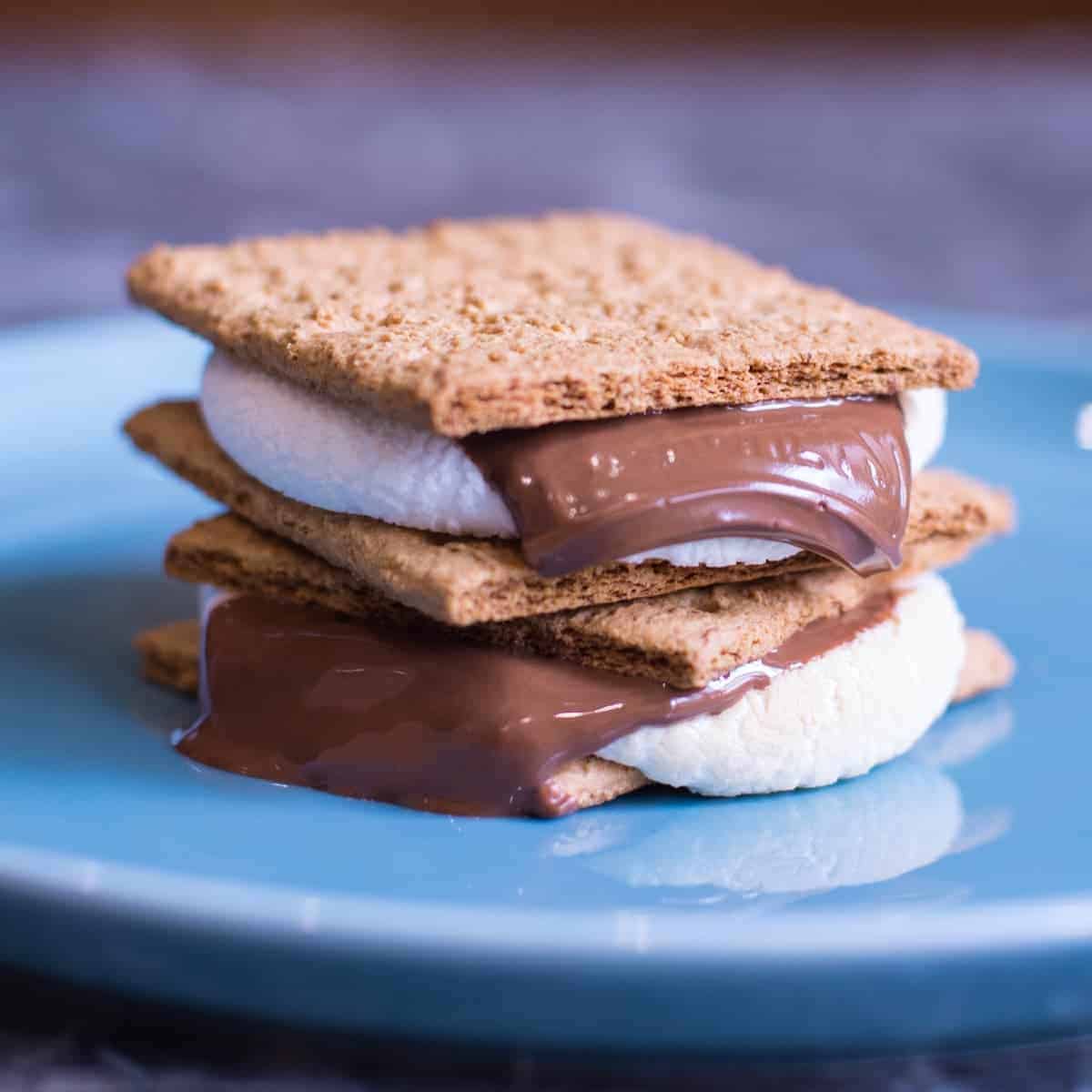 After many years of making S'mores at home, I decided to try making homemade marshmallows.
Homemade marshmallows are really easy to make!
If you've ever tasted fresh marshmallows, you know that they are a real treat.
Once you have figured out how to make a classic vanilla marshmallow you can start imaging all of the different flavor combinations that you could make.
One company has made fresh marshmallows there business.
Smash Mallow has a lot of different marshmallow flavors that are amazing for making s'mores or even just for snacking!
At four dollars a bag, they're a little pricy. But, check out their flavors for some inspiration.
If you do want to save a few bucks and try your hand making homemade gourmet marshmallows, I know you won't be sorry.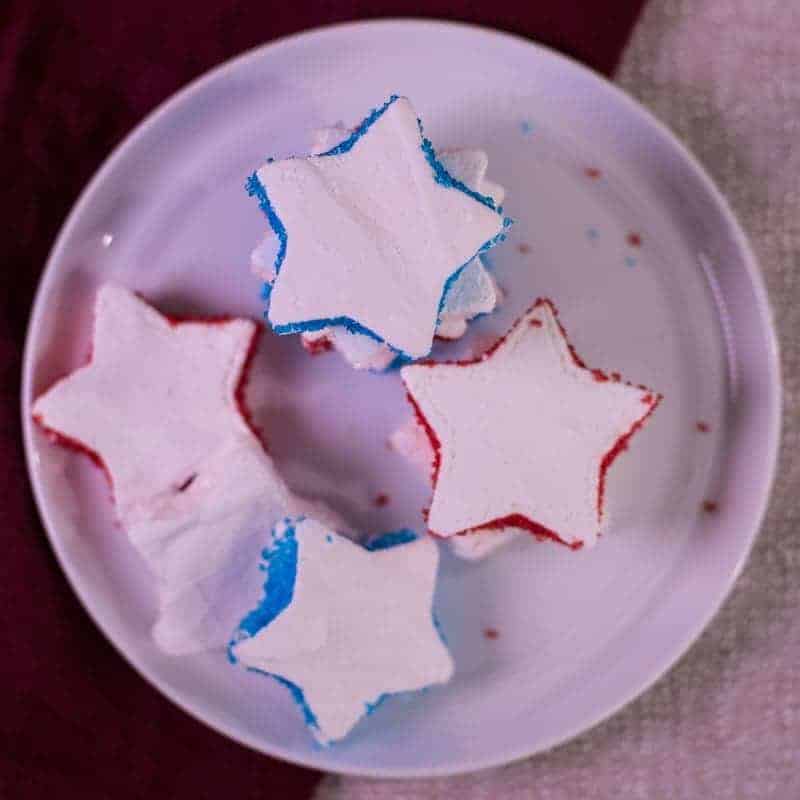 What ingredients to you need to make homemade marshmallows.
powdered sugar
gelatin
granulated white sugar
light corn syrup
egg whites
salts
vanilla
OPTIONAL: other candy flavors (I will give some suggestions for flavor combos later in the post.
Other equipment you need to make marshmallows
A stand mixer with a whisk attachment.
A double boiler. (I use a metal bowl, set over a saucepan filled with about a cup of water.)
How to make Marshmallows at Home
Start by lining the bottom of a half-sheet pan (12 x 16 inches) with parchment paper.
Generously sift half of the powdered sugar onto the paper. (see NOTE for making homemade peeps)
In the top half of a double boiler (the bowl) OFF THE HEAT, sprinkle gelatin over 1/2 cup COOL water. Make sure that all the gelatin becomes moistened. Set aside at room temperature for 10 minutes to bloom.
Whip the egg white until they form soft peaks.
Warm the gelatin mixture over a double boiler to dissolve. Keep warm.
In a medium-sized saucepan over medium heat, bring to a boil the remaining 1/2 cup of water, sugar and corn syrup.
Once the sugar mixture reaches 245 degrees F, set the mixer speed to the lowest setting and slowly drizzle the syrup into the egg whites.
Once all of the sugar syrup is added to mixer increase the mixer speed to high.
Whip the mixture at HIGH speed for about 2 minutes to cool the mixture slightly.
Return to low speed and then add the dissolved gelatin in the same way you added the sugar syrup. Scrape the gelatin bowl to make sure that it is all added to the egg white mixture.
Turn the mixer back to high speed and whip until the mixture has a smooth, light and fluffy consistency – about 5-6 minutes. The mixture will be slightly warm.
Add the vanilla. (Or other candy flavorings)
Pour the mixture into the prepared pan and spread out evenly with an offset spatula.
Lightly sift the remaining powdered sugar over the top. Set aside to cool completely. The marshmallows will set up completely in a couple of hours.
Cut into squares with a knife or use a cookie cutter to cut them into shapes. The cut edges will be sticky.
Toss the cut marshmallows in powdered sugar. (you can also use colored sanding sugar)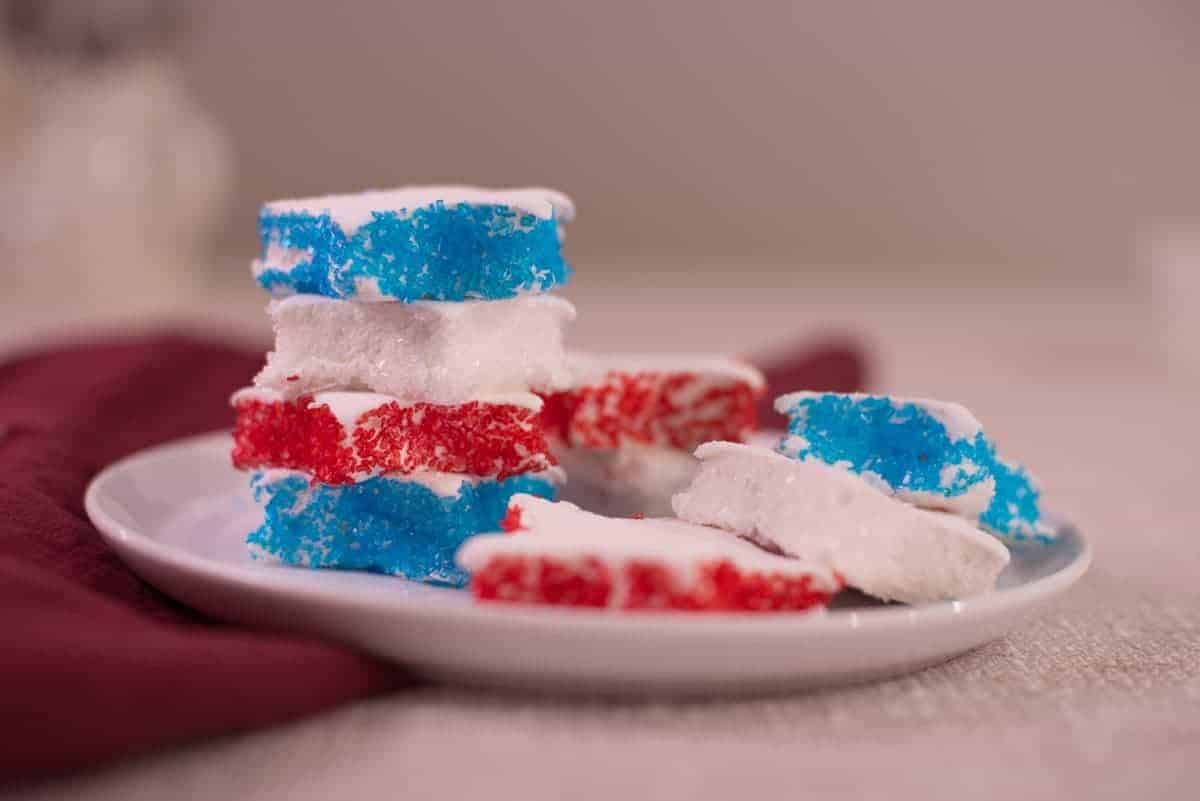 Other flavors of homemade marshmallows.
HIgh-quality candy flavoring can be used to make different flavors of marshmallows. You can also add food coloring to make fun-colored marshmallows.
I recommend using Lorann Super Strength Food Grade Flavor Oils for this application.
You can find these oils on Amazon or at the Lorann Website. There are endless flavor possibilities. Here are just a few of my favorite.
Lorann also sells high-quality food colorings.
You can also make homemade peeps
If you want to make homemade peeps, you will sprinkle your parchment-lined baking sheet with fine, colored caster sugar instead of the powdered sugar.
You will also coat the top of the marshmallows with this colored sugar as well.
You can color your own caster sugar using gel food color.
Use a cookie cutter to cut out whatever shape you want. Then roll the unsugared edges in more colored sugar.
Frequently Asked Questions about Homemade Marshmallows
Can you make marshmallows without corn syrup?
Yes, you can use honey or maple syrup in place of the sugar check out this Paleo Marshmallow recipe from Lisa at Downshiftology.
Homemade marshmallows without gelatin?
There are a few ways to make marshmallows without gelatin.
Holly's Vegan Marshmallow Recipe uses agar agar in place of gelatin.
Monica's Vegan Marshmallows are made with aquafaba and agar agar to make sweet and fluffy homemade marshmallows.
Can you make sugar-free or low carb marshmallows?
Gnom-Gnom is a sugar-free dessert-making genius. Here is Paola's recipe for Keto Marshmallows.
What recipe can I make with marshmallows?
Hot Cocoa with Marshmallows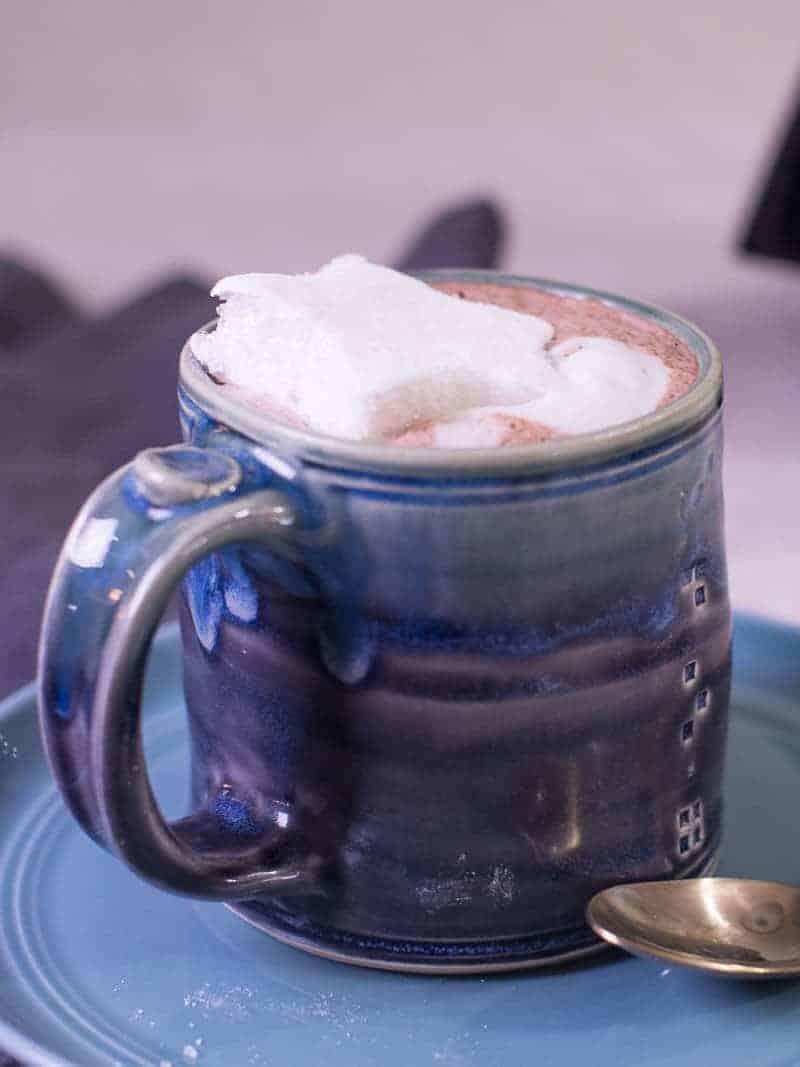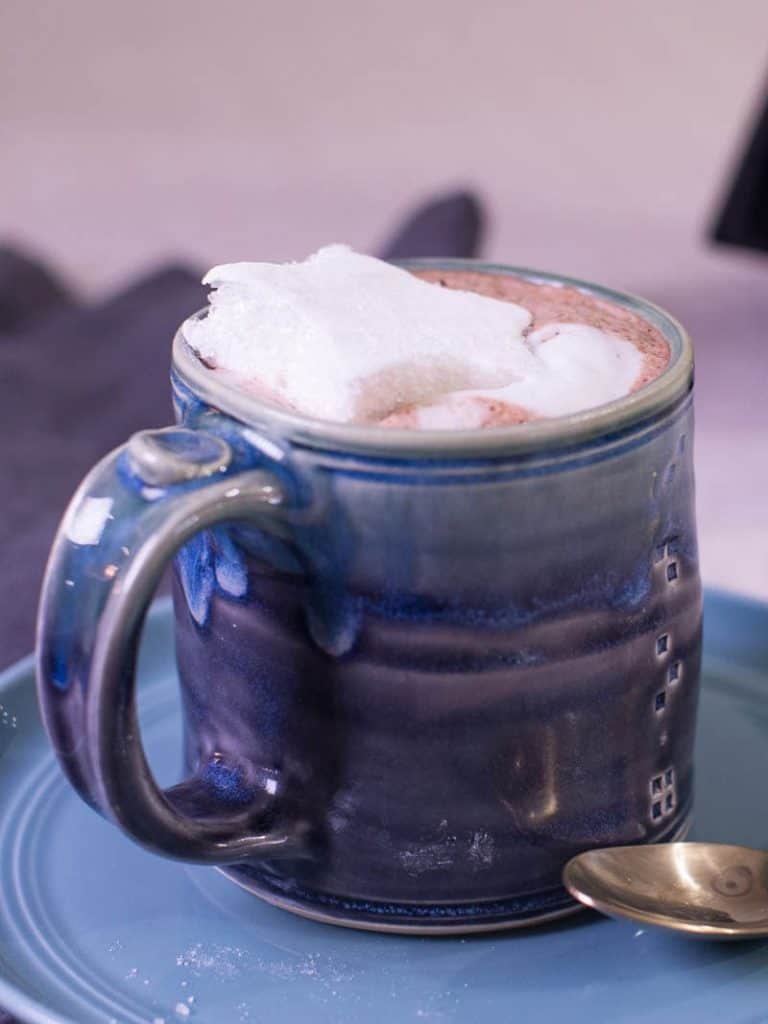 S'mores Of Course
See below and find out how to make S'mores right in your oven!
Rocky Road Fudge
Of course, we all remember S'mores from the times our parents dragged us camping!
Or maybe you were first introduced to S'mores at summer camp!
Whenever you had your first S'more, you're probably a fan of this sticky crunchy, oozing-with-chocolate treat! I know I am.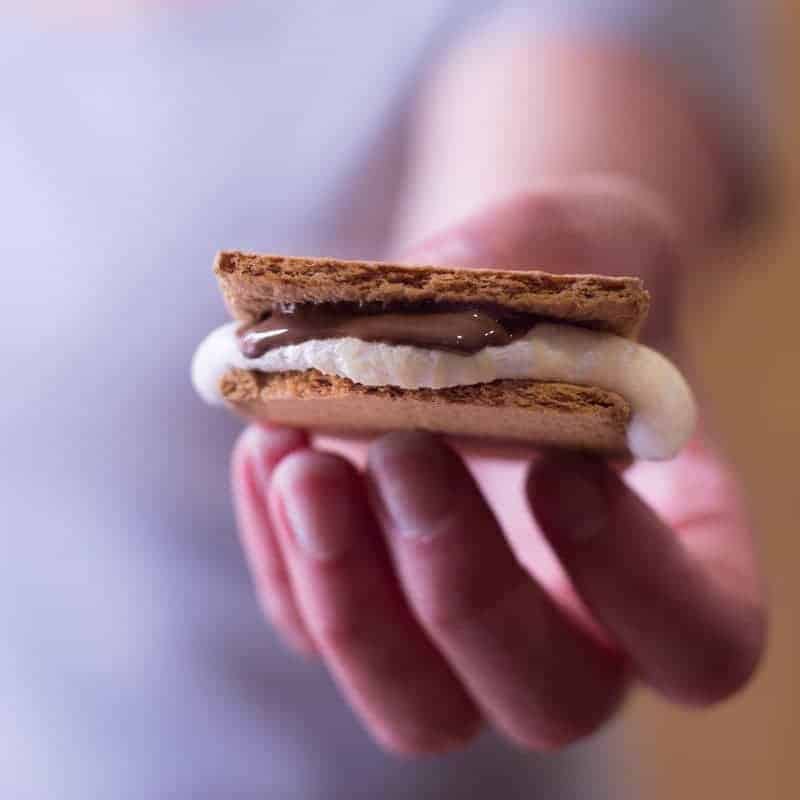 The Traditional Ingredients for making S'mores:
All of these ingredients are perfectly respectable and pack well for a camping trip.
But what if you want to make a batch of S'mores and there is no fire to be found?
In college, I figured out how to make S'mores at home (without a campfire.)
Of course, this first involved the microwave.
I would grab a few graham crackers and put them on a plate.
Then place the marshmallows on top of one.
Add a piece of Hershey's chocolate, OR sprinkle chocolate chips on a second graham cracker.
Microwave on high for about 30 seconds. But be sure to watch closely. (If you have ever microwaved marshmallows you know why)
Once the marshmallows are puffy and soft, remove them from the microwave.
Sandwich with the chocolate covered graham cracker.
I have been known to be a two marshmallow per S'more kind of girl.
Later on, I figured out how to make S'mores in the oven!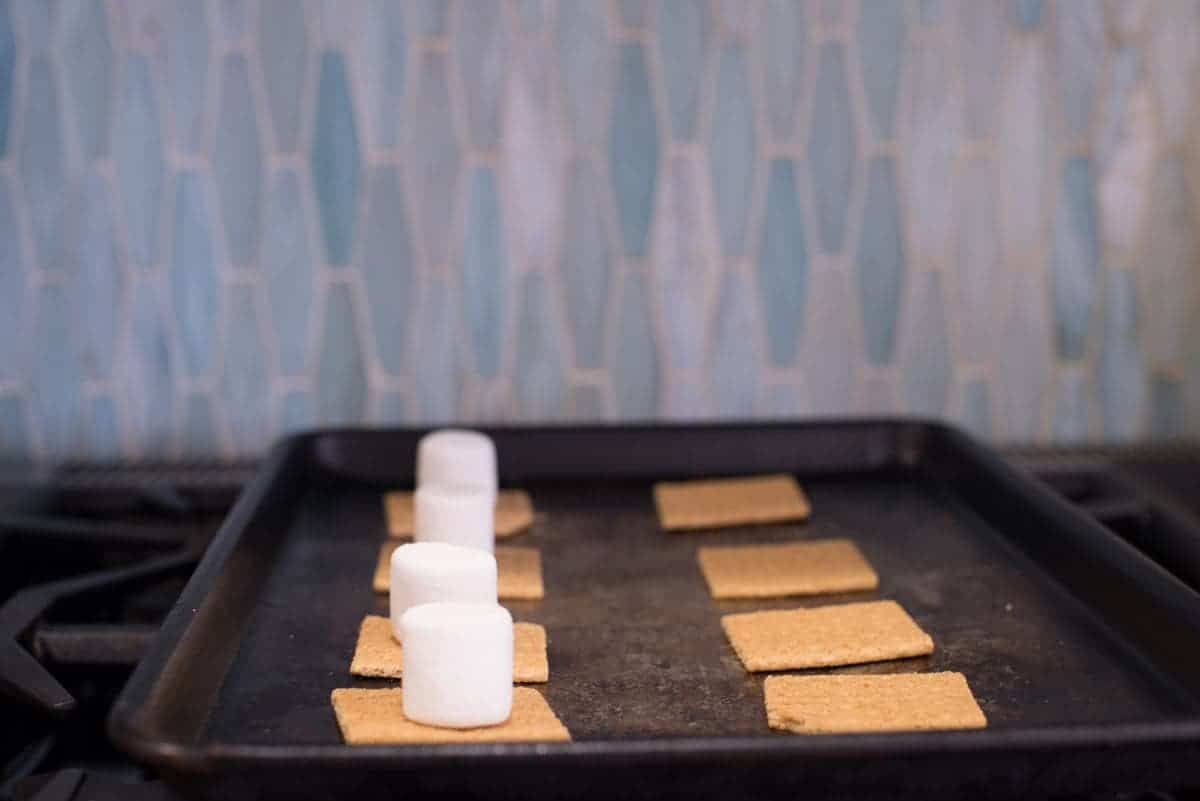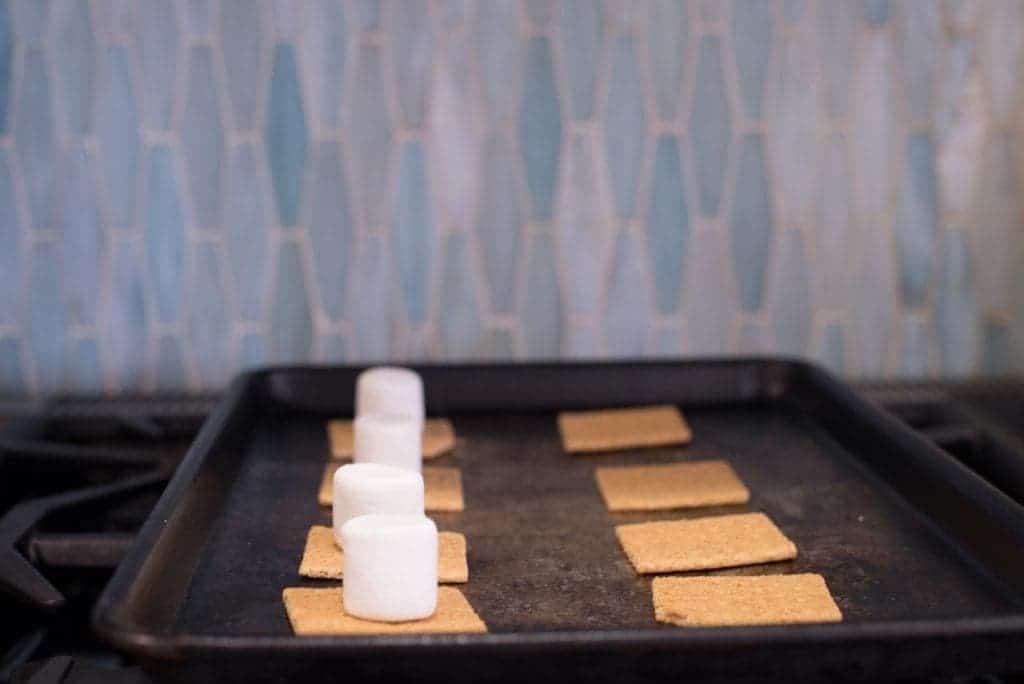 I was craving that toasted marshmallow flavor.
Start by preheating the oven to 350 to 400℉. The toastier you want your marshmallows the higher the oven temperature should be.
Set out your graham crackers and marshmallows on a baking sheet.
Bake until the marshmallows are toasty. About 3 to 6 minutes. (watch them as oven temperatures vary.)
OPTIONAL: If you want really melty chocolate, you can put your chocolate in the oven underneath the marshmallows.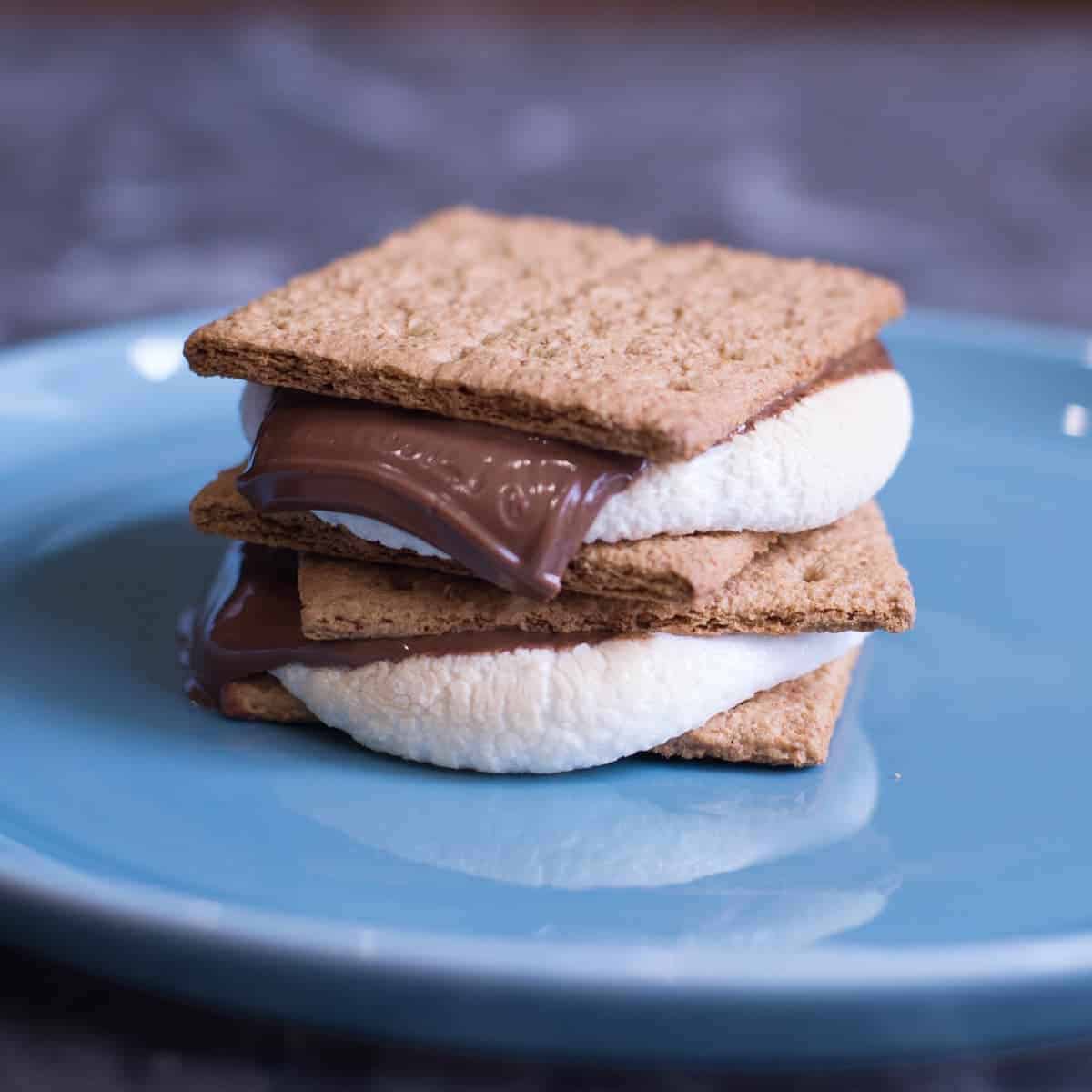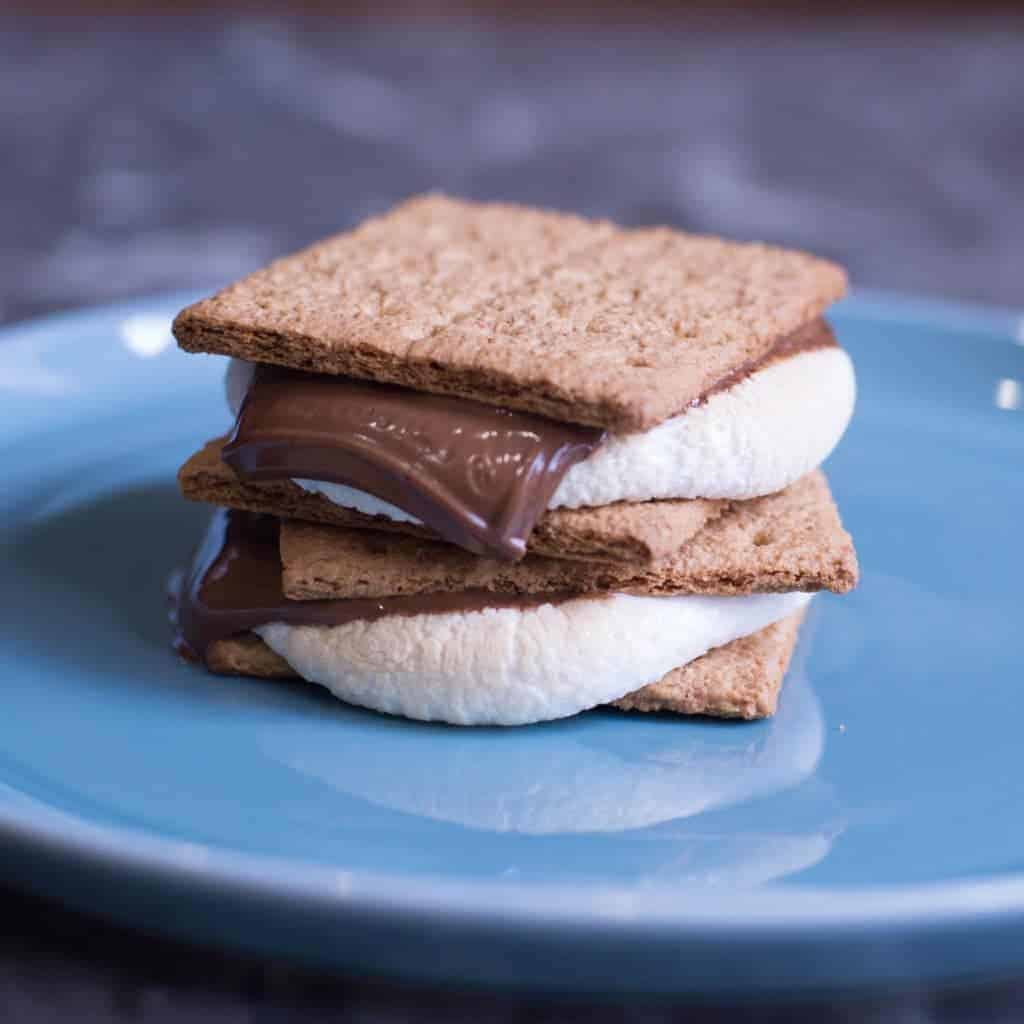 What is your favorite way to make S'mores?
I would love to hear about your crazy combinations. Leave a comment below and share your favorite S'mores story.
Did you make this recipe? If you loved it, make sure you leave a 5-star review and a comment! 👇
I love to hear from you! ➡️Follow me @foodologygeek on your favorite social channel! Facebook, Instagram, OR Pinterest.
(Visited 27 times, 1 visits today)