Recipe
Comments
Save
Go to Collections
This post may contain affiliate links. Please read my
disclosure policy.
Homemade marshmallows only require a few ingredients. Nothing beats the flavor and soft pillowy fluffiness of these delicious marshmallows. This recipe uses no corn syrup, and I'm even including the instructions for how to make completely sugar-free marshmallows.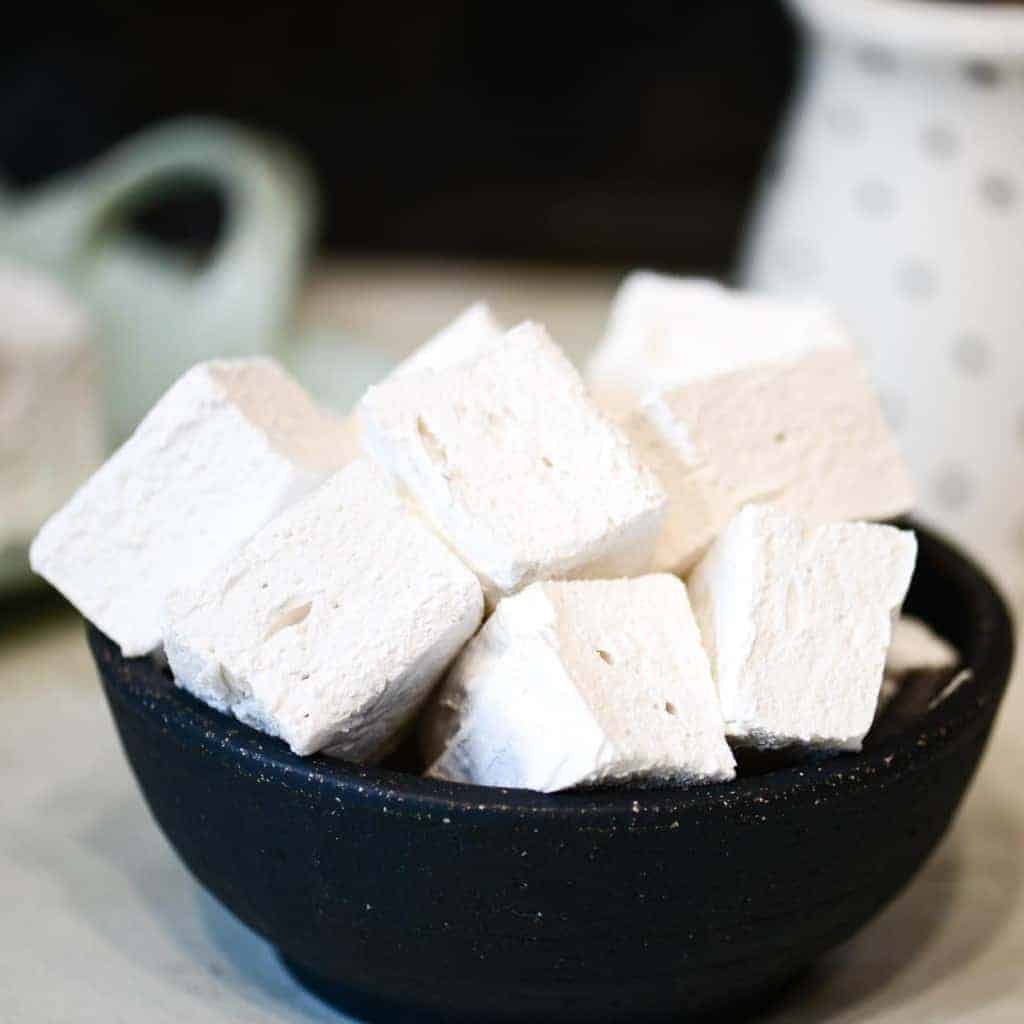 Why you'll love these marshmallows
Fun: You can make these marshmallows into any shape, color, and flavor your heart desires! These are perfect for throwing into your favorite sweet treats, but don't hesitate to enjoy them on their own.
Impressive: Homemade? A homemade marshmallow is a great way to show your friends and family you care! Plus, you're crafty—don't deny it!
Foodology Geek recipe notes
I've made this recipe so many times, and I have tweaked it a bit. The original recipe called for egg whites. The egg whites do give the marshmallow an extra soft and fluffy consistency that is perfect if you need to pipe your marshmallows. You might use this if you are making a cake with marshmallow filling.
Over the years, I've found that when I want plain old vanilla marshmallows, the egg white step isn't needed. I've included the original instructions in the notes, in case you do want to give it a try.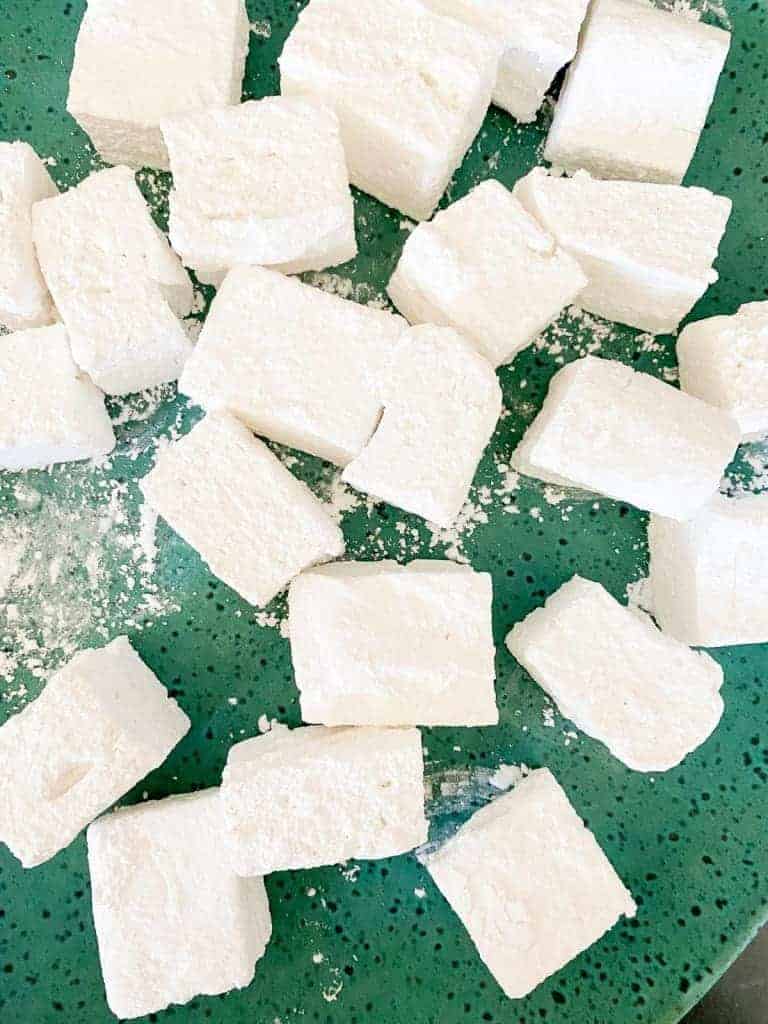 Ingredient notes
Sugar: Granulated sugar, powdered sugar, and honey! You can use maple syrup or agave syrup in this recipe. Originally this recipe called for corn syrup. You can use that here too!
Gelatin: Gelatin gives the marshmallows their signature squish and stickiness! I like to use Vital Proteins Grass-Fed Gelatin especially when I am making the sugar-free version of these marshmallows.
Flavoring: While this classic marshmallow recipe calls for vanilla extract, feel free to use any flavor you like! Try LorAnn Super-Strength Flavor Oil!
Step by step instructions
Prepare your pan: Line the bottom of a 9×9 inch cake pan with parchment paper, then sift with the mixture of powdered sugar and arrowroot powder.
Bloom the gelatin: In the bowl of your stand mixer, pour your gelatin in with the cool water and set aside while you are making the sugar syrup.
Make the sugar syrup: Heat the water, sugar, and honey in a pan until it is 240 to 245℉. (See below for sugar-free instructions.)
Whip it up: Once your sugar mixture has reached 245ºF, slowly pour the syrup into your egg whites with the mixer on low speed. Increase the speed to high and incorporate the syrup completely.
Let it cool: Pour your mixture into the prepared pan and let cool. This should take a few hours. Cut with an oiled knife coat in marshmallow dust to eliminate the stick.
Store: Store your marshmallows in an airtight container. Use them for S'mores or on top of a steaming mug of hot cocoa.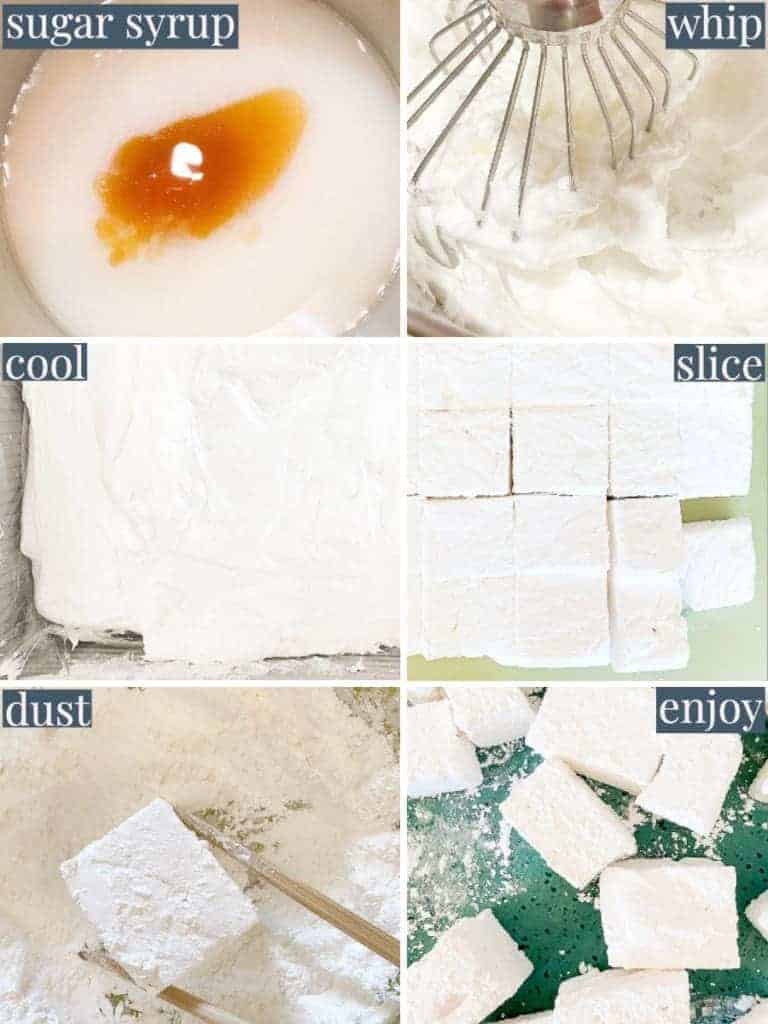 Special Equipment
For this recipe, you'll need: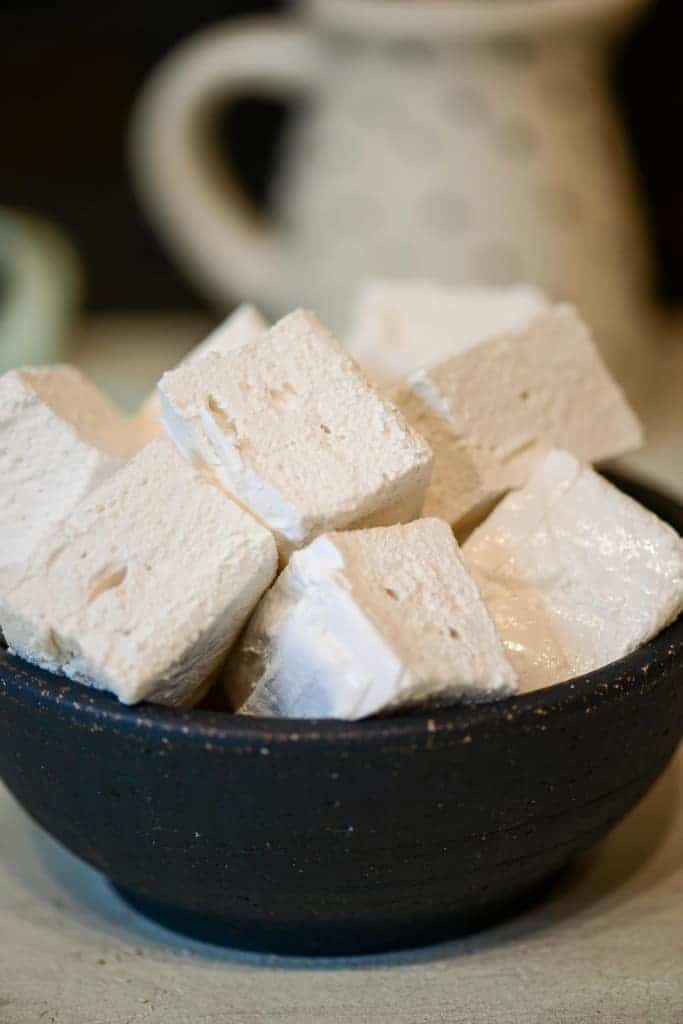 FAQs and helpful tips
What are marshmallows made of?
Homemade marshmallows are made of sugar, gelatin, and water! If you opt for a store-bought marshmallow, you'll typically find that they consist of corn syrup and other artificial additives that make them white, fluffy, and soft to the touch.
How do you make mini marshmallows?
To make mini marshmallows, cut the marshmallows to the size you desire! Use a sharp knife or a small cookie cutter to get the shape that best suits your needs.
Can you make marshmallows without corn syrup?
Yes! Even in this recipe, I've swapped out the corn syrup for honey or maple syrup.

Also, see the recipe card to see how to make my completely sugar-free keto marshmallows.
How do you make vegan marshmallows?
To make vegan marshmallows, replace the gelatin with agar agar, as seen in this recipe. Or, try a mix of agar agar and aquafaba, as seen in this recipe.
Marshmallows made with egg whites
In the original post we featured a marshmallow recipe that included egg whites.
These marshmallows are our version made with egg whites. Adding egg whites to the marshmallows yields a softer fluffier marshmallow which is perfect for piping into peep shaped pillows of fluffiness.
Here we use a cookie cutter to cut them out and then dusted the edges with sanding sugar.
S'mores
One of my favorite ways to use marshmallows is in old fashioned S'mores.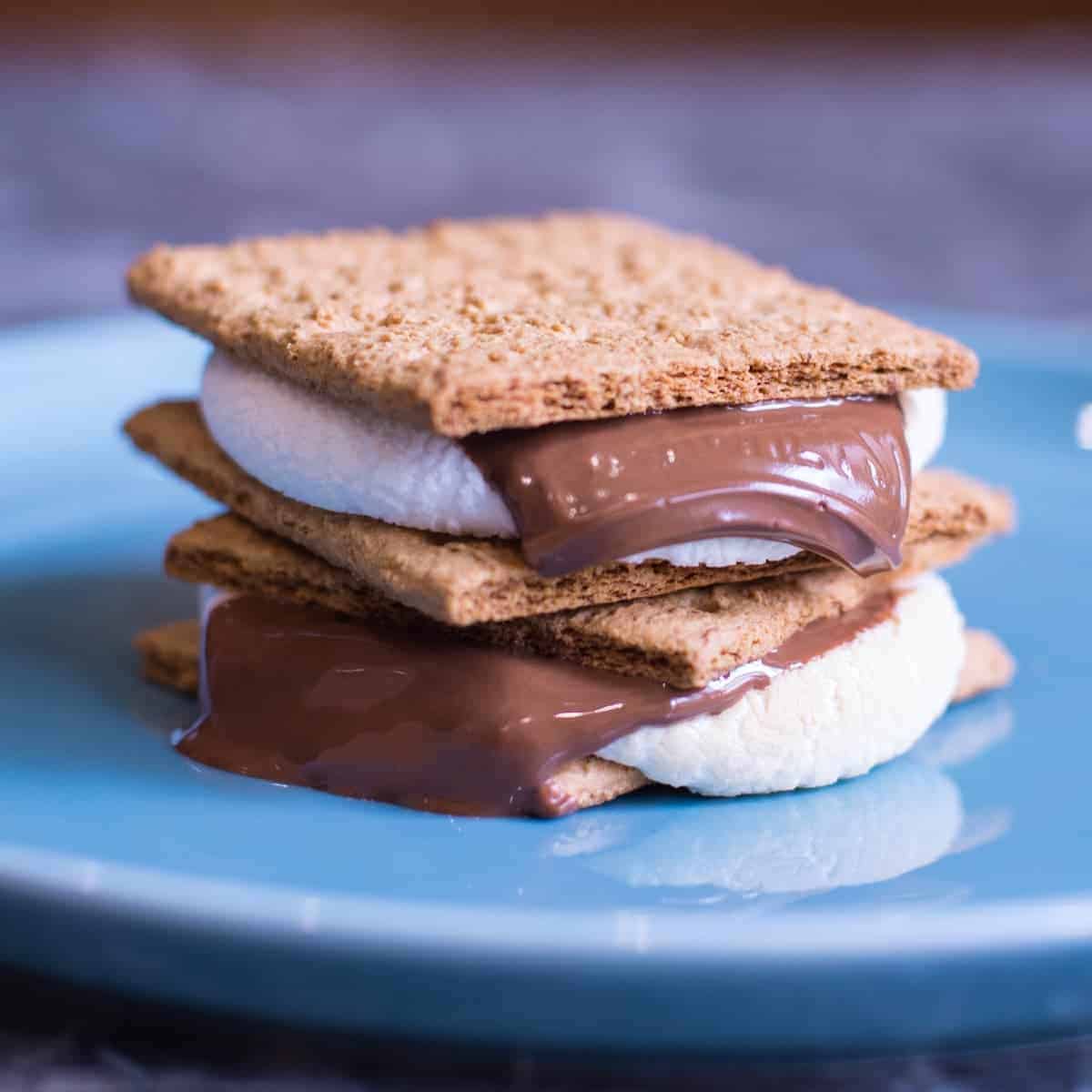 How to make S'mores in the oven!
You don't need an open flame to make delicious s'mores! Get your oven ready, and let's get munching.
Start by preheating the oven to 350 to 400℉. The toastier you want your marshmallows, the higher the oven temperature should be.
Set out your graham crackers and marshmallows on a baking sheet.
Bake until the marshmallows are toasty. About 3 to 6 minutes.
If you want melty chocolate, you can put your chocolate in the oven underneath the marshmallows!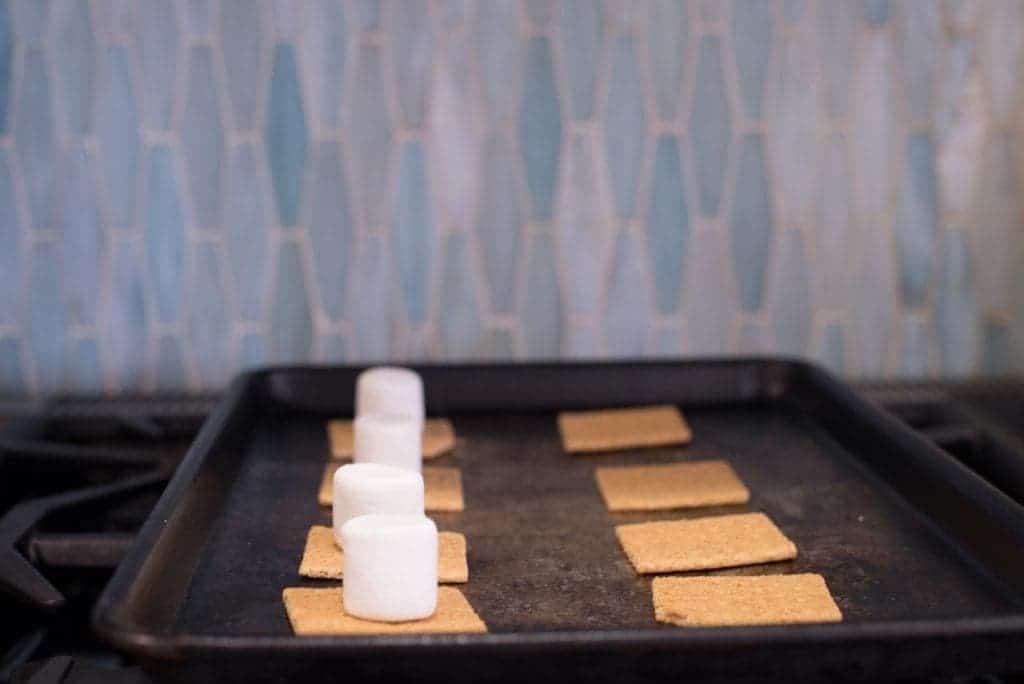 Other recipes you might like
Rocky Road Fudge (Vegan and Dairy-Free)
This fudge is so rich and chocolatey – you'll never guess it's dairy-free. It has the perfect balance of bittersweet chocolate, crunchy almonds, and soft fluffy marshmallow. Wrapped up into a chocolatey crunchy salty-sweet bite.
SEE THE RECIPE
PIN FOR LATER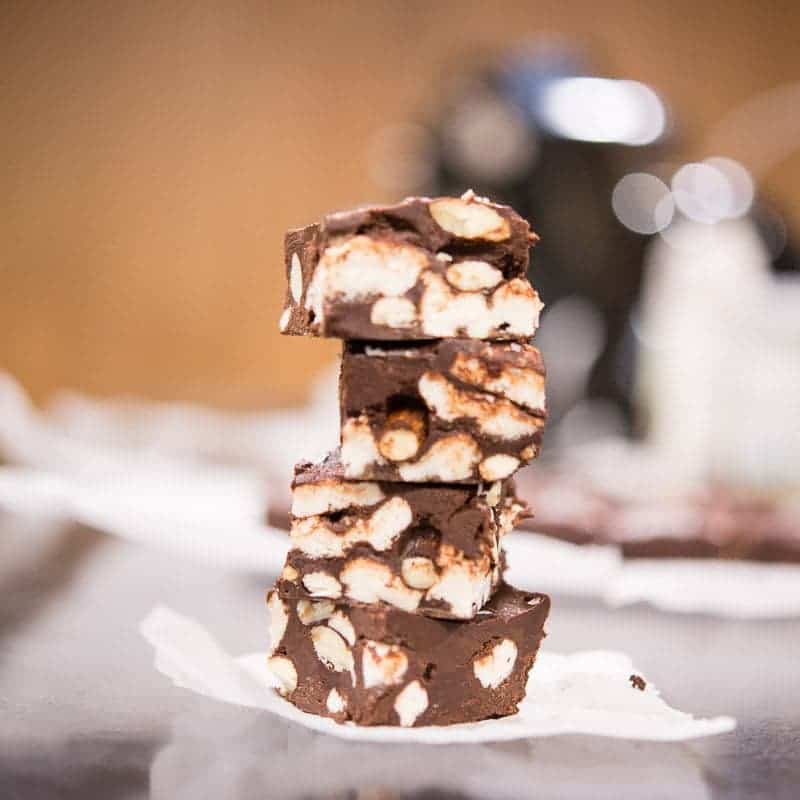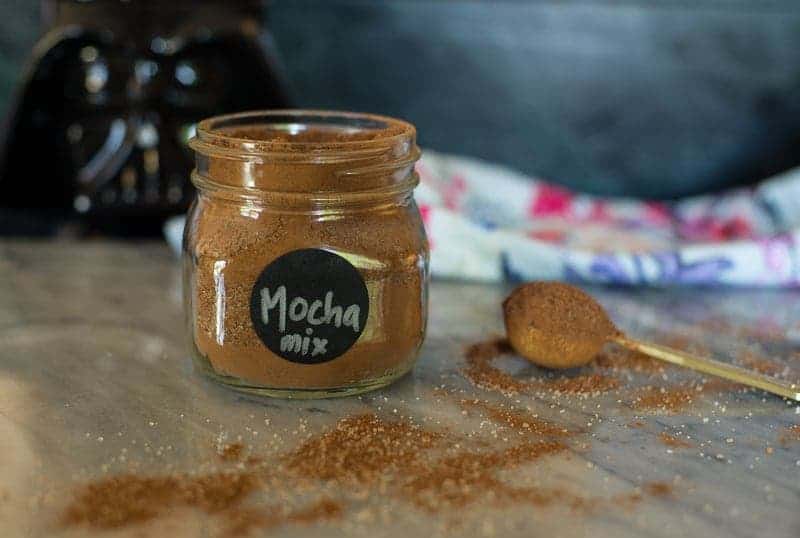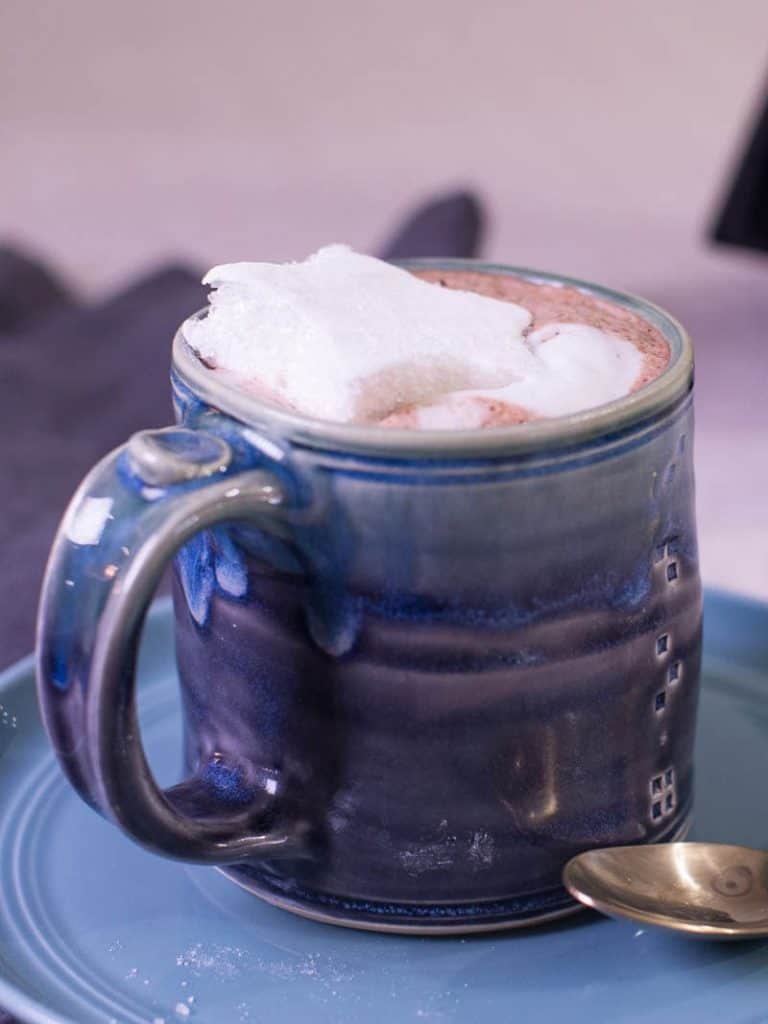 Homemade Marshmallows
With only a few ingredients you can make homemade gourmet marshmallows at home. Once you try these gorgeous pillowy fluffy treats you will never settle for store-bought marshmallows again.
Ingredients
Instructions
Get Ready
Make the marshmallow dust: Combine the powdered sugar and arrowroot powder. You'll use a few tablespoons of this mixture to dust the cake pan and the rest will be used for dusting the finished marshmallows.

Prepare a cake pan: Line a 9×9 cake pan with parchment paper and sprinkle in the marshmallow dust. Alternatively, I have used plastic wrap and coconut oil to prevent sticking. Either method works. The oil is less messy in my opinion.

Bloom the gelatin: In your stand mixer add the gelatin and ½ cup of cold water, whisk to combine, let it sit while you make the sugar syrup.
Make the sugar syrup
Make the sugar syrup: In a medium-sized saucepan over medium heat, bring to a boil the remaining 1/2 cup of water, sugar, and honey. Using a candy thermometer, bring the sugar syrup to 240°F.
Make the marshmallows in your stand mixer
MIx on low: Turn the mixer on low and break up the gelatin mixture. Sometimes I use a spatula for this step. You want to get the gelatin off the sides of the mixer and broken up so the sugar syrup can melt it evenly. Try to do this a few minutes before the sugar syrup reaches full temperature.

Add the sugar syrup: With the mixer still on low, slowly add the hot sugar syrup. Mix on low and slowly begin increasing the temperature as the mixture cools slightly. Approximately 3 to 5 minutes.

Mix on high: Once the mixture is well combined and starts to get a little bit fluffy turn the mixture on high. Beat for about 8 minutes.

Add the salt and vanilla: You can use another flavoring here such as strawberry, lemon, or peppermint. You can also add a few drops of food coloring for colored marshmallows.

Continue to mix on high: Mix for another 3 to 4 minutes. The mixture will be very sticky.
Prepare the marshmallow to set
Scrape: Scrape the mixture into your prepared cake pan. It's a good idea to oil your spatula to help with all of the stickiness.

Cure: Let the marshmallows sit for 5 to 6 hours before cutting.
Cut and dust the marshmallows
Cut: Turn the marshmallows out and cut with an oiled knife into 25 pieces. Dust the marshmallows with the remaining marshmallow dust.
Laura's Tips + Notes
Make-ahead: Marshmallows will last 4-5 days at room temperature in a tightly covered container.
Flavor variations: You can create different flavors by adding that flavor between steps #5 & #6. (For example 1/2 tsp cinnamon, lemon oil, orange oil, OR 1/4 tsp peppermint extract). Food coloring can also be added if desired.
Presentation variations: The cut sides are sticky. Roll the sticky edges in sweetened powdered chocolate, colored sugar, cinnamon-sugar, or toasted coconut.
Fluffy French Marshmallows: Egg White Step
Perfect for marshmallow filling in cakes and if you want to pipe these marshmallows. Using the egg whites will give you a consistency perfect for piping homemade peeps. Once they set up they are just like pillowy marshmallows.
The egg white step was included in the original recipe. Adding egg whites gives you a softer and more fluffy marshmallow. They're delicious, but over time I've found that this step isn't absolutely necessary and sometimes I don't want to do the extra step. This step also requires you to heat the gelatin in a double boiler.
Bloom the gelatin: Dissolve the gelatin in a bowl over a double boiler (instead of in the stand mixer), whisk, to combine and let it bloom. When you start to beat the egg whites, turn the double boiler on to heat and dissolve the gelatin mixture.
Make the sugar syrup: Once the sugar mixture reaches 230 degrees F, begin whipping the egg whites and salt in a stand mixture to the point of a very soft peak.
Beat the egg whites: Once the sugar mixture reaches 24o degrees F, lower the mixer speed to the lowest setting, and slowly drizzle the syrup into the egg whites. NOTE: You want to pour it between the whip and the side of the bowl.
Whip the mixture at HIGH speed for about 2 minutes to cool the mixture slightly.
Return to low speed and then add the dissolved gelatin in the same way you added the sugar syrup. Scrape the gelatin bowl to make sure that is all added to the egg white mixture.
Continue the directions as stated above.
YOUR OWN NOTES
Sign In to add your own private notes
Nutrition
Calories:
94
kcal
Carbohydrates:
23
g
Protein:
1
g
Fat:
1
g
Saturated Fat:
1
g
Sodium:
26
mg
Fiber:
1
g
Sugar:
21
g
Calcium:
1
mg
Iron:
1
mg