I spent the last weekend transitioning our cabin from winter to summer. This involved a TON of work. It was three full days of heavy labor - yard cleanup, hauling, pulling out patio furniture, and giving everything a good once-over. While i's motivating to think about Summer, it was exhausting work. When you do that much raking - trust me - you have a lot of time to ponder random things!
Cleaning out the fire pit had me dreaming 'bout lingering over a fire with good friends, cold beer & s'mores!
I realized that I know a heck of a lot more about s'mores than I do about good beer. In fact, you never want me to pick the beer. I'll pick something with a cute dog on the bottle...because I like dogs. Trust me on this one, you bring beer! I'll make the s'mores!
Maybe it is my sugar addiction showing...I've made s'mores almost every way you can think of. In fact, there was one fateful summer day at my sister-in-law's summer house in Maine where we spent an afternoon experimenting with cooking marshmallows. All you need is heat! We tried the microwave, in the oven, over stove burners, and even on an open fire. We didn't have a creme brûlée torch, otherwise we could have added that to the list...heck, you could probably use a hairdryer if you were patient enough. But, patience when cooking marshmallows is another philosophical discussion altogether...
If you're going to make a good s'more, start with fresh marshmallows!
They're easy to make. And the flavor is so much better than those manufactured ones! Have you been tempted by the expensive gourmet marshmallows you see at the store? Make your own! They are super easy, not to mention so much cheaper! Then, grab some chocolate and graham crackers and build yourself a s'more. I'll leave the marshmallow cooking process for the s'mores up to you!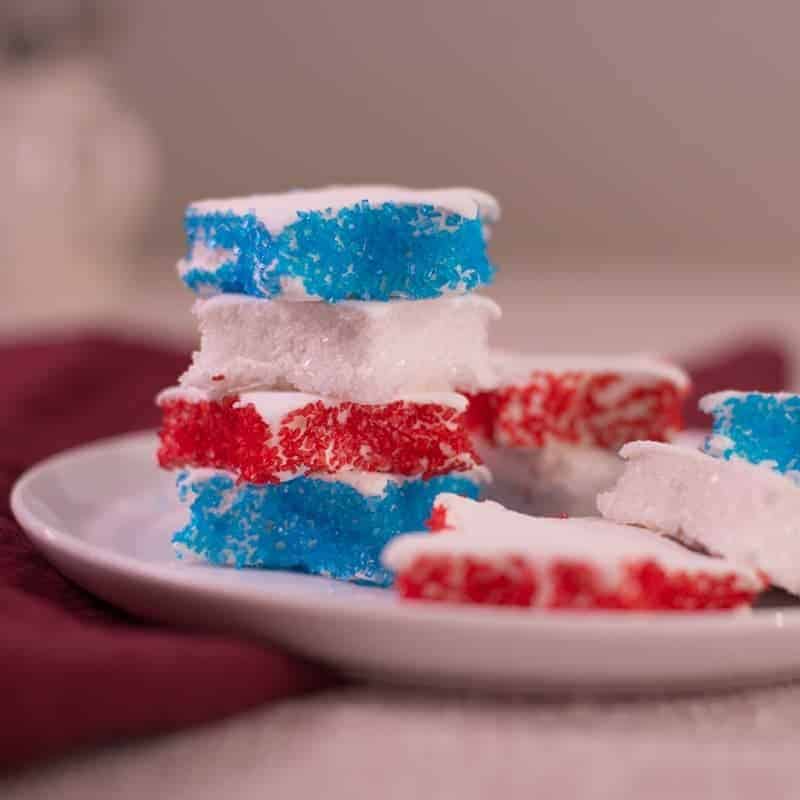 Marshmallows
Make your own gourmet marshmallows. It is easier than you think!
Print Recipe
Pin Recipe
Ingredients
1/4

cup

Powdered Sugar

divided

3

tbsp

Gelatin Powder

Approx 4 pkgs Knox brand

1

cup

Cold Water

divided

16

ounces

Sugar

2

ounces

Light Corn Syrup

4

Egg Whites

1/4

tsp

salt

1

tsp

vanilla
Instructions
Line the bottom of a half-sheet pan (12 x 16 inches) with parchment paper. Generously sift half of the powdered sugar onto the paper.

In the top half of a double boiler OFF THE HEAT, sprinkle gelatin over 1/2 cup COOL water. Make sure that all the gelatin becomes moistened. Set aside at room temperature for 10 minutes to bloom.

In a medium sized saucepan over medium heat, bring to a boil the remaining 1/2 cup of water, sugar and corn syrup.

Warm the gelatin mixture over a double boiler to dissolve. Keep warm.

Once the sugar mixture reaches 230 degrees F, begin whipping the egg whites and salt in a stand mixture to the point of a very soft peak.

Once the sugar mixture reaches 245 degrees F, lower the mixer speed to the lowest setting and slowly drizzle the syrup into the egg whites. NOTE: You want to pour it between the whip and the side of the bowl.

Whip the mixture at HIGH speed for about 2 minutes to cool the mixture slightly.

Return to low speed and then add the dissolved gelatin in the same way you added the sugar syrup. Scrape the gelatin bowl to make sure that is all added to the egg white mixture.

Turn the mixer back to high speed and whip until the mixture has a smooth, light and fluffy consistency - about 5-6 minutes. The mixture will be slightly warm. Add the vanilla.

Pour the mixture into the prepared pan and spread out evenly with an offset spatula. Lightly sift the remaining powdered sugar over the top. Set aside to cool completely. The marshmallows will set up completely in a couple of hours.

Cut into squares with a knife or use a cookie cutter to cut them into shapes. The cut edges will be sticky. Toss the cut marshmallows in powdered sugar.
Notes
Make Ahead: Marshmallows will last 4-5 days at room temperature in a tightly covered container.
Flavor Variations: You can create different flavors by adding that flavor between steps #5 & #6. (For example: 1/2 tsp cinnamon, lemon oil, orange oil, OR 1/4 tsp peppermint extract). Food coloring can also be added, if desired. 
Presentation Variations: The cut sides are sticky. Roll the sticky edges in sweetened powdered chocolate, colored sugar, cinnamon-sugar, or toasted coconut.
(Visited 24 times, 1 visits today)