You want to make the best homemade potato salad – this is the recipe for you — the ultimate how-to guide for making delicious creamy potato salad every time. Also, get my Low Carb Cauliflower Potato Salad and Vegan Potato Salad at the end of this post. 
There are a lot of different ways to make potato salad.
Your family probably has a favorite version of potato salad. No matter what your family recipe is, there are a few basics that will ensure you have an utterly delicious, super flavorful, and most importantly 'not mushy' potato salad.
The first step is picking the best potatoes for potato salad.
Russet potatoes are the best potato for the traditional classic creamy potato salad. German Potato Salad uses red potatoes.
How long do you boil potatoes for potato salad?
You should boil potatoes whole and with the skin on. This method keeps all of the starches in and gives you potatoes and nice firm texture so that your potato salad isn't mushy.
Add whole washed potatoes to cold water, set them on a stove, and then bring them to a boil. Boil the potatoes for about ten minutes. Keep an eye on them because the timing may vary depending on the size of your potatoes.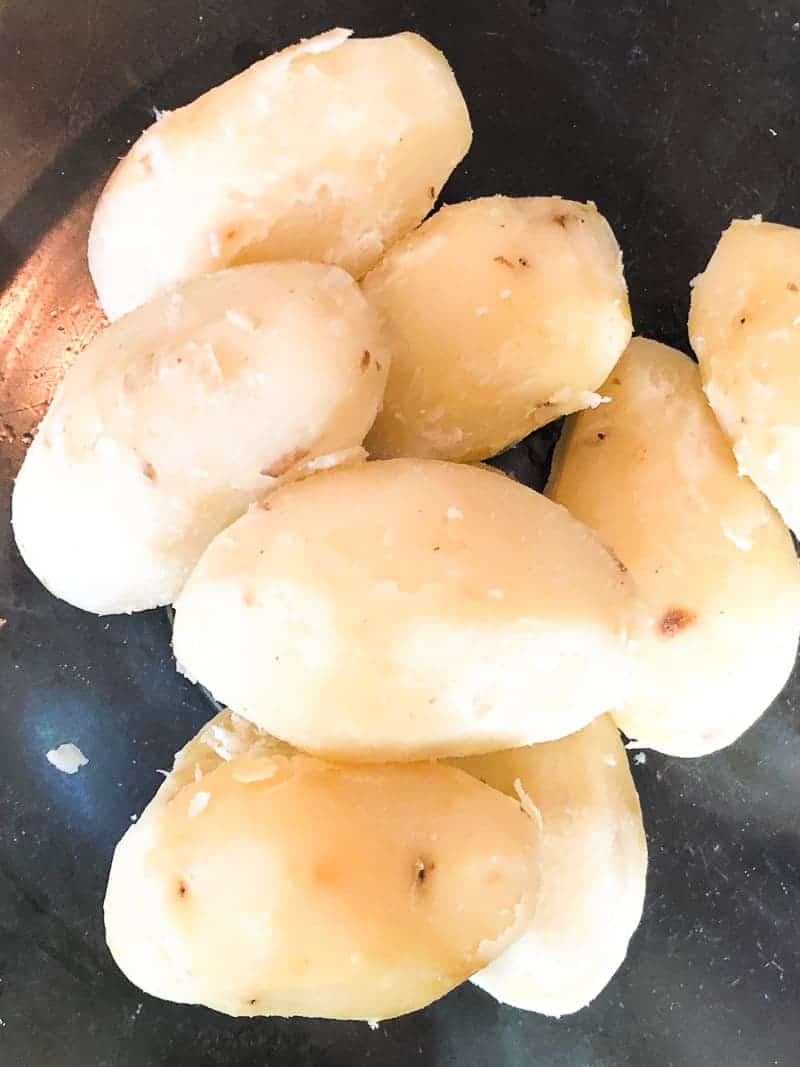 Peel the slightly cooled potatoes using a spoon.
To determine if your potatoes are done, use a long toothpick. The potato should be tender but still firm.
The easiest way to do this is to remove one potato from the boiling water with a slotted spoon. Set it on the counter or a plate and then use a toothpick to gauge doneness.
When the potatoes are cool enough to handle, use a spoon and gentle pressure to pull the skins off. The skins should peel off relatively easily.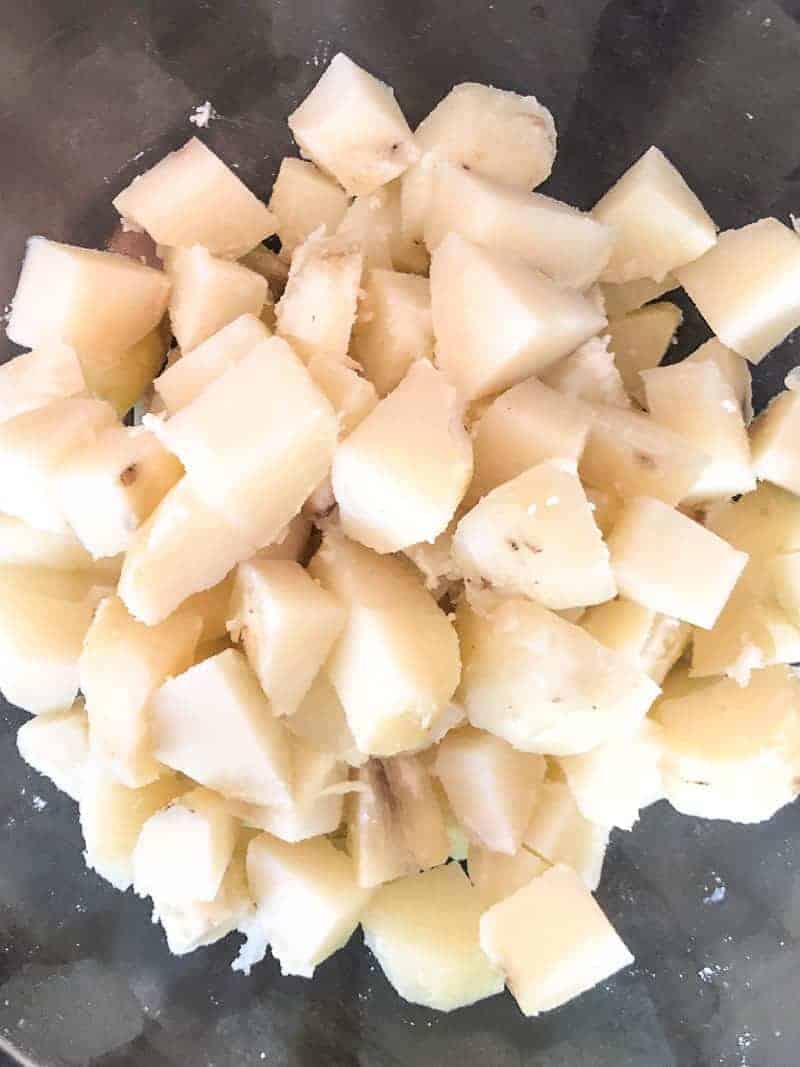 Add vinegar to the warm potatoes.
This step is possibly the most critical step in making potato salad.
Adding vinegar to the still warm, freshly diced potatoes and then giving it a quick toss adds a lot of flavor to the potatoes and helps to keep the starches packed together.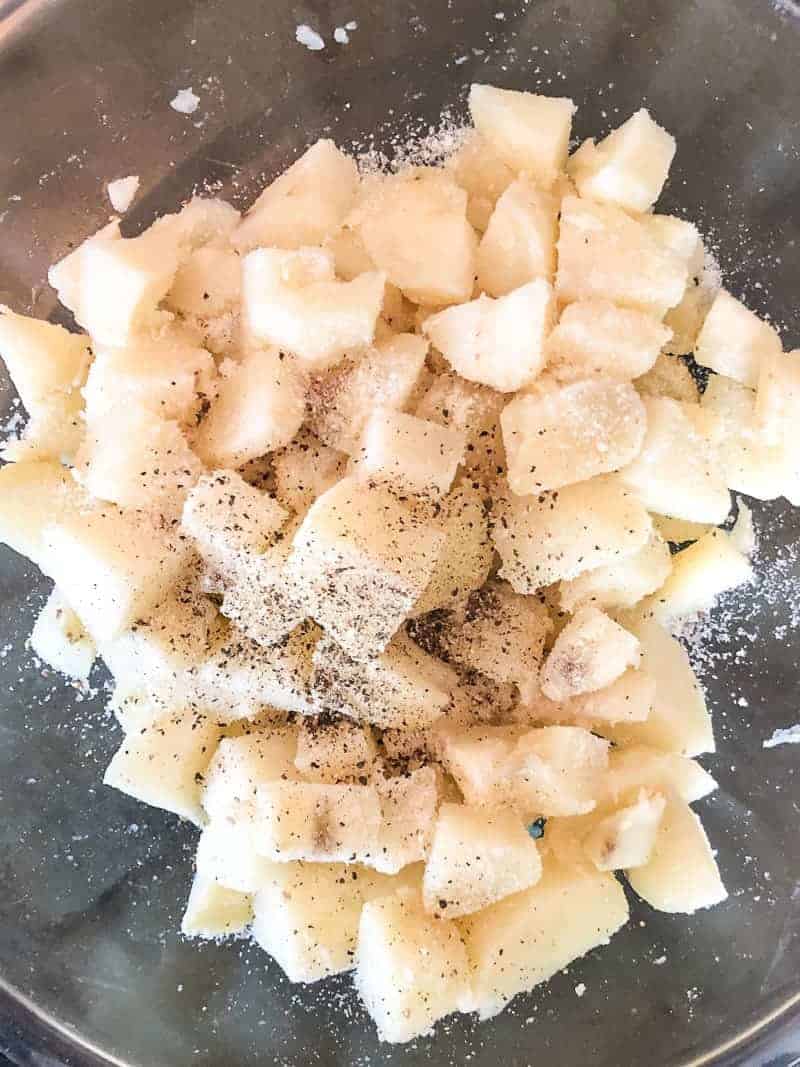 Make sure you season at every step.
The best way to make flavorful potato salad is to layer the seasoning.
I've found that if you add the mayo, and then try to season the potato salad, the potatoes themselves don't have enough flavor.
Let's be real; nobody wants bland potato salad.
When I eat potato salad, I want it to have a savory, vinegary bite. I want the onions and celery to be fresh and crunchy.
This recipe for homemade potato salad is soul-satisfying comfort food.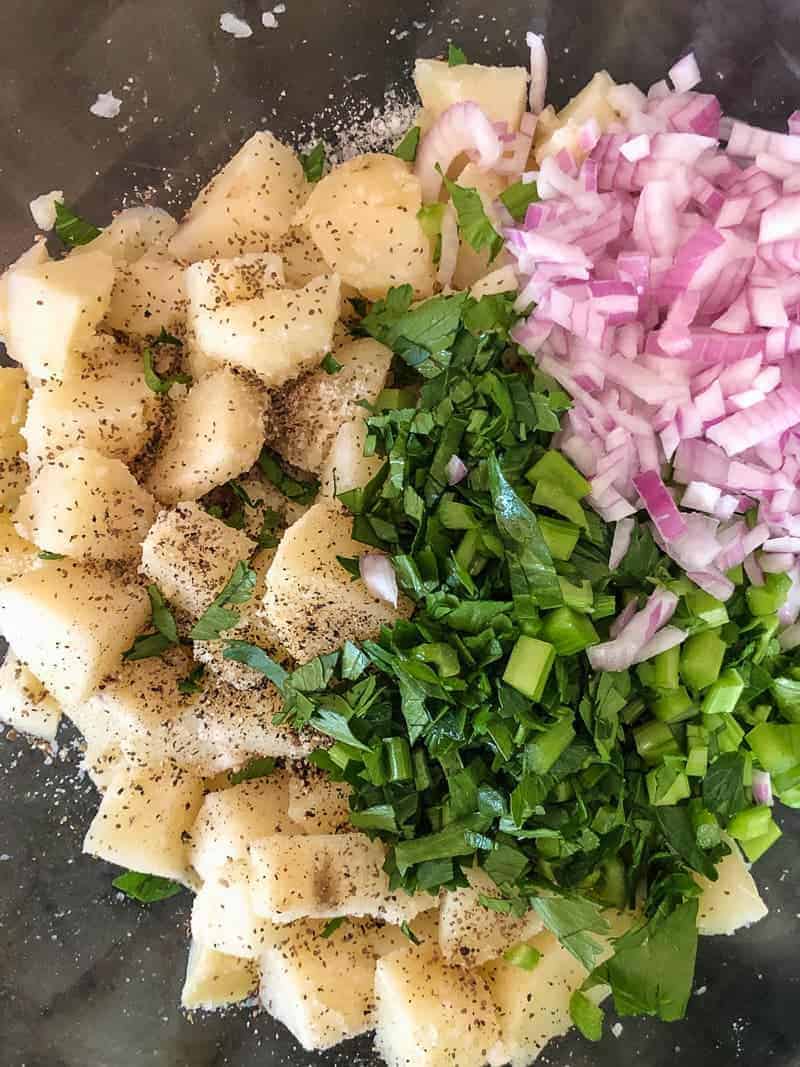 Add all of the seasonings to warm potatoes and then add the mayonnaise.
My secret formula for potato salad is:
Add the vinegar to the potatoes while they are still warm.
Use celery seed and celery salt.
Season the potatoes with salt and pepper before adding in the mayo.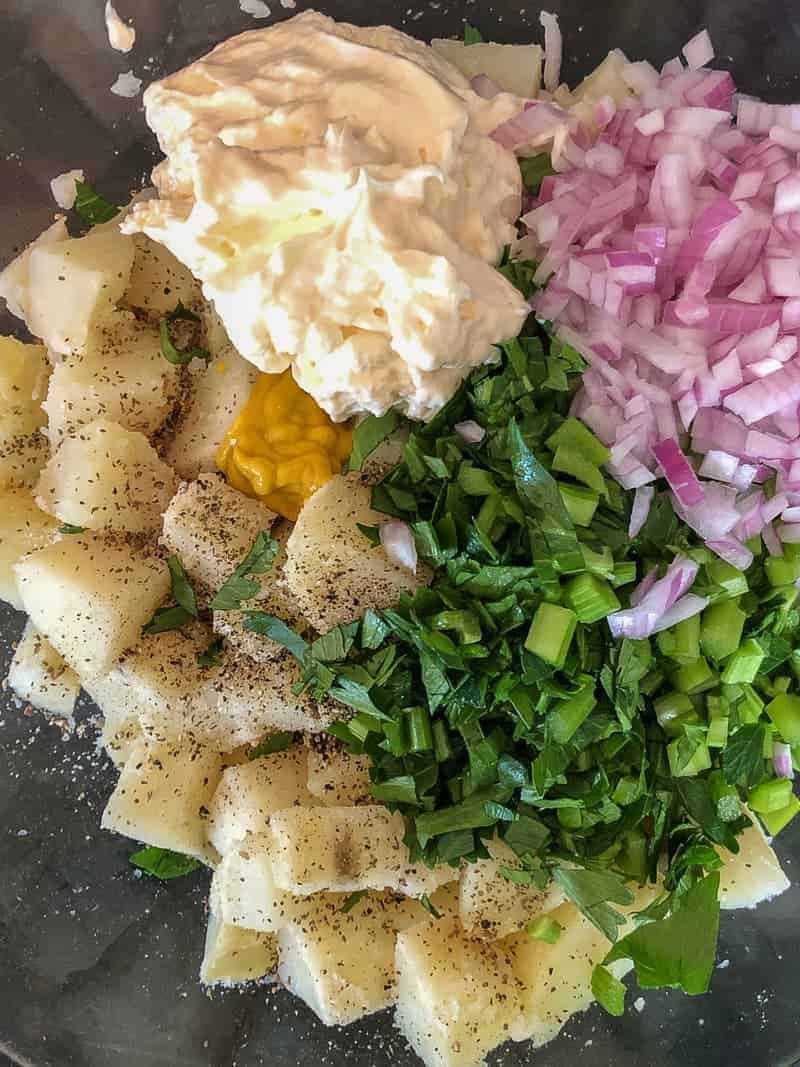 Creamy Potato Salad with hard boiled eggs or without?
I like to add hard boiled eggs to my potato salad because I feel like I'm adding a little bit of a protein to an otherwise carb-laden dish. A little protein makes potato salad almost healthy, right?
If you're feeling particularly next level, I highly recommend adding crispy bacon to this potato salad. What could make potato salad even better? Uh, potato salad with bacon, OF COURSE!

Everyone has a favorite family recipe for potato salad.
My family recipe includes a lot of aromatics:
red onions
parsley
green onions
Aromatics add a ton of flavor and crunch to what might otherwise be bland potato salad. So, don't be shy!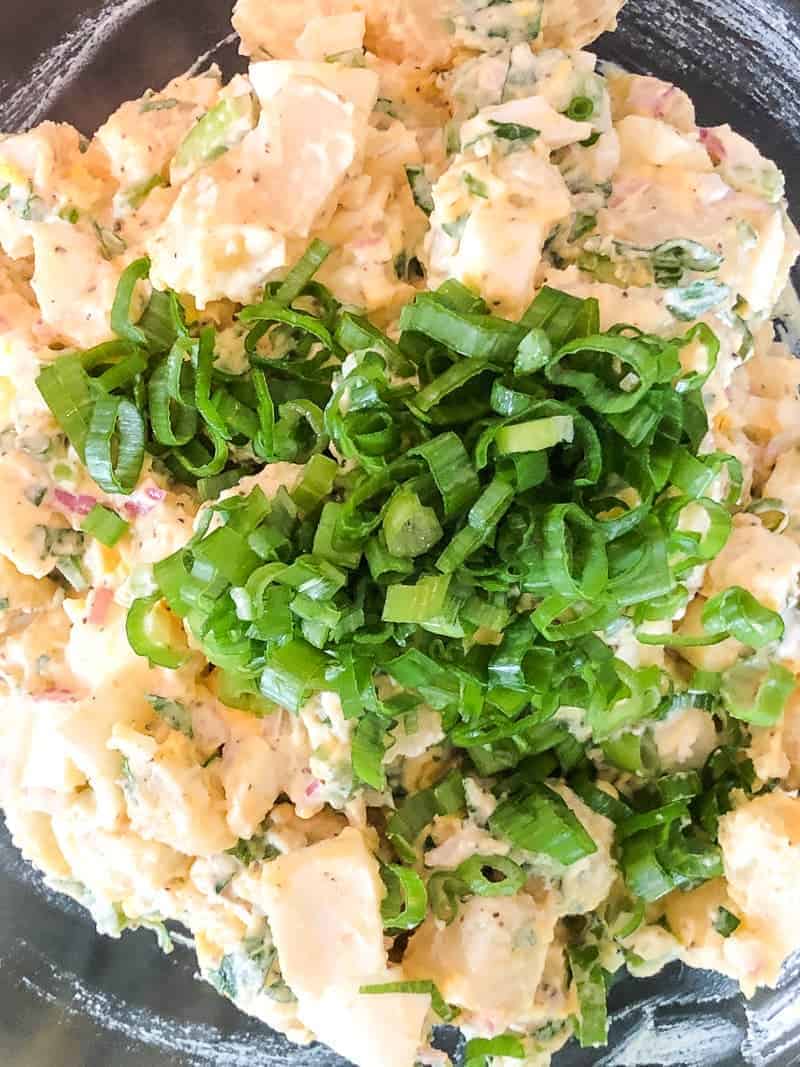 This is my favorite version of classic old fashioned potato salad.
What is your favorite version? Does your family have a recipe that you make all the time? I would love to hear about it!
Leave me a comment below. 
A few variations on traditional potato salad:
How to Make Low Carb Potato Salad
It is easy to substitute cauliflower for potatoes to make a low carb cauliflower potato salad. Because cauliflower has a neutral flavor and firm texture it makes a great alternative for potatoes in this recipe.
To make cauliflower potato salad:
Cut cauliflower into chunks and blanch it until it's tender.
Drain the cauliflower.
Follow the recipe exactly the same as you would if you were using potatoes.
How to Make Vegan Potato Salad
Potato salad is really easy to make vegan. Simply, substitute vegan mayonnaise for the traditional mayonnaise in this recipe. Vegannaise is a great option for vegan mayos.  Of course, leave out the hardboiled eggs.
My 4th of July ALWAYS includes grilling recipes and of course delicious 4th of July side dishes!
Check out my other favorite Summer Recipes:
Potato salad can be made a million different ways but I am sure you know some potato salad is better than others. What's the difference? Which one should you make? Let's look at each kind and then you can decide on your favorite.
Amish Potato Salad
Classic Potato Salad
German Potato Salad
Southern Potato Salad
Pirates of the Caribbean Potato Salad – I've been making this one since middle school.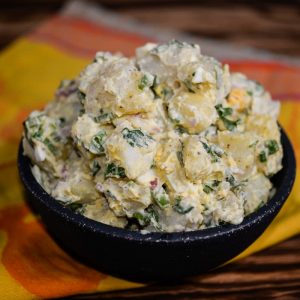 Traditional Potato Salad Recipe
This classic potato salad recipe is chunky and creamy. For an extra special treat you can make this potato salad with bacon.
Print Recipe
Pin Recipe
Ingredients
3 ½

lbs

Russet Potatoes

4

Hard boiled eggs

(optional)

1

cup

Mayonnaise

2

tsp

Mustard

2 to 3

stalks

Celery

1

bunch

Green Onions

1

tsp

Celery seed

¼

tsp

Fresh ground black pepper

1

tsp

Salt

to taste

3

tbsp

White vinegar
Other Delicious Add-Ins
6

Slices

Bacon

Cooked and crumbled.
Instructions
Place the potatoes in a large pot of water add a few teaspoons of vinegar.

Bring the potatoes to a boil. Add the eggs.

Reduce the temperature to a slow boil.

Continue to boil the potatoes until a toothpick can be inserted relatively easily. You want them tender but not falling apart.

Drain the potatoes and let them cool until you can handle them.

Peel the potatoes and cut them into a medium to large dice.

Place the diced potatoes into a large bowl and add two to three tablespoons of white vinegar to them, toss gently. It is best to do this when they are still warm.

Add the salt, pepper, and celery seed to the potatoes. Toss gently.

Add the onions, celery, mayonnaise, mustard, and diced eggs. Toss gently.
Nutrition
Calories:
455
kcal
|
Carbohydrates:
38
g
|
Protein:
10
g
|
Fat:
30
g
|
Saturated Fat:
6
g
|
Cholesterol:
104
mg
|
Sodium:
654
mg
|
Fiber:
3
g
|
Sugar:
2
g
|
Calcium:
57
mg
|
Iron:
2.4
mg
(Visited 55 times, 1 visits today)