Meatloaf should be more than a slab of ground beef in loaf form. The best meatloaf should be flavorful, juicy, and most of all, it should make the perfect meatloaf sandwich.
If you've been hanging out with me for a while, you know cold leftovers are important to me. Pulling something out of the fridge and eating it without reheating, is something that I do all the time. If it tastes delicious, then the recipe goes on the meal-prep-recipe-keeper-list.
It might seem lazy, but I cook all day every day and having healthy meal prep proteins in the fridge helps to keep me on track and prevents me from overeating stuff like my Ultimate Sourcream Cheesecake.
While delicious, cheesecake is not necessarily fit food.
What you're going to love about this recipe
Meatloaf is a staple in our house. It meets ALL my criteria for a keeper recipe.
It's easy!
You can make it in bulk.
It freezes well.
And most importantly, it tastes delicious right out of the fridge.
Do you need a gluten-free or low carb meatloaf recipe?
This meatloaf recipe isn't my Paleo Meatloaf, but if you are sensitive to gluten or want a low carb meatloaf, check out the Paleo-friendly version of this meatloaf HERE! OR see the substitutions in the recipe card of this recipe belowJump to Recipe.
There are a lot of delicious options for gluten-free bread that you can use in this recipe as well. Toasting some gluten-free bread and making bread crumbs is an easy way to make this recipe gluten-free.
This meatloaf sandwich recipe has ALL the extras.
Bacon, of course!
Onion Jam, oh yeah!A spicy and sweet, Tomato Chutney.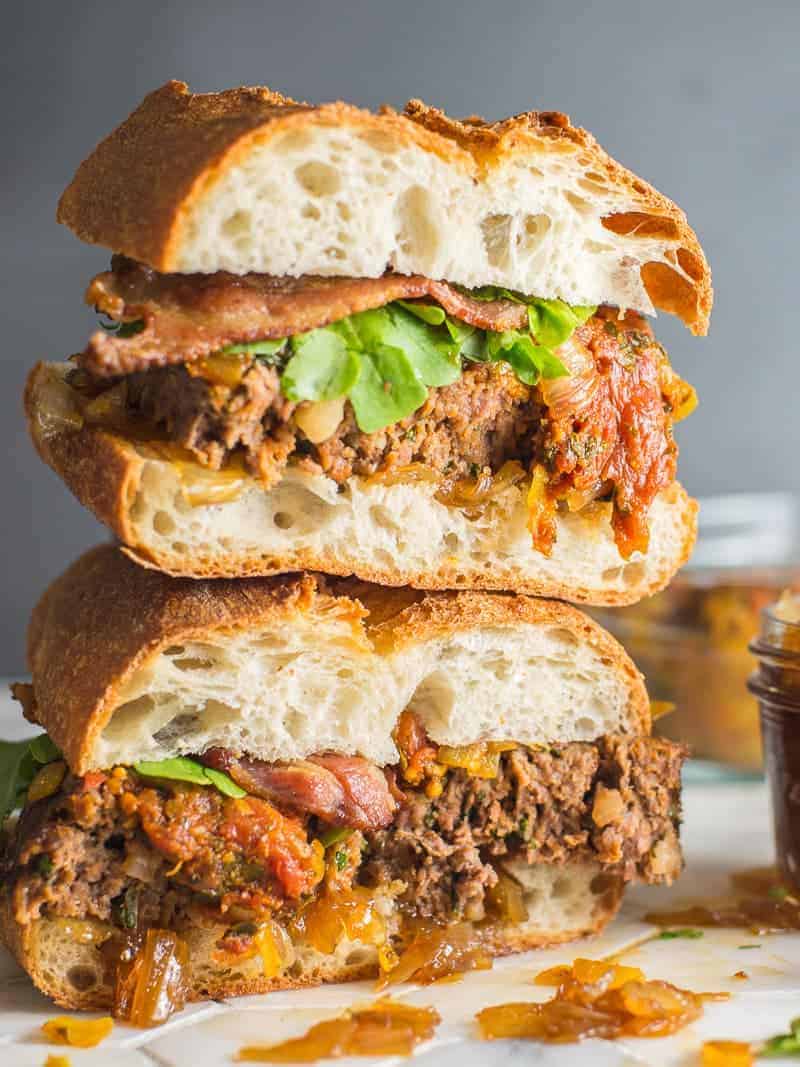 When I create a recipe, it usually has some story behind it. This meatloaf sandwich recipe has one of those stories.
Another fun fact about me:
Shortly before I turned 19, I moved to Norfolk, Virginia. I lived on the east coast for about four years, working in a salon as a color specialist, in this cute little suburb of Norfolk called Ghent.
The neighborhood was so adorable; the streets were lined with magnolia trees and old, gigantic, brick homes that had been converted into apartments. I still remember the hot, humid summer nights back there.
Okay, back to the recipe!
I created this meatloaf sandwich recipe in remembrance of this small restaurant that opened near my salon in Ghent, the name of the restaurant completely escapes me.
It was a tiny little shack; I don't think it even had indoor seating.
We used to pick up lunch there pretty often. One of the most memorable things they had on the menu was this ridiculous meatloaf sandwich. It sadly wasn't on the menu every day, but when it was I had to have it. The meatloaf on its own was super tasty. It was served on a sourdough roll with fresh greens and some sort of onion jam deliciousness.
A juicy meatloaf sandwich qualifies as comfort food.
Homemade meatloaf is the kind of recipe that is perfect for making for your favorite dad on father's day. Nothing says I'm a grown up like making dinner for your parents. This is an easy homemade meatloaf recipe. To make the perfect meatloaf here are a few things to remember.
Use the right ground beef.
Have you ever noticed that there are different kinds of ground beef? Its leanness categorizes ground beef. You will see it called 80:20, or 90:10. This number indicated the relative lean meat to fat ratio of the ground beef. Keep in mind this number is not super accurate but does give you a guideline when you are shopping for ground beef.
In my opinion, the best ground beef to use for meatloaf is an 85:15 ground. This ground gives you a high amount of protein but enough fat to keep your meatloaf moist without being greasy. The fat, along with eggs and breadcrumbs or oats gives you a perfect meatloaf that doesn't crumble apart, which makes it easy to get the perfect slice of meatloaf.
Cook your meatloaf to the right temperature.
Meatloaf cook time: It can be hard to tell if meatloaf is cooked through. This size of your meatloaf will determine how long to cook your meatloaf.
The absolute best way to make sure your meatloaf is cooked to the proper temperature is by using a meat thermometer. It may seem unnecessary, but having a reliable meat thermometer can be the difference between overcooked, dry meat and poultry and perfectly cooked meat and poultry.
Meat is expensive so invest in a good thermometer and never overcook your meat again. When I cook something like meatloaf or a roast I like to use a thermometer that alerts me the exact minute that the proper temperature is achieved. Yeah, it's fancy but it allows me to get dinner in the oven and not worry about having to check on my meatloaf several times. Talk about a time saver.
What is the right meatloaf internal temp? 160 degrees Fahrenheit (70 degrees Celsius.)
Here are my favorite meat thermometers:

Season it well.
Salt and pepper is a must. There is nothing worse than underseasoned meat? Well, maybe undercooked or overcooked meat would be worse. But, underseasoned food is boring. The difference between a memorable meal and a just so-so meal is flavor.
Use really good bread.
The perfect meatloaf sandwich requires really good bread. For this recipe, I like to use a really good sourdough or a ciabatta roll. Another fantastic option would be focaccia.
My Tomato, Garlic, Rosemary Focaccia recipe would be AMAZING with meatloaf smashed between a few slices. You can adapt the focaccia recipe and make it simpler if you prefer to make plain focaccia. I like my focaccia topped with a little rosemary and salt. Perfection!
Other recipes you need to try!
(Visited 905 times, 3 visits today)