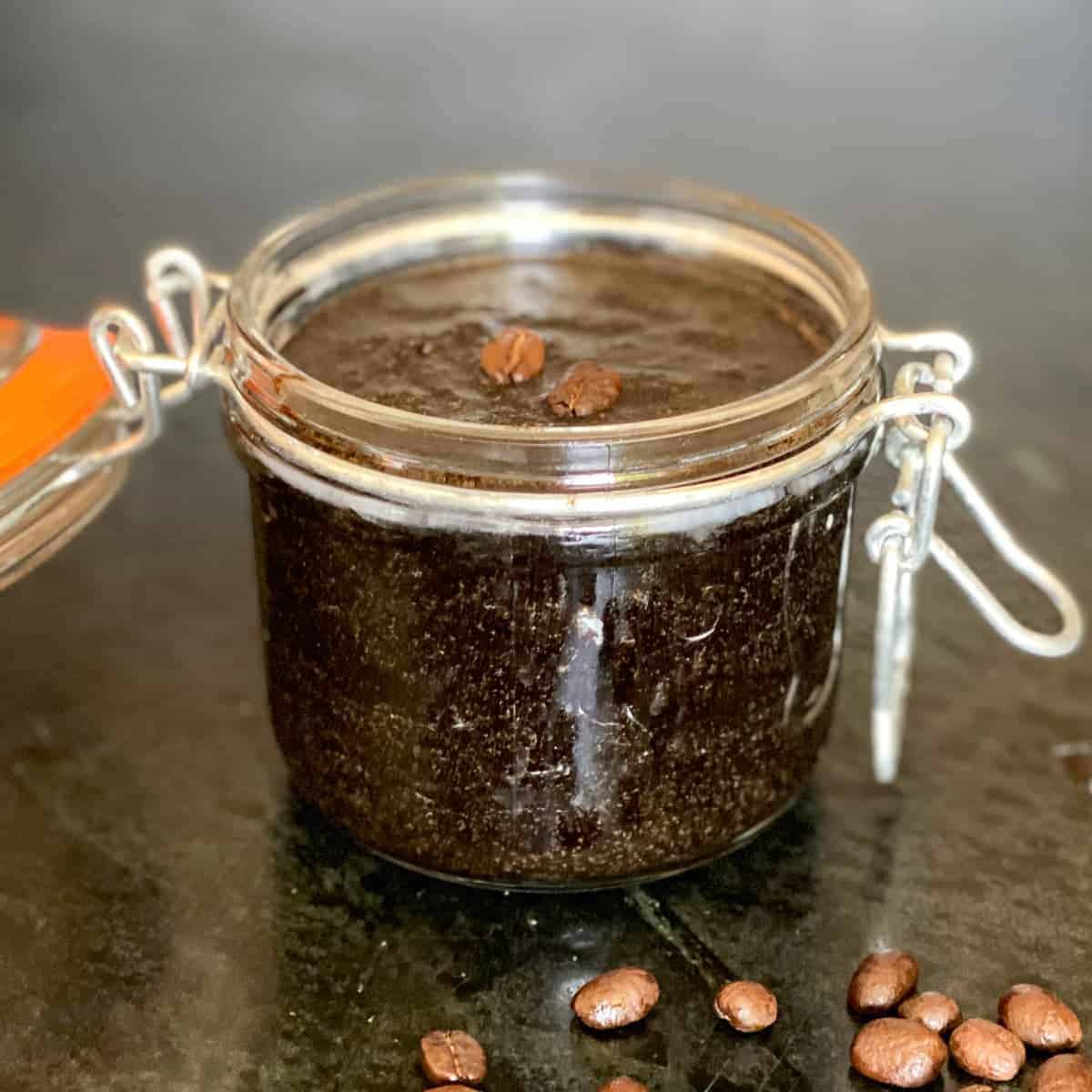 Recipe
Comments
Save
Go to Collections
This post may contain affiliate links. Please read my
disclosure policy.
Do you like coffee? Do you like to exfoliate your skin? If so, then you're in luck! Today I'm going to teach you how to make a coffee scrub. Not only is this scrub great for exfoliating your skin, but it also has a ton of other benefits. Keep reading to learn more.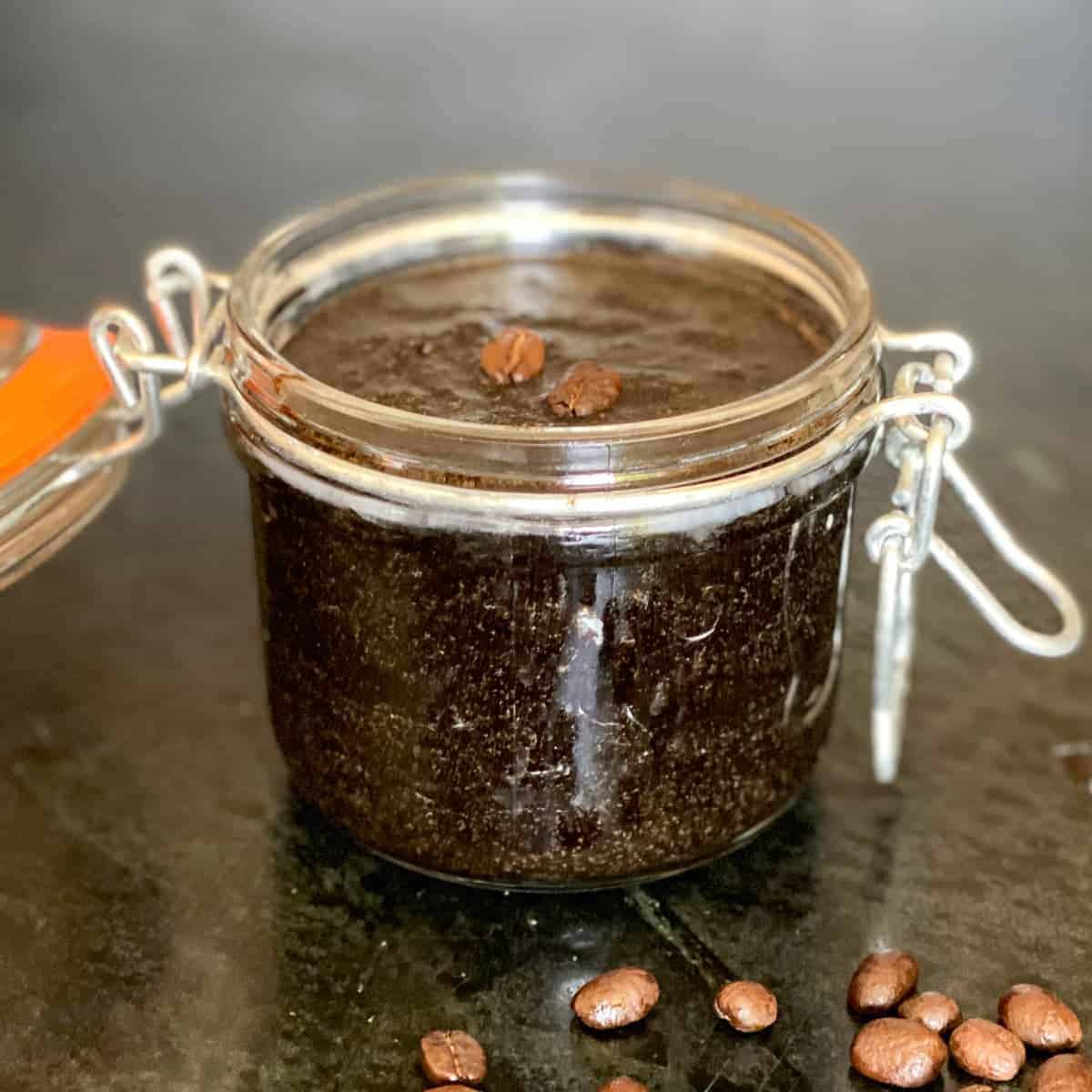 If you are a coffee lover but hate wasting all those coffee grounds, this scrub is for you!
I made this recipe after being stuck at home that past few months with my husband and my daughter! We are all making our own coffee every day!
With three of us in the house right now, our coffee grinder is working overtime. I was ending up with mounds and mounds of leftover coffee grounds.
While I did start putting some of my coffee grounds into my compost bin, I wanted to find another way to use them up. I hate seeing things go to waste.
Repurposing food is one thing that I do all the time!
If you are a coffee lover but hate wasting all those coffee grounds, this scrub is for you!
What you'll love about this DIY Coffee Scrub
I am a body scrub freak! I love how a sugar scrub makes your skin feel.
The smell is fantastic! Wake yourself up in the shower with this vanilla latte scented scrub.
Affordable: Coffee scrub is super cheap to make at home.
Environmentally Friendly: You're using up something that you would have just tossed in the trash.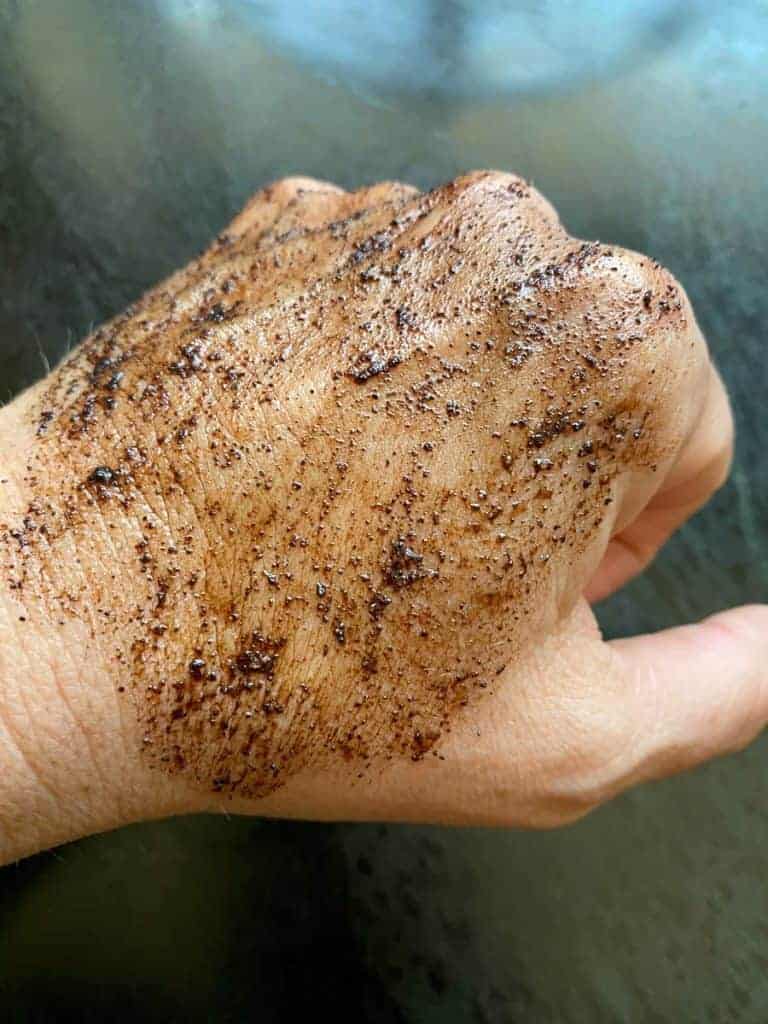 Benefits of Coffee Scrub
Coffee beans contain caffeine, B3, and chlorogenic acid, which can help with acne, treat cellulite, and tighten skin.
Check out the full range of benefits in this article from –Healthline
Coffee Scrub DIY
This scrub is so easy to make. You don't really need instructions. But, here are a few helpful tips.
I like to make a big batch of this scrub and then keep it in my shower. I store it in clip-top jars.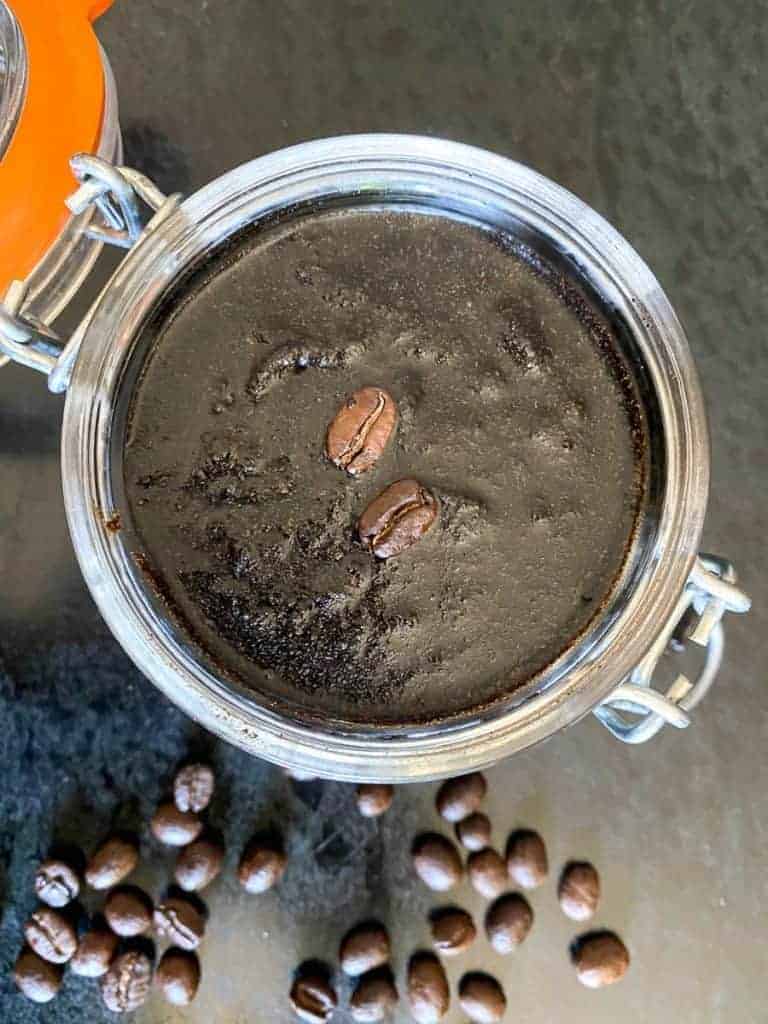 Ingredients
Leftover coffee grounds: This recipe uses 1 cup of grounds. I used the little leftover pucks from our espresso machine.
Sugar: You will use granulated sugar for this recipe. You can use traditional white sugar, brown sugar, which is a bit more caramelly, or turbinado sugar, which has a coarser texture.
Coconut oil: Add a few tablespoons of coconut oil. You can also use almond oil or vitamin E oil. I love the smell of coconut oil, and I cook with it a lot, so I usually have it in my pantry.
Vanilla extract: Vanilla adds a lovely sweet smell to this scrub.
Cinnamon: The cinnamon also adds a delicious smell to this recipe.
How to Make Coffee Scrub
Instructions are simple.
Add all of the ingredients to a bowl and then mix with a fork or spoon.
Store in an airtight jar.
How to use coffee scrub
I am a body scrub freak! This scrub is fantastic for the skin.
All you have to do to use this scrub is to apply it to damp skin and then massage in circular motions.
Because this scrub works as an exfoliant, it will remove dead skin cells and reveal beautiful glowing skin.
There are some really high priced coffee scrubs on the market that claim to reduce the appearance of cellulite.
Using coffee body scrub and help to increase blood flow and give you skin a rejuvenated appearance.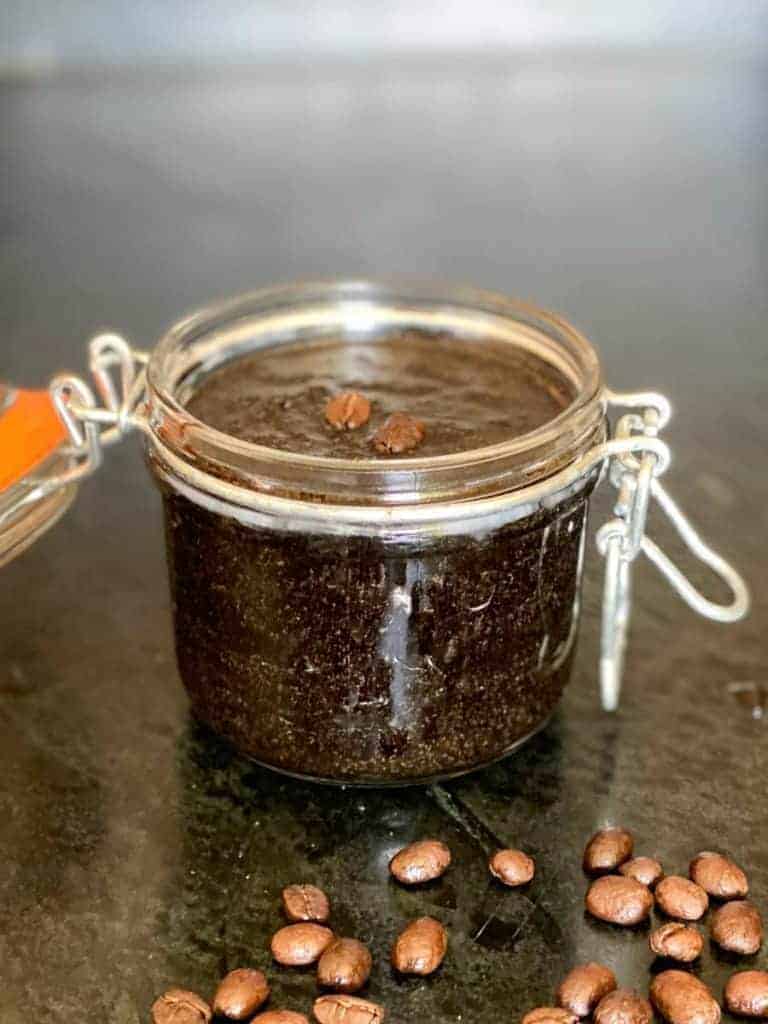 I want to hear from you!
Let me know if you do give this body scrub recipe a try. I have been making sugar scrubs for years, and this is one of my favorite versions.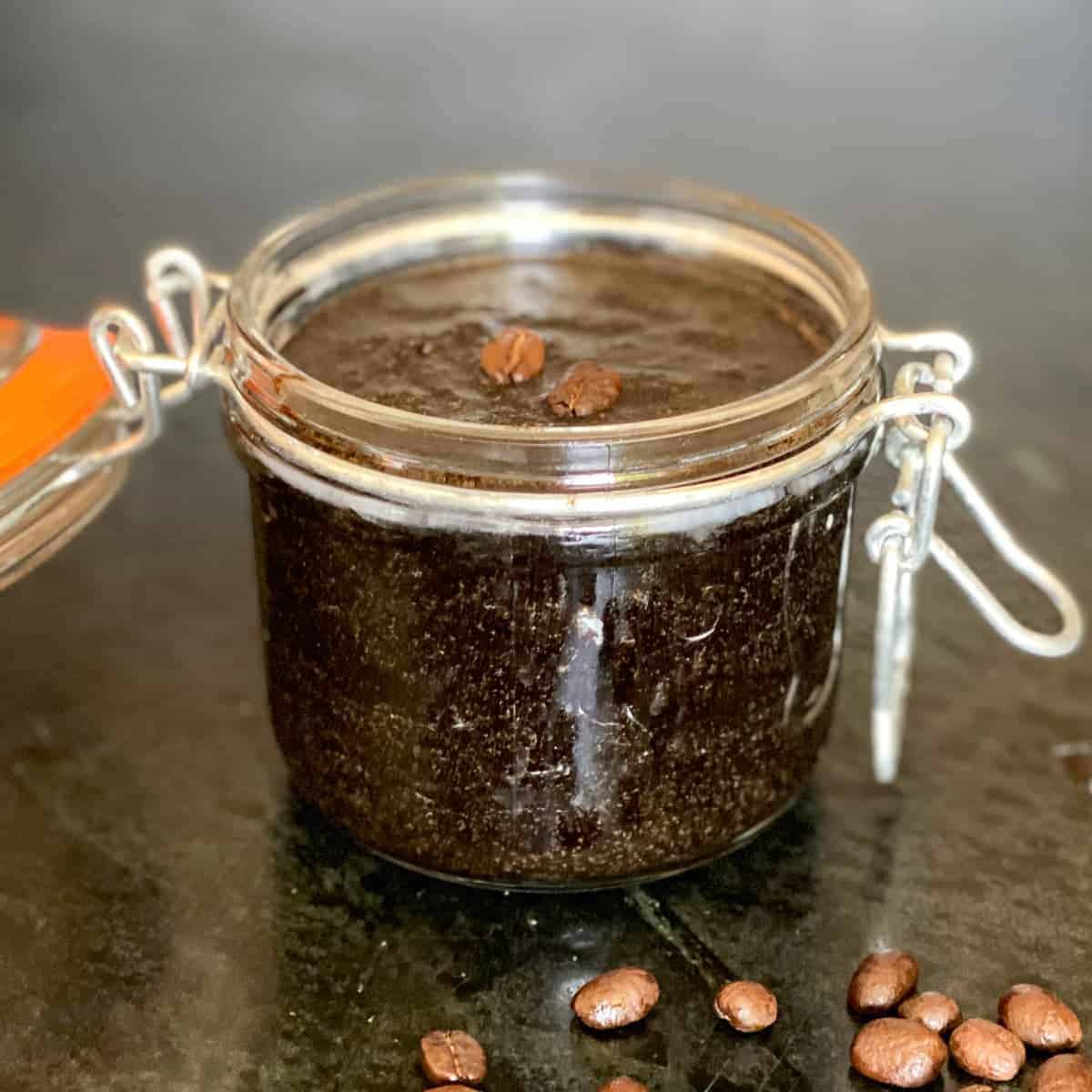 Coffee Scrub Recipe
This DIY coffee scrub uses leftover coffee ground to make a fantastic scrub that smells like a vanilla latte. Plus, this scrub has a multitude of benefits for your skin.
Instructions
Add all of the ingredients to a medium-sized bowl and mix together using a fork or spoon.

Store in airtight containers.
YOUR OWN NOTES
Sign In to add your own private notes