Do you feel like a Mixologist when you make cocktails for your friends? Do you want to make sure each drink is just right? If so, then you need a bar jigger in your life! With this handy tool, you can make drinks with ease and confidence.
Check out our blog post to learn more about what a bar jigger is and how to use it! We'll also share some recipes that are perfect for cocktail parties! Cheers!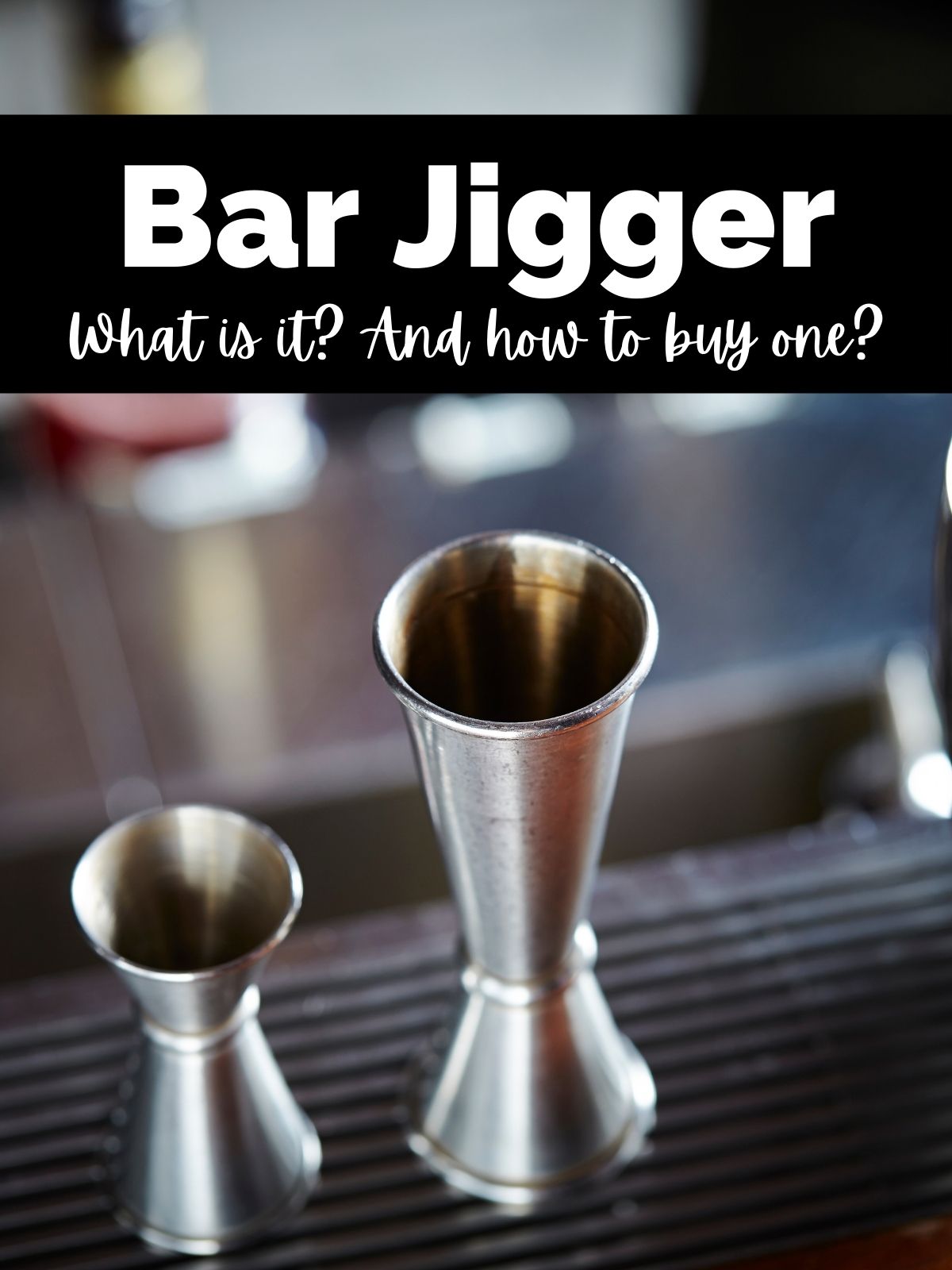 A bar jigger is a bartender's measuring tool that's used to portion liquor when mixing cocktails. Why you need one and how to buy the right one.
When I first started mixing cocktails and finding new cocktail recipes that I wanted to try I was often confused about the best way to measure the liquor for perfect cocktails.
Then I learned about the jigger—a bar tool that's essential for the home mixologist.
Types Of Jiggers
There are several types of jiggers to choose from.
Single jigger which just has one side for measuring.
Double jigger has measuring cups on both sides.
Common Sizes Of Jiggers
A standard jigger is 1.5 ounces (~45mL) on one side and 1 ounce (~30 mL) on the other side.
The 1.5-ounce side is called the jigger and the 1-ounce side is referred to as a pony shot.
You can buy jiggers in a variety of sizes ranging from 0.5 ounces to 2 ounces. Bar jiggers can be found with the measurement in either ounces or milliliters. So what's a home mixologist to do?
Here are a few of my recommendations when shopping for a jigger.
US Standard Jigger
Most recipes in the US use ounces for cocktail recipes, so having a jigger that measures ounces is a good choice.
Stepped measurements for accurate pours and build your cocktail.
Double-sided to provide a multitude of measurements to fit any cocktail recipe.
Food-grade stainless steel.
Japanese Jigger
This Cocktail Jigger has a capacity of 1 ounce on one head and 2 ounces on the other.
Measurements Inside – This Jigger for Bartending has different measurements of capacity inside.
Food grade 304 stainless steel. This Japanese Jigger is sturdy and durable.
Angled Measuring Jigger
This one is my personal favorite. The markings on the inside make it super easy to use.
Angled surface allows you to read measurements from above
Eliminates the need to fill, check and adjust measurements
Convenient tablespoon and ounce Measurement markings
Etched Measurement markings will not fade
Stainless steel
The Derrison Bell Jigger
This jigger wins all the style awards. I love the look of it.
Precision engraved with every measurement line you'll need to make any cocktail recipe! Calibrated marks include: 1/2oz, 1oz, 1 1/2oz, and 2oz. Machined for accuracy and durability.
Wide-mouth with easy-to-see markings help speed up pouring, and straight edge prevents drips. Wider style also keeps the jigger stable, so it won't easily tip over and spill.
Frequently Asked Questions
What's the difference between a jigger and a shot?
Both a jigger and a shot glass measure 1.5 ounces. However, a shot glass is used for serving liquor while a jigger is used for measuring liquor.
Why is it called a jigger?
A jiggermast is the smallest mast on a ship. A jigger was used to refer to a sailor's daily ration of rum and the metal cup that it was served in. The term was popularized in the 19th-century when Irish immigrants were given jiggers of liquor when they were constructing the canals in New York.
How many ounces in a jigger?
A standard jigger is 1.5 ounces (~45mL) on one side and 1 ounce (~30 mL) on the other side.
Thirsty For Cocktails Recipes?
Now that you know how to use a jigger, let's make some cocktails.
Try an icy cold Lemon Drop Martini or a fresh and fruity tropical Pineapple Martini.
We also have your favorite classic tiki cocktails like the Mai Tai, the Trader Vic's Mai Tai, and the beautiful Blue Hawaii Cocktail.
If you love citrus flavors, be sure to try your hand at making homemade Limoncello or Arancello (Orangecello). Both of these recipes are easy to make and make great cocktail mixers.
The Mai Tai might be the most famous Hawaiian cocktail. There are many different Mai Tai recipes that claim to be original. This version is…