The Beast Bowl concept evolved because I needed to find balance in the way that I was eating. The very first beast bowl happened a bit by accident. It was the Thai Chicken Meatball (Beast Bowl).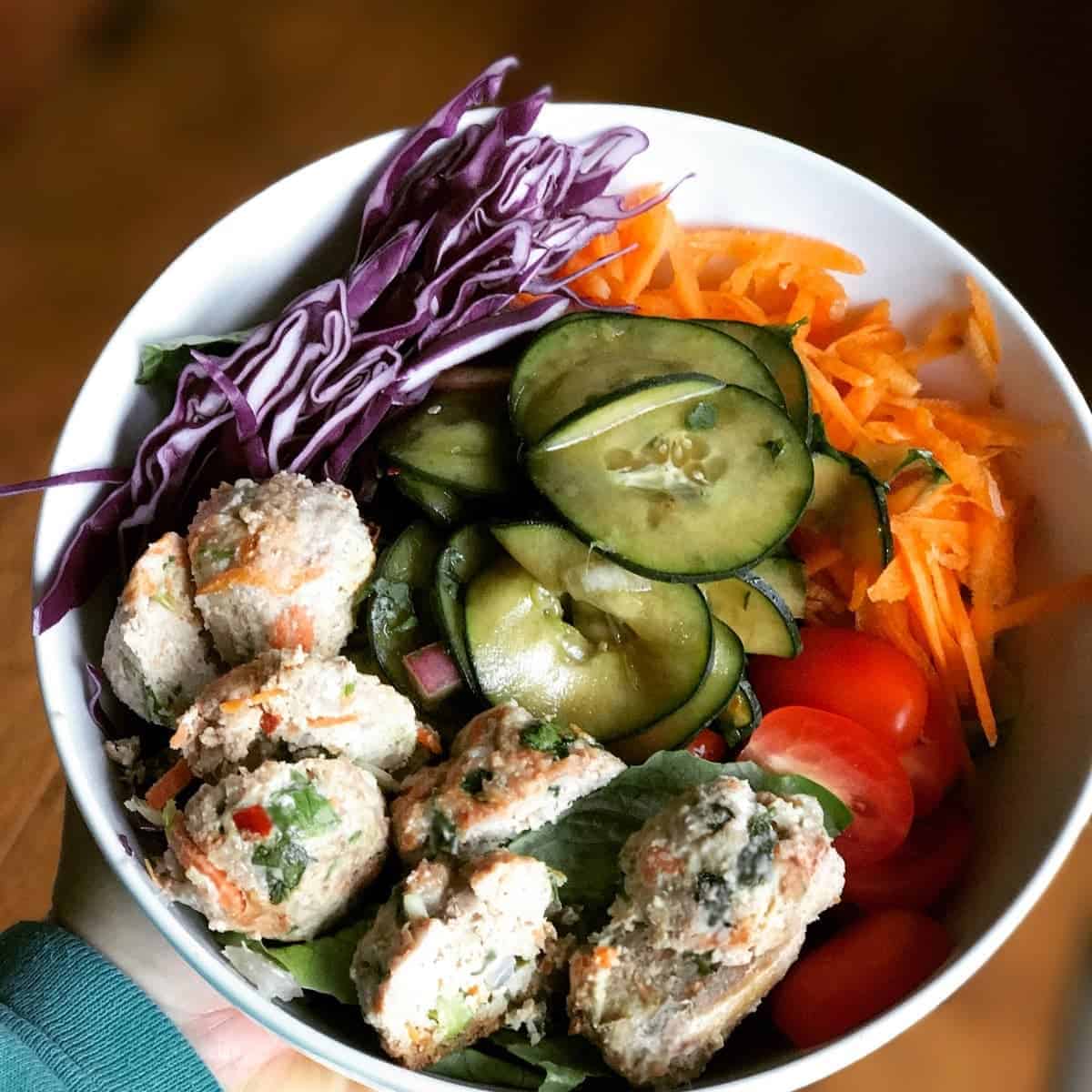 Getting enough protein had always been easy for me. But to do this I was living on either 1) plain boiled chicken that was reserved from making bone broth, 2) meatballs, or 3) pecan crusted chicken. To get enough veggies, I was pretty much exclusively relying on broccoli or green beans. To this, I added some brown rice to round out my macros. How frickin' boring is that?
Also, a lot of times I still wasn't eating enough vegetables. Chewing all that broccoli just started feeling like way too much work....so much un-gratifying chewing. Consuming the core building block component nutritional macros was vital to me, but my approach wasn't working. There had to be a better way. Enter the Beast Bowl.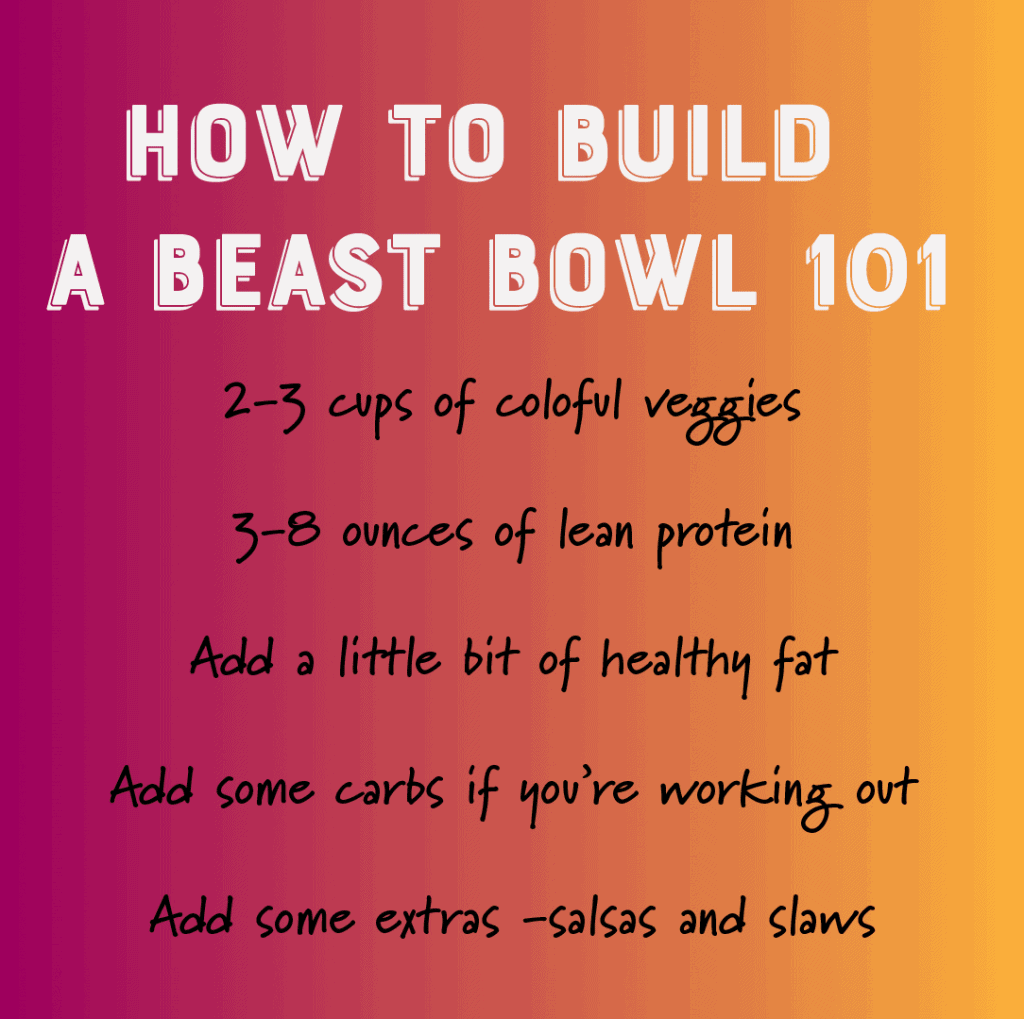 How does a Beast Bowl solve this problem?
To answer that question, let's talk about nutrition and 'Macros.'
'Macros' is a nickname of sorts referring to the basic macro-nutrient building blocks in food: protein, carbohydrates, and fat. The basic concept of 'balancing your macros' is to get enough protein to sustain muscle growth and athletic performance, while also eating a wide range of vegetables. Vegetables are not only a crucial carbohydrate source; they also provide all the micro-nutrients that you need to maintain wellness and a healthy metabolism. The last component macro is fat. You need a nice dose of healthy fats each day, to help your brain and cells run at their peak performance.
Beast Bowls are designed to provide a reasonable, approachable macro-balanced meal that is - most importantly - delicious and gratifying!
We've worked hard to build a list of Beast Bowls that fit this bill. We are continuing to get the Beast Bowl nutrition down to a science. With each one that we build we think about ease of preparation, balanced macros and most importantly flavor. I get that Beast Bowls are more complicated than baked chicken and steamed broccoli.
Yeah, that's kind of the point. Beast Bowls are elevated nutrition for people that want to eat real food - FOR REAL!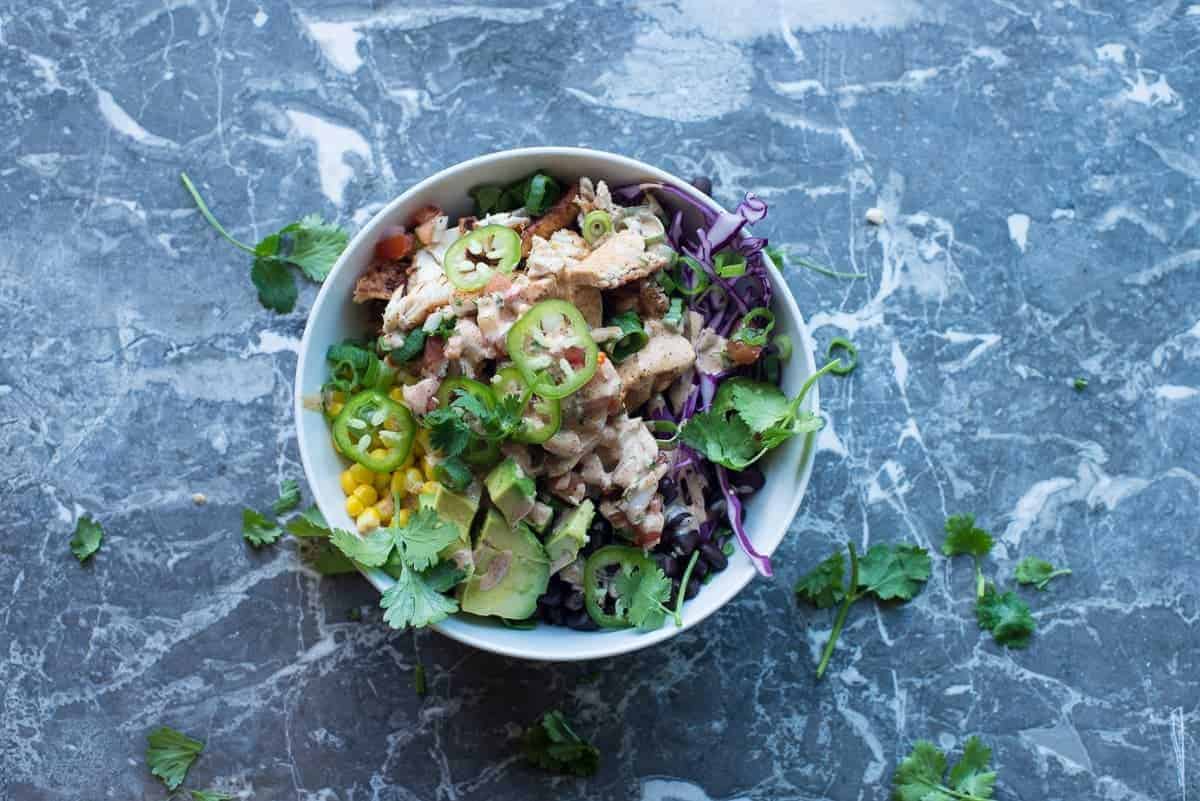 Our goal with every Beast Bowl is to provide recipes that allow you to feed yourself and your family healthy meals that, not only taste fantastic but will also meet your nutrition goals. These bowls have components that can be portioned out easily so that you can feed yourself the correct macro nutrition for your individual dietary needs.
They are tasty enough so that anyone that loves food will love them. If your body compisition is right where it should be then just cook and eat, no measuring is required.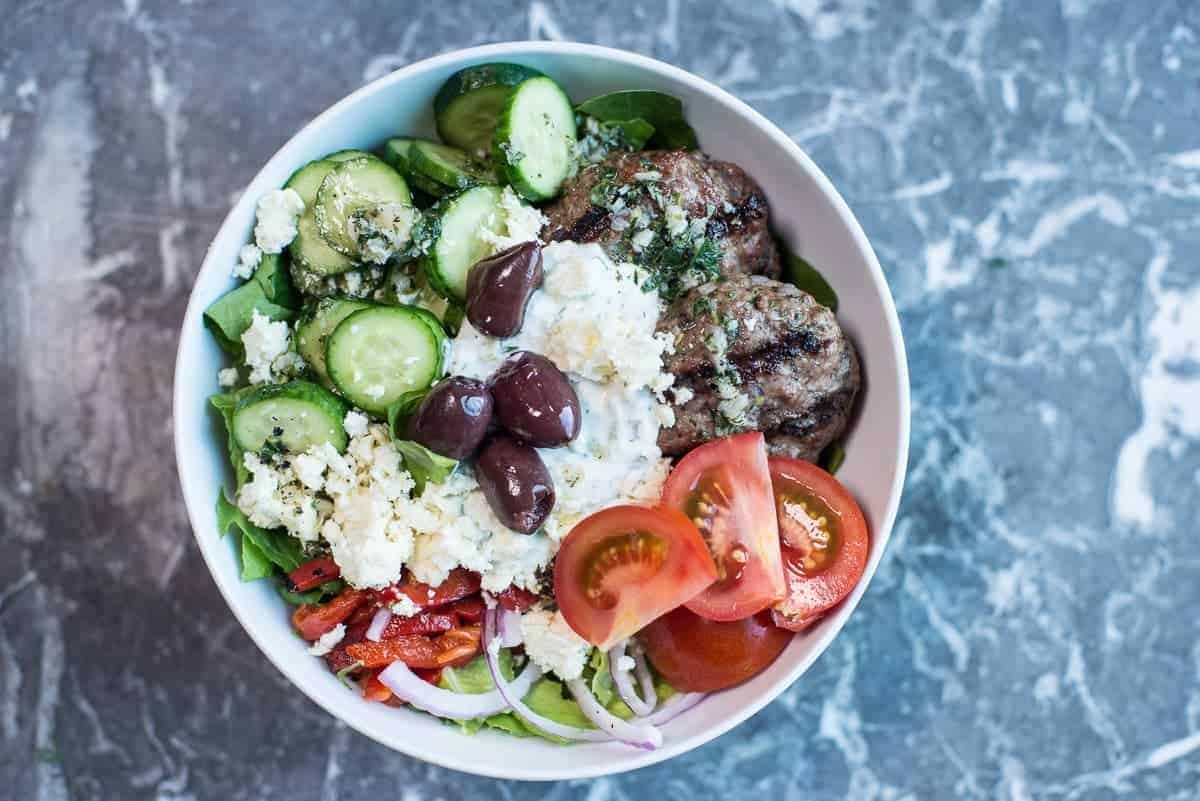 Your goal is to eat a balanced amount of protein, carbohydrates, and fats at each of your meals. That said, realize that your body is forgiving. If your specific goal is to eat 20 grams of protein at breakfast, but instead you get 28 grams, you can balance it out with the rest of your choices that day. The key is to be aware of what you are eating and to prioritize making good choices at each step of the way. Do your best with what you have.
Protein
To make this easy - you want to get a reasonable amount of protein with every meal. A serving should be somewhere between 3-8 ounces (which translates into approximately 18-40g per meal).
What does enough protein look like? Most women should eat about 3-5 ounces of protein per meal. Most men can eat about 6-8 ounces of protein. Protein sources include lean meats, fish, eggs, and dairy. The amount of protein in these sources varies between 5-7 ounces per gram. Feel free to average it out. One ounce of meat, fish, eggs or dairy = approximately 6 grams of protein per ounce. [NOTE: Beans and tofu have about half this amount, 3 grams of protein per ounce.]
Of course, you can get super picky about this. The reality is that you can measure and weigh down to the specific micro-ounce, but there are so many variables that you aren't accounting for, you still won't be accurate. (Do you know exactly how much fat is in that specific cut of meat that you have? How much water are you weighing?) Thankfully, you don't need to be that precise.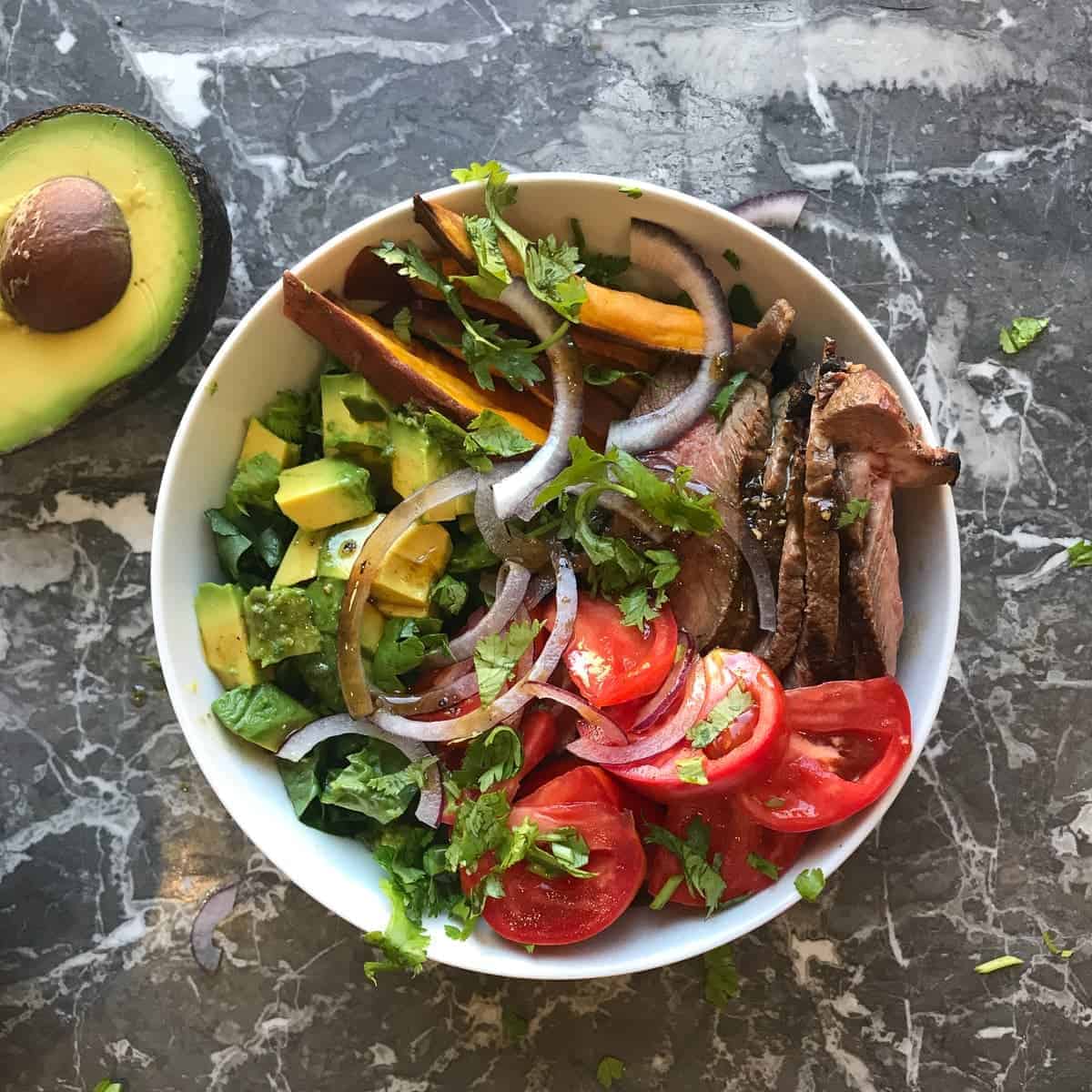 Carbohydrates
The easy rule of thumb is to get most of your carbs from vegetables. A serving should be about two large handfuls. Ideally, you want to eat ten servings of fruits and vegetables per day (with an emphasis on vegetables).
Carbohydrates come from plants - yes, this includes grains and sugars derived from plants. (More on that in a minute.)
Fruits and vegetables should be your emphasis as they provide the micro-nutrients that ensure that your body runs the way that it is supposed to. Did you know that the more color a vegetable has, the more micro-nutrients it contains? The same is true for fruits and vegetables. The darker and richer their color, the more concentrated nutrients they have.
Working ten servings of fruits and vegetables into your daily routine may seem complicated. This was one of the motivations behind Beast Bowls – I wanted to create an easy way of eating flavorful, nutritious food. The Beast Bowl concept allowed me to focus on a core group of foundation vegetables and then top them with others to provide specific flavors depending on the style of Beast Bowl I was in the mood for. This is one of the key tricks to getting all those veggies without getting bored in the process!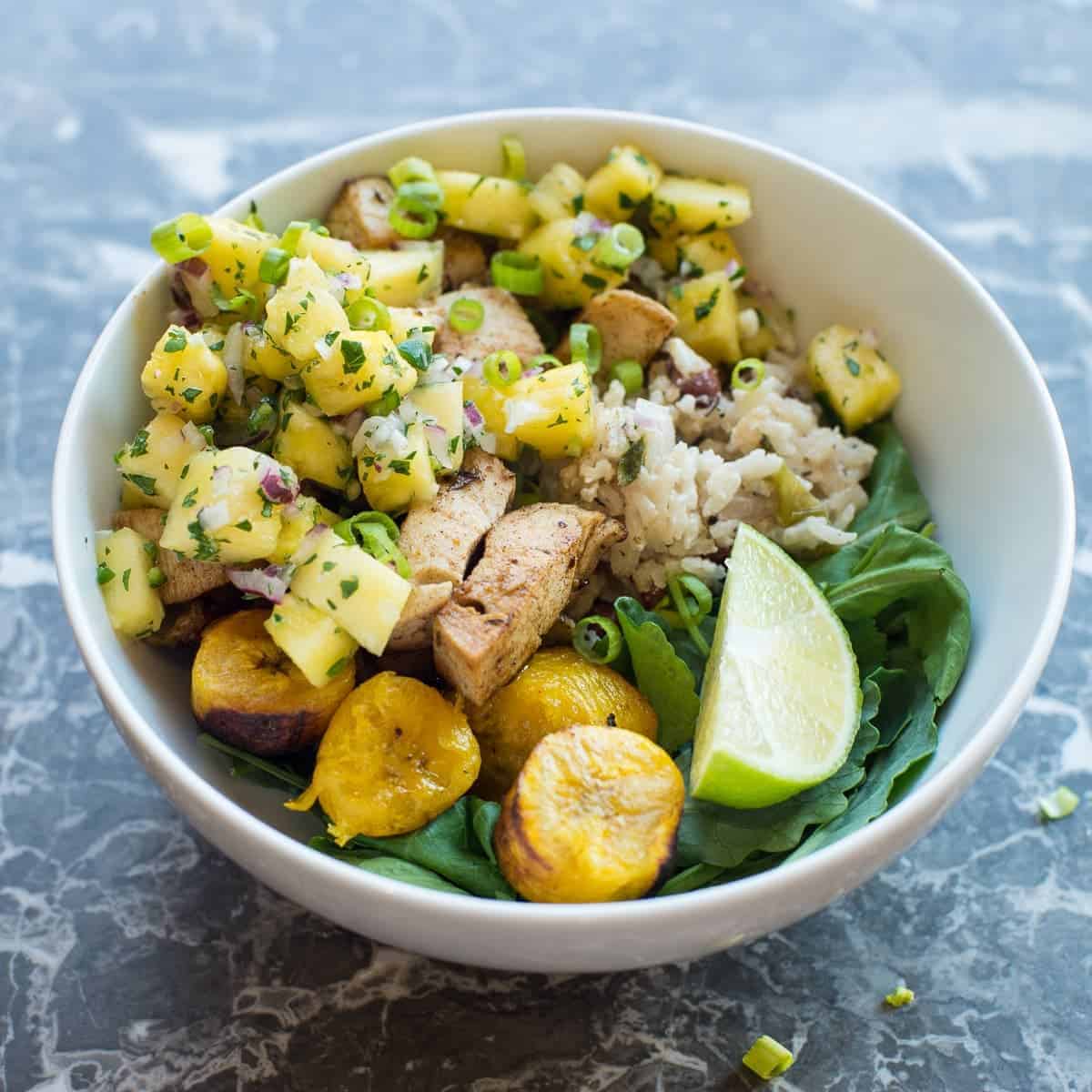 What about grains?
While grains are carbohydrates too, they offer less micro-nutrition and can sometimes even be anti-nutritious. Some grains contain compounds that actually inhibit your body from using all of those fantastic micro-nutrients that you just took all that time to chew!
The best way to think about grains is as a source of energy. They are best eaten around your workout times. The amount of this type of carbohydrate that you eat depends on your activity level and how much muscle you have. The leaner you are, the more starchy or grain carbohydrates you can tolerate in your diet. A reasonable starting portion is somewhere between ⅓ to ⅔ of a cup.
Rice – rice is one of the least anti-inflammatory of the grains. Rice is digestive-ly neutral. It doesn't contain any gut irritants. Which is why rice cereal is one of the first 'solid' foods fed to infants - and the first thing you reach for when you're trying to get your body back in balance after a stomach virus.
Gluten-free oats - is also another great choice. Most of the time these are non-irritating to our gut.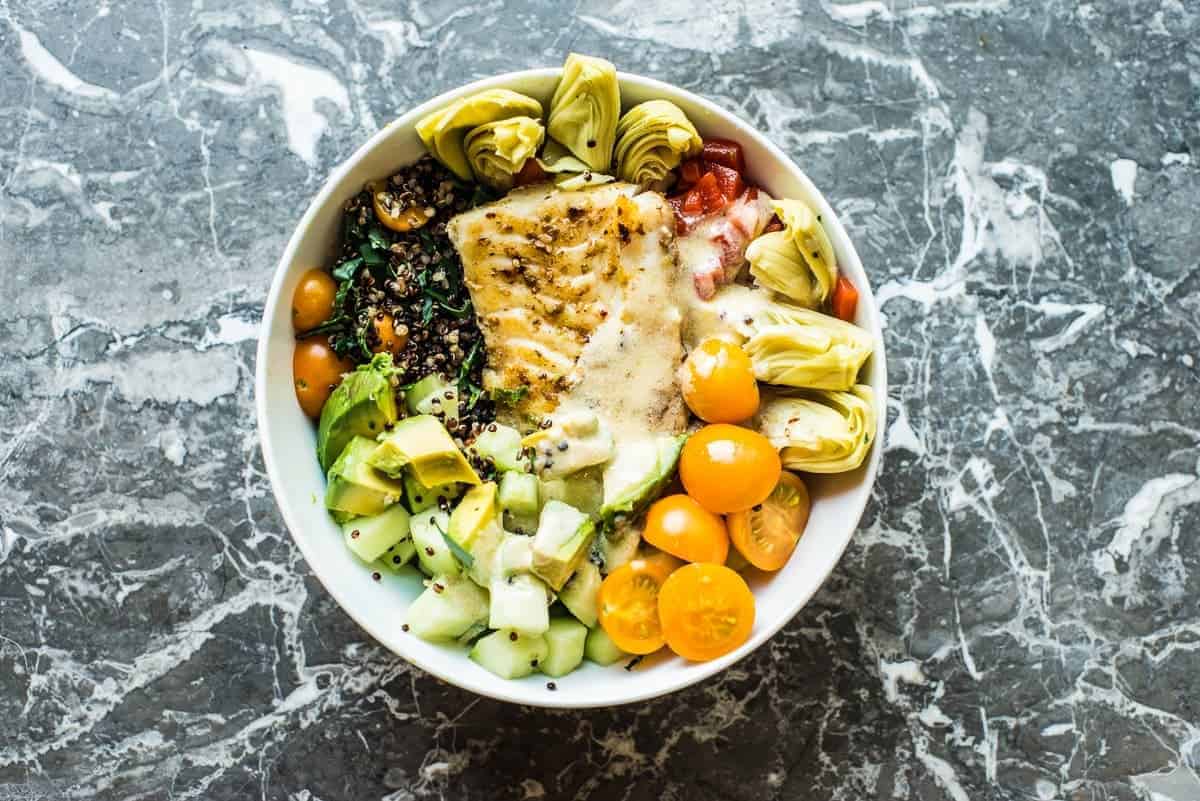 Quinoa - is higher in protein, also non-irritating.
Gluten is Another Story
Wheat-based Bread and Pastas - Gluten flours are the least favorable choice. However, they don't have to be eliminated from your diet completely. Just know that gluten is a digestive irritant and it is very anti-nutritious. Just recognize when you are eating bread you are limiting your body's ability to absorb vital micro-nutrients.
The truth is that the GMO wheat of today contain 90% more gluten than the wheat of our ancestors. Sprouted grains are slightly better because during sprouting some of the gluten proteins are broken down and used up. Is it a wonder why we are seeing so many people that are intolerant to gluten these days? [Approximately 1% of the population have extreme sensitivity to gluten. In most cases, this is due to an inherited autoimmune disease (Celiac) that causes damage to the small intestine when gluten is ingested. These people should avoid gluten in their diets.]
Flours - In general, flours are not the best choice. While gluten-containing flours are the most offending in this category, all flours (even the gluten-free variety) are highly processed and as a result, should be included in your diet in very small portions.
Fat
Fat is good for you and essential to good health. Healthy fats are necessary to fuel our brains. Every cell in our body contains a phospholipid bi-layer made up of - yes lipids - which are derived from fats! The quality of fat that we eat is incorporated into these cells when they regenerate. Healthy fats = Healthy cells.
One thing that we do know about fat is that it does not affect our hormones the same way carbohydrates and proteins do. (Both carbs and proteins can cause a spike in insulin levels. This is something that we typically want to avoid.)
While carbohydrates should be eaten within a 2-hour window around your workouts. Fats usually should be eaten further away from your workout times. We can go into a ton of nutrition science here but these are just guidelines.
Heavy Lifting Session = Eat less fat and more carbs right around your work out times.
Cardio = fat timing matters less.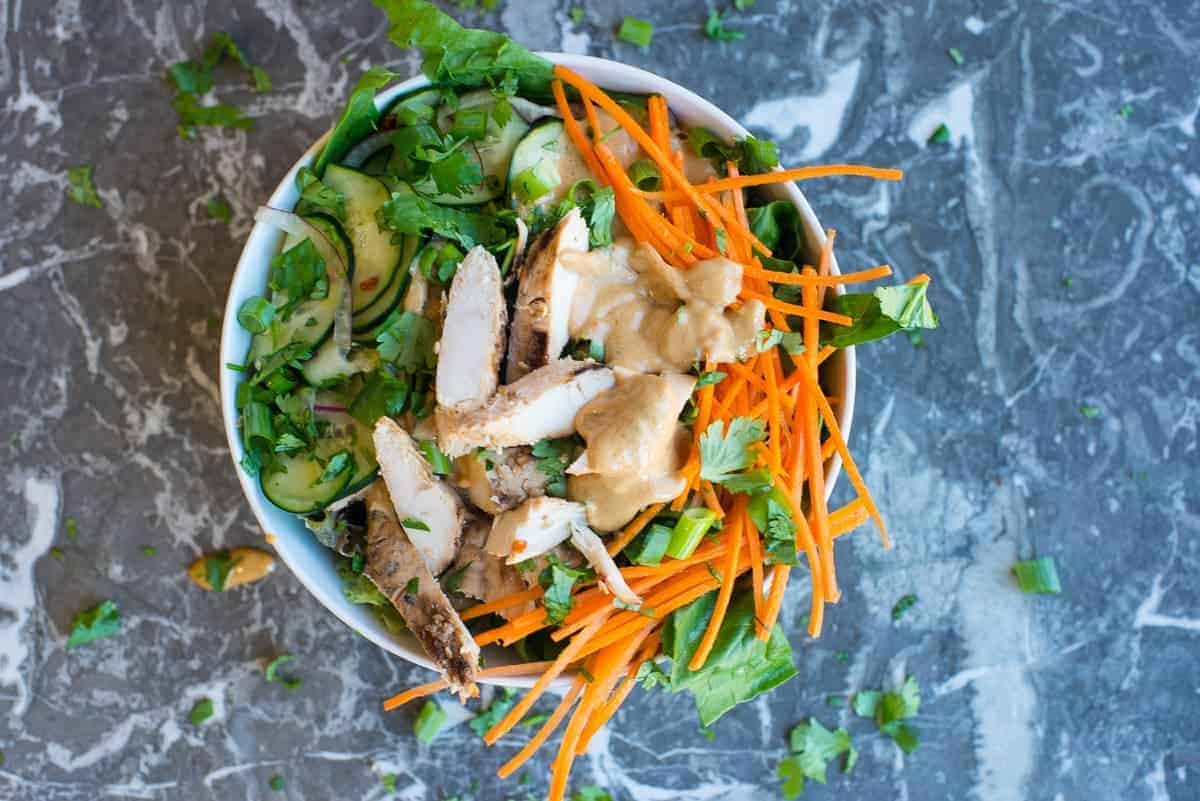 What are the good fats? - Avocados, olive oil, coconut oil, omega-3 fats (those that are contained in fish and grass-fed beef), and egg yolks (the darker yellow, the better).
A quick note about olive oil...while it is a healthy fat to including in things like salad dressings...olive oil should not be heated. It loses its health benefits when heated. Avocado oil, coconut oil, or animal fats are a better choice when cooking.

Summing it all up...
Your emphasis should be on nourishing your body - and soul - in a manner that is sustainable long term as a LIFESTYLE, not a DIET to be endured! The most significant and most important rule is to eat whole foods. Processed food messes with your hormone signaling (especially foods containing flour and sugar). Does this mean you can never eat one of our cinnamon rolls? Heck no! Sustainability is about balance, not perfection!
As I said before, be aware of what you are eating and prioritize making good choices at each step of the way. Do your best with what you have. Restrictive perfect compliance should NOT be your goal. If 75-80% compliance means that you can stick to healthy eating as a long-term lifestyle, do that! You will be MUCH better off in the long run than yo-yo-ing between strict compliance and going off the rails!
Let Beast Bowls be your go-to.
They are for me. They provide a reasonable, approachable, macro-balanced meal that is - most importantly - also delicious and gratifying! If we're going to be chewing all those veggies, they'd better taste AMAZING!
Beast Bowl Nutrition | The Cookbook
If you need more healthy recipes, check out the cookbook. BEAST BOWL NUTRITION will give you all the recipes you need to build a weekly meal prep routine that isn't boring. No more steamed broccoli and flavorless chicken.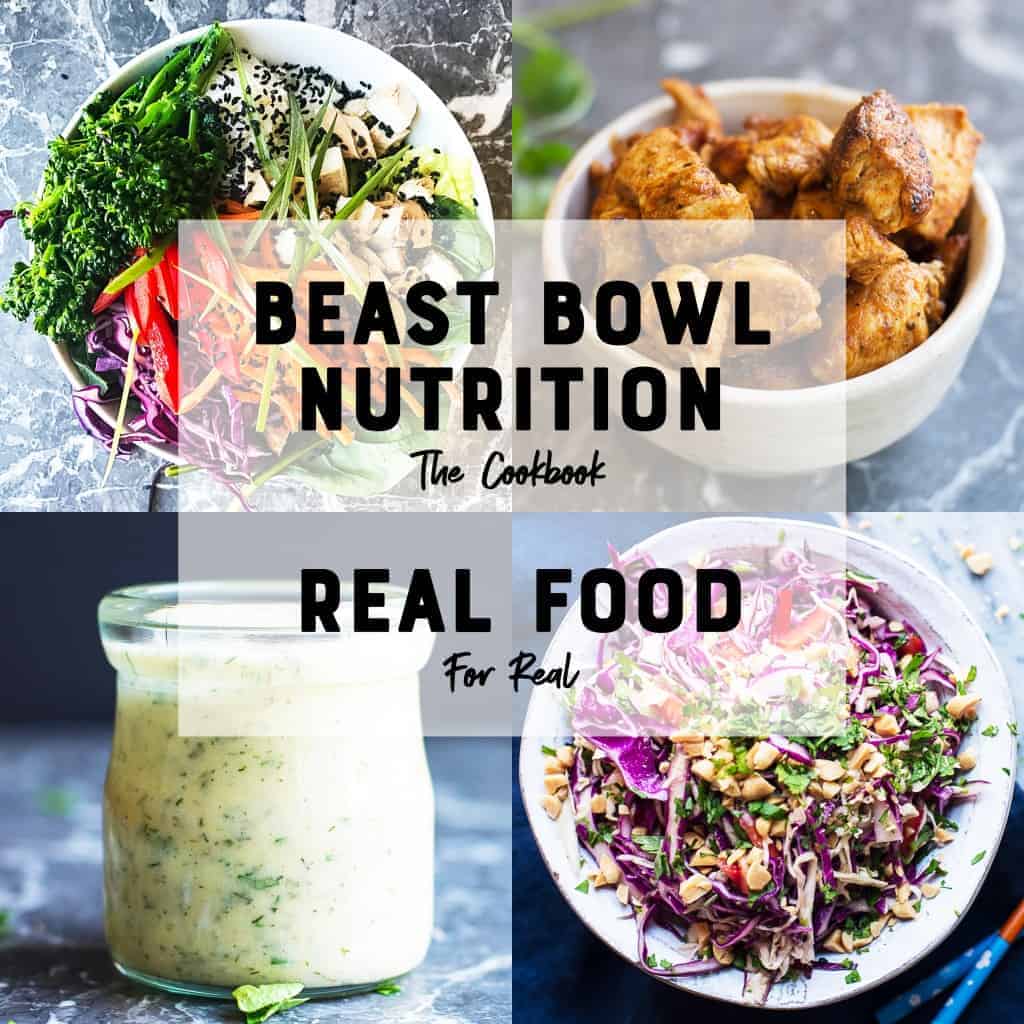 Get the details
Over 100 macro balanced recipe that are perfect for meal prep.
Core Proteins
Tasty Sides
Dressings and Sauces
SaveSave
SaveSaveSaveSave
SaveSave