Pecan pie is a long time favorite in our house. This recipe is my Grammy Futrell's recipe and it's my dad's absolute favorite pie. Honestly, I have never made this pie without someone saying it's the best pie they've ever eaten.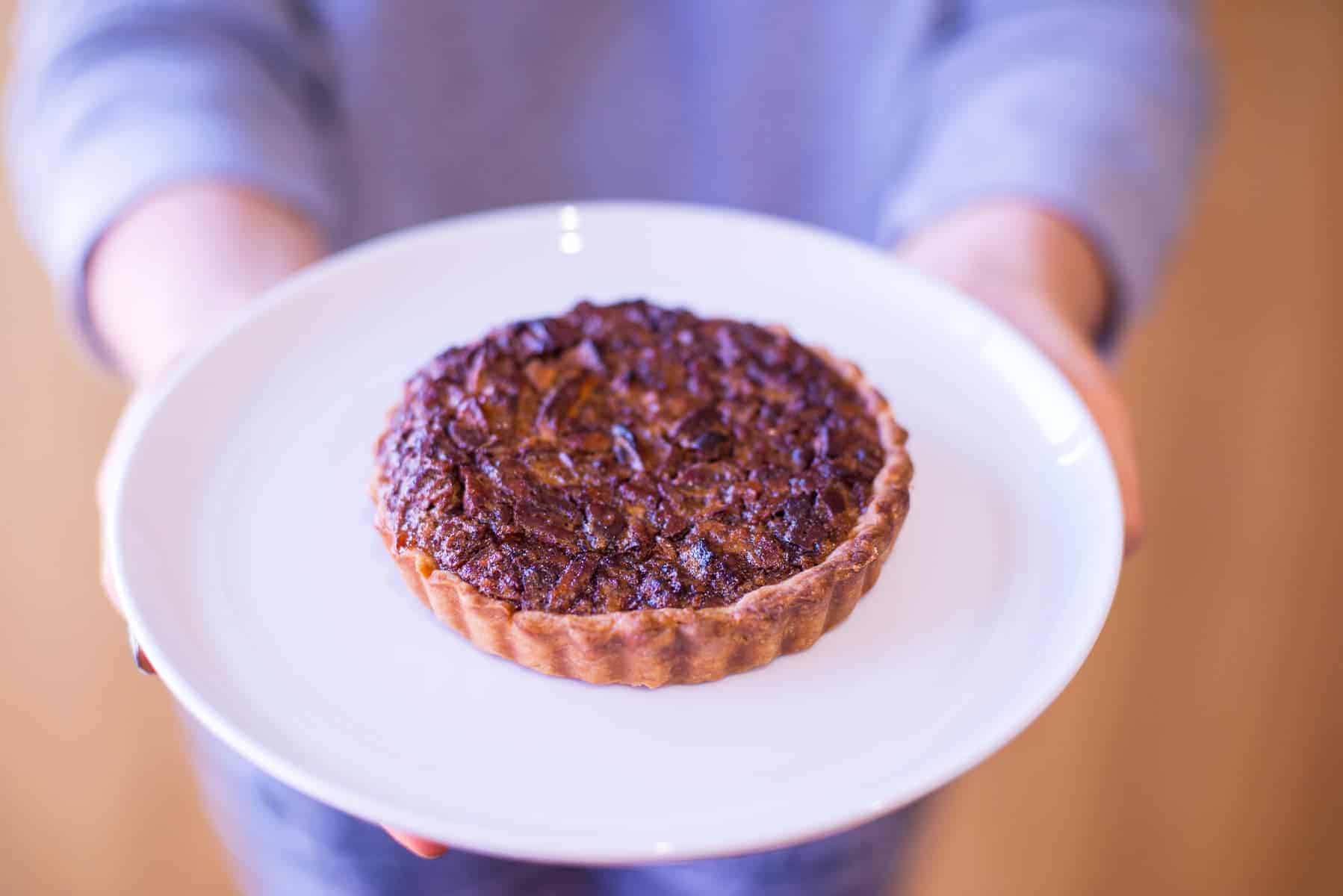 Growing up my mom always made a few full sized pies for Thanksgiving.
When our family started the tradition of going out to Yosemite for Thanksgiving, I transformed my Grammy's pecan pie recipe into these portable pecan tartlets. We would head out to Yosemite and meet up for a weekend of hiking, eating, and much wine drinking. Everyone would contribute something to the Thanksgiving meal.
Thanksgiving morning we would plan a hike, followed by a Thanksgiving day picnic. These tartlets were the perfect packable size - easy to eat out in the woods after a nice hike.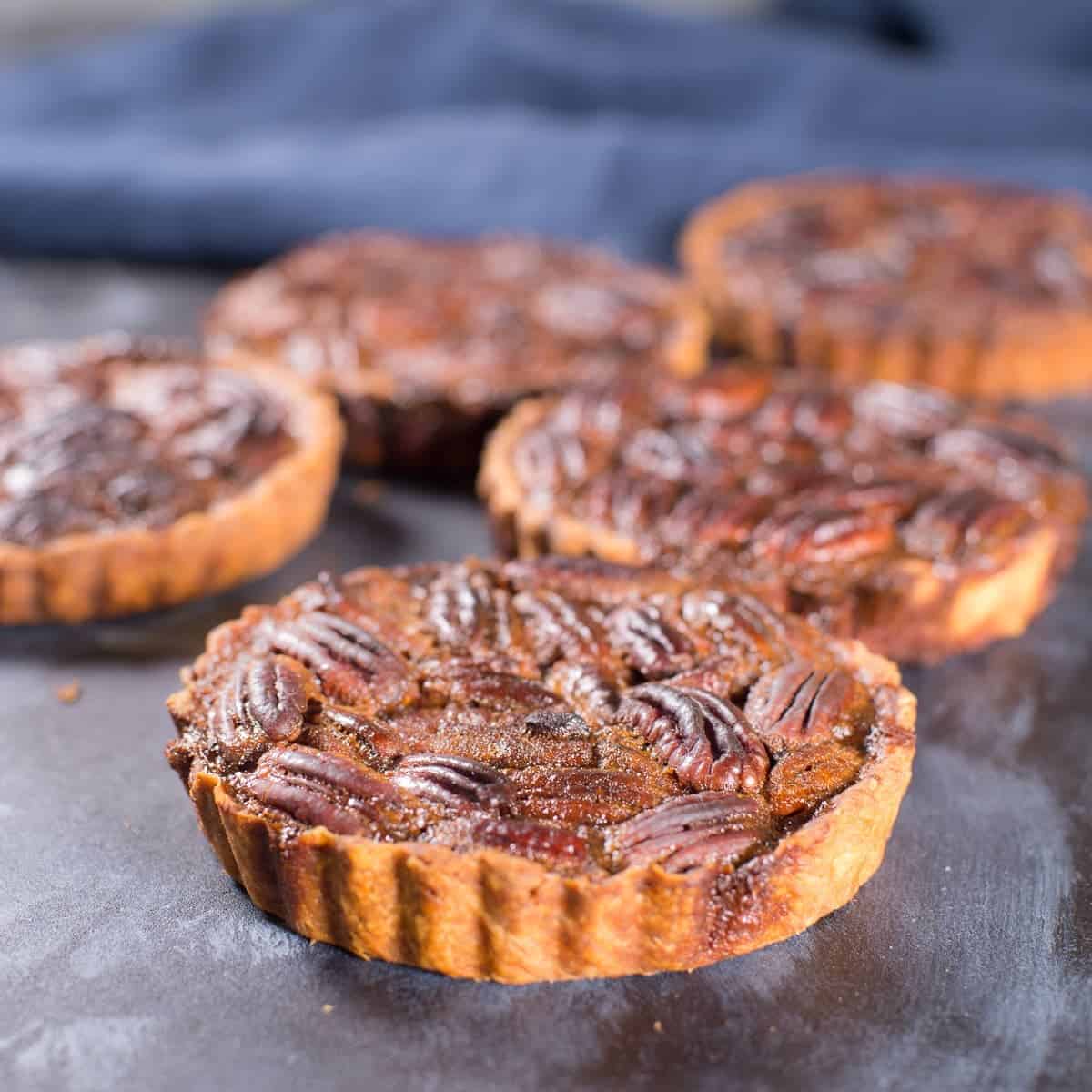 What you'll love about this recipe
Recipe Notes
The chopped pecans give these tartlets the texture of a caramel-ly nut cluster wrapped in pie crust. I use my Buttermilk Pie Crust for these and it comes our perfectly browned and fantastically flavorful.
Ingredients
Instructions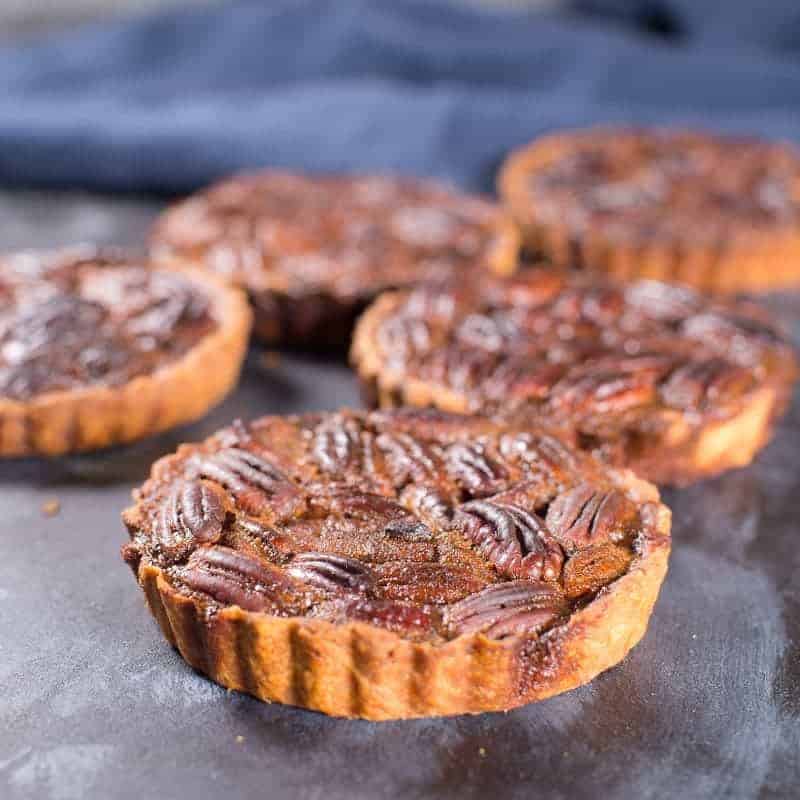 Pecan Pie Tartlets
Personal Sized Pecan Pies. So good you won't want to share.
Instructions
Preheat oven to 450℉

Cream butter with sugar and salt.

Add eggs one at a time, blend.

Add the remainder of ingredients, blend.

Pour mixture into pastry shell(s).

Bake at 450℉ for 10 minutes

Reduce heat to 350℉ and bake until custard is set, about 30 minutes.
Notes
This recipe can also be made as one whole pie.
I have also made it in mini cupcake pans for bite sized mini tarts.
Nutrition
Calories:
1929
kcal
Carbohydrates:
208
g
Protein:
24
g
Fat:
113
g
Saturated Fat:
33
g
Cholesterol:
82
mg
Sodium:
1678
mg
Fiber:
10
g
Sugar:
57
g
Calcium:
138
mg
Iron:
9.1
mg
You can make them with chopped pecans or whole pecans.
FAQs and Expert Tips
I actually prefer making these with all chopped pecans. I like the texture of the chopped up nuts. But they look really pretty when you cover the top with whole pecans. It's up to you. If you do use whole pecans use 1 cup of chopped nuts and then 1 cup of whole nuts. I recommend that you always get a little bit extra just in case you need them.
(Visited 363 times, 1 visits today)