Christmas Eve
You're totally ready right?
Everyone that knows me well knows that I'm kind of a grinch… I try to keep it inside because most of my family really loves all the festivities of the holidays. But, in all honesty I have a really hard time getting into the excitement. I'm just not into the fussiness of it all plus I seriously hate shopping.
Even right now as I type this I am sitting here staring at this giant tree that I captured from the great outdoors to drag into my house and throw a bunch of sparkly stuff on it. I keep asking myself "Why?", but I'm just rolling with it since it's kinda just what you have to do in these situations.
Needless to say, by the time Christmas Eve rolls around I am ready to relax and bask in the fruit of my efforts to pull off yet another fantastic holiday season. It's become somewhat of a night before Christmas tradition in our house to sip an Old Fashioned while finishing up last minute wrapping, and this year I opted for an Orange Cranberry Old Fashioned.
Jump to Recipe
Print Recipe

This drink is a classic and it is really simple to make.
My husband enjoys pulling out the fancy sugar cubes and the muddler to pull this sophisticated looking concoction together.
My Old Fashioned's are typically made with a cube of raw sugar, a few dashes of Angostura bitters, then muddled with a thin slice of orange and a dark Luxardo cherry. I then add my favorite bourbon (or whatever bourbon we have on hand) and some Ice, stir and top the whole thing off with a fancy toothpick featuring another cherry and slice of orange. It's mostly the traditional recipe but I like to do things my way so of course I add a little of my own sumthin' sumthin' to it.
For this Orange Cranberry Old Fashioned, it's pretty close to the same except that I use Orange Bitters instead of the Angostura Bitters and I use Brandied Cranberries (usually leftover from Thanksgiving) instead of the Luxardo cherries.
We hope you have an amazing Holiday and are grateful for all the time you have with loved ones, no matter how hectic the whole thing gets. Just tuck away your inner grinch, suck it up, and be a holiday trooper. If you need a little extra help getting in the holiday spirit – whip up one of these cocktails and just settle in, it'll all be over soon.
Happy Holidays and Thank you for all the love and support this year.
We are looking forward to an awesome 2018!
Don't miss a thing! Join our email list for insider exclusives and updates about Beast Bowl Nutrition. We promise you won't be disappointed.
[mc4wp_form id="1940"]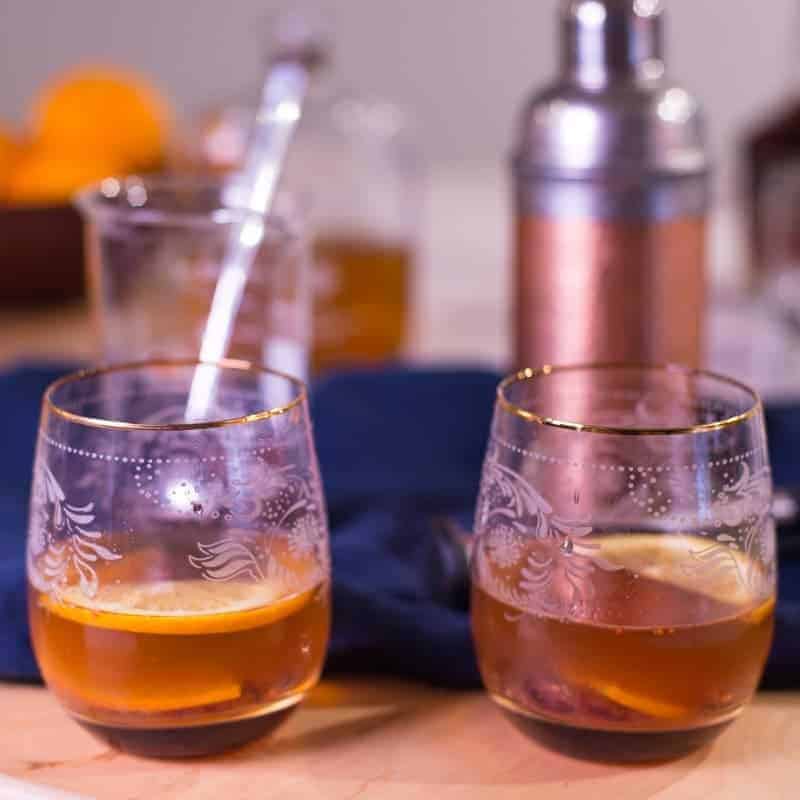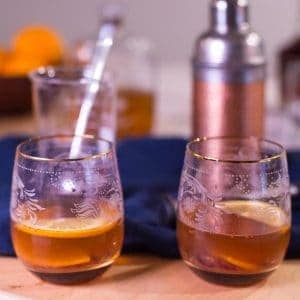 Orange Cranberry Old Fashioned
A holiday twist on the traditional Old Fashioned Cocktail. This recipe makes 1 cocktail
Print Recipe
Pin Recipe
Ingredients
1

tsp

super fine sugar

or 1 raw sugar cube

1

tsp

water

to dissolve sugar cube

2

dashes

Orange Bitters

1

slice

orange

very thin, half width, peel on

2

ounces

bourbon

4-5

brandied cranberries
Special Equipment
muddler

bourbon glasses

bourbon ice cube makers

cocktail spoon

cocktail jigger
Instructions
Add sugar and 2-3 dashes of orange bitters to a bourbon glass.

Add 1 tsp water and muddle to dissolve sugar.

Add slice of orange and cranberries. Muddle until orange and cranberries are very smashed.
Nutrition
Calories:
175
kcal
|
Carbohydrates:
10
g
|
Sugar:
8
g
(Visited 34 times, 1 visits today)