This Old Fashioned Cocktail recipe has a fresh holiday twist. You'll love the festive orange and cranberry flavor infused into this classic cocktail recipe.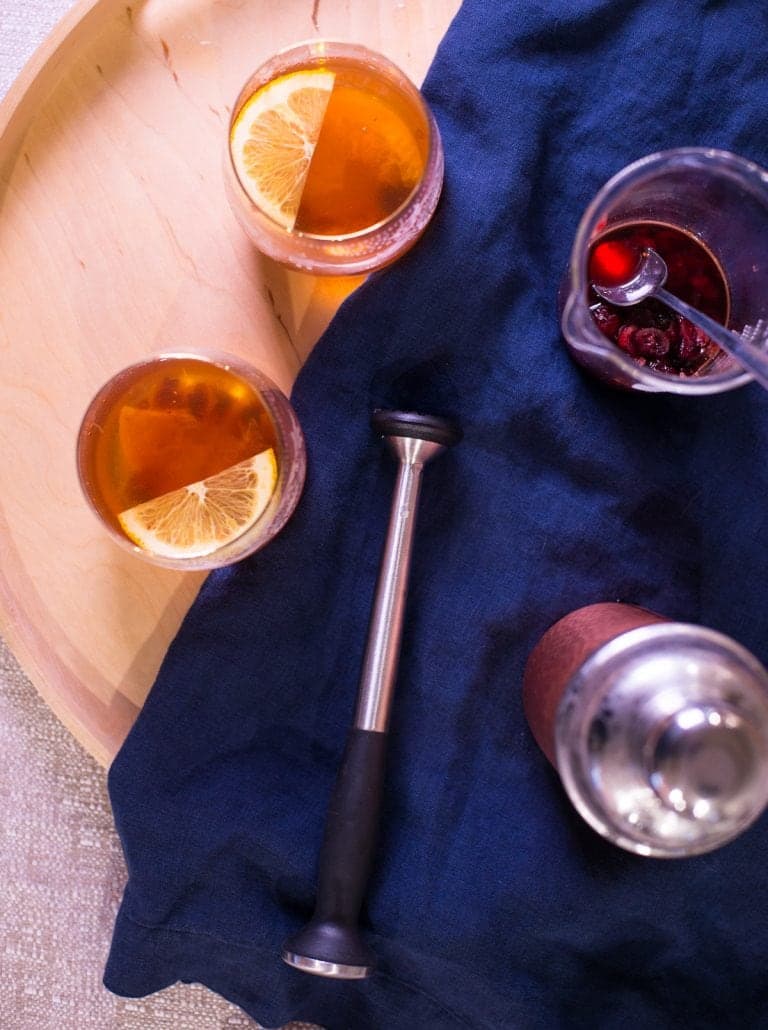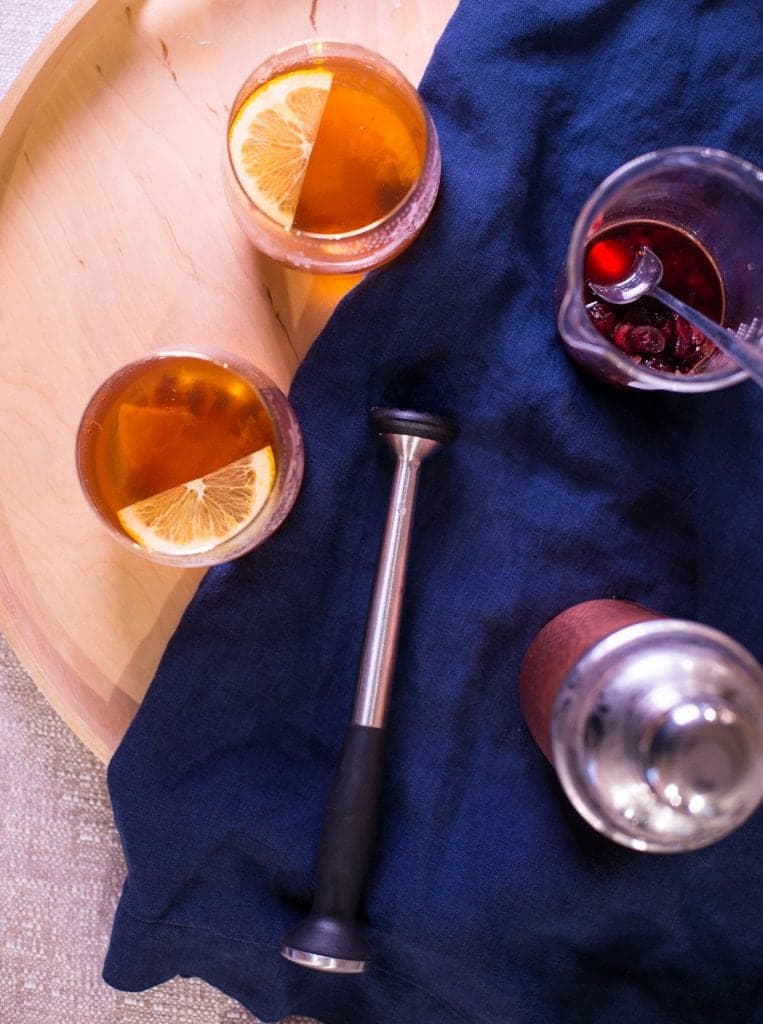 Old Fashioned cocktails are typically made with a cube of raw sugar soaked with a few dashes of Angostura bitters.
I then add my favorite whiskey and some ice, stir and top the whole thing off with a fancy toothpick featuring a Luxardo cherry and slice of orange or orange peel.
It's mostly the traditional recipe but I like to do things my way so of course, I add a little of my own sumthin' sumthin' to it.
This Orange Cranberry Old Fashioned recipe is pretty close to the original recipe except that I use Orange Bitters instead of the Angostura Bitters and I use Brandied Cranberries (usually leftover from Thanksgiving) instead of the Luxardo cherries.
What You'll Love About This Old Fashioned Recipe
Honestly, what's not to love about an Old Fashioned Cocktail? It's one of my favorite cocktails. Old fashioned ingredients are simple and this recipe is really easy to make.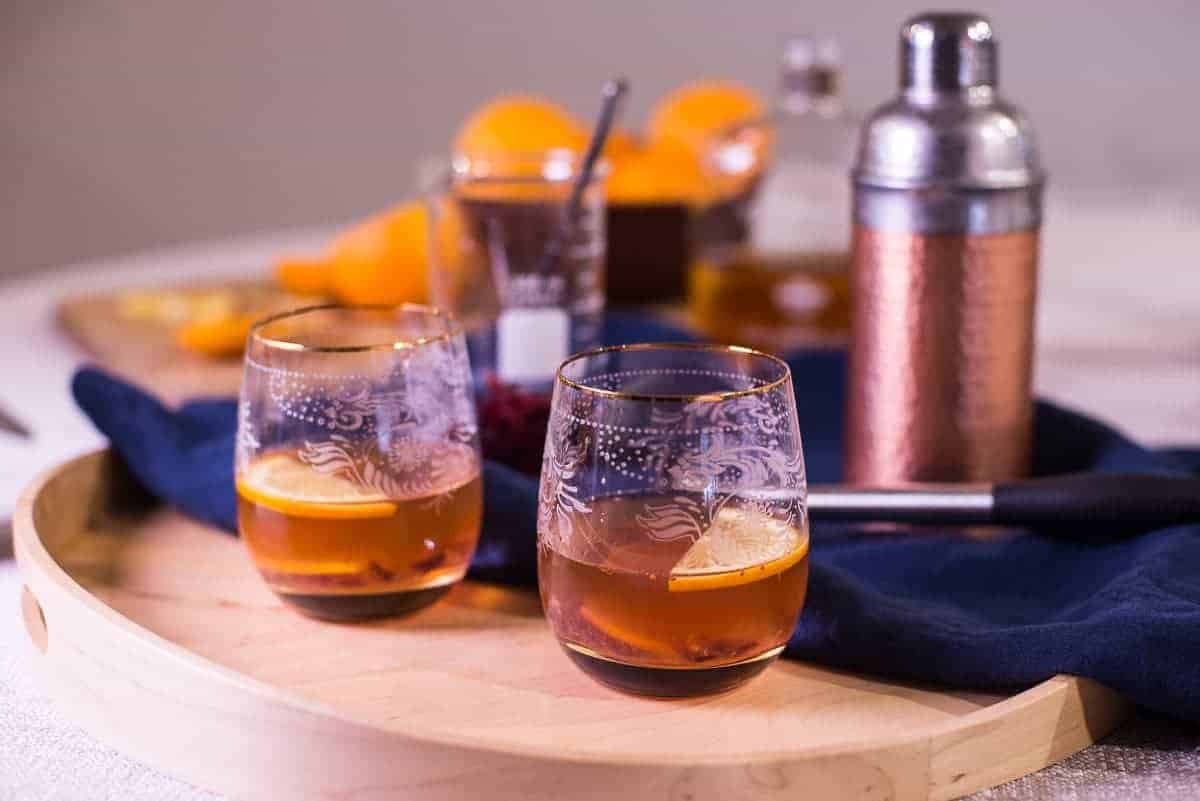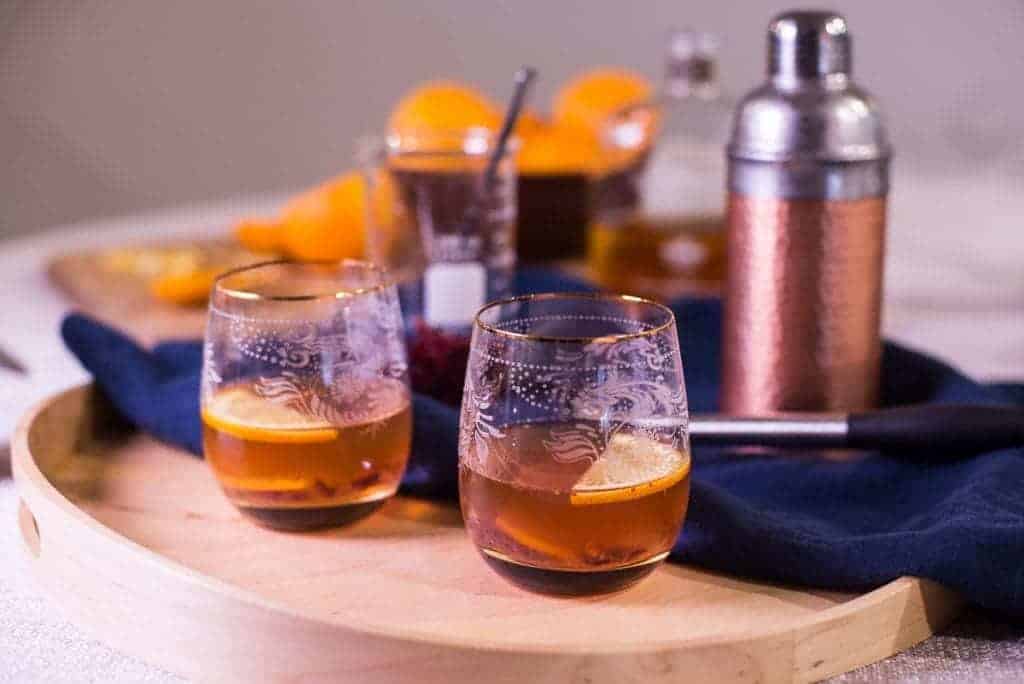 Foodology Geek Recipe Notes
Ingredients For An Old Fashioned
Whiskey: Traditionally the old-fashioned is a whiskey cocktail. I use bourbon much of the time. I'm definitely not a purist when it comes to crafting cocktails. I use what I like.
Sugar Cubes: I like to use raw sugar cubes
Orange Bitters: This recipe calls for Orange Bitters. I like Regan's brand, but there are a ton of craft cocktail bitter on the market. Try your hand at a few. Flavored bitters and simple syrups can take your cocktail game to a whole new level.
Orange: Organic unwaxed oranges are best for this recipe since you will be using the peel.
Brandied Cranberries: This is a recipe that I make every Thanksgiving. It is a super easy cranberry sauce recipe. The result is a chunky cranberry compote flavored with brandy.
Large Ice Cubes: I like using large format ice cubes for my old fashioned. There are a number of ice cube trays that can be found on Amazon or other retailers. My husband's favorite ice cube.
A Word on Whiskey vs. Bourbon
If you're wondering what the difference is between Whiskey and Bourbon, here is the short story.
Whiskey is made all over the world. This spirit is made of grain mash and then fermented in wooden barrels.
Bourbon is an American Whiskey. It must contain 51% corn mash and must be aged in charred oak barrels.
A few of my favorite whiskey to use in this old fashioned recipe are Woodford Reserve and Bullit Rye Whiskey. I also recently discovered craft bourbon whiskey in Oregon at Oregon Spirits Distillers.
I love finding local businesses that have a great story behind them and Oregon Spirits is one of those places. Check them out!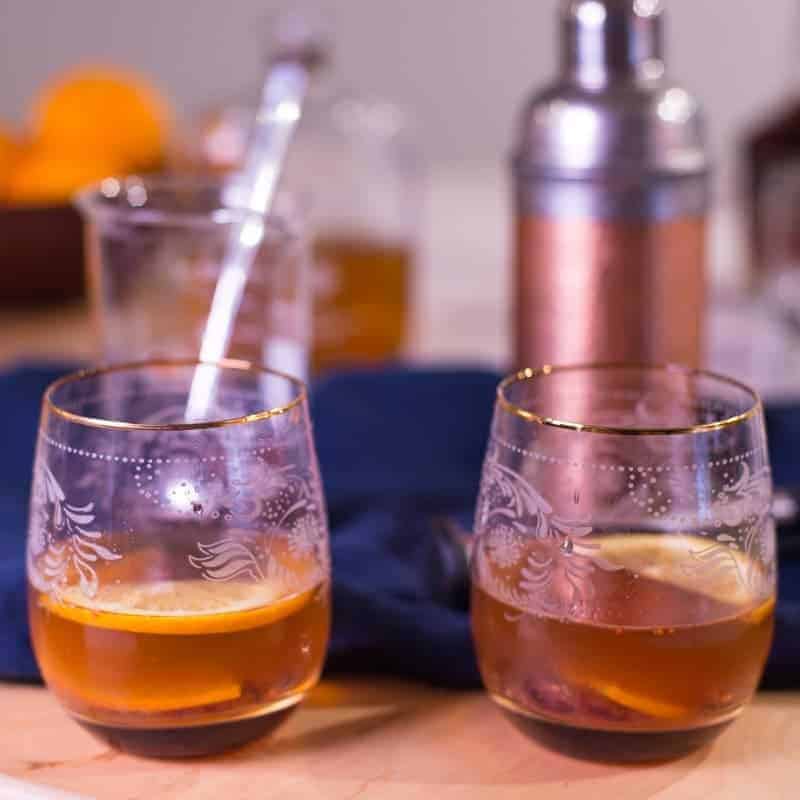 How to Make an Old Fashioned Cocktail
Get out your highball glasses.
Add a sugar cube to each glass and 2 to 3 shakes of the orange bitters.
Use a muddler to crush the sugar cube with the bitters.
Add a paper-thin slice of orange with the peel. Use one-half of the slice per cocktail.
Add a teaspoon or brandied cranberries.
Add the ice and then 2 ounces of whiskey.
Stir and then serve.
FAQs and Variations
How to make a simple syrup.
Simple syrup is well, super simple to make at home. Simple syrup is made by heating equal parts of sugar and water on the stove until the sugar is dissolved completely.

½ cup of water
½ cup of sugar

You can then store the simple syrup in an airtight container and use it in other cocktail recipes.
What to serve with an Old Fashioned Cocktail
Of course, when you serve cocktails, appetizers are a must. Here are a few of my favorite appetizer recipes.
Other Cocktail Recipes That You Might Like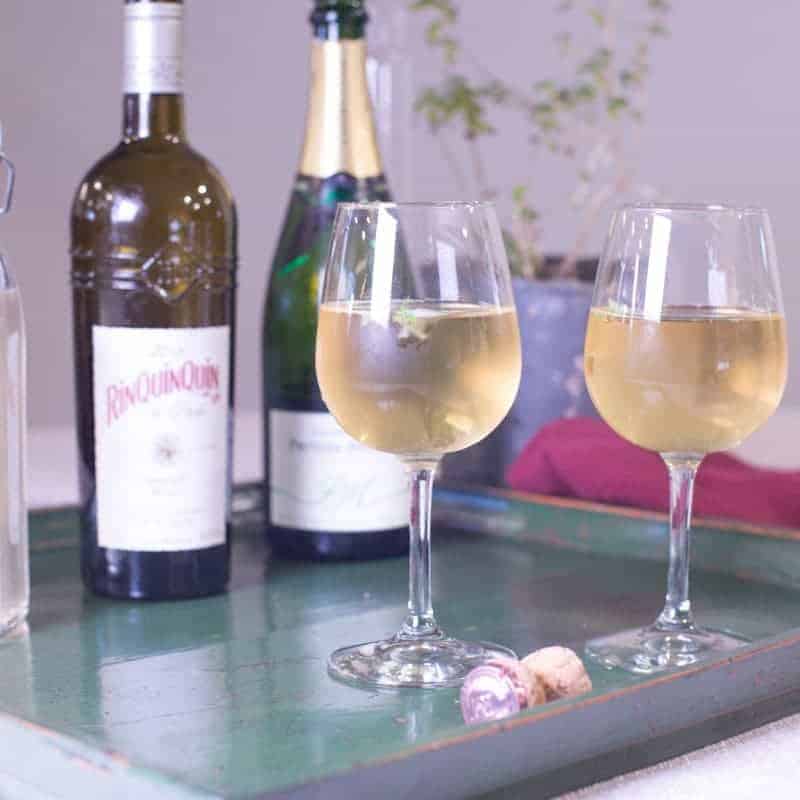 Bulle De Peche
A delightfully light champagne cocktail with a hint of peach and lemon verbena that originated in the South of France.
SEE THE RECIPE
PIN FOR LATER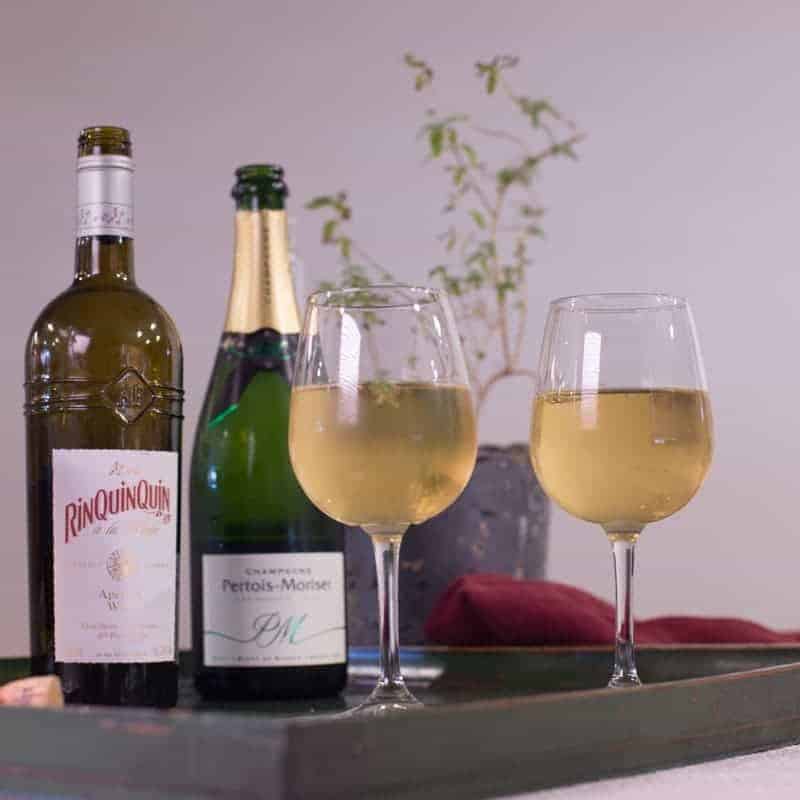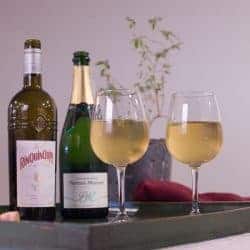 Cranberry Champagne Cocktail
This cranberry twist on the classic French 75 champagne cocktail is perfect for a party. It looks festive and it tastes amazing!
SEE THE RECIPE
PIN FOR LATER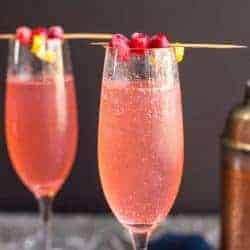 Bruce's Champagne Cocktail
This is a delicious twist on a glass of champagne! It looks like a simple festive glass of champagne...but beware! It is much stronger.
SEE THE RECIPE
PIN FOR LATER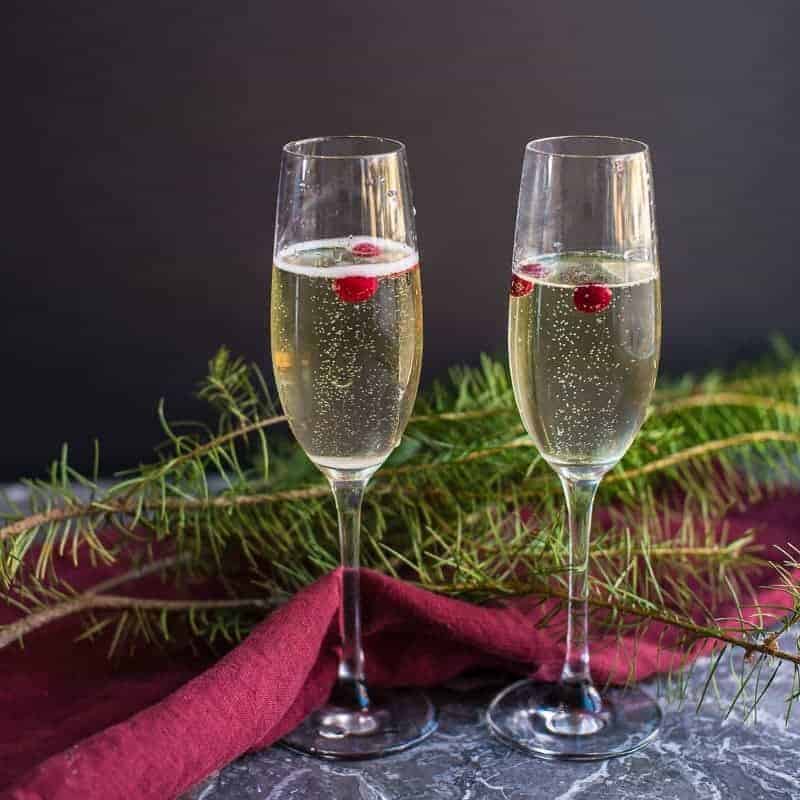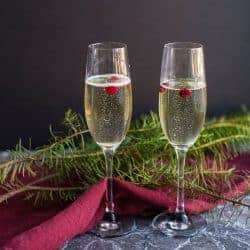 ➽ Did you make this recipe? I love to see what's going in your kitchen. Show me what you're cooking. 🍳 Tag me @foodologygeek on your favorite social channel! Facebook, Instagram & Pinterest. If you loved ❤︎ this recipe, please leave a 5 ★ review and a comment!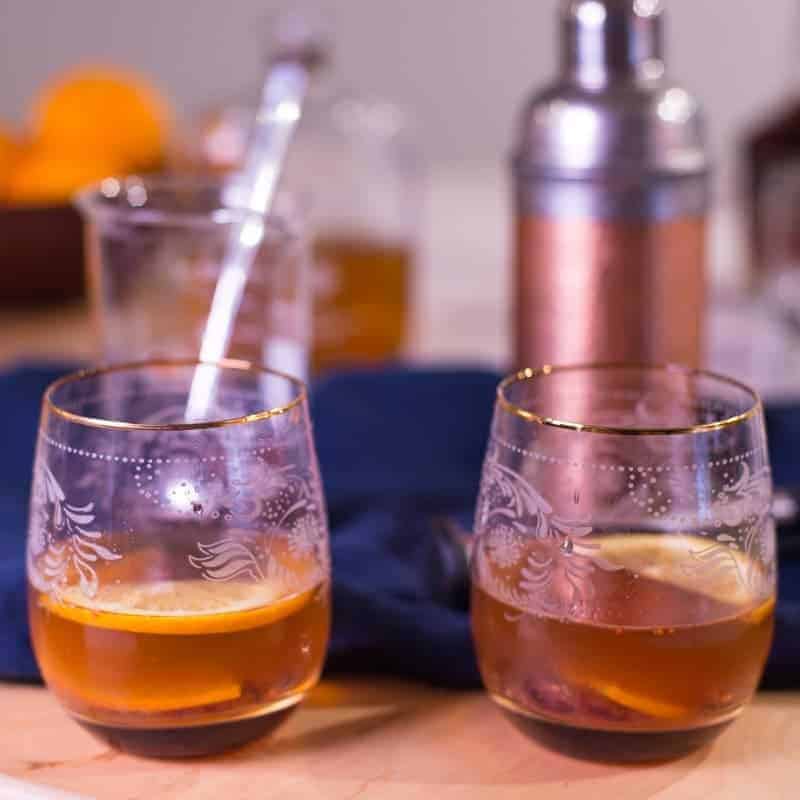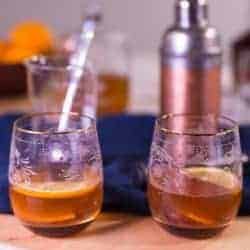 Old Fashioned Recipe with a Holiday Twist
This Old Fashioned Cocktail recipe has a fresh holiday twist. You'll love the festive orange and cranberry flavor infused into this classic cocktail recipe.
Ingredients
1

raw sugar cube

1 tsp of super-fine sugar

1

tsp

water

to dissolve sugar cube

2

dashes

Orange Bitters

1

slice

orange

very thin, half width, peel on

2

ounces

bourbon

4-5

brandied cranberries
Instructions
Add sugar and 2-3 dashes of orange bitters to a bourbon glass.

Add 1 tsp water and muddle to dissolve sugar.

Add slice of orange and cranberries. Muddle until orange and cranberries are very smashed.
Nutrition
Calories:
175
kcal
Carbohydrates:
10
g
Sugar:
8
g