The National Food Holiday Dictators say today is Cake Day
Jump to Recipe
Print Recipe
Truth be told the holiday season often feels more like Cake Month!
That said, at Foodology Geek we are proponents of healthy eating. Every day should DEFINITELY NOT be Cake Day!
Cake is wonderful and should be part of one's life. However, in earlier generations cake was reserved for celebrations and special occasions. We'd like to encourage that – 'life in moderation' –  viewpoint on cake.
However, all bet's are off on the Vanilla Pastry Cream. You may have to fight a family member off to get your fair share.
The beauty of this time of year isn't just the sweets and the special food, it's the people. We tend to socialize more this time of year.
Swedish Apple Cake and the Concept of 'Fika'
Anytime we do a combined recipe post, I always like to include a new recipe. As this is the season for socializing with visiting family and friends, I thought my mother in law's Swedish Apple Cake would be the perfect one to share. The Swedes have a wonderful custom of 'Fika'. [Literally translated, 'fika' is slang for 'coffee'. Used as a verb it describes a 'coffee break' or 'to have coffee'…with colleagues, family or friends.] 'Fika' generally involves taking a break from the day's activities over conversation, coffee and some form of baked good. This versatile apple cake is the perfectly suited to fika…or breakfast…or even dessert!
Do you need a cake for a celebration or something more formal?
Here are some other favorites from the site:
PLEASE as a subscriber to this blog, commit to me that you will NEVER use boxed cake mix…and heaven forbid…STAY AWAY FROM CANNED ICING! If you are going to eat flour and sugar as a special treat, limit the impact on your body by at least making sure that you're not getting a side-order of chemicals, too!
We encourage you to enjoy cake when you eat it…especially when you can enjoy it in good company and with a good cup of coffee.
We're always posting new recipes! Don't miss any! Sign up for our twice-weekly email digests. 
[mc4wp_form id="1940″]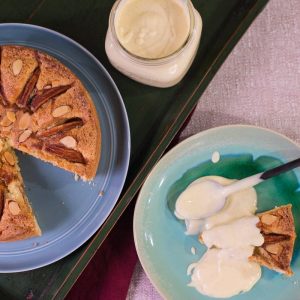 Swedish Apple Cake
Total Time:
1
hour
5
minutes
This cake is an ideal 'any occasion' cake. It is great for breakfast, can be taken to a potluck, stands on its own as dessert...or is right at home for 'fika' (traditional Swedish 'coffee break').
Print Recipe
Pin Recipe
Ingredients
1 1/2

sticks

butter

1 1/4

cup

sugar

3

eggs

1

tsp

baking powder

1 1/2

cup

flour

4

apples

cored, peeled and sliced into wedges

2

tsp

cinnamon

for apples

5

tsp

sugar

for apples

silvered almonds

for decor
Instructions
Wash, core, and peel apples. Slice into wedges.

Mix cinnamon and 5 tsp of sugar together. Roll apple slices in the cinnamon/sugar mixture. Set aside.

Use a mixer to cream butter and 1-1/4 cup sugar together until light and fluffy.

Add eggs to the butter/sugar mixture one at a time, mixing in each egg before adding the next.

Sift together baking powder and flour. Add to the batter mixture.

Pour batter into a parchment-lined spring-form pan (or a greased and floured cake pan if a spring-form pan is not available).

Stick the apple wedges into the batter, putting them in vertically (thick edge up) in a spoke-like pattern. (The end result should look a bit like the fins in a jet engine.)

Decorate the top with a few slivered almonds.

Bake at 375 degrees until golden brown - approximately 45 minutes.

Serve warm. Optional: top with vanilla sauce (recipe below).
Nutrition
Calories:
353
kcal
|
Carbohydrates:
52
g
|
Protein:
3
g
|
Fat:
15
g
|
Saturated Fat:
9
g
|
Cholesterol:
85
mg
|
Sodium:
141
mg
|
Potassium:
170
mg
|
Fiber:
2
g
|
Sugar:
34
g
|
Vitamin A:
535
IU
|
Vitamin C:
3.4
mg
|
Calcium:
46
mg
|
Iron:
1.3
mg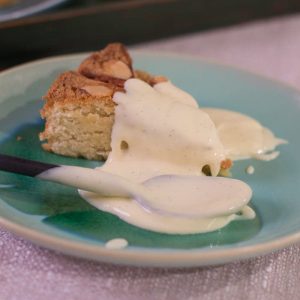 Vanilla Pastry Cream
This recipe makes a thick pastry cream. Thin it with cream or milk to make a sauce of the desired consistency.
Print Recipe
Pin Recipe
Ingredients
5

egg yolks

1/2

cup

sugar

(100 grams)

2

tbsp

cornstarch

1

cup

whole milk

1

cup

cream

1

pod

vanilla

split open
Instructions
Mix the egg yolks, sugar and cornstarch in a bowl. Whisk until sugar has dissolved (and the mixture has become lighter in color).

Pour the milk and cream into a saucepan. Add the vanilla pod. Bring to a simmer over medium heat.

Pour 1/3 of the hot milk mixture into the eggs. Vigorously whisk the eggs so that the hot milk doesn't cook them!

Pour the eggs mixture into the pot with the rest of the milk. Vigorously whisk until combined.

Place the pot back on the heat. Heat while stirring continuously with the whisk until the mixture begins to thicken. Continue to cook for up to another 5 minutes.

Remove the pot from the heat and continue to stir for another 2 minutes. Transfer the pastry cream into a bowl and remove the vanilla pod. Let cool at room temperature. Once at room temperature, refrigerate.

Thin the pastry cream as desired by stirring with a whisk and/or adding a bit of cream or whole milk.
Nutrition
Calories:
171
kcal
|
Carbohydrates:
13
g
|
Protein:
2
g
|
Fat:
11
g
|
Saturated Fat:
6
g
|
Cholesterol:
132
mg
|
Sodium:
24
mg
|
Potassium:
59
mg
|
Sugar:
11
g
|
Vitamin A:
520
IU
|
Vitamin C:
0.2
mg
|
Calcium:
55
mg
|
Iron:
0.3
mg
(Visited 14 times, 1 visits today)