Fresh Gazpacho Soup is a refreshing zesty soup that is served cold. This recipe is served with a chunky Avocado and Cucumber Relish. You will feel so good about eating this healthy veggie-packed soup.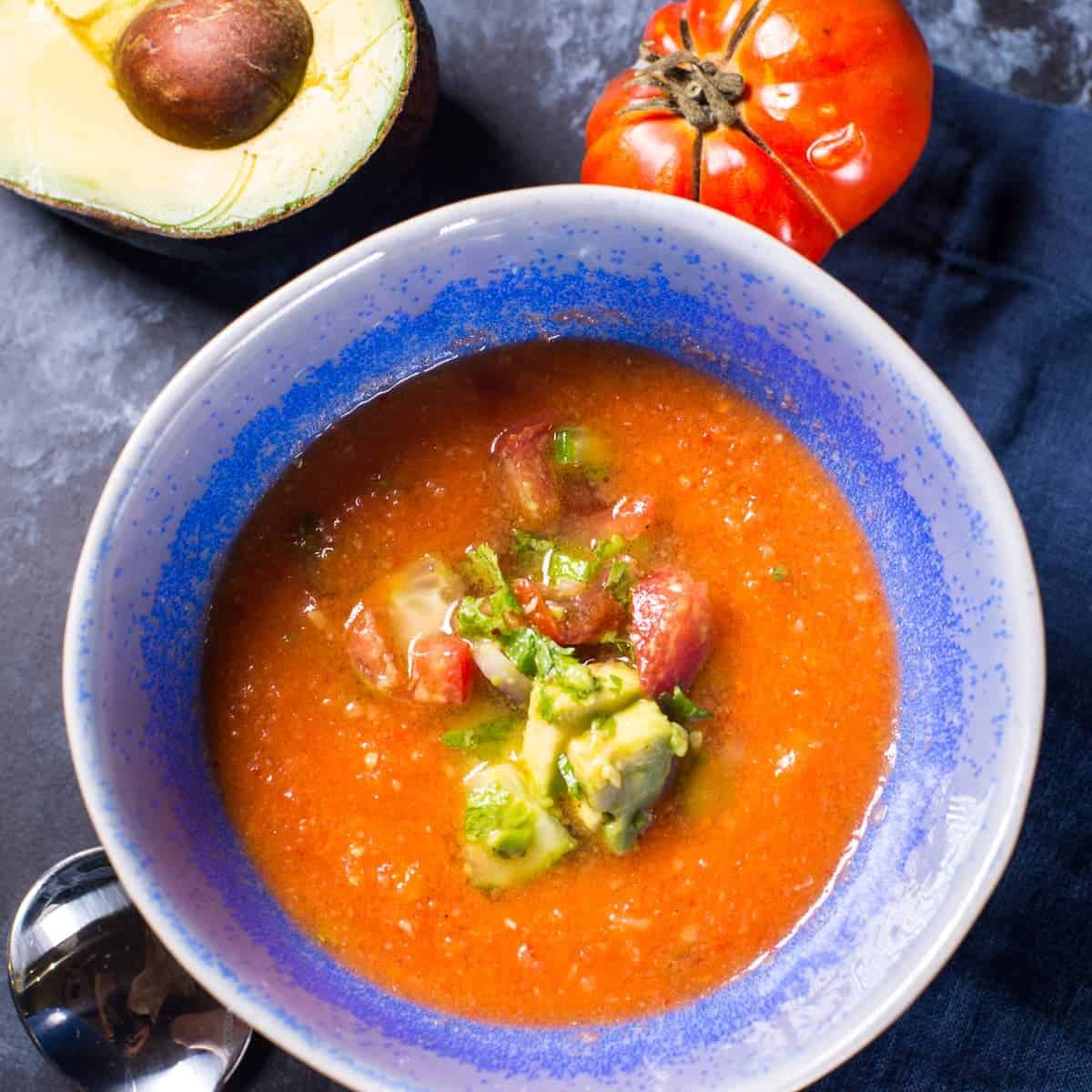 This post does contain affiliate links. Please see my Affiliate Link Policy.
This soup is easy to make, delicious, and chock full of both flavor and nutrients.
When you add the avocado and cucumber relish to the top, you have an elegant dish that you can also feel good about both serving and eating.
Recipe Notes
NERD ALERT ... also, the avocado in the relish is rich in medium short-chain fatty acids - a good fat necessary for brain health!
Gazpacho Ingredients
Veggies: Cucumbers, fresh ripe tomatoes, and red bell pepper.
Aromatics: Cilantro, garlic, and lemon juice.
The Basics: Avocado oil, olive oil, salt, and pepper.
Avocado Relish Ingredients:
This is like a chunky avocado salsa. It has all the basic components that a salsa would.
Veggies: Cucumber, tomatoes, and avocados.
Aromatics: Red onions and cilantro.
Step By Step Directions
Making the Gazpacho
Traditional gazpacho is a cold soup that is super easy to make in a food processor or high-speed blender. Not only is it packed with healthy veggies, it is packed with flavor. I love gazpacho in the summer, it's so refreshing.
Chop: Roughly chop all of the vegetables. I like to remove the seeds from the cucumbers and tomatoes.
Blend: Add the cucumbers, tomatoes, bell pepper, lemon juice, and oil to a high-speed blender and process until smooth.
Chill: Add the gazpacho to a medium-sized, nonreactive bowl. Stire in the chopped cilantro. Season with salt and pepper to taste. Chill for several hours before serving.
Avocado Relish
Chop: Dice the cucumber, onion, tomatoes, and avocados — put them into a bowl.
Toss: Toss with cilantro, oil, and a little salt and pepper.
Serve: Serve a dollop on top of chilled gazpacho.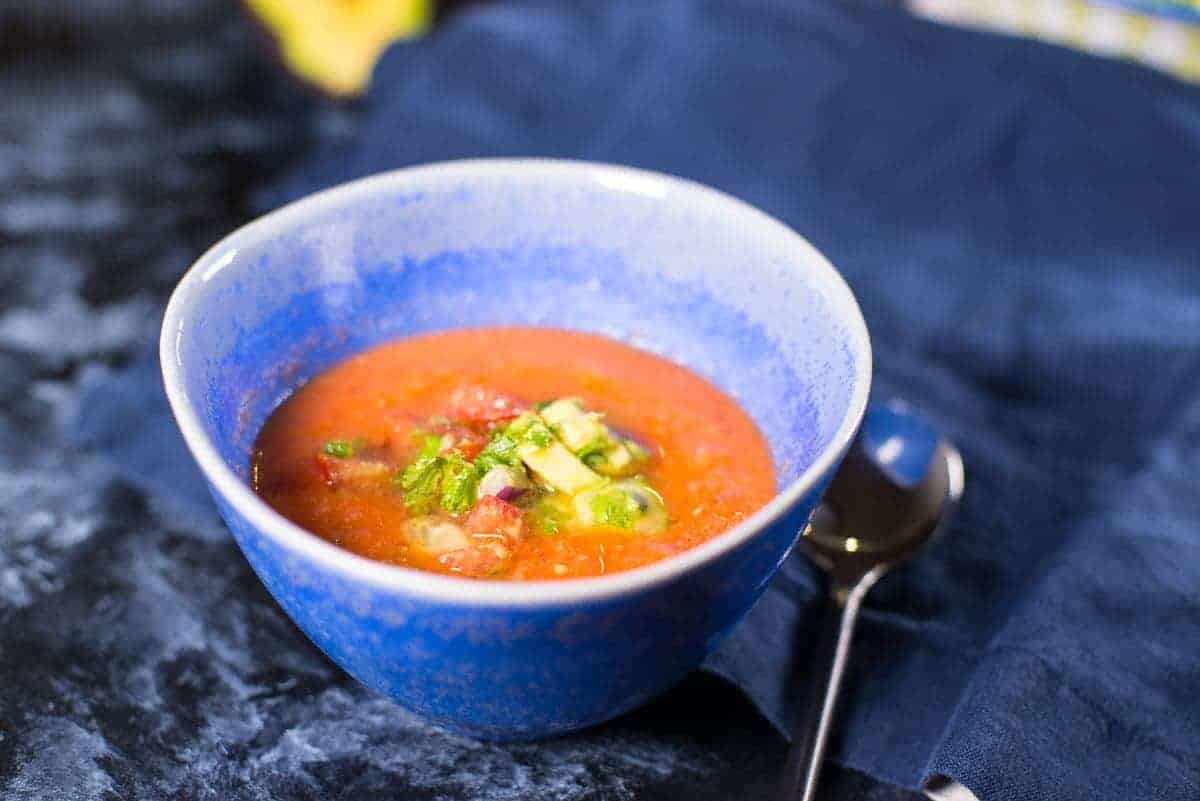 SIDE NOTE ...this cold soup gets even better after a day or two in the fridge. After serving it the first time, I threw the leftover relish and a bit of extra cilantro right into the soup - rather than store it in a separate container. It made for a fantastic lunch - even two days later!
'Eat Real Food or Else' is a cookbook....sort of.
'Eat Real Food or Else'! It sounds a bit like a threat. Not to worry, it is anything but.
Calling it a cookbook is a bit of a misnomer. It is more like a magic decoder ring for understanding basic nutrition science with recipes!
As an athlete, I've spent quite a bit of time trying to figure out how best to fuel my body - without losing my will to eat in the process.
Some 'clean' diets can be just SO BORING. Also, you dig into one approach only to learn later that there may be a better approach.
Eat Real Food or Else takes a different (and I think better) direction. It leads with a very straightforward technical primer on nutrition science. This first section of the book (titled 'The Basics') provides just what it promises - a basic framework for approaching nutrition. It gives you the building blocks you need to make the choices that are right for YOUR body.
...Oh yeah, the rest of the book is chock full of healthy approachable delicious recipes!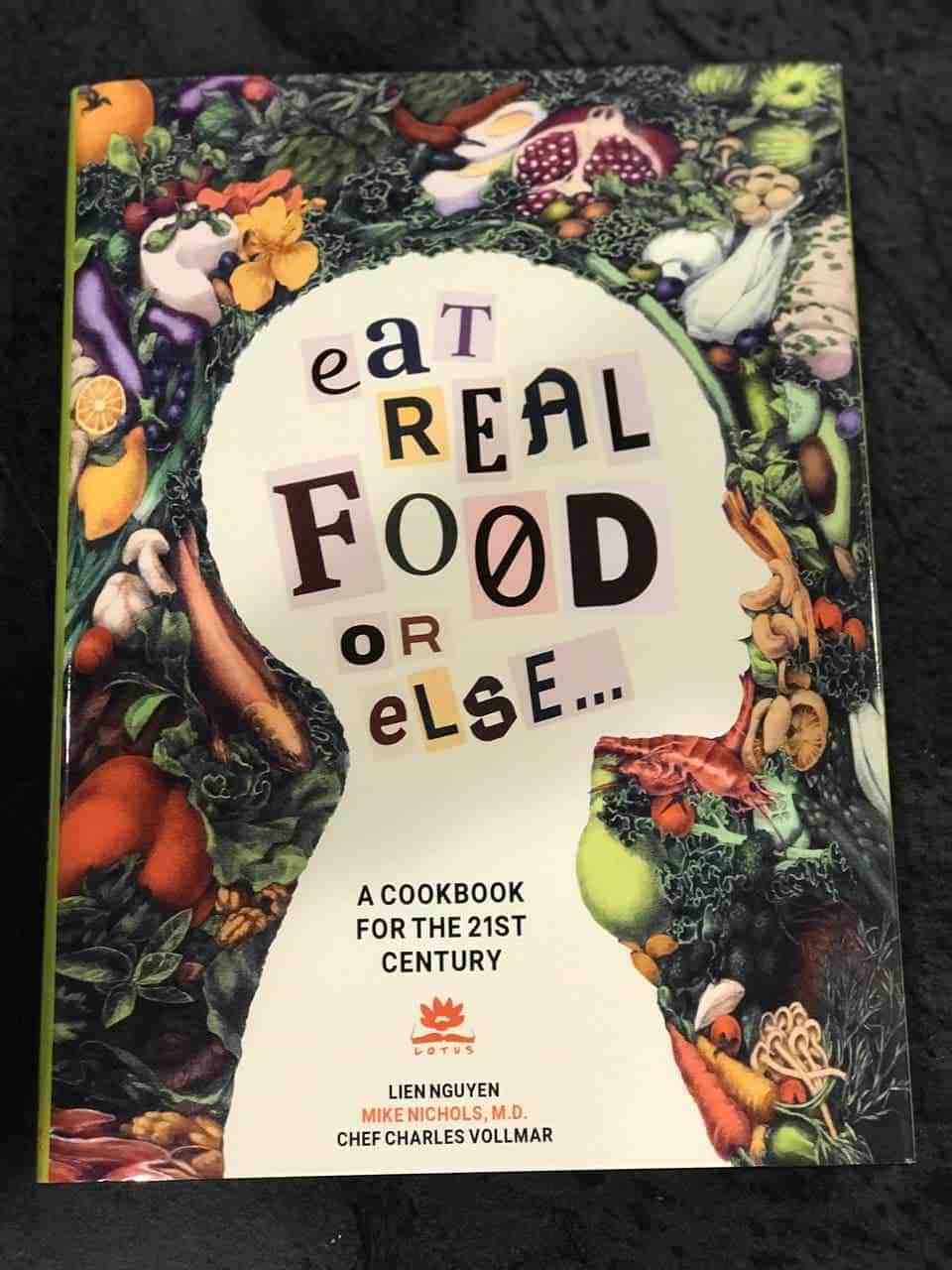 The book was put together by a powerhouse team:
A local doctor Dr. Mike Nichols, a trained chef Charlie Vollmar, and an award-winning cookbook author Lien Nguyen. Together these three have created an excellent resource for both learning and eating.
Want to learn more than 'the basics'? There is a whole section of the book dedicated to further reading. Also, all three of the authors have their own blogs. Dr. Mike's is the one to look at if you're interested in the nitty-gritty details of nutrition science.
Other Gazpacho Recipes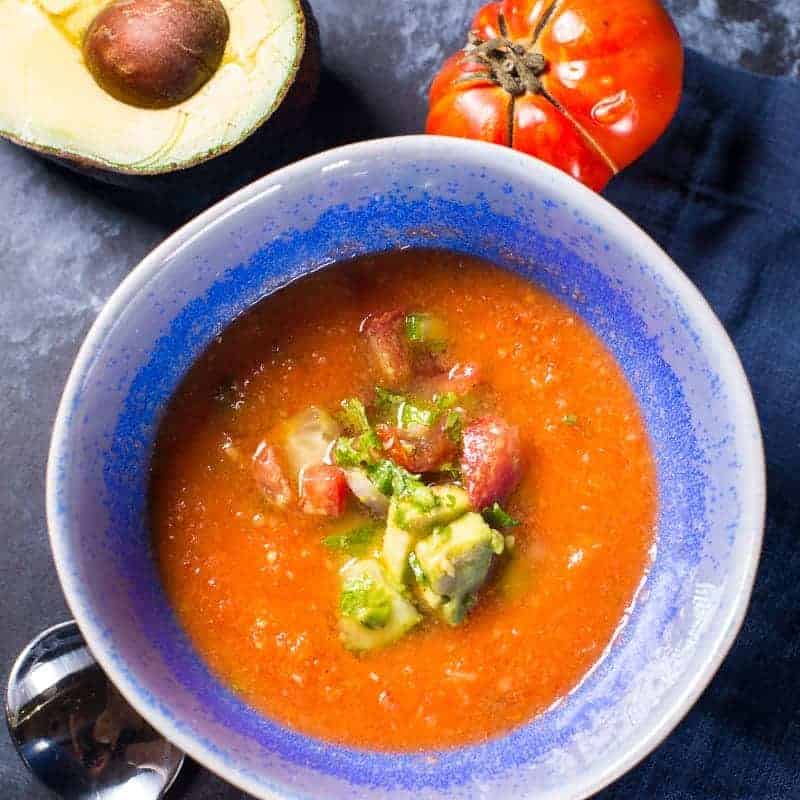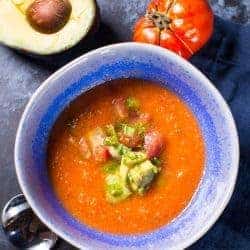 Gazpacho with Avocado Relish
This cold tomato soup is one of my favorite healthy recipes. Not only is it delicious, you feel good when you eating it becasue you know you are treating your body right.
Ingredients
Gazpacho Soup
2

english cucumbers

peeled

6

med

ripe roma tomatoes

peeled

1

med

red bell pepper

seeded

1

tbsp

fresh lemon juice

lime may also be used

1

tbsp

avocado oil

2

tbsp

olive oil

extra virgin

2

cloves

garlic

minced

3

tbsp

fresh cilantro

coarsely chopped
Avocado Relish
1

avocado

firm but ripe, diced in 1/4" pieces

½

english cucumber

diced in 1/4" pieces

1

lrg

ripe roma tomato

peeled, seeded and diced

¼

cup

red onion

diced

⅓

cup

fresh cilantro

chopped

1

tbsp

olive oil

extra virgin

1

tbsp

avocado oil
Instructions
Gazpacho
Coarsely chop the cucumber, tomatoes and bell pepper. Combine with the lemon juice, oils and minced garlic.

Puree in batches in a blender or food processor until just blended, but still slightly chunky. (I used an immersion blender.)

Pour into a non-reactive bowl. Stir in the chopped cilantro, season with salt and freshly ground black pepper to taste.

Cover and refrigerate for at least 1 hour—or up to 8 hours.
Avocado Relish
Combine all of the ingredients for the relish in a non-reactive bowl. Season with salt and freshly ground black pepper.

Finish with a drizzle of avocado oil. Fold gently to combine.

Add a healthy spoonful to the top of your soup as garnish.
Notes
Tomatoes: Roma tomatoes are my favorite tomato for this recipe, but when I make this cold soup I use the ripest most flavorful variety of tomato that I can find.
Cucumbers: English or Persian cucumbers are best in this recipe. If you use other cucumbers peel off the skin.
How-to peel tomatoes: To peel the tomatoes, place them in a pot of boiling water for 1 minute, then transfer them to a bowl of cold water. The peel should then come off easily.
This recipe has been reprinted here with permission from the author: Charlie Vollmar.
Thanks, Charlie! ...not only for your permission but for inspiring us with your culinary talents.
Nutrition
Calories:
166
kcal
Carbohydrates:
10
g
Protein:
2
g
Fat:
14
g
Saturated Fat:
2
g
Sodium:
7
mg
Fiber:
3
g
Sugar:
4
g
Calcium:
26
mg
Iron:
1
mg
(Visited 91 times, 1 visits today)