Risotto Is Real Comfort Food
Try this easy curry risotto next time you are in the mood for a bowl of comfort food.
Jump to Recipe
I absolutely love anything curry. And who doesn't like a rich creamy bowl of risotto? A lot of nights in my kitchen feel a bit like I'm on an episode of Chopped. Can I bring a batch of random ingredients together to make a delicious and presentable meal in less than 3o minutes? This recipe is a result of one of those nights.
My daughter is vegan. This can sometimes make it challenging to figure out a rich hearty meal that everyone will eat and enjoy. I have to get creative. Looking in the fridge and cupboard for inspiration, I found carrots, celery and onions. These are three base ingredients that I almost always have in the house. The other ingredients that provided the inspiration for this easy and flavorful curry risotto are: vegetable broth, arborio rice, curry powder, a can of chickpeas, and frozen peas.
[Nerd Alert: The flavor bomb concoction of carrots, celery and onions is referred to as mirepoix. Mirepoix is used as the base for soups and roasted meats. Think of it as the starter that gives almost anything as nice well rounded flavor.]
Stir, Stir, Stir – Think of it as a form of meditation.
When you build a risotto the key to getting a nice creamy texture is to encourage the starch out of the rice slowly. This is done by adding small amounts of warm broth a little bit at a time. Each time you add broth you stir until the liquid is absorbed by the rice. Once absorbed, you add a bit more broth. While this may seem like a lot of stirring, it really doesn't take that long. It is actually a nice way to decompress – to give your brain a break – after a long day.
Give this bowl of yum a try and let me know how you like it. Tag FoodologyGeek on Instagram and share your food stories. We would love to see a photo of your creation!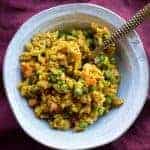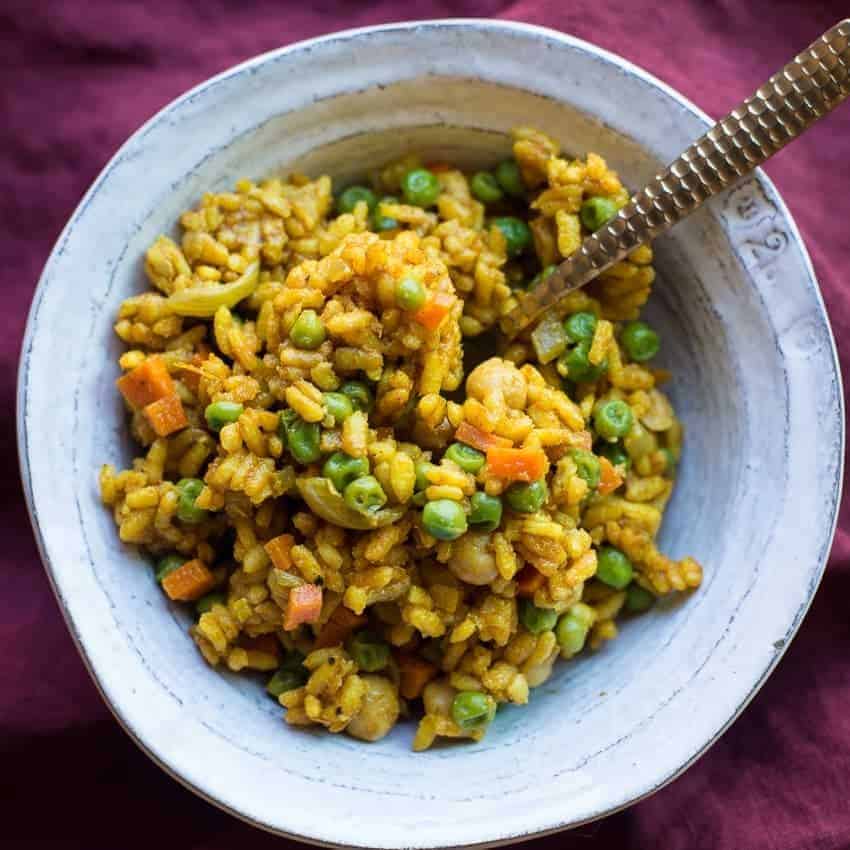 Easy Curry Risotto
A twist on classic risotto. This curry risotto has a delicious curry flavor and an extra boost of protein from the chickpeas. And being dairy free, it is also vegan!
Ingredients
1 ½

cups

arborio rice

1

tbsp

coconut oil

½

onion

finely diced

1

stalk

celery

finely diced

1

carrot

finely diced

3

cloves

garlic

minced

1

cup

chickpeas

1

cup

peas

½

tbsp

curry powder

5-6

cups

vegetable broth

salt and pepper
Instructions
Heat broth in a medium saucepan.

Add coconut oil to a large heavy bottomed pan.

Add diced, onion, carrot and celery. Add salt and pepper. Sauté for 3-5 minutes.

Add garlic. Sauté for a few minutes, until fragrant.

Add arborio rice and curry powder.

Add broth one cup at a time. Between each addition, stir rice until all the liquid is absorbed. [Pro tip: Warm broth makes the process go faster and results in a creamier risotto.]

Continue to add broth until rice is tender.