Do you need ideas for super easy camping recipes?
LET US HELP YOU PLAN SOME EPIC MEALS.
See All The Recipes Now!
I love everything about camping. I love the fresh air. I love waking up to the sounds of animals all around me. I especially love campfires. It might just be because I'm a fire sign but I find the sound and smell of a roaring campfire to be one of the most relaxing and meditative experiences available.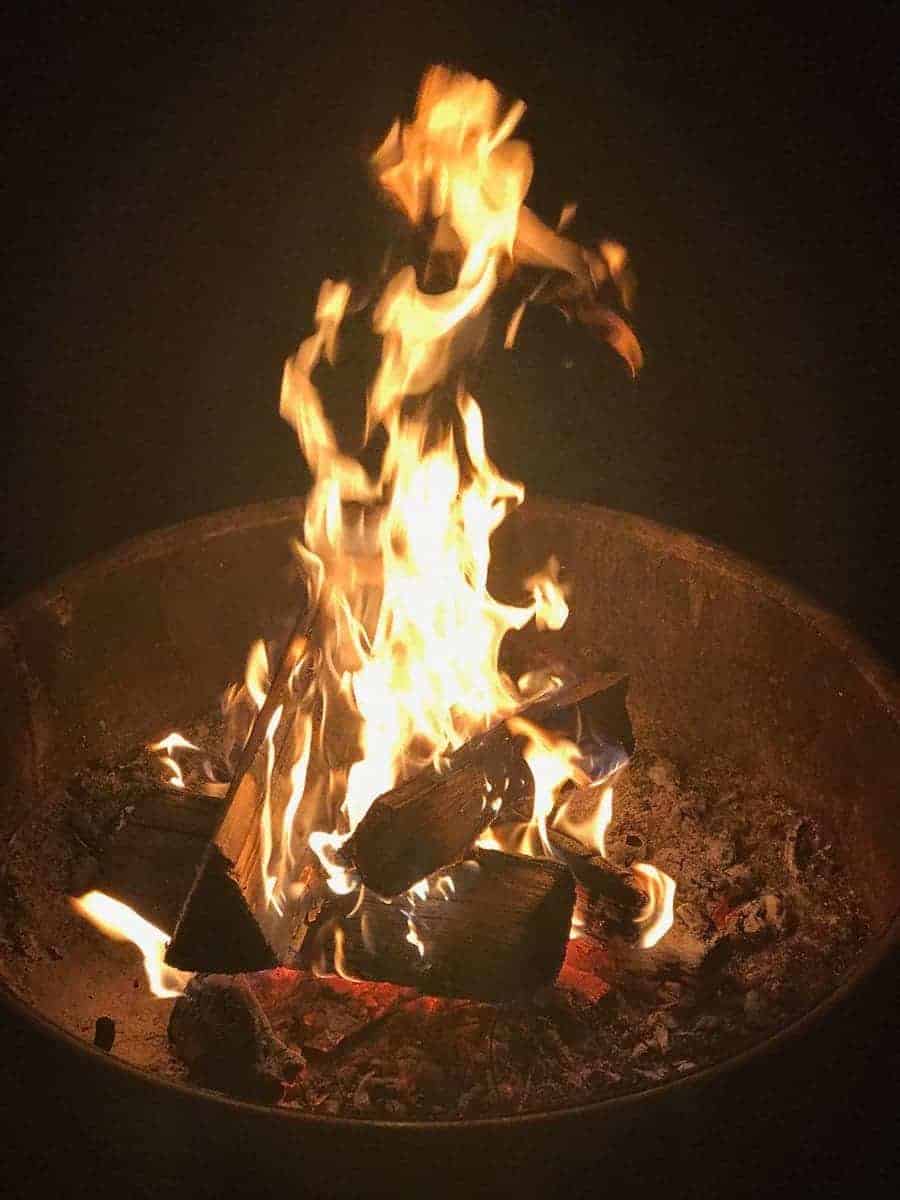 My husband and I just got back from a 4 day 3 night camping trip in Calaveras – Land of the Big Trees. We hiked all around and marveled at the fact that most of the trees that we were sharing company with had been standing right there in that spot for hundreds – and some thousands – of years. Can you comprehend thousands of years? These giant trees were mere infants when Native Americans first inhabited these lands. Then they continued to stand right here while wars were fought over these territories. These trees were standing right here through famine and plagues. It's so humbling to think how our lives are just a blip on the landscape of all eternity. Here these trees have stood thousands of years before me and they may be standing thousands of years after I'm gone.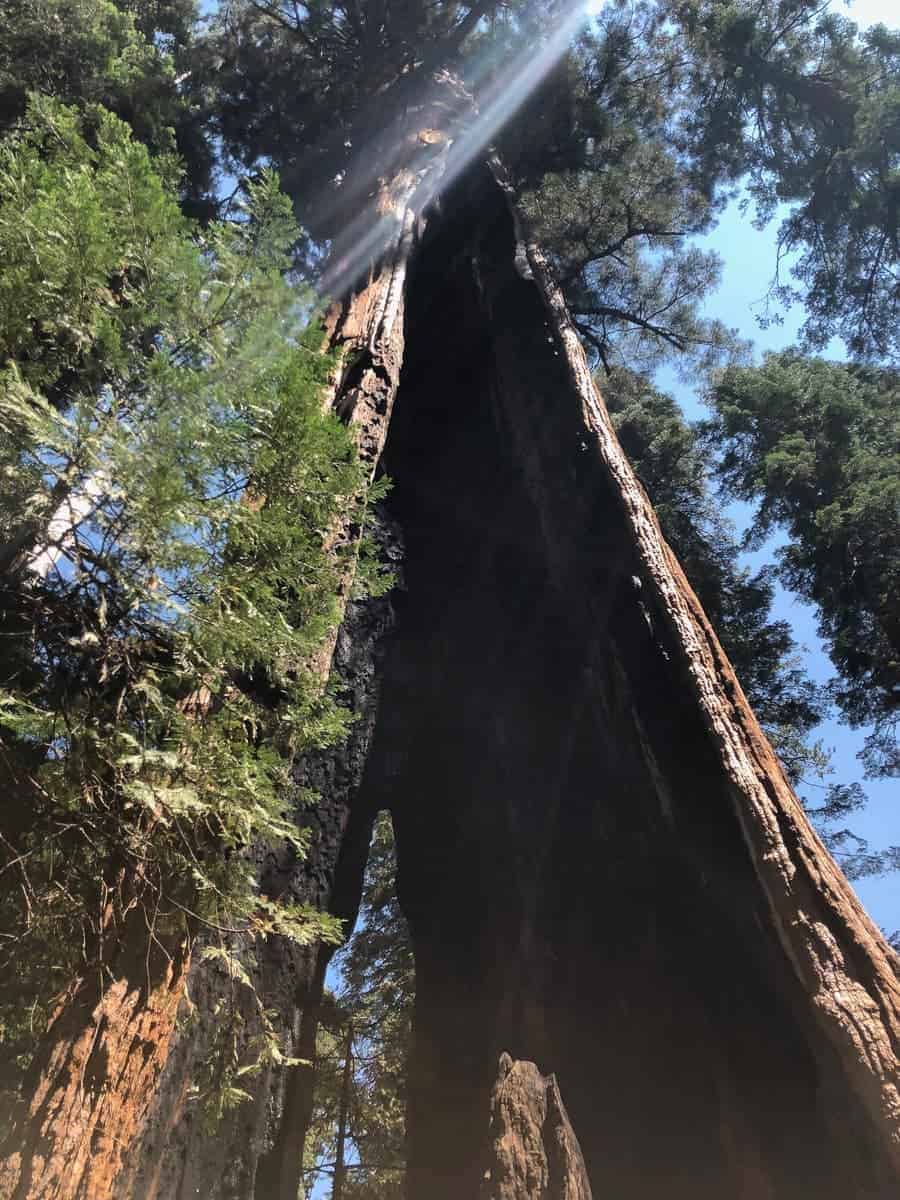 Back to the Food
Of course, that's why you're here. When I go camping I still want to eat real food. None of this prepackaged space food full of nasty preservatives. How do I do this? First, I pre-plan all my proteins, season them, vacuum seal them, and freeze them. Next, I pre-cut any veggies and/or measure grains that I might need (with the exception of potatoes) and vacuum seal these. I store these in the fridge. This is my vacuum sealer. I also use these food containers for pre packing.
Basic Campsite Cooking Supplies
In my camping go-bag I have:
A full propane tank
A set of pans including; a small to medium sized skillet (I love cast iron but you can use a lighter non stick variety), a small sauce pan, a larger sauce pan, a cast iron dutch camp oven. And a lid lifter.
Olive or coconut oil
Salt and pepper
Tabasco
Coffee pot and coffee cups.
Metal Skewers for roasting marshmallows
Paper Towels
Wet Ones
A few dish towels
A sponge
Dish soap
Dish pan
Menu for this Camping Trip
Breakfasts:
These are both easy to make on the camp stove. I packed some real maple syrup – cuz Ms. Butterworth just won't do. I found this delicious maple syrup and my local store from Runamok. I highly recommend it. Unfortunately, I forgot my peanut butter on this trip 😢. I love my pancakes with peanut butter and maple syrup. Don't knock it 'til you try it! So yummy, and the peanut butter really gives the pancakes some staying power with a healthy serving of fat and protein.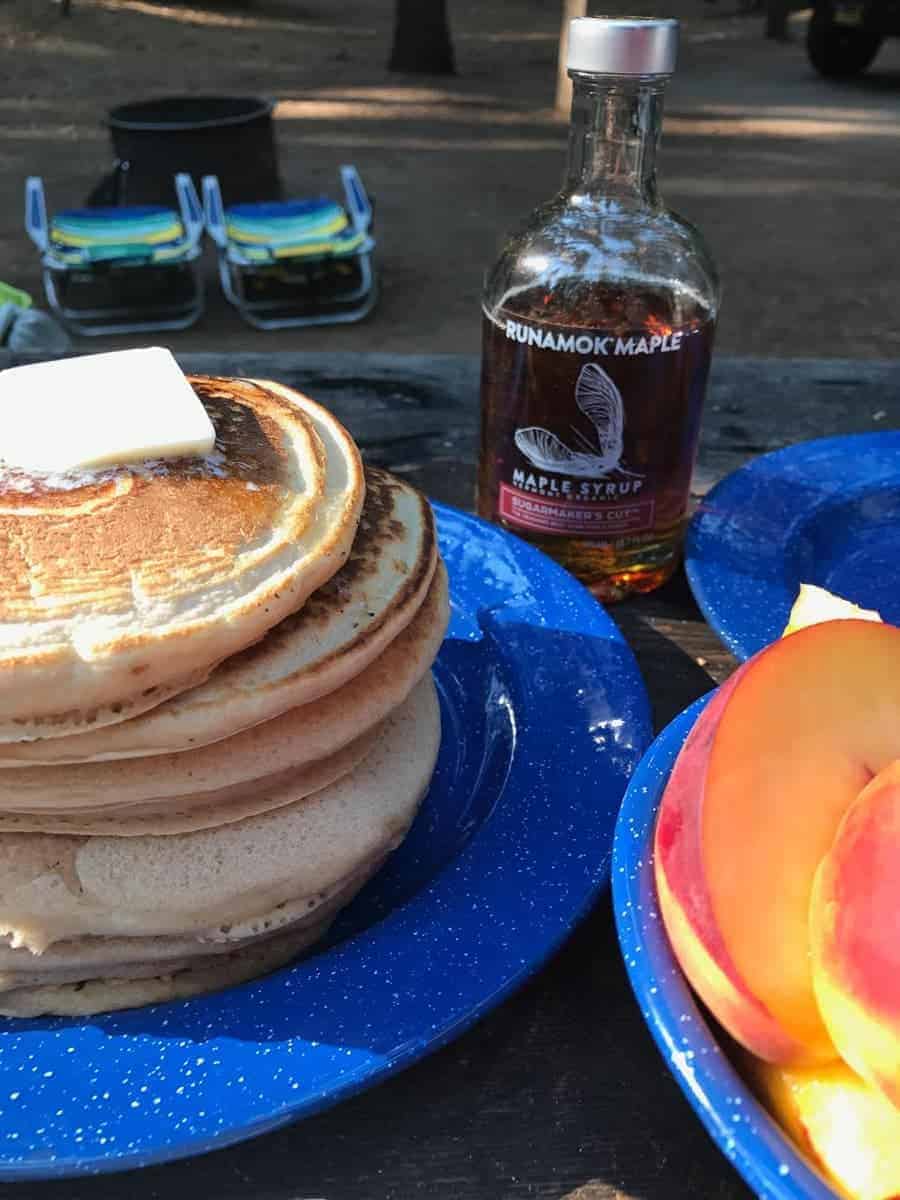 We also did breakfast burritos one morning.
(Sadly I forgot to snap any photos of these amazing tasty breakfast treats.) I scrambled some eggs, and sage sausage. Then I added some avocado and cotija cheese.
Fresh fruit is also essential for camping. Peaches are super ripe right now so I packed mostly peaches and a few oranges for the trip.
Lunches:
As a go-to for on the road fueling, I pack beef jerky and Kind bars. They are easy to throw in a back pack for the day. Because we're mostly out exploring during the days, I don't usually plan on cooking for lunch. I did however know we would need lunch on the first day.
For this first lunch I made shrimp ceviche.
Jump to Recipe
I knew after setting up the tent that we would be hot. I figured that something cold would totally hit the spot. Shrimp ceviche was something we could eat right away, ice cold, with some crunchy tortilla chips. It would be delicious, refreshing, and most importantly, not require any additional preparation.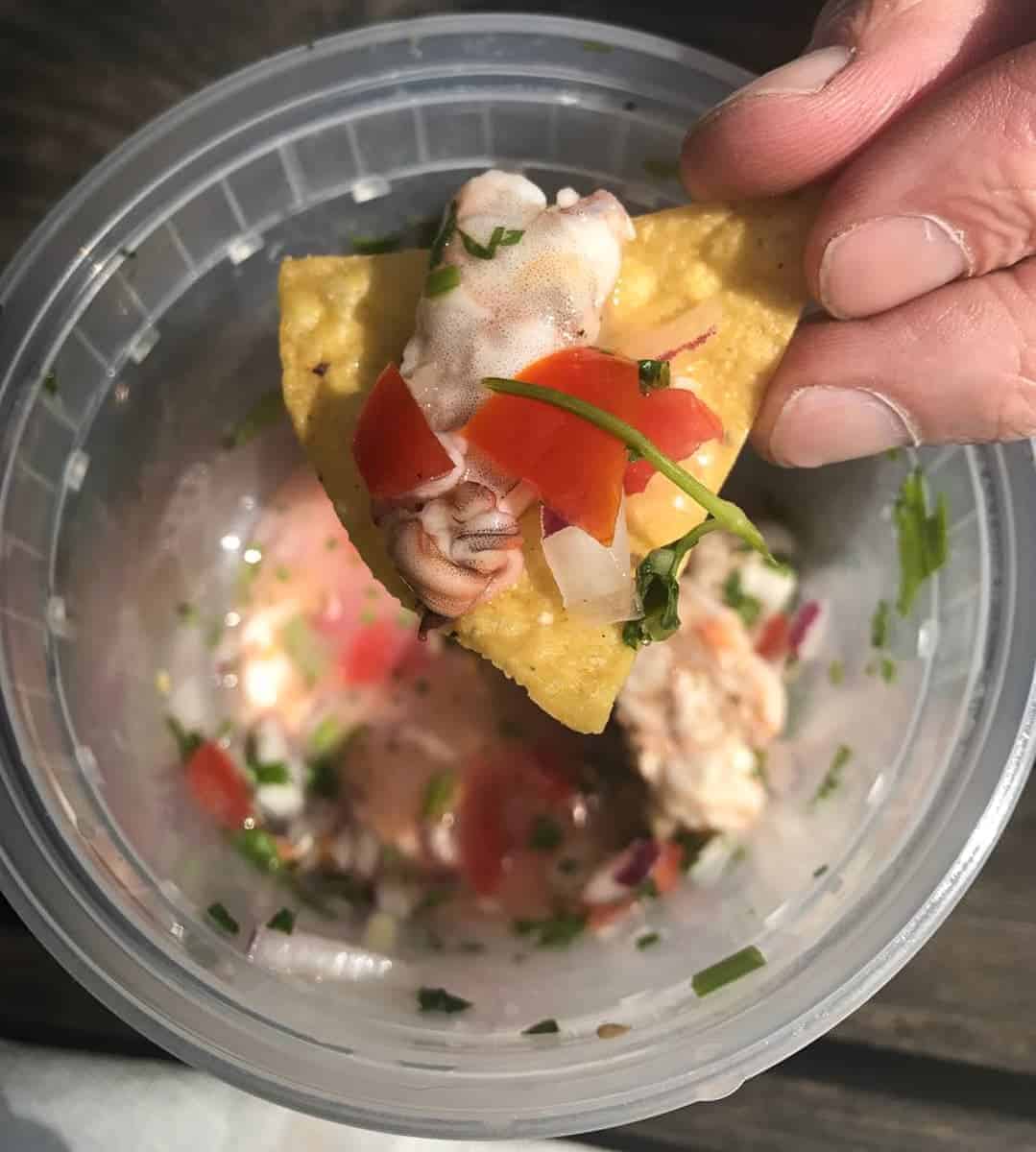 The second day we had a short hike planned to one see of the largest trees in the park, Aggasiz.
This tree stands 250 ft tall and is more that 25 ft in diameter. It's a wonder to see. For this lunch, I packed the component parts for smoked salmon hand roll sushi  Jump to Recipe . It's super easy to make and eat out in the field. The smoked salmon is already cured and packed. You only have to open it when you are ready to eat. Nori sheets are already dried. The only thing I had to pre-make was sushi rice. I made this rice at home ahead of time, packed it in an air tight container, and kept in the fridge. Then it stayed nice and cold in the cooler until we where ready to use it.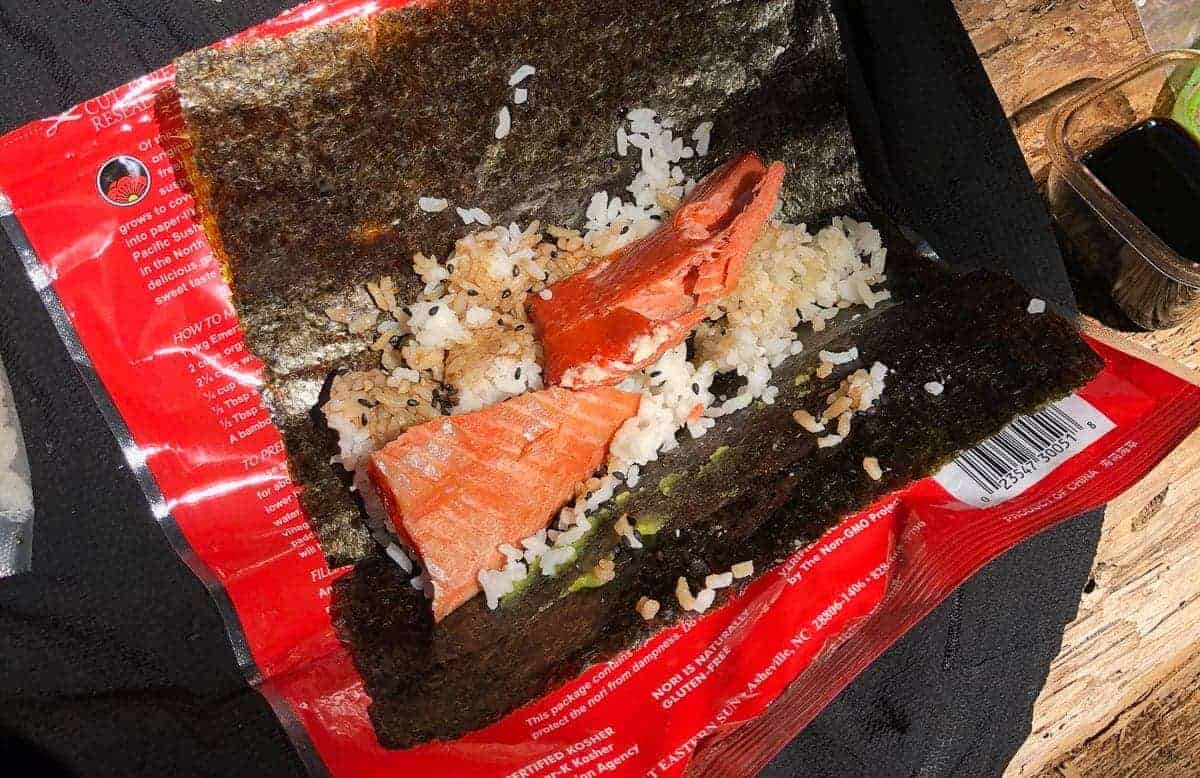 Then, I threw all the fix-ins: including some wasabi, a small container of soy sauce, and some black sesame seeds into my backpack and off we went. I felt like seeing the largest tree in the park called for a lunch that was a little more special than just some packaged jerky. It was the most memorable lunch we had.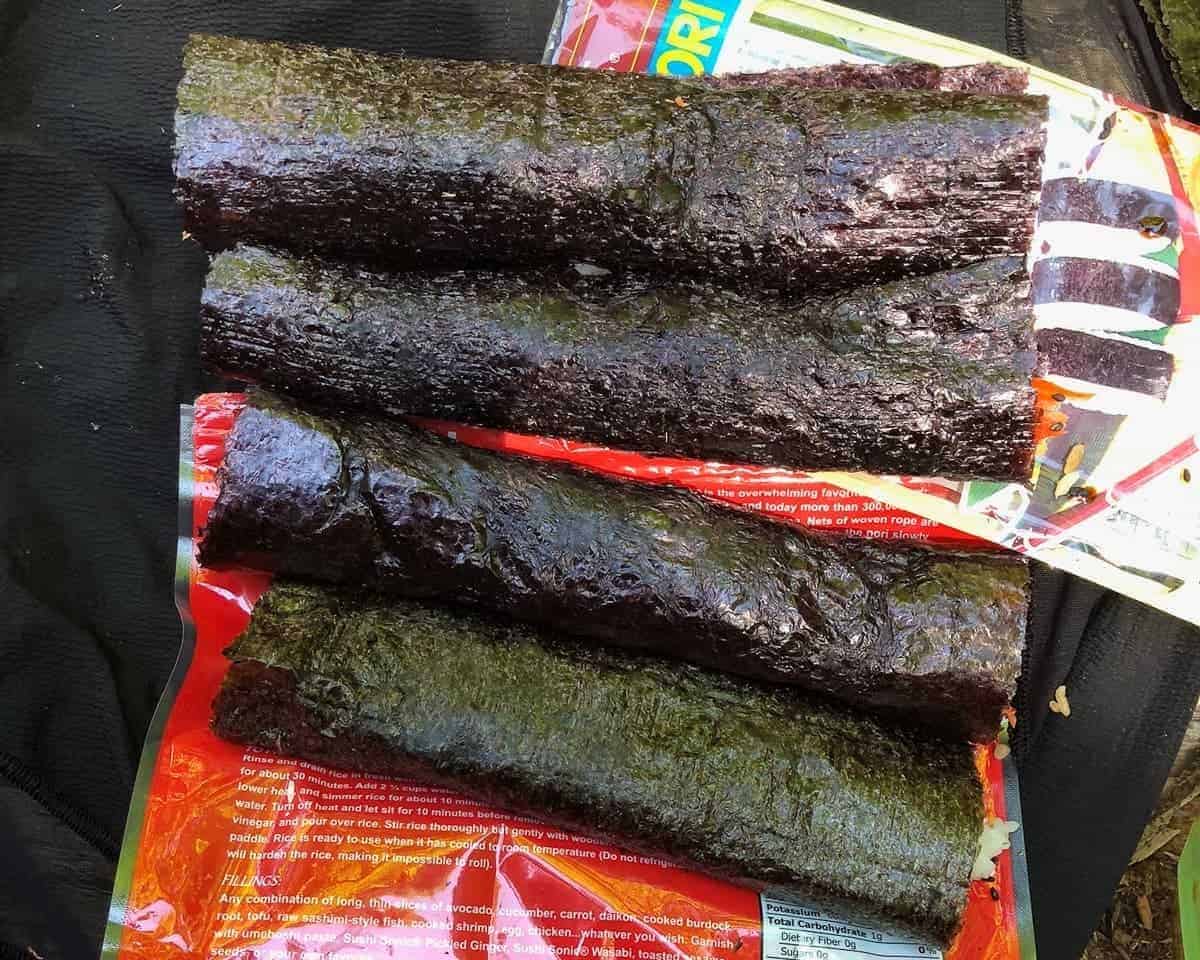 Dinners:
Dinner is always special around the campfire.
For this trip's dinner line up, I prepped beef fajitas and a pork roast. Jump to Recipe The beef fajitas were delicious and super easy to pull together as I had pre-prepped all the meat and veggies at home.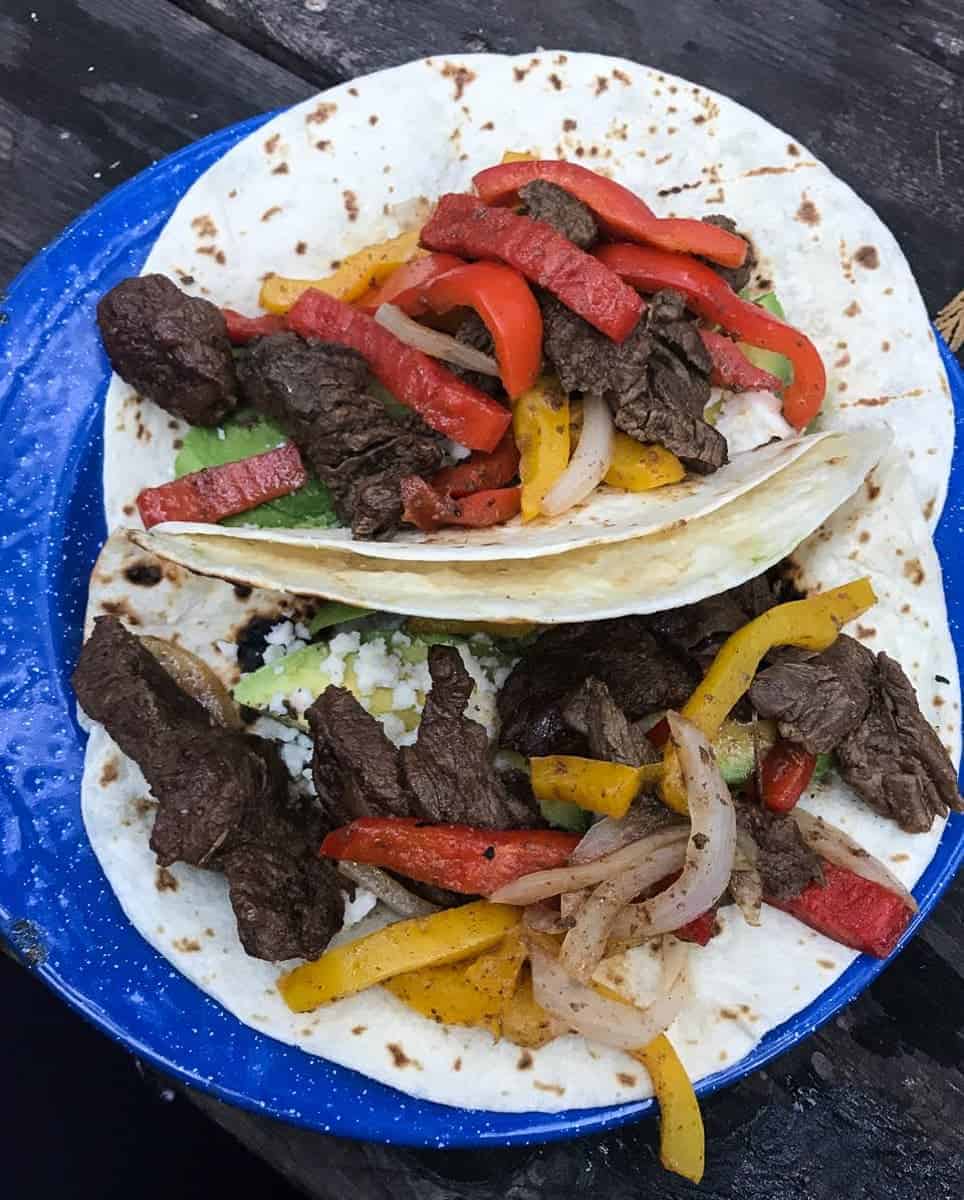 Dinner on the second night was my personal favorite.
I did a pork club roast with peach bourbon barbecue sauce and yukon gold potatoes  Jump to Recipe .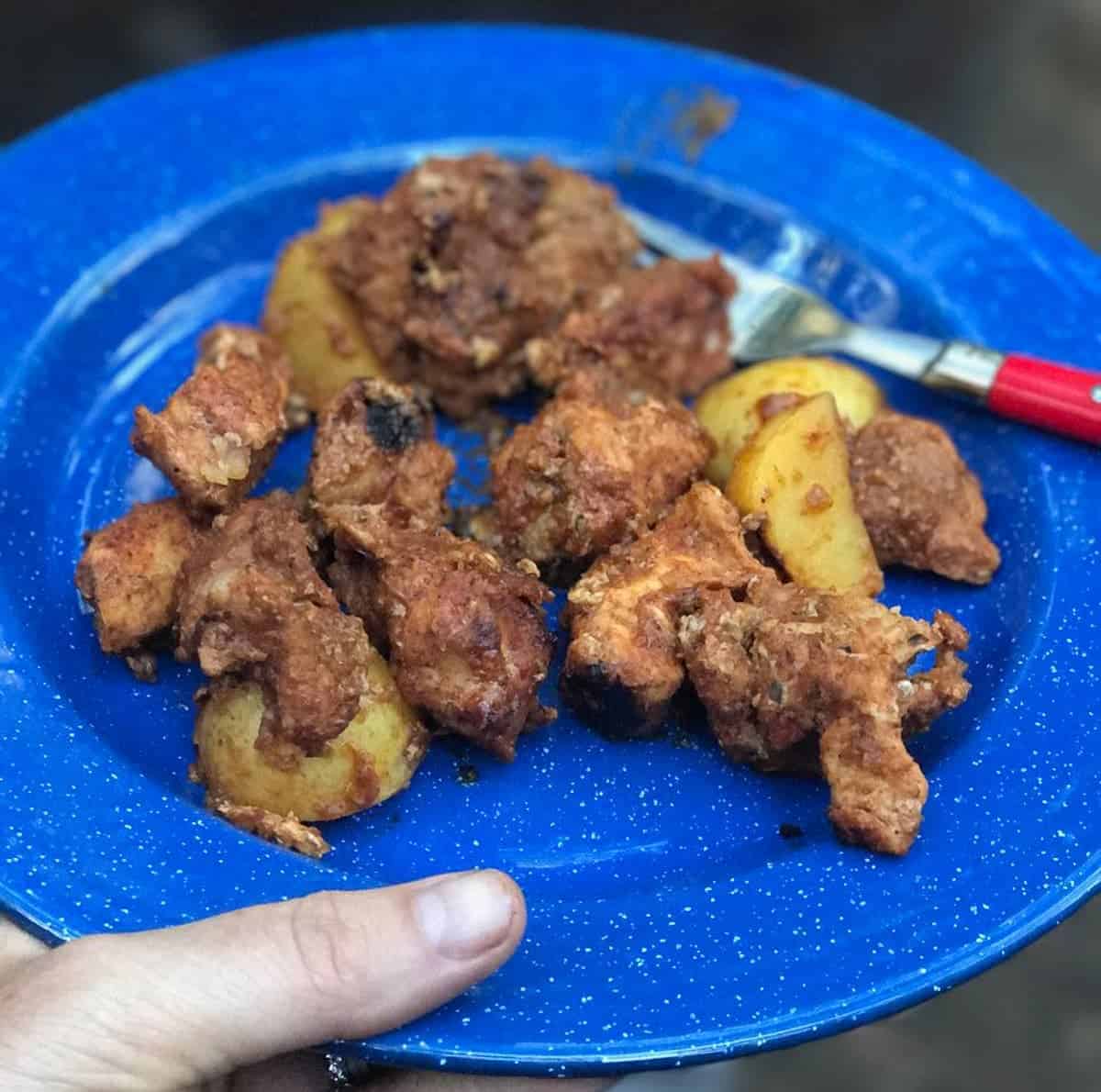 This was all cooked directly in the fire in my lodge campfire dutch oven.
Amazing!!!! Clean up was also a breeze thanks to the parchment liners.

While we ate dinner I put a peach crumble in the campfire dutch oven.
Jump to Recipe
I pre-prepped the gluten free crumble and vacuum packed it at home. I then kept it in the cooler until ready to use. You can use this crumble with any fruit. I peeled and diced 4 peaches for this recipe, yielding about 3 cups of fruit. The whole thing cooked while we ate dinner. It was ready to pull off the fire and enjoy in just 20 minutes. My husband was so impressed. It came out hot and bubbly with a rich caramel sauce and a a slightly browned cinnamon-y oat topping. Talk about camping in style!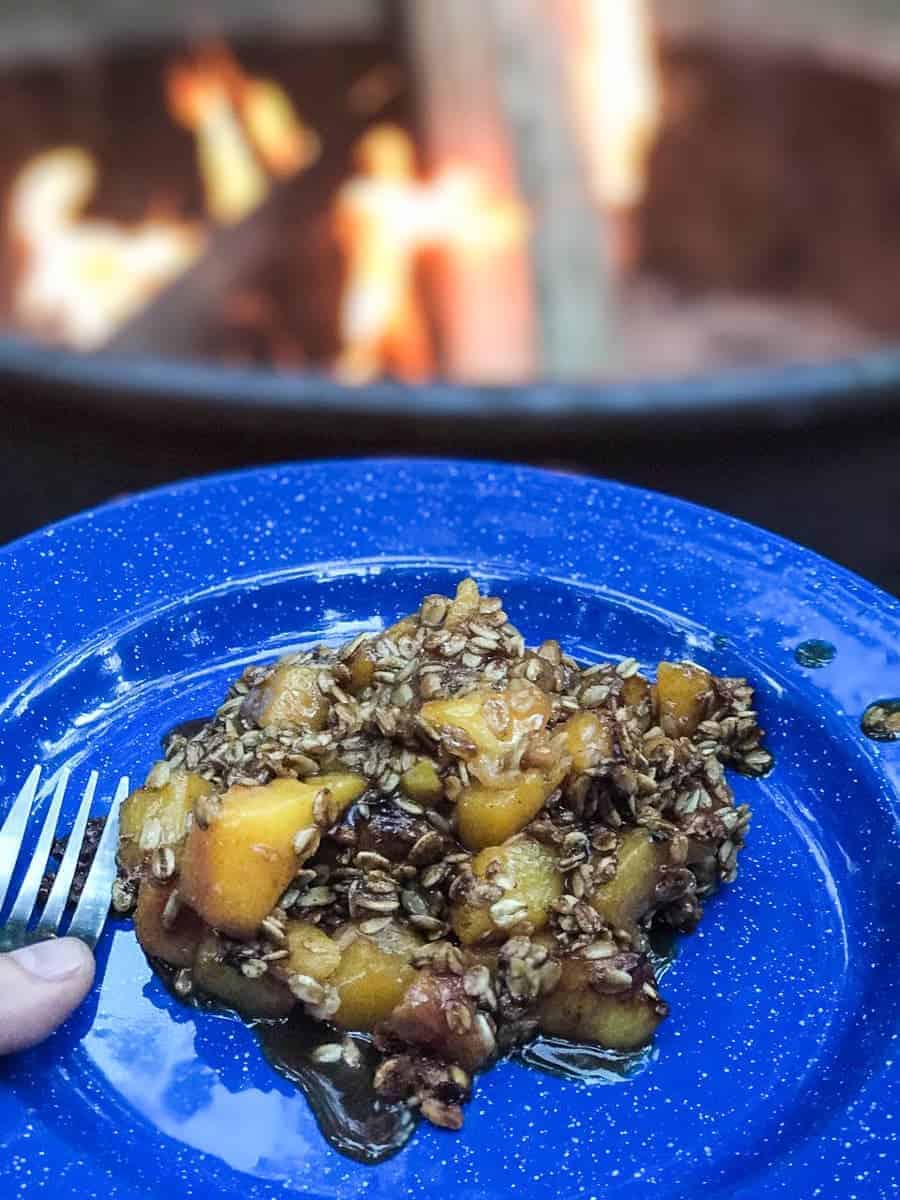 For our last night of camping I made a super simple campfire hash.
Jump to Recipe
Also prepared in the campfire dutch oven. This was simply ground beef, Yukon gold potatoes, onions, salt and pepper and some Italian seasoning. Honestly I would have done this a little differently. That'll have to be another post. It was tasty but I already have some ideas on how to level this up a notch.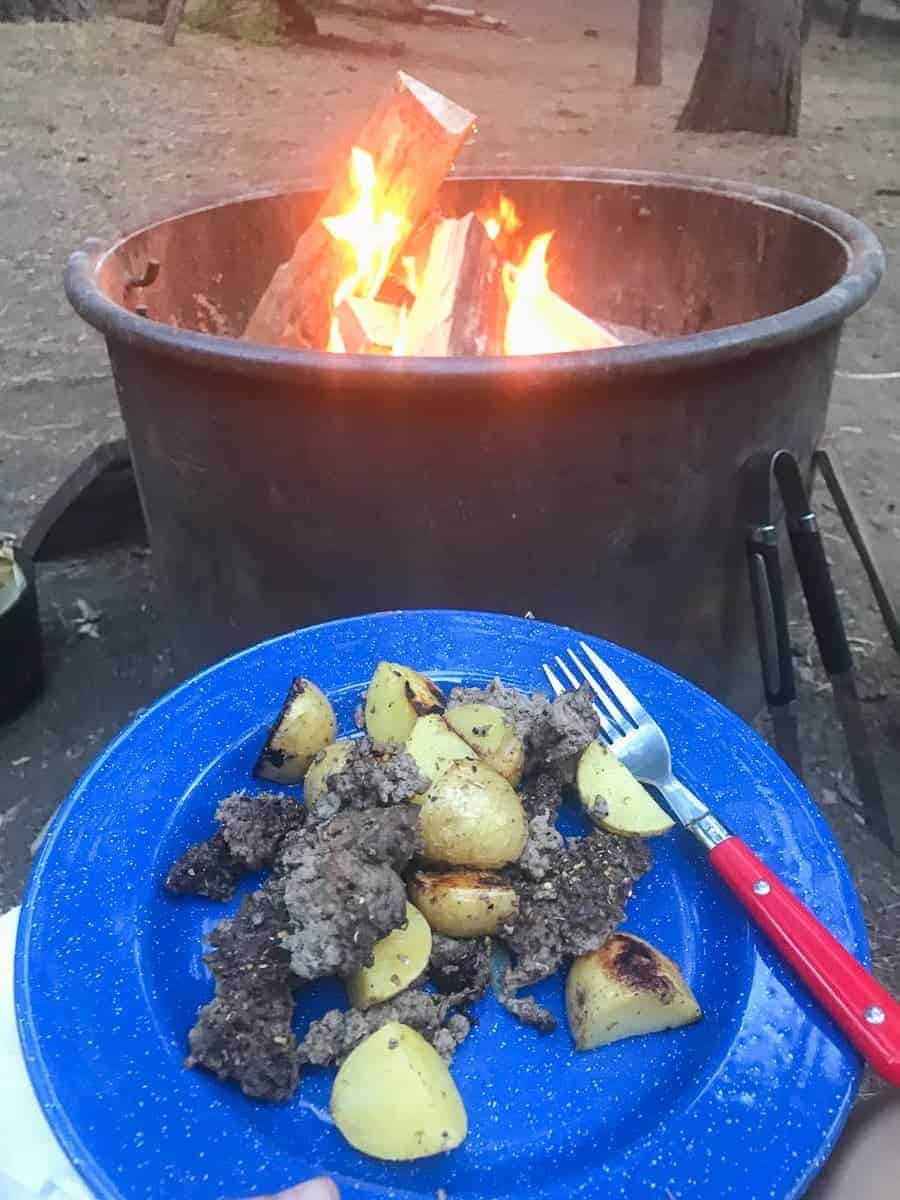 Here are our super easy camping recipes: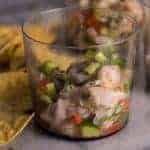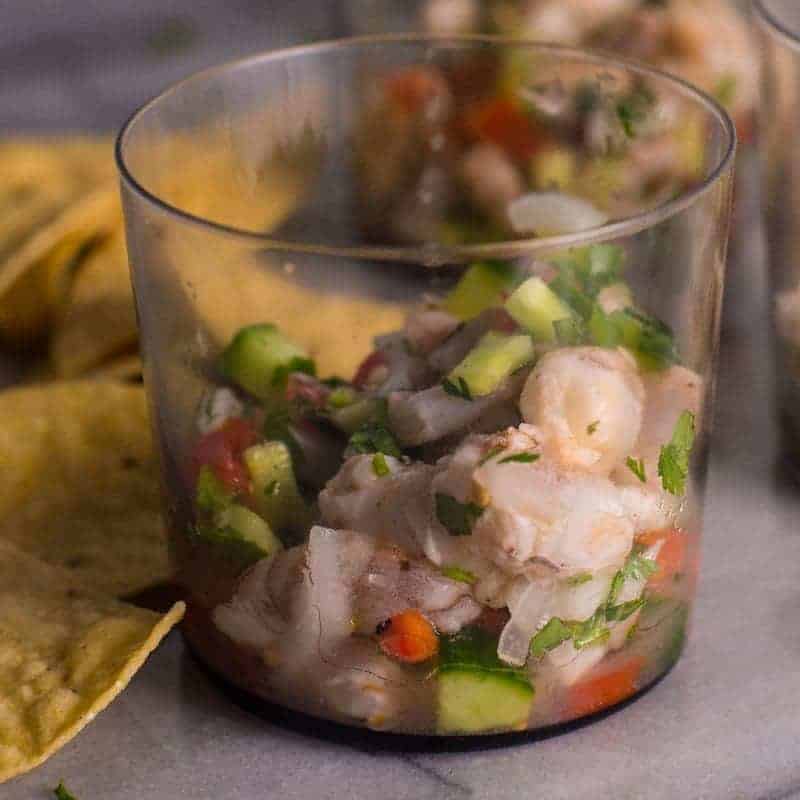 Fresh and Easy Traditional Shrimp Ceviche
Ceviche is fresh and light. It's packed with protein and yummy baja flavor. Perfect for summer snacking.
Ingredients
2

lbs

Medium Shrimp

shelled and deveined

2

small

Tomatoes (about a cup)

diced

½

White Onion

diced

½

bunch

Cilantro

diced

2

cloves

Garlic

minced

2

Serrano Chilies

minced

3

Lemons

juiced

3

Limes

juiced

1-2

tsp

Avocado Oil

or Olive Oil

½

Cucumber (optional)

diced
Instructions
Add all of the prepared veggies to a large non reactive (plastic or glass) bowl. Set Aside.

Peel and devein the shrimp, chop into bite-sized pieces. Add to bowl.

Squeeze lemon and lime juice. Add enough citrus juice to cover completely.

I usually let my ceviche set at room temperature for about 30 minutes or so, before I seal it up and store it in the fridge.

Enjoy with tortilla chips or plantain chips and some hot sauce.
Recipe Notes
 I also like to add a little diced avocado at the last minute.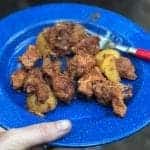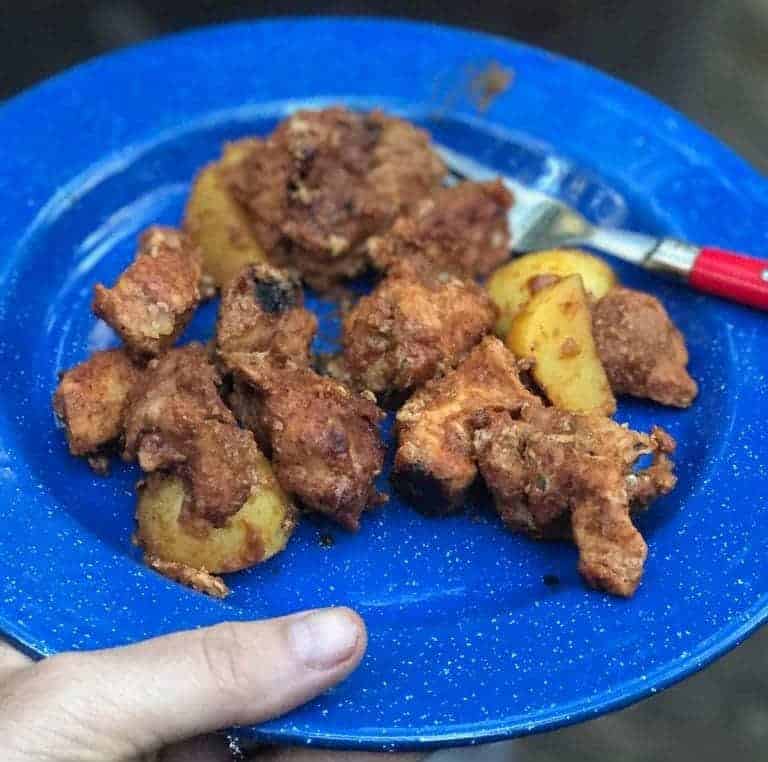 Smoked Salmon Handrolls
Ingredients
4

sheets

Nori seaweed wraps

2

pkgs

ducktrap smoked salmon

2

tbsp

soy sauce

use left over packets if you have them

1

tube

wasabi

optional

2

tsp

black sesame seeds

1

cup

cooked sushi rice

1

tbsp

rice vinegar
Instructions
Sushi Rice
Take 1 cup of cooked sushi rice and add 1 tbsp rice vinegar. Stir with rice spatula until incorporated.

Store in an airtight container.
Sushi Assembly
Lay out a sheet of nori and add about ¼ of the rice. Use fingers to press the rice onto the sheet of nori.

Add smoked salmon, wasabi (optional), soy sauce and a sprinkling of sesame seeds.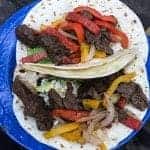 Campfire Beef Fajitas
Fajitas modified for camping. I made these with hanger steak but you can just as easily use chicken or shrimp
Ingredients
Meat
1

lb

hanger steak

sliced

1

tbsp

taco seasoning

Foodology Geek Brand
Veggies
1

red bell pepper

sliced

1

yellow bell pepper

sliced

½

red onion

sliced
Toppings
avocado

cotija cheese

hot sauce

4

medium

tortillas
Instructions
Meat
Slice hanger steak, sprinkle with taco seasoning. Vacuum seal and freeze.
Veggies
Slice veggies, vacuum seal and refrigerate.
Cooking
Heat a pan on medium high on a camp stove.

Add meat and cook until done.

Add veggies and cook to desired doneness.
Assembly
Add meat and veggies to tortillas.

Add avocado, cotija cheese and hot sauce.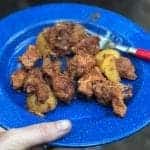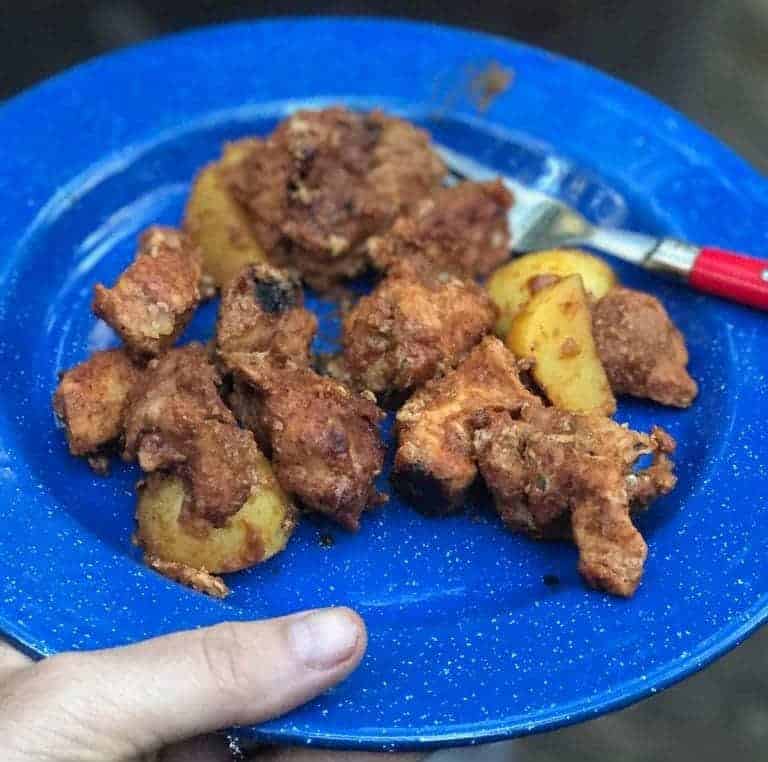 Pork with Peach-Bourbon Barbecue Sauce
This makes great kabobs. For this camping recipe, I threw it all into a campfire dutch oven, added some quartered baby potatoes and cooked it on the fire.
Ingredients
Meat
2

lbs

Pork Club Roast

cut, cubed

2

tbsp

Barbecue Rub

Foodology Geek Brand
Peach-Bourbon Barbecue Sauce
2

tsp

Coconut Oil

or butter

4

Peaches

peeled and diced

½

Medium Sweet Onion

grated or finely diced

4

cloves

Garlic

minced

½

cup

Panela Sugar

or Brown Sugar

½

cup

Bourbon

3

tbsp

Apple Cider Vinegar

3

tbsp

Tomato Paste

¼

tsp

Allspice

½

tsp

Black Pepper

1

tsp

Cinnamon

¼

tsp

Cayenne

you can use more if you like more spice

1

tsp

Ground Mustard

1

tsp

Salt

1

tsp

Smoked Paprika
Other Ingredients
2

cups

Yukon gold potatoes

quartered
Instructions
Meat
Cube roast and sprinkle with rub.

For camping vacuum seal and freeze.
Peach-Bourbon Barbecue Sauce
Add oil to a medium saucepan. Heat to medium-high.

Add onions, garlic, and salt to oil. Sauté until very soft.

Add brown sugar and bourbon. Cook until sugar is dissolved.

Add spices, vinegar and Worcestershire sauce and simmer for 30 minutes to an hour.

Using a stick blender or high powered blender. Puree until smooth.
To Cook On a Campfire
Add pork, 1 cup of barbecue sauce, and potatoes to a parchment lined campfire dutch oven.

Prepare the charcoal fire.

When coals are white hot, spread them out.

Place the campfire dutch oven into the fire and top with hot coals.

Remove lid and check to see if everything is done. If not cook for a little while longer.

When done remove dutch oven from the fire and serve.
Alternatively, you can grill or bake these skewers.
Grill: on medium-high flame until thoroughly cooked. About 6-8 minutes per side.

Bake: At 425℉ until thoroughly done. About 20 minutes.

Keep in mind that oven and grill temperatures vary. Safe temperature for pork is 145℉. Then rest for at least 5 minutes before serving.
Recipe Notes
This recipe also works with chicken.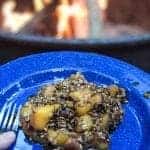 Campfire Fruit Crumble
Ingredients
Fruit
3

cups

peaches

or any other fruit
Crumble
1

stick

unsalted butter cubed

1

cup

steal cut oats

⅓

cup

turbinado sugar

1

tbsp

cinnamon

1

tsp

salt
Instructions
Crumble
Add dry ingredients to a bowl. Mix to blend together.

Add cubed butter and toss to coat.

Add crumble mixture to a vacuum bag and seal. Store in the refrigerator.
Assembly
Add 3 cups of fruit to a parchment lined campfire dutch oven.

Top with crumble mixture.
To Cook On a Campfire
Start a charcoal fire in your fire pit.

Once coals are white hot, spread them out and add campfire dutch over to the fire.

Cover the top with hot coals.

Cook for 20 minutes. Check to see is sauce is bubbly and oats are brown. If not cook a little while longer.

When everything is bubbly and brown, remove entire dutch oven from the fire.

Add some wood to the fire and watch it burn.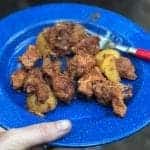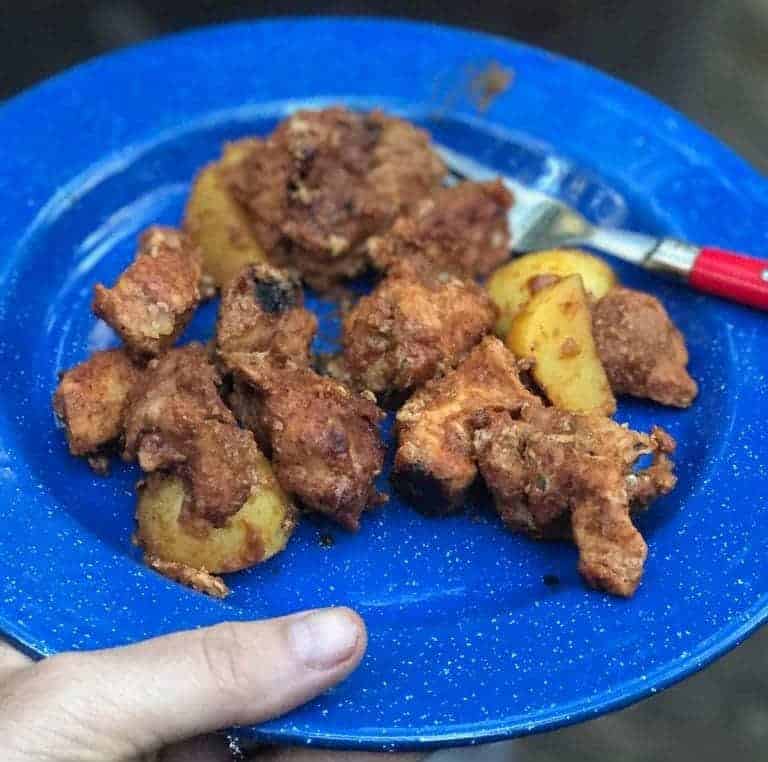 Campfire Hash
This recipe is super basic. You can add other vegetables like bell peppers if you like.
Ingredients
2

lbs

grassfed hamburger

½

onion

sliced

1

lb

Yukon gold potatoes

quartered

1

tbsp

Italian seasoning

salt and pepper

to taste
Instructions
Add all ingredients to a parchment lined campfire dutch oven.

Crumble meat so that it is evenly distributed amongst potatoes and onions.
To Cook On a Campfire
Make a charcoal fire in your fire pit.

Once the coals are white spread them out and nestle the campfire dutch oven in the hot coals.

Cover the lid with hot coals and cook for 20 minutes.

Remove lid and check the doneness.

Once it is done remove and serve.