The Scenario:
You aren't the cook in the family and you've been assigned to bring appetizers…

You need some snack diversion to keep the kids from stealing the dinner rolls when your back is turned…

Hell, you need to keep the heathens out of the pie!

[This actually happened one year in our family. Forks went directly into the pie before dinner was served. An epic memory was created with much laughter…but sometimes you want to at least have the illusion of decorum!]
Regardless of the situation, we've got a few appetizer ideas:
LEVEL 1 / Fall-on-it Easy
CHEESE PLATE – The trick here is to make it look as pretty as it tastes. Ideally pick three different types of cheese. Look for variety of texture and flavor. Maybe a Brie (soft and mild), a Blue Cheese (medium texture and stronger in flavor), and a Gruyere (a hard cheese with a 'middle ground' flavor). No need to break the budget buying something fancy. Buy what you like and dress it up. The trick to a good cheese plate is the presentation. Use fruit or herbs to add some color. If you use fruit, make it bite sized. Grapes and (fresh or dried) stone fruits work great! Want to get fancy? Add a small bowl of high end jam or honey. Treat it like a spread. Serve it all at room temperature. Don't forget the crackers!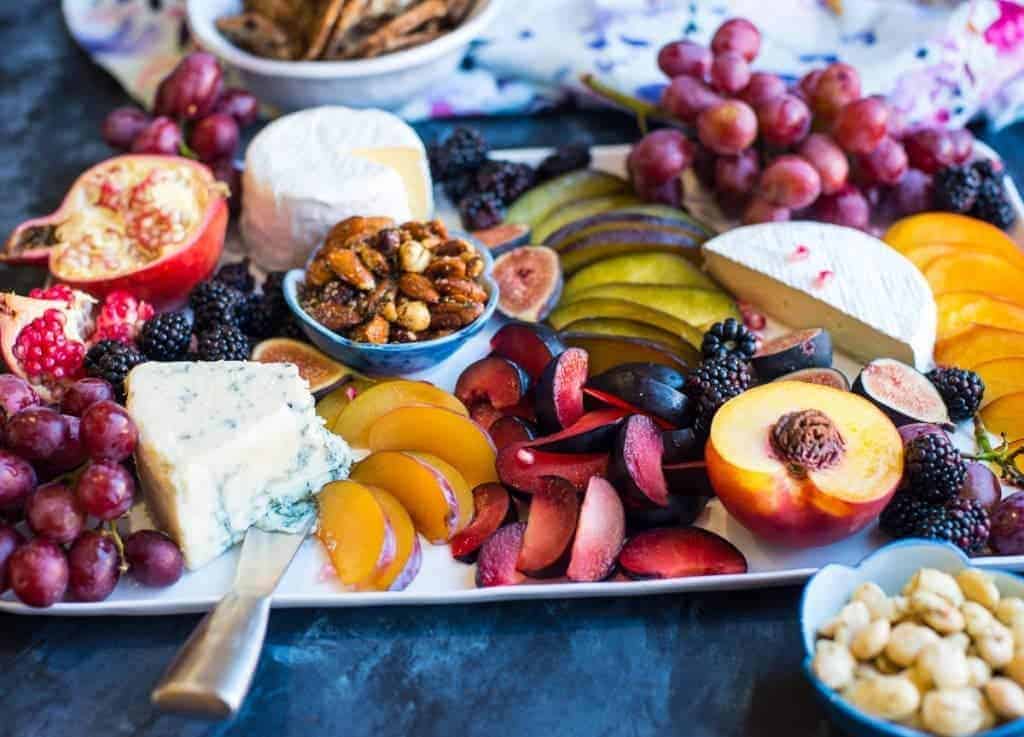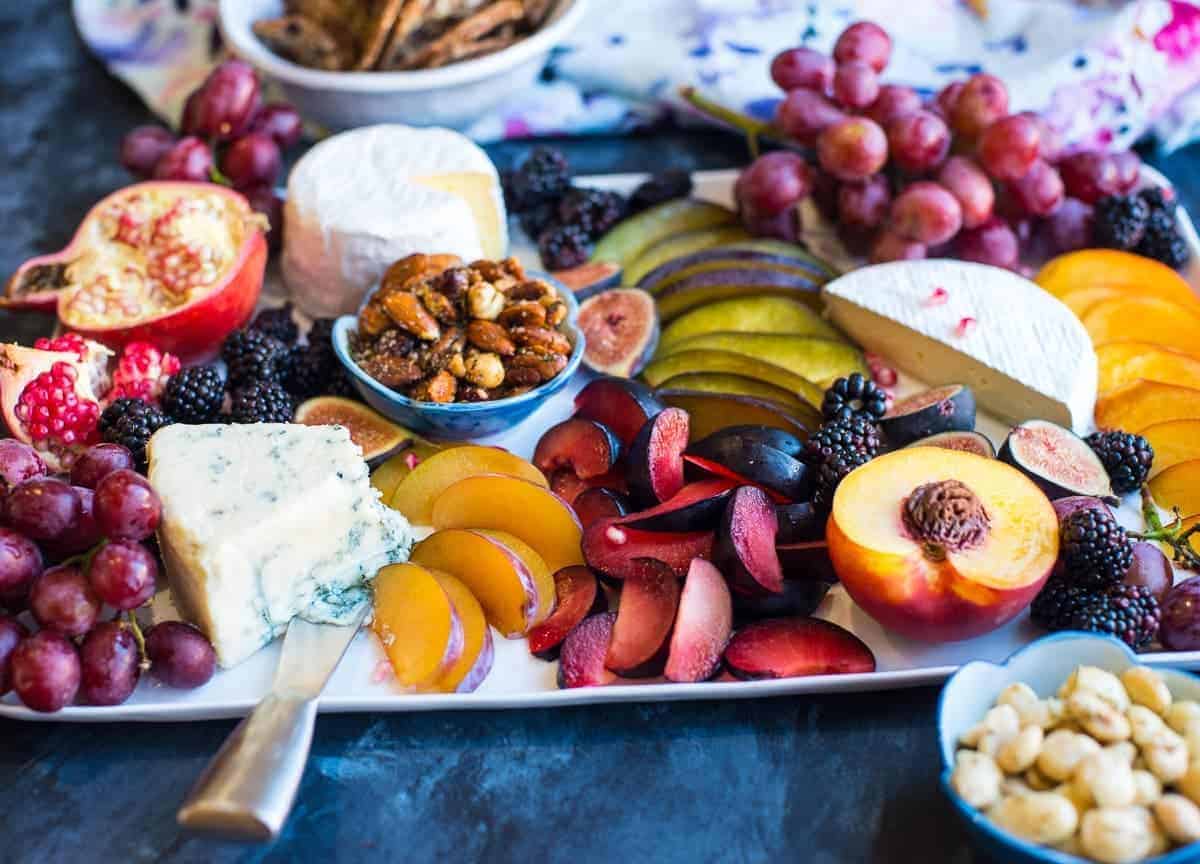 CHARCUTERIE BOARD – This is just a fancy French (Swiss) word to describe a plate of cured meat. [Actually it describes the process of making the meat…but there is no need to geek out on the technicalities here. We are talking about keeping forks out of pie!] Much like with a cheese plate, put together a variety of meats (like salami and prosciutto), and add some tiny pickles or herbs for variety. [Nothing says 'classy' like tiny pickles, right? Ha ha ha.] Like liver? Add some store-bought pate. Slice up a baguette and you're good to go!
CRUDITES – Like 'charcuterie', 'crudite' is just a fancy French word for 'veggies and dip'. Again, the trick is to make your display look pretty. Pick veggies in a variety of colors. Like you did with the cheese, also think about flavor. Tomatoes are sweet, radishes a bit spicy. Mix it up! The usual suspects: carrots, cucumbers, celery, cherry tomatoes, broccoli, cauliflower, zucchini, bell peppers, snap peas, radishes. Pick the ones you like, cut them into bite sized pieces, and arrange them on a plate. [See below for dip ideas.]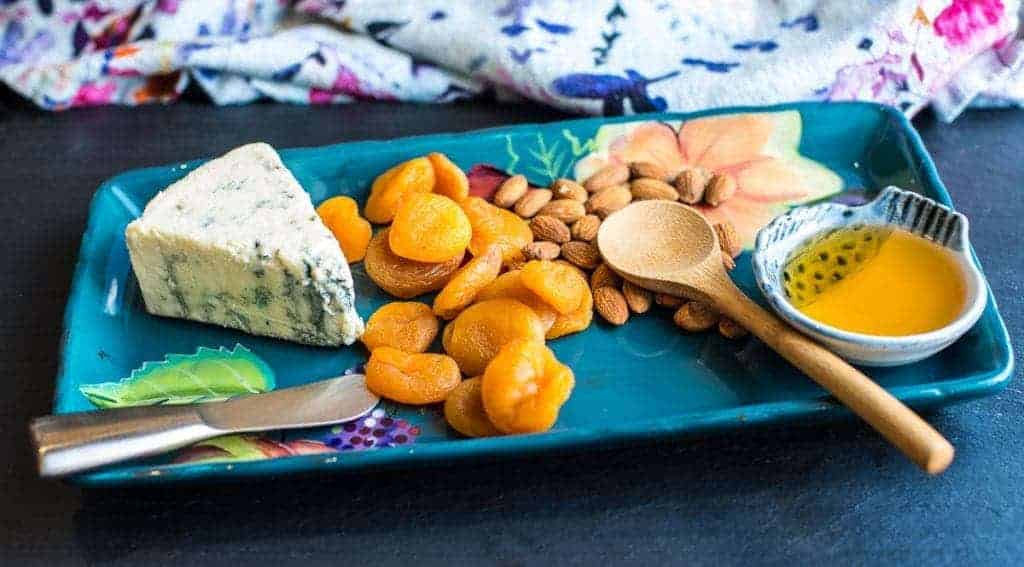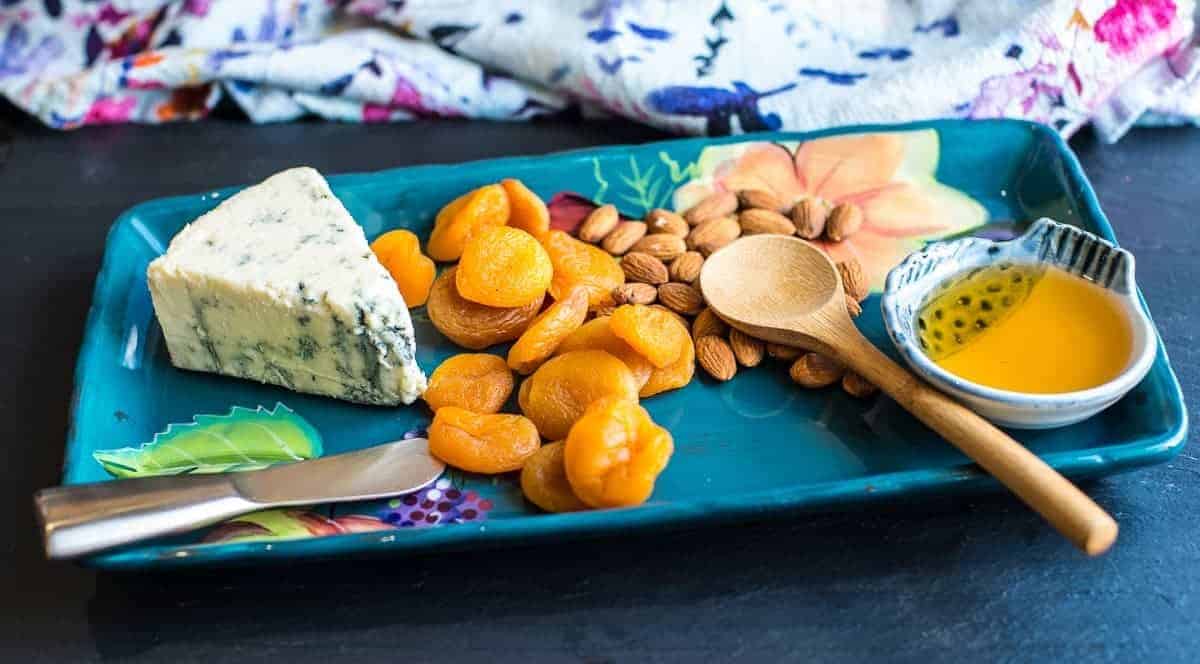 BOWL OF NUTS – Any nuts will do. I prefer to use shelled nuts, but even this is not a hard and fast rule. If you want to make your own, we've got a great Spiced Nuts recipe.
BOWL OF OLIVES  – Your head spinning? Just pick out some yummy olives at the store. Dump them in a bowl! [If they have pits, you will look like you have your act together if you also put out a bowl for the pits.]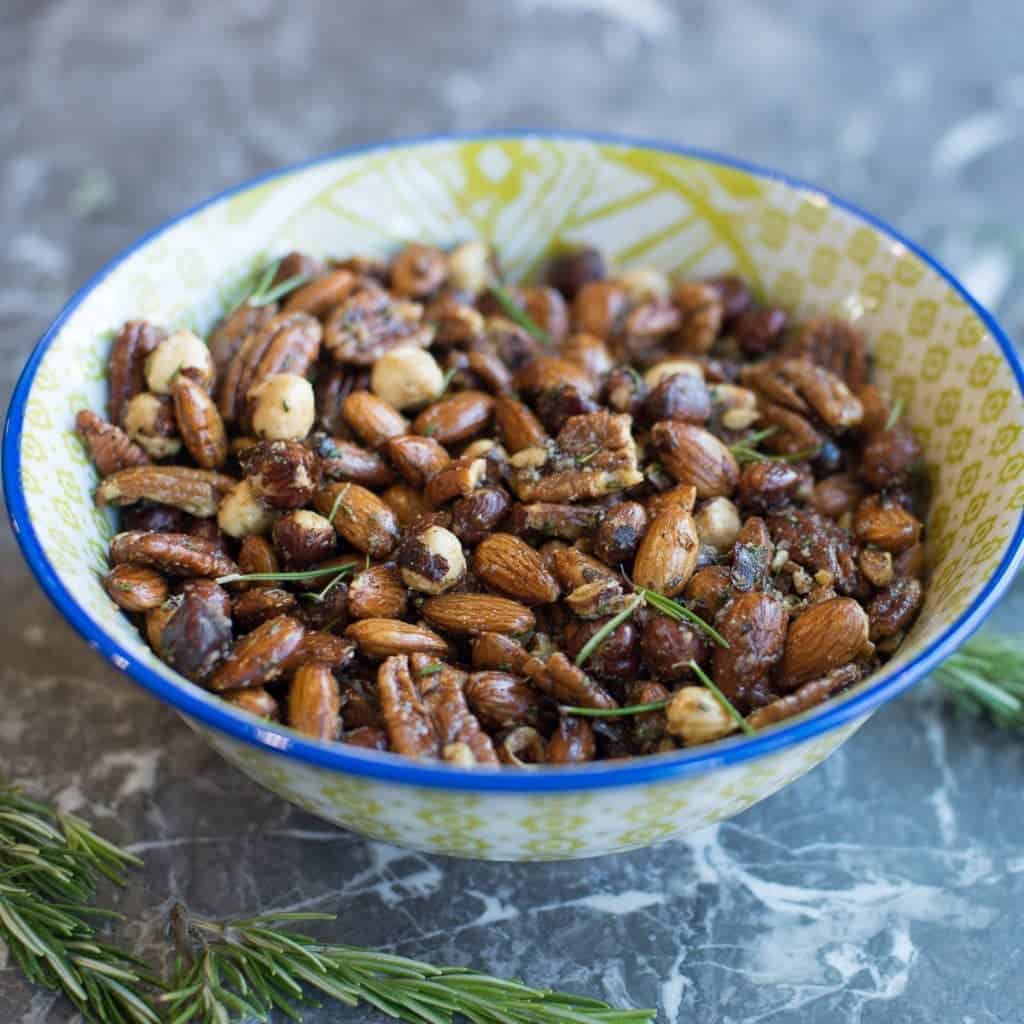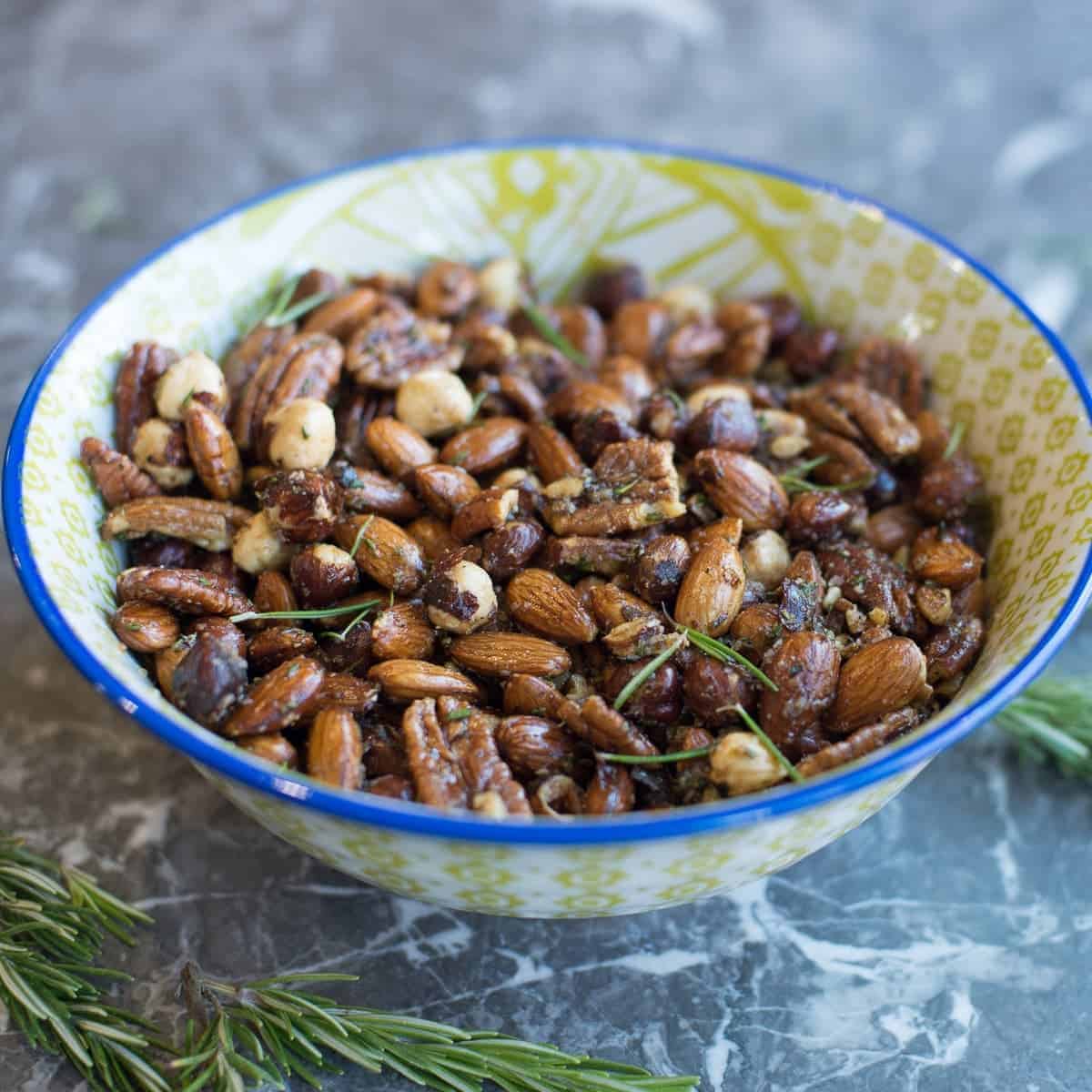 LEVEL 2 / Dips
TZATZIKI – [It wouldn't be Foodology Geek if we didn't find a way to work in tzatziki!] Serve it with some pita bread and sliced cucumbers. It would also be great with your crudites (above).
RED PEPPER WITH FETA – This is an easy-to-prepare dip that is great with veggies (your crudites), or on its own with sliced baguette or crackers. Jump to Recipe
HUMMUS – This one takes a bit of planning, as you have to soak the chickpeas overnight. But if you can handle that; the rest is dead easy…not to mention fresh hummus is delicious! Serve it with your crudites, or with your pita and cucumbers. Jump to Recipe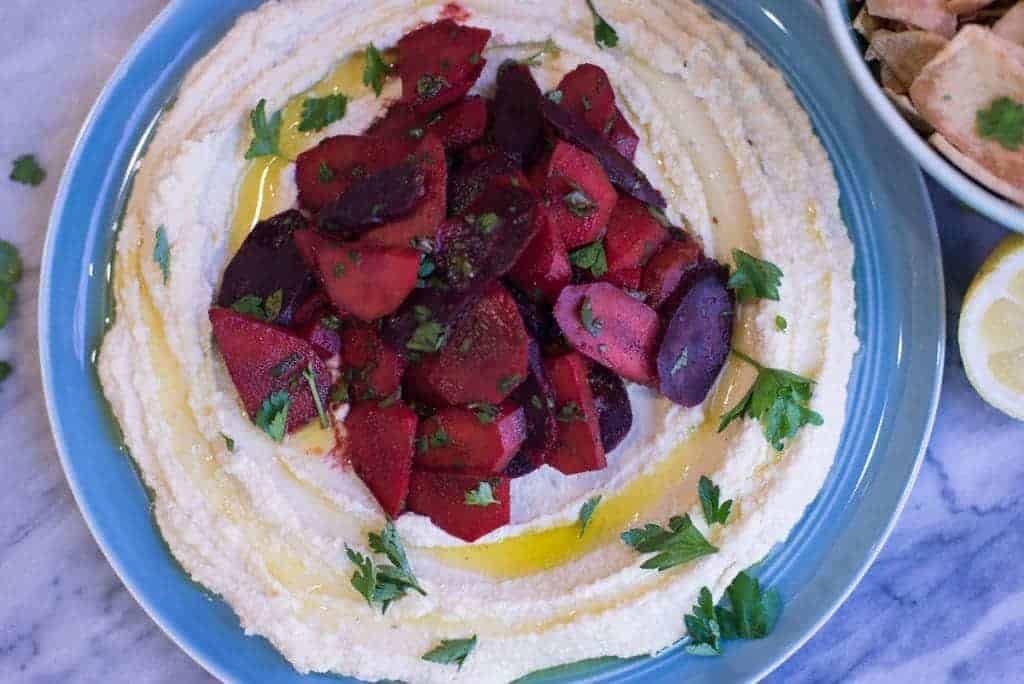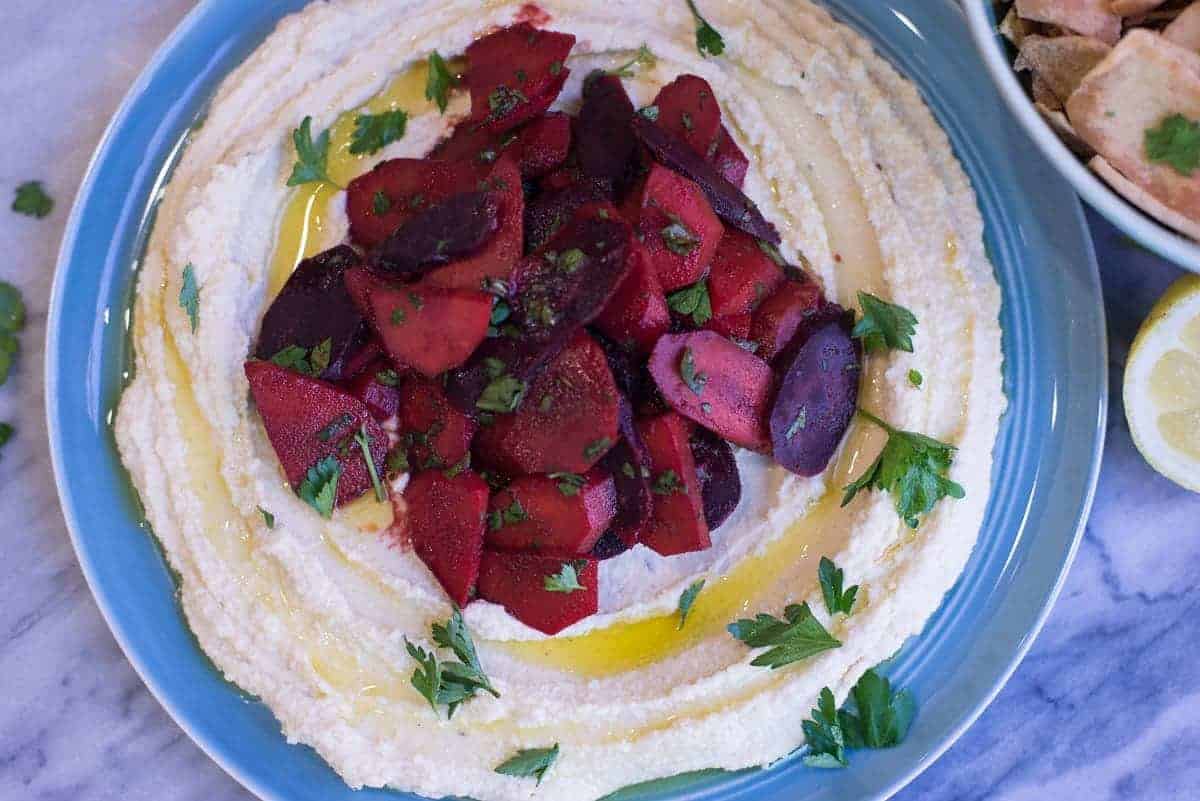 LEVEL 3 / Medium Effort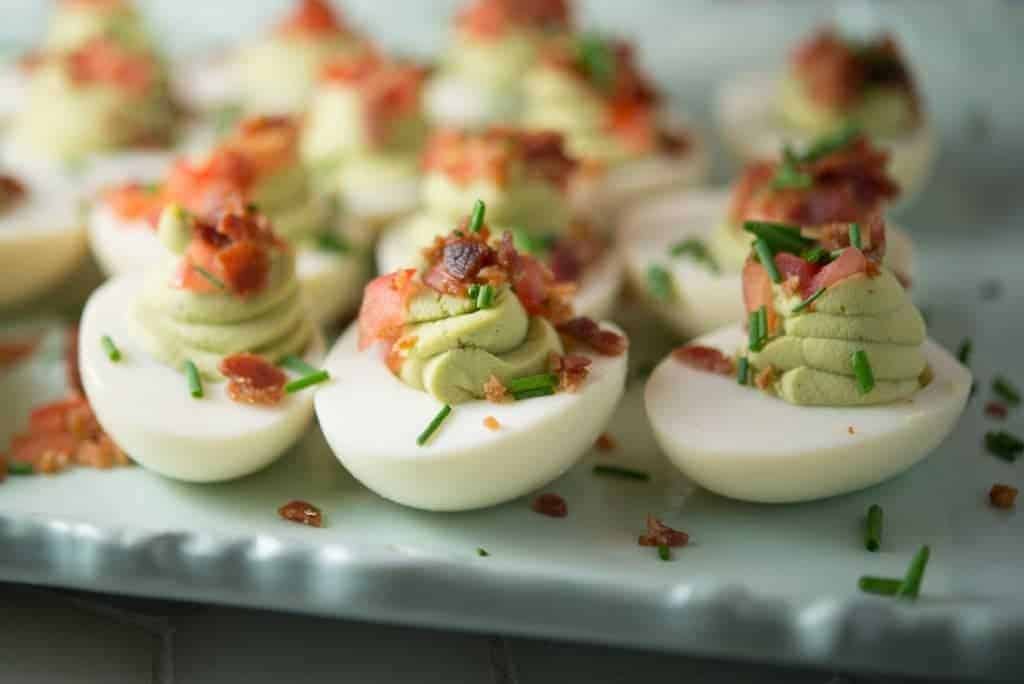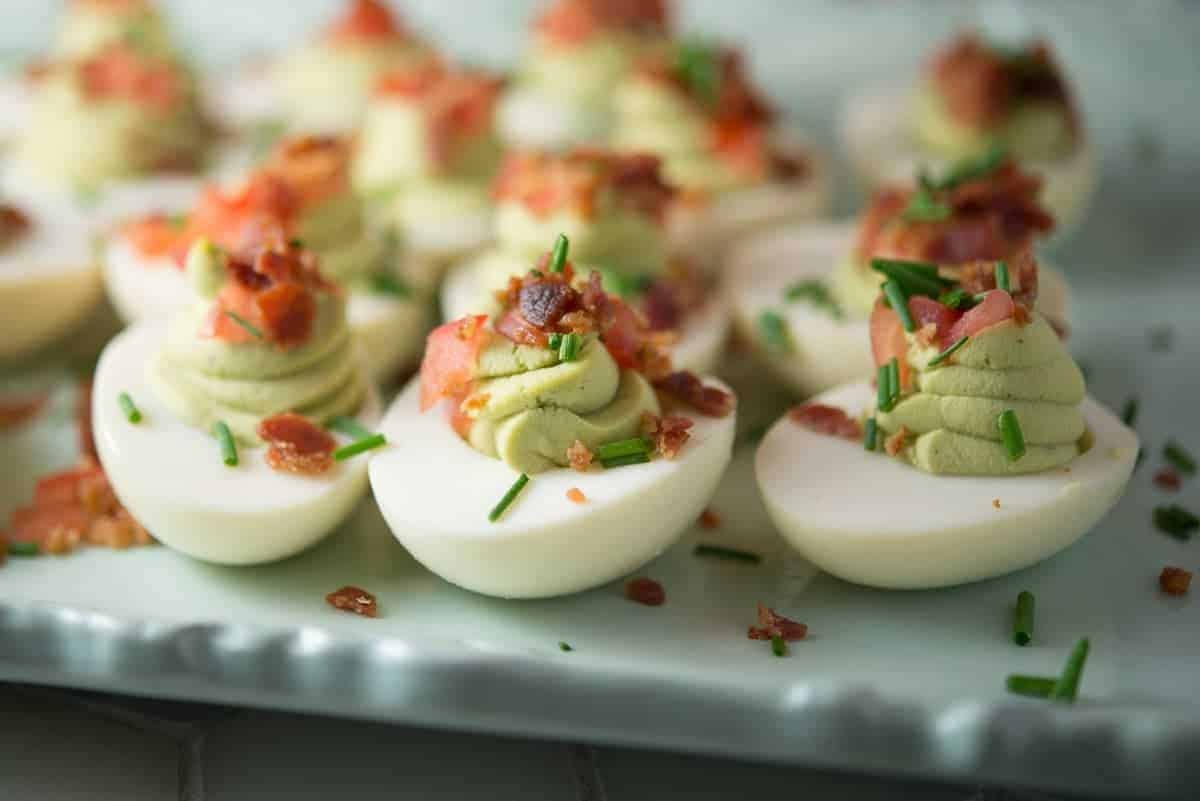 SAVORY PARMESAN SHORTBREAD COOKIES – You can make these the day before. They can stand alone or be part of another plate of choices. [NOTE: Resist the urge to use them like crackers.]
PICKLED MOROCCAN CARROTS – Serve them on their own like the cookies, put some on top of the hummus, or use them on your charcuterie board. Jump to Recipe
LEVEL 4 / Go for the Wow Value
[Not harder, just higher on the 'Wow' scale.] 
HAM AND CHEESE PALMIERS – One of the easiest ways to create something special for guests is to wrap up a yummy combination of flavors into a fun shape and throw it in the oven.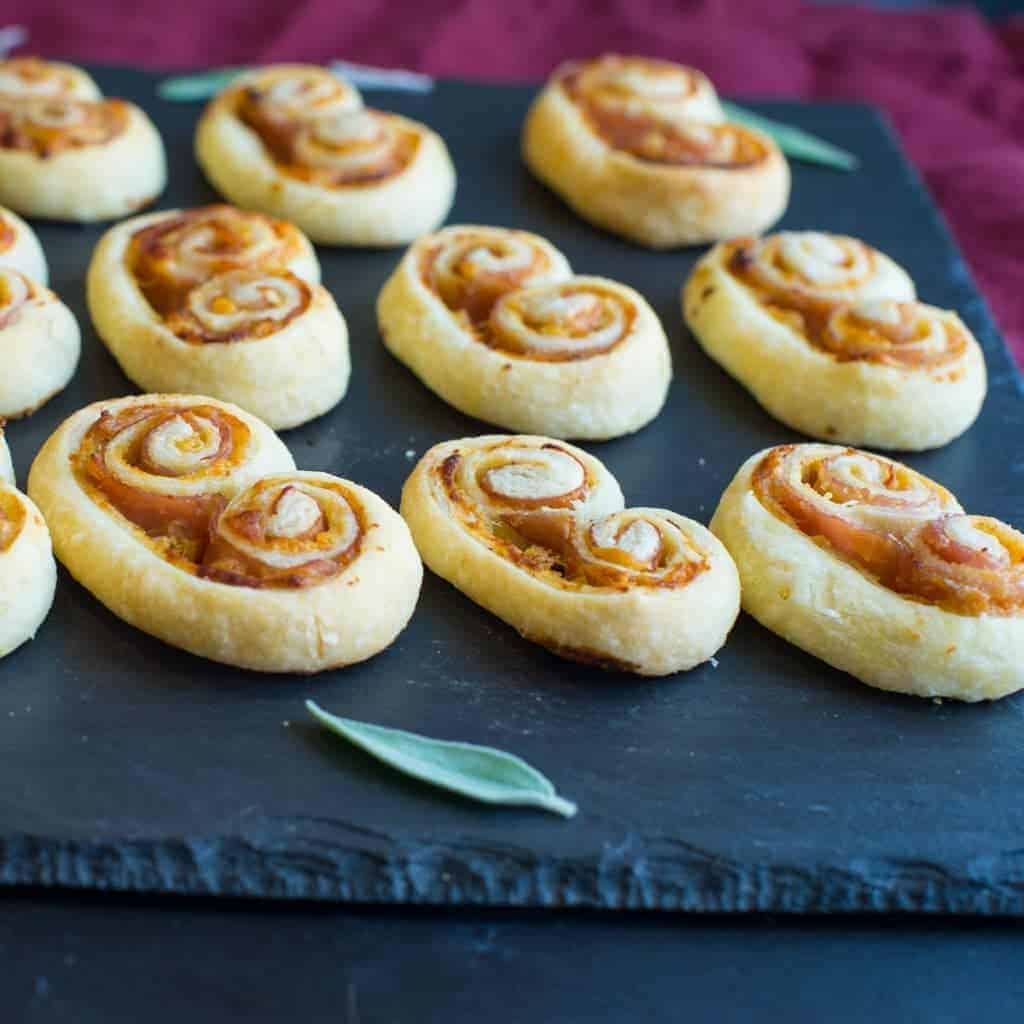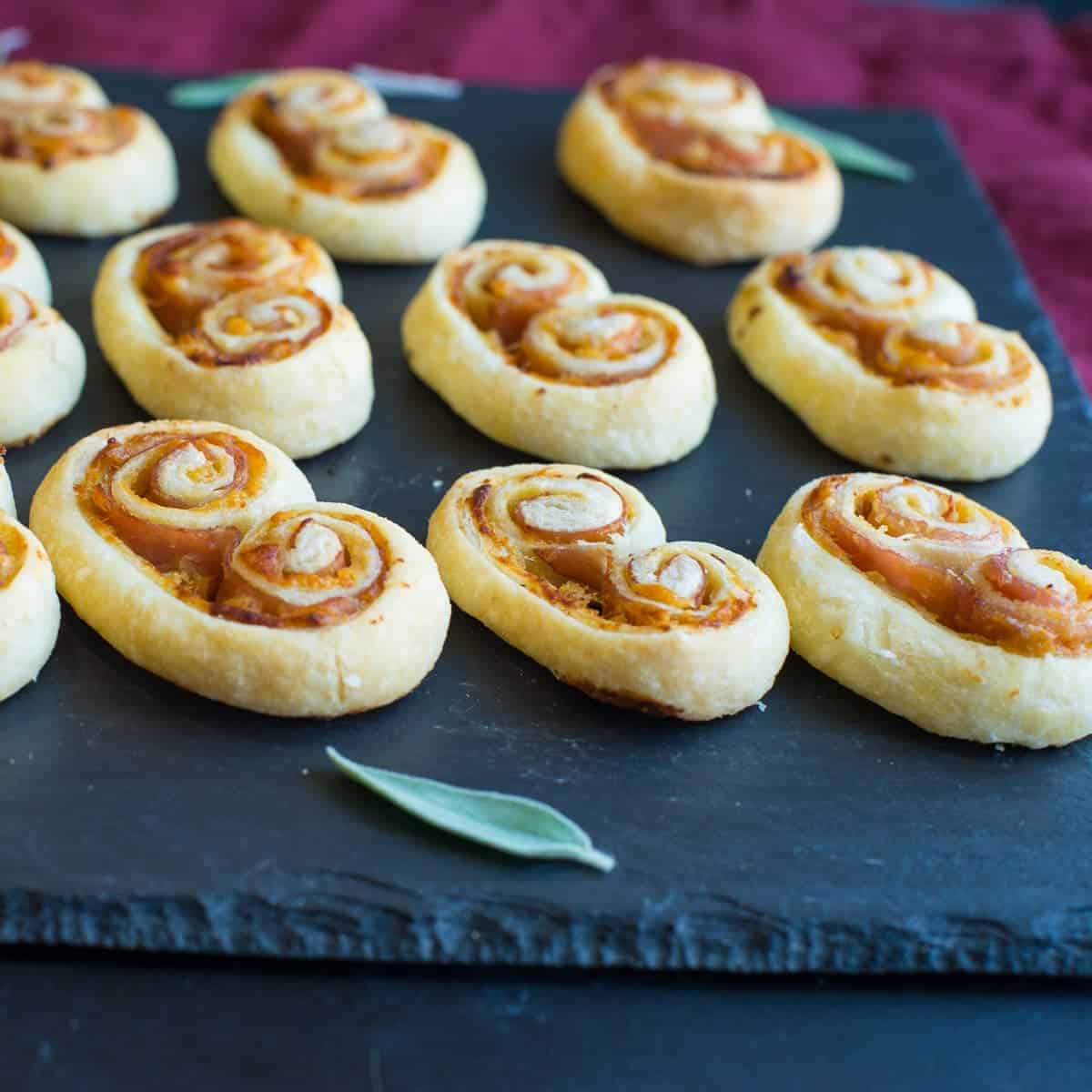 GOAT CHEESE TART WITH FIG AND BACON – Super easy and will make you look like a celebrity chef. After the pastry dough thaws the assembly of this dish takes about 5 minutes. It looks rustic and tastes fantastic. The colors and textures are gorgeous.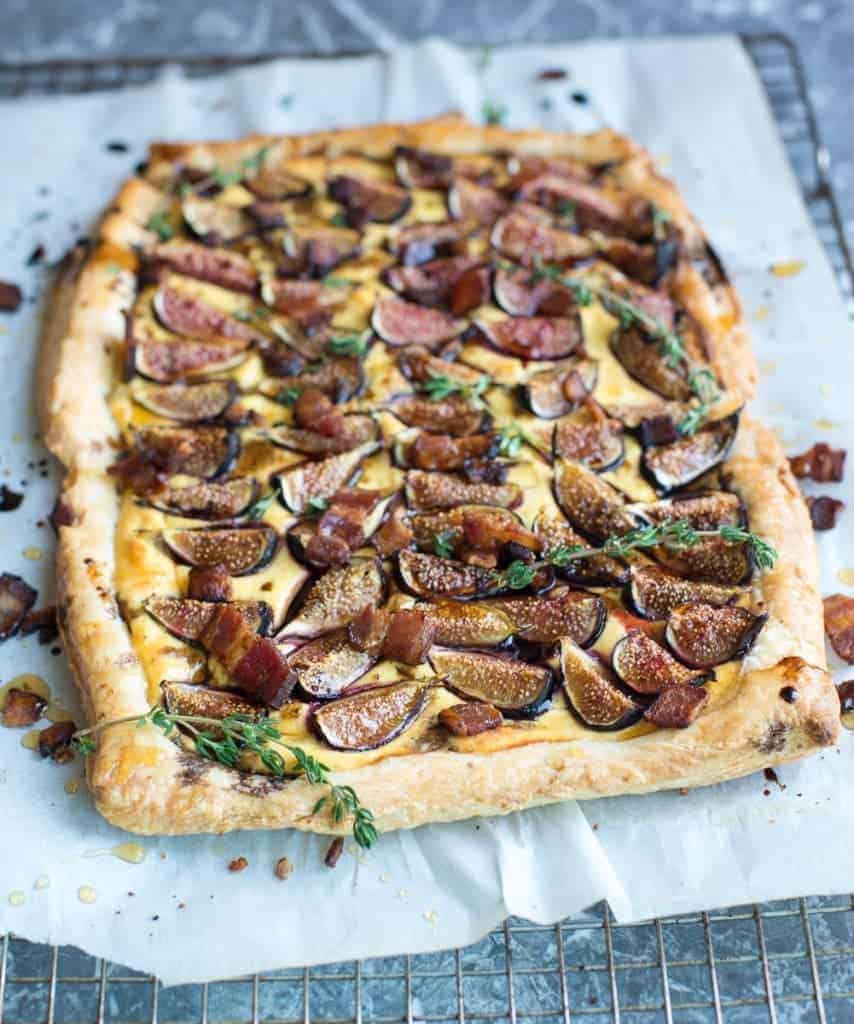 Bottom line, don't sweat it.
Even sophisticated appetizers can be a no-brainer. The key element is a bit of creativity. My general go-to is to put together a colorful plate of veggies and dip….or a cheese plate…or a bowl of nuts. No need to go crazy if you are also serving a a big meal.
We hope that you have a great holiday with family and friends. Don't sweat the small stuff. It's all small stuff. Embrace the wonder and magic in the ordinary moments. 
Kit & Laura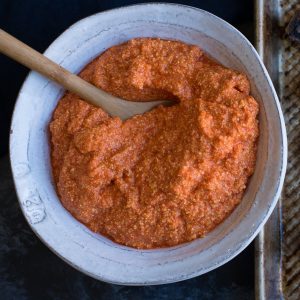 Red Pepper and Feta Dip
The easiest dip ever. This dip is great with chicken or served as a bruschetta. I have also used it as a topping for grilled fish or veggies.
Print Recipe
Pin Recipe
Ingredients
8

ounces

feta cheese

1

jar

roasted red peppers (liquid reserved)

or 2 roasted red peppers

1

tbsp

olive oil

¼

cup

almonds

Optional
Instructions
Add cheese and peppers (and almonds if using) to a food processor or high powered blender.

Blend until though roughly mixed.

With machine running add olive oil slowly.

Serve with crackers or veggies.
Nutrition
Calories:
82
kcal
|
Carbohydrates:
2
g
|
Protein:
3
g
|
Fat:
6
g
|
Saturated Fat:
3
g
|
Cholesterol:
16
mg
|
Sodium:
598
mg
|
Potassium:
74
mg
|
Vitamin A:
225
IU
|
Vitamin C:
13.2
mg
|
Calcium:
113
mg
|
Iron:
0.5
mg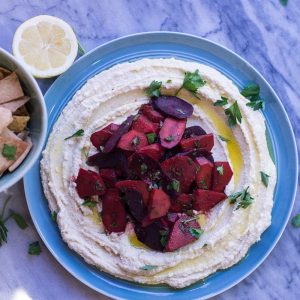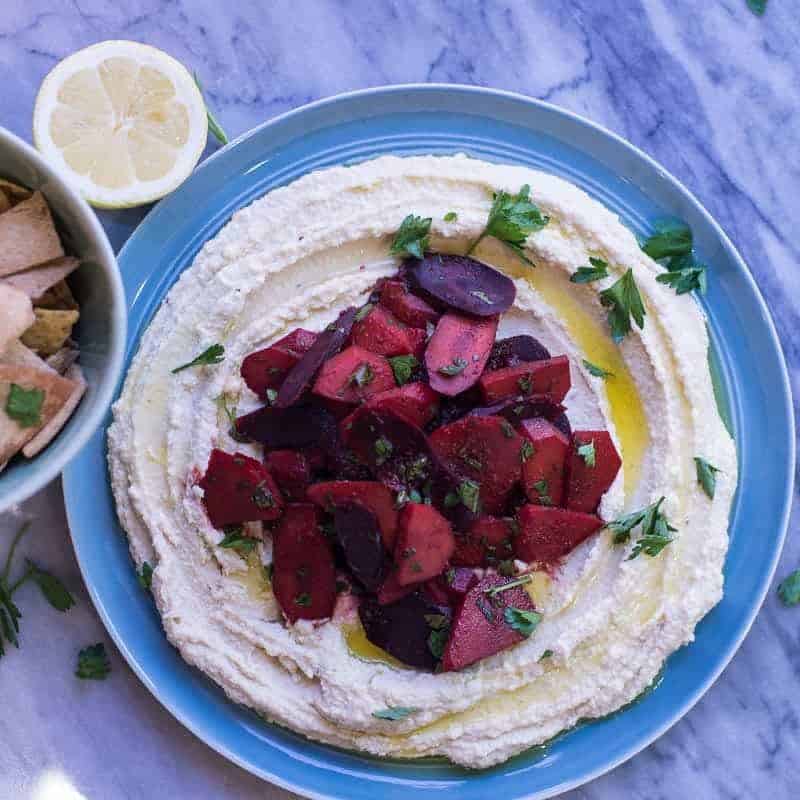 Pickled Moroccan Carrots
Print Recipe
Pin Recipe
Ingredients
3

cups

carrots

pealed sliced on the diagonal

1

tbsp

avocado oil

2

tsp

coriander

2

tsp

cumin

1

tsp

salt

½

tsp

paprika

½

tsp

turmeric

2

tsp

lemon juice

2

tsp

apple cider vinegar

2

tsp

sugar

3

tsp

parsley
Instructions
Saute carrots in avocado oil for about 5-8 minutes.

Remove and place into a glass bowl.

Add vinegar, lemon juice, sugar and parsley. Toss to coat.

Refrigerate. Serve as a side or on top of hummus.
Nutrition
Calories:
34
kcal
|
Carbohydrates:
4
g
|
Fat:
1
g
|
Sodium:
260
mg
|
Potassium:
135
mg
|
Fiber:
1
g
|
Sugar:
2
g
|
Vitamin A:
6485
IU
|
Vitamin C:
3.3
mg
|
Calcium:
18
mg
|
Iron:
0.5
mg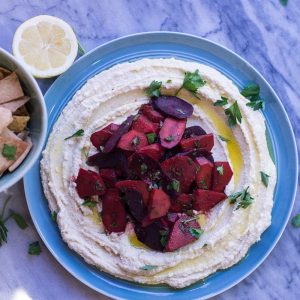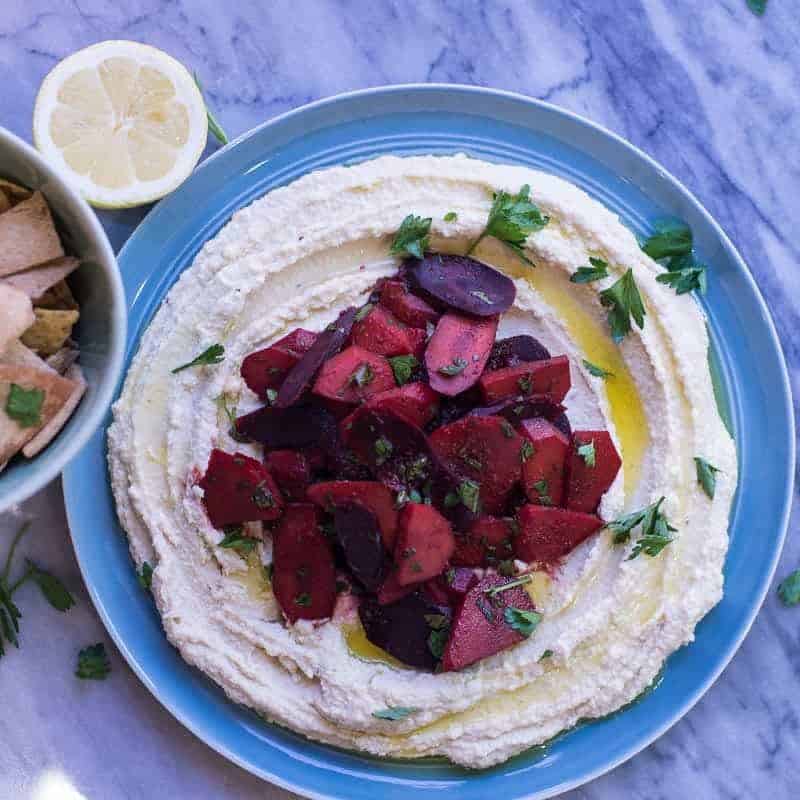 Hummus
Total Time:
1
hour
10
minutes
Print Recipe
Pin Recipe
Ingredients
Cold Water

enough to cover chickpeas

8

ounces

Dried Chickpeas

2

tbsp

kosher salt

plus 1 tsp

½

tsp

baking soda

¾

cup

Toasted Tahini

room temperature

3½

tbsp

Lemon Juice

1-2

tbsp

Extra-Virgin Olive Oil

1

tbsp

Fresh Parsley

chopped

½

tsp

Paprika
Instructions
Chickpeas
Add dried chickpeas, 2 Tbsp of salt and, 8 cups of water to a large pot. Soak overnight.

Rinse chickpeas and strain.

Add soaked chickpeas, baking soda, and another 10 cups of water to a large stock pot.

Bring to a boil. Reduce temperature to a high simmer and cook until the skins are falling off of the chicken peas. About 50 minutes.

Remove from heat and pull off about 1 cup of the boiling liquid.

Optional: Pull out about a ¼ cup of the chickpeas for topping the hummus, Set aside.
(Visited 19 times, 1 visits today)