Did you know that today is Dessert Day?
I suppose that it's fitting to have a day dedicated to sweets in early Fall. I mean with Halloween on the horizon quickly followed by the biggest American eating holiday of the year – Thanksgiving – it does make a certain amount of sense. Then in case that weren't enough, we get to December – the month of non-stop holiday parties and eating!
At Foodology Geek we like to help you be prepared for your life, whether that is fueling for a workout, or making the perfect dish to serve your friends and family.
As it is Dessert Day, we thought it would be fitting to honor the commitment to help you be prepared – in this case for the season of sugar!
What have we got?
To date we've got quite a collection of dessert options. And, we are also adding more each week!
Wait aren't we all about healthy eating here? We for sure believe in eating healthy. But we also believe in learning how to have a healthy relationship with food. Dessert is part of that. So enjoy a little indulgence sometimes and make sure when you do…IT'S TOTALLY WORTH IT!! Like this ridiculous cheesecake. #worthit
Classic Desserts
Cakes and Cupcakes
Banana Cake – one of our most popular posts ever (second only to the cheesecake above).
Chocolate Mocha Cake – this is the easiest and tastiest chocolate cake you'll ever make.
Halloween Glass Shard Cupcakes – you can make these for any occasion. (You might want to omit the blood!)
St. Patrick's Day Car Bomb Cupcakes – these are as delicious in December as they are in March. What better season for a boozy cupcake, right?
Fruit-Based Desserts
Cookies
Candy
Diary-Free Rocky Road Fudge – this fudge literally takes 5 minutes to make!
Butter Toffee – a holiday classic worthy of being used as a hostess gift. Make it with or without the nuts.
Rum Truffles – these also make a great gift, IF you can part with these chocolaty bites of happiness!
Subscribe with us so that you don't miss a recipe as we get deeper into the holiday season!
Coming soon to the blog:
Pies – Apple, Pumpkin and Pecan!
Candy – Chocolate Almond Bark and Candied Citrus Peel!
Cookies – Peppermint Meringues and Molasses Cookies made with Bacon Fat.
Even, Vanilla Cupcakes!
[mc4wp_form id="1940″]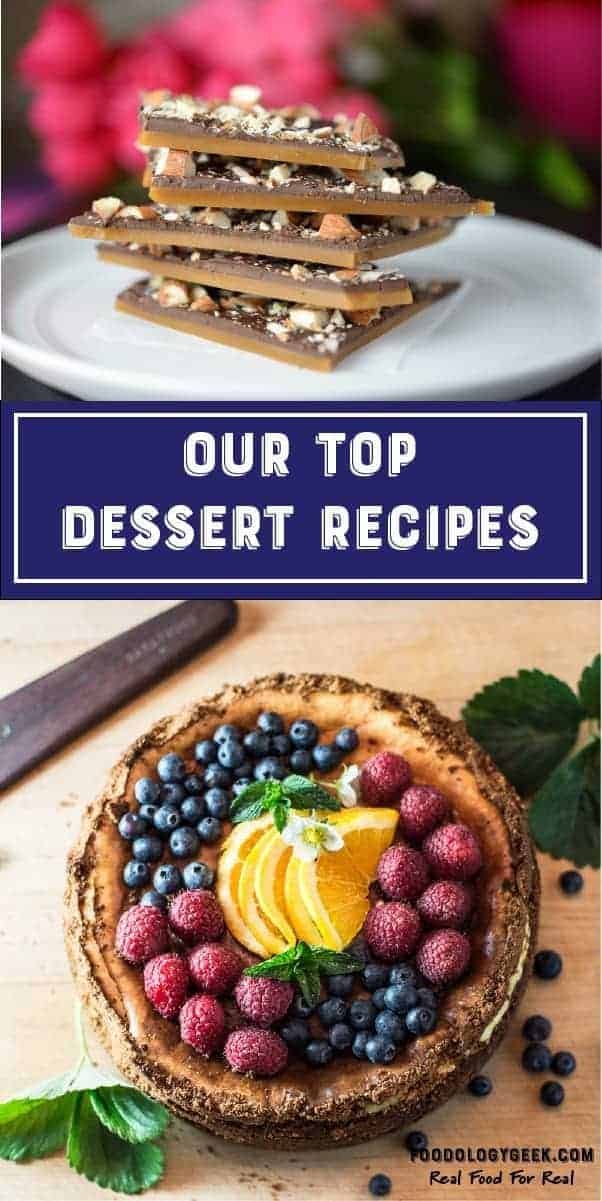 (Visited 20 times, 1 visits today)