The Classic Chocolate Pie Recipe made with a layer of rich chocolate layer and then it's topped with a fluffy chocolate mousse. This is an easy low-bake chocolate cream pie recipe.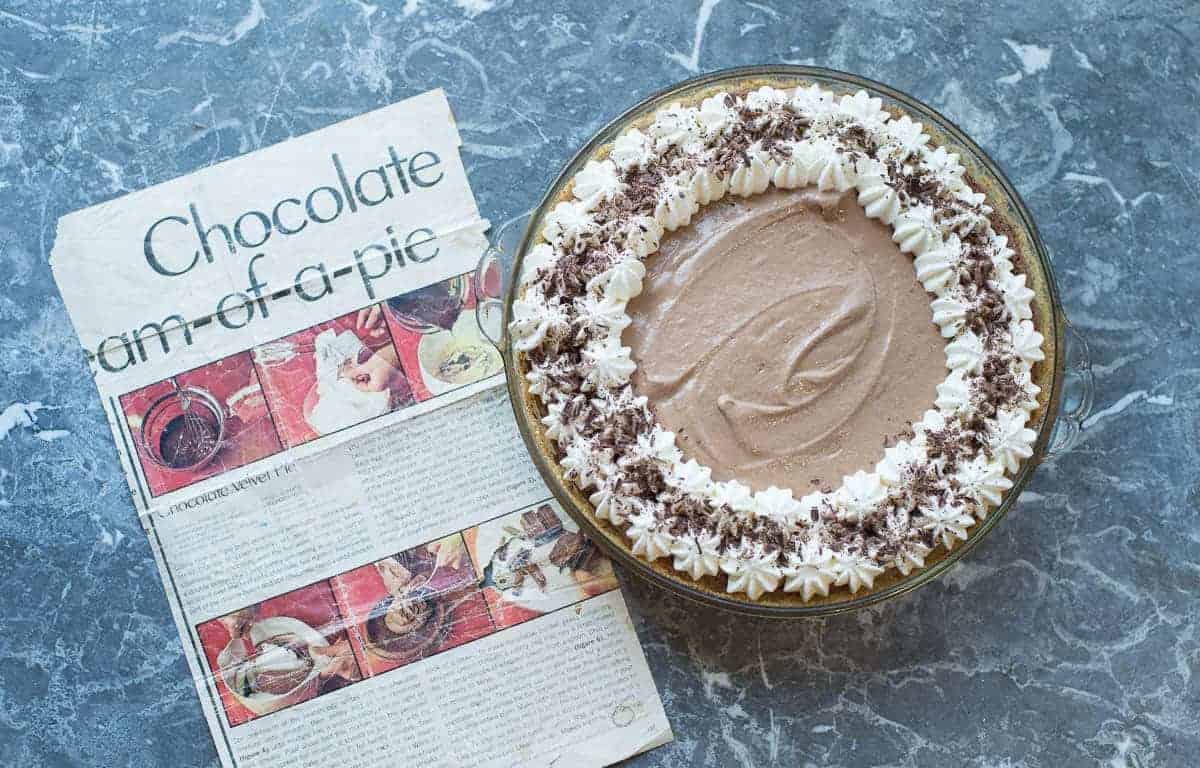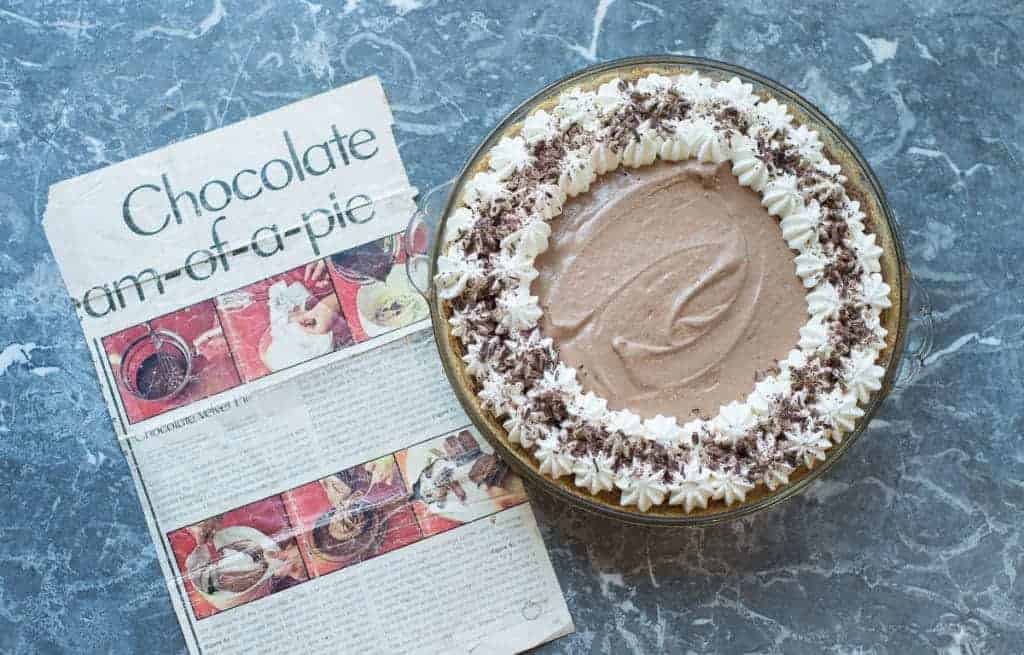 Behold the Pie and the Original Recipe Page
While I had held on to the recipe for my entire adult life, I had only made the pie a few times.
How to make Chocolate Pie
We'd been talking about where we found inspiration and how we learned about food. This recipe came to mind. I originally found it in Seventeen magazine...and yes, I've held on to it for all these years.
One thing I hope to add to the blog is a perspective on finding inspiration for cooking; including thoughts on recipes, sharing resources for learning about cooking, and celebrating cooking traditions.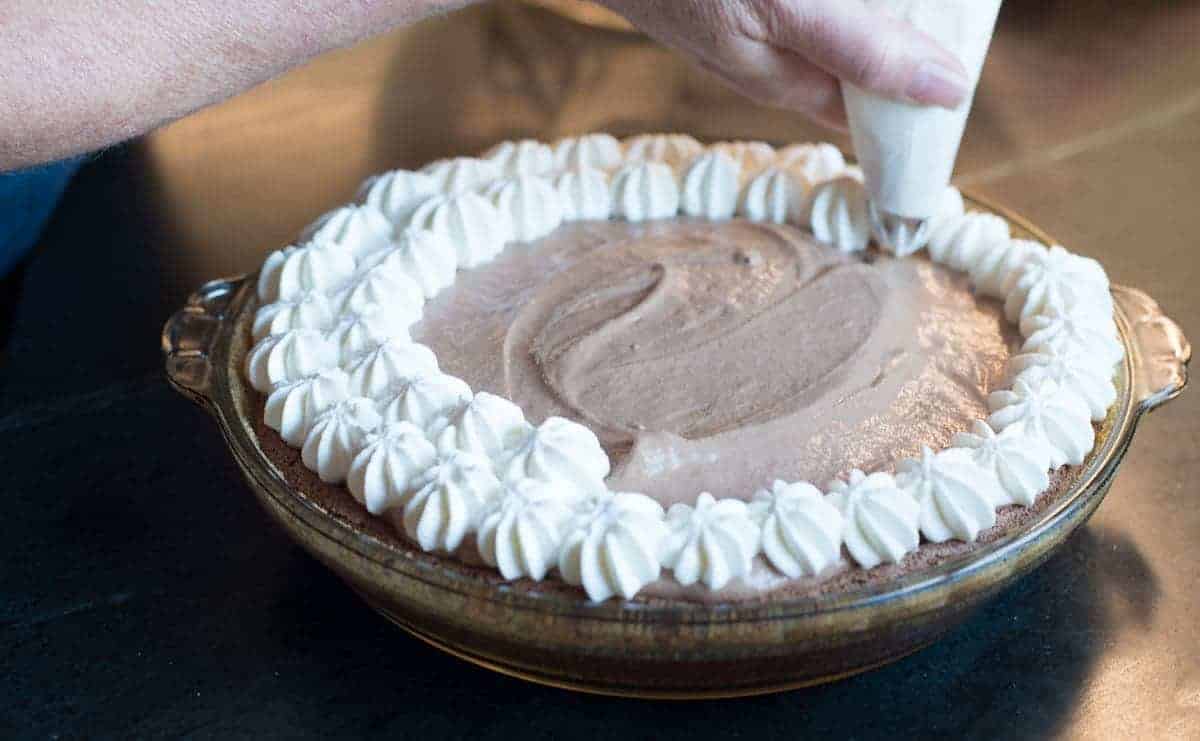 This pie looks like a basic (boring) chocolate cream pie, but it is anything but.
It is actually a flour-less chocolate cake with a pudding/mousse layer on top. While it does require separating eggs and whipping up the whites, it is actually quite simple to prepare.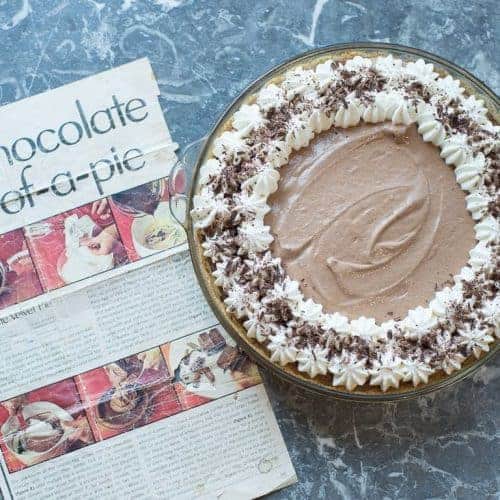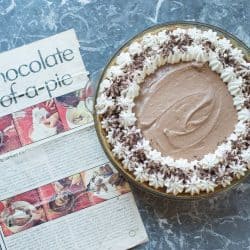 Chocolate Pie
This delicious pie starts with a layer of flour-less chocolate cake which is then topped with mousse and cream.
Ingredients
Instructions
Coat a 9" pie plate generously with butter. Sprinkle with bread crumbs (as if you are flouring it). Set aside.

Combine 7 oz of chocolate with the hot water in a double boiler. Place over simmering water until melted. Whisk rapidly until smooth.

Separate eggs. Beat egg whites and salt until foamy and double in volume.

Add ⅓ cup of sugar - 1 tablespoon at a time - to the egg whites. Beat after each addition until sugar is dissolved. [To test, rub a bit of the mixture between your thumb and index finger. It should feel smooth, not grainy.] Continue beating until all of the sugar is incorporated and the egg whites are shiny and form stiff peaks.

Beat egg yolks in a large bowl until lemon colored. Gradually beat the remaining ⅓ cup of sugar into the yolks. Add the vanilla.

Gradually beat the melted chocolate into the egg yolk mixture, scraping the sides of the bowl to make sure that the ingredients are well blended.

Fold ¼ of the beaten egg whites into the chocolate/yolk mixture. Once this has a uniform color, gently fold in the remaining egg whites.

Pour ½ of the batter into the prepared pie plate. Spread the top smooth. It should be just even with the rim of the pie plate. Bake at 350 for 20 minutes.

While the pie is baking... quickly but gently fold ⅔ cup of whipped cream into the remaining chocolate mixture/batter. Cover and refrigerate (until the baked portion has finished baking and cooling).

Cool the pie 'shell' on a wire rack for 2 hours. [The center will sink to form a shell as it cools.]

When the shell has cooled, fill it with the remaining chocolate mixture/batter (from the refrigerator).

To make a decorative border, press the remaining whipped cream through a pastry bag with a large fluted tip. [If you don't have one, simply drop dollops of whipped cream from a small spoon.] Top the whipped cream with chocolate curls made from the remaining 1 oz portion of chocolate. [To make chocolate curls, drag a vegetable peeler across the flat surface of the chocolate.]
Notes
NOTE: While the pie may be served immediately, it is has a firmer structure if it is refrigerated for a few hours prior to being served.
Nutrition
Calories:
341
kcal
Carbohydrates:
35
g
Protein:
7
g
Fat:
19
g
Saturated Fat:
10
g
Cholesterol:
159
mg
Sodium:
122
mg
Fiber:
2
g
Sugar:
28
g
Calcium:
59
mg
Iron:
2.6
mg
(Visited 177 times, 1 visits today)