I would like to officially welcome Kit to Foodology Geek
I love this picture of her, taken  the other day on our first duo cooking day, because you can see the true joy on her face as she is putting the final touches on the her nostalgic chocolate pie recipe. It reminds me of why I knew she would be my perfect partner on this venture.
Kit and I met in the gym and became fast friends. Our shared geekiness was apparent from the first time I met her. We both posses a certain grit that's required for survival in both of our male dominated professions.
Our mutual love of CrossFit and lifting led us to be part of a Masters CrossFit team. Albeit, the team was short lived; but, those early mornings in the gym allowed us to forge a lasting friendship.
As I embarked on this long-dreamed-of vision of having a food blog, I shared it with Kit one afternoon over lunch. Her encouragement and excitement was obvious. I was grateful; since putting your love and passion out in the world can be a scary thing.
Months later after a starting up the site on my own, I attended a food bloggers conference where I learned about what it was going to take to bring this vision to fruition. I realized that having a partner on this journey would make Foodology Geek twice as awesome. Instantly Kit came to mind. I had no idea if she would even be interested. She is already running a successful consulting business and I wasn't even sure she would have time. But I couldn't think of any one else that would be a better fit. There was just something that told me Kit was the one. We had so much in common, all the way down to our direct and overly blunt (at times) communication styles. We both operate in a logical no nonsense kind of way…we are science and tech geeks after all!
Our mutual love of food, nutrition and fitness made the partnership even more attractive. I knew we would be on the same page about what we wanted to bring to our readers.  When I finally asked her about joining me here, she was all-in. I'm resoundingly excited to have her here. We have so much to share with you about food, nutrition, and how you can make your life easier when comes to preparing kick-ass power packed food for your loved ones.
Stay tuned and join us  here and on Instagram, Twitter, Facebook and Pinterest. Don't forget to subscribe to our email list to get all of our latest recipes.

The Nostalgic Chocolate Pie Recipe
Thanks Laura! What a wonderful introduction! Suffice to say, I'm flattered and feeling very lucky. Now on to the pie!
This pie was the first 'hard' recipe that I ever attempted. I was 13 or 14 years old at the time. Prior to this I'd never dealt with egg whites – or even separating eggs. Looking at the 'M' – I'm guessing that I made it for my sister. Her birthday, perhaps? I still remember the sense of accomplishment I felt showing off my completed pie.
Even middle school me was already a foodie at heart. It leads me question if we're actually born with a passion for all things food.
Behold the Pie and the Original Recipe Page
While I had held on to the recipe for my entire adult life, I had only made the pie a few times.
For this post Laura and I actually made the Chocolate Pie.
We'd been talking about where we found inspiration and how we learned about food. This recipe came to mind. I originally found it in Seventeen magazine…and yes, I've held on to it for all these years.
One thing I hope to add to the blog is a perspective on finding inspiration for cooking; including thoughts on recipes, sharing resources for learning about cooking, and celebrating cooking traditions.
It seemed fitting to have 'my' first pie start it all off…
This pie looks like a basic (boring) chocolate cream pie, but it is anything but. It is actually a flour-less chocolate cake with a pudding/mousse layer on top. While it does require separating eggs and whipping  up the whites, it is actually quite simple to prepare.
I hope you enjoy this delicious chocolate pie recipe. I can't wait to share many more of my food loves with you right here on Foodology Geek.
– Kit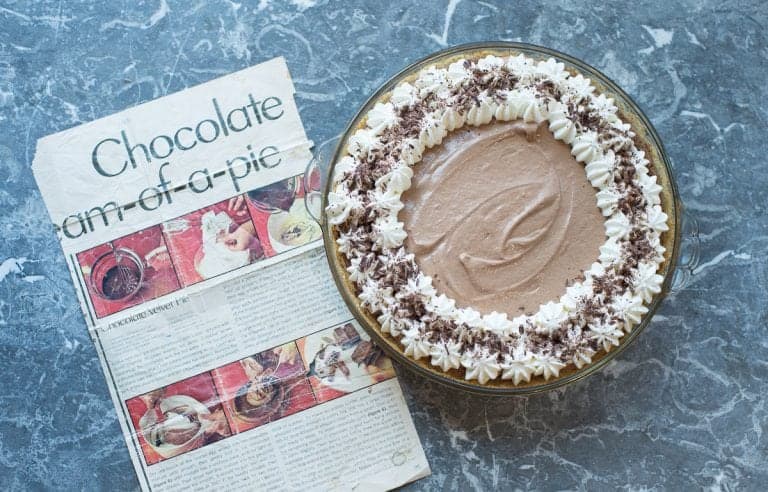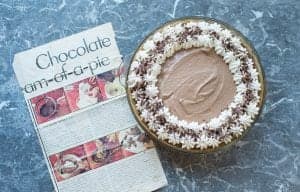 Chocolate Pie
This delicious pie starts with a layer of flour-less chocolate cake which is then topped with mousse and cream.
Print Recipe
Pin Recipe
Instructions
Coat a 9" pie plate generously with butter. Sprinkle with bread crumbs (as if you are flouring it). Set aside.

Combine 7 oz of chocolate with the hot water in a double boiler. Place over simmering water until melted. Whisk rapidly until smooth.

Separate eggs. Beat egg whites and salt until foamy and double in volume.

Add ⅓ cup of sugar - 1 tablespoon at a time - to the egg whites. Beat after each addition until sugar is dissolved. [To test, rub a bit of the mixture between your thumb and index finger. It should feel smooth, not grainy.] Continue beating until all of the sugar is incorporated and the egg whites are shiny and form stiff peaks.

Beat egg yolks in a large bowl until lemon colored. Gradually beat the remaining ⅓ cup of sugar into the yolks. Add the vanilla.

Gradually beat the melted chocolate into the egg yolk mixture, scraping the sides of the bowl to make sure that the ingredients are well blended.

Fold ¼ of the beaten egg whites into the chocolate/yolk mixture. Once this has a uniform color, gently fold in the remaining egg whites.

Pour ½ of the batter into the prepared pie plate. Spread the top smooth. It should be just even with the rim of the pie plate. Bake at 350 for 20 minutes.

While the pie is baking... quickly but gently fold ⅔ cup of whipped cream into the remaining chocolate mixture/batter. Cover and refrigerate (until the baked portion has finished baking and cooling).

Cool the pie 'shell' on a wire rack for 2 hours. [The center will sink to form a shell as it cools.]

When the shell has cooled, fill it with the remaining chocolate mixture/batter (from the refrigerator).

To make a decorative border, press the remaining whipped cream through a pastry bag with a large fluted tip. [If you don't have one, simply drop dollops of whipped cream from a small spoon.] Top the whipped cream with chocolate curls made from the remaining 1 oz portion of chocolate. [To make chocolate curls, drag a vegetable peeler across the flat surface of the chocolate.]
Notes
NOTE: While the pie may be served immediately, it is has a firmer structure if it is refrigerated for a few hours prior to being served.
Nutrition
Calories:
341
kcal
|
Carbohydrates:
35
g
|
Protein:
7
g
|
Fat:
19
g
|
Saturated Fat:
10
g
|
Cholesterol:
159
mg
|
Sodium:
122
mg
|
Fiber:
2
g
|
Sugar:
28
g
|
Calcium:
59
mg
|
Iron:
2.6
mg
(Visited 60 times, 1 visits today)