This butternut squash alfredo pasta is wham-bam-get-in-my-mouth-right-now comfort food. Alfredo sauce is a recipe that you can spin a million different ways. What leftovers do you have that you can add to this creamy pasta sauce?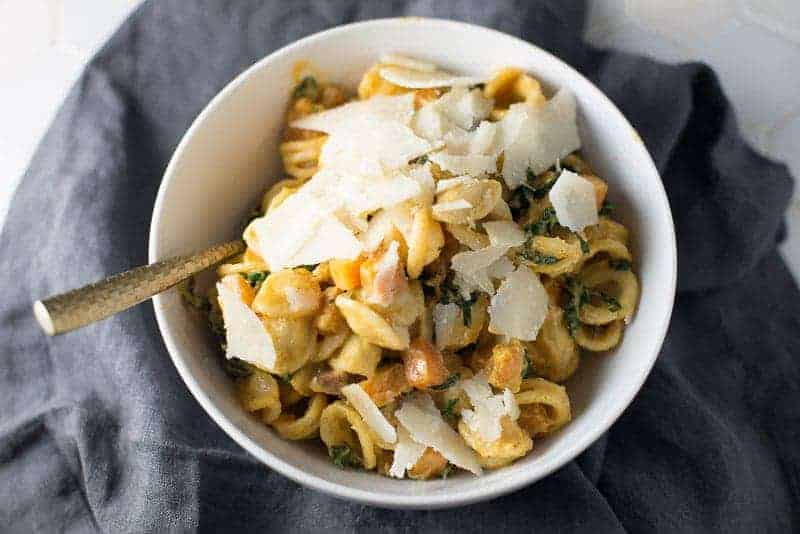 Pureed butternut squash gives the alfredo sauce just a hint of sweetness.
Tiny golden cubes of salty, lightly caramelized pancetta add a flavor and texture bonus that make your tastebuds rejoice.
Lightly browned, diced butternut squash plus wilted kale add a heart-healthy heartiness, so you can feel good about eating only pasta for dinner.
This alfredo is simply everything a bowl of comfort food needs to be.
Alfredo Sauce is Super Versatile.
You can add almost anything to a simple alfredo sauce. Then toss it with pasta. It's a perfect and simple dinner every single time.
When I am designing a new recipe together, I can see so many variations.
If you would rather have a smooth, creamy alfredo sauce (without all the chunky stuff), you can call it quits after adding the Parmigiano-Reggiano cheese.
Just toss your cooked pasta into the alfredo sauce and enjoy it.
Talk about a quick and easy pasta dish!
Alfredo sauce is also the perfect sauce base for using up any leftovers that you might have in the fridge.
Think of all things that you can add to a Basic Alfredo Sauce to Jazz it up!
Extra roasted squash
Canned pumpkin, when your recipe only calls for a half cup, but you had to open up the whole can. 💁
Peas and ham is a classic.
Grilled chicken
Salmon or shrimp
Spinach
Roasted tomatoes and garlic
The possibilities are nearly endless!
Start by making the alfredo sauce.
Here I have pureed in some leftover roasted butternut squash.
Add in some grated Parmesan.
Add in the chunky extras — you won't regret it!
The pancetta, kale, and roasted butternut squash make this pasta dish feel like a hearty and complete meal.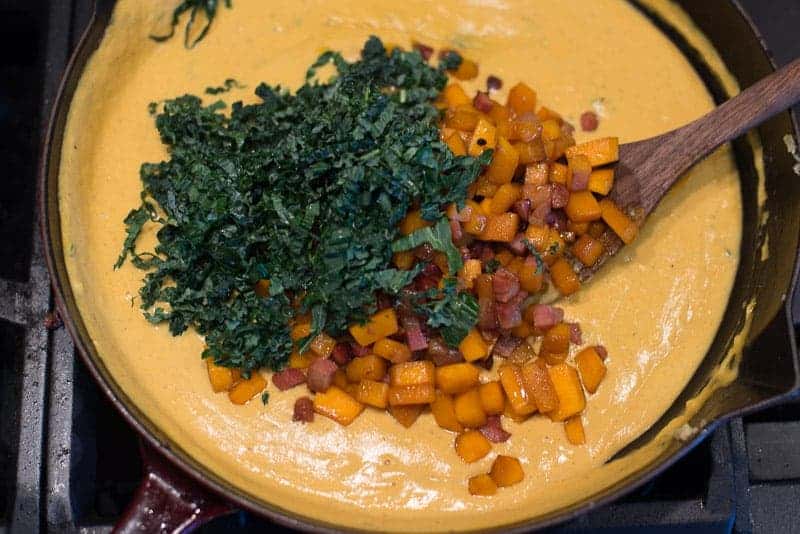 It's also (of course) delicious and flavorful.
My goal when I create a vegan recipe is that I want the food to feel like you aren't being tricked out of real food.
Plant-based food should still taste rich and delicious; precisely the way "real" food should taste.
I want to give you vegan recipes that you can serve to a carnivore, and know that they don't miss a thing.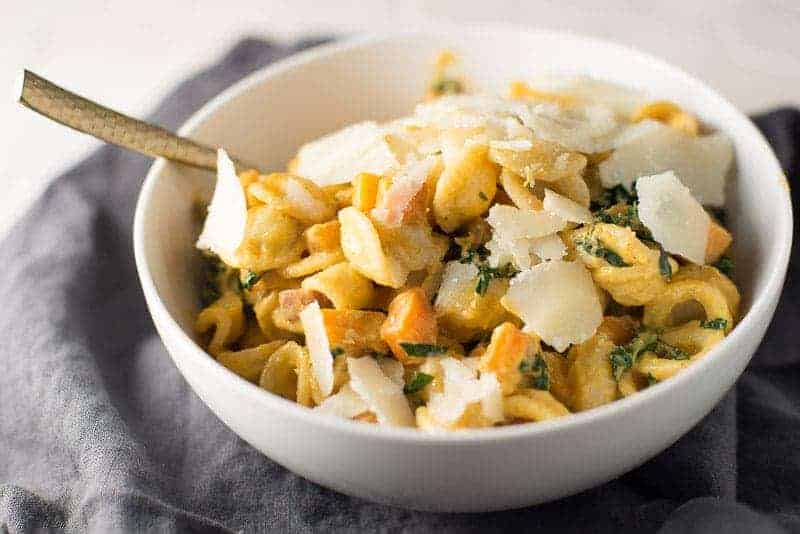 Butternut Squash Alfredo With Pancetta and Kale
Yummy, creamy, savory butternut squash Alfredo with pancetta and wilted kale. A perfect fall bowl of pasta.
Ingredients
2

-1 cm thick slices

pancetta

diced

1

whole

butternut squash

(½ to roast, ½ to dice)

¾

cup

roast butternut squash puree

(from whole squash)

1 ½

cups

butternut squash

diced (from whole squash)

2

cups

lacinato kale

finely sliced

3

cloves

garlic

pressed

½

cup

heavy cream

⅓

cup

parmigiano-reggiano cheese

finely grated

2

tablespoon

butter

4

sprigs

thyme

leaves removed from stems

black pepper

to taste

1

lb

pasta

Extra

parmigiano-reggiano cheese

shaved, for topping
Instructions
Preparation of Butternut Squash
Cut squash in half and remove seeds.

Place one half face down on a baking sheet. Roast for about 30 min. until very tender. Set aside and let cool. Once cooled, scoop out the tender flesh.

Peel and dice the other half of the squash. Set aside to sauté later.
Pasta
Fill a large stockpot with 6 quarts of water, bring to a boil, and cook pasta as directed. Strain and set aside.
Butternut Squash Alfredo
In a large heavy bottomed skillet, brown the diced pancetta over medium heat.

Add diced butternut squash and sauté until tender and lightly golden brown.

Remove pancetta and squash and set aside.

Add butter and garlic to the pan. Cook until garlic is fragrant (aka "garlicky").

Add the butternut squash puree. Stir.

Add heavy cream and thyme leaves. Stir.

Add grated parmigiano-regianno. Stir until melted.

Add back in pancetta and butternut squash.

Add in the finely shredded kale and let it wilt.

Add cooked pasta. Toss together.

Top with shaved parmigiano-regianno cheese.
Laura's Tips + Notes
My favorite pasta for this dish is orecchiette. The little bits of pancetta and butternut squash get snuggled up in the little cups of the pasta. It creates a spoonful of perfection experience.
This is also a wonderful creamy butternut squash Alfredo sauce if you leave out the pancetta, diced butternut squash and kale.
Nutrition
Calories:
335
kcal
Carbohydrates:
48.7
g
Protein:
11.3
g
Fat:
10.7
g
Fiber:
3.1
g
Sugar:
3
g