Halloween Needs Caramel Apples
Tart crispy apples dipped in a rich and buttery caramel sauce are something that I used to love to eat in college. I used to buy those cups of caramel at the grocery store and eat a few apples whilst dipping them into the sugar-y deliciousness.
This brown butter salted caramel is completely next level. If you've never made homemade caramel sauce before you really need to give it a try. It's not as hard as it sounds.
Don't let fear keep you from making this caramel.
If eating this rich buttery caramel sauce on apples just isn't enough you can try one of our other caramel laden recipes like my Grandma Sisson's apple dumpling recipe. Her apple dumplings are both simple and really tasty. Topping them off with some ice cream and this caramel sauce is all you need for a heartwarming comfort-dessert fest.
Alternatively, you can seriously just eat this stuff right out of the jar with a spoon.
I recently discovered this while hosting a dinner party. One of my best friends is super allergic to gluten and when the dessert course came around, she spotted the jar of caramel sauce that I have made a few days before. She and her husband macked down on the caramel sauce by the spoonful while we ate our gluten-y desserts. I love my friends.
I am going to have to challenge Tiffany to whip up some of this stuff. It's so EASY!!
Caramel Sauce Basics
Just a few things about making caramel sauce that will ensure you get it right:
Make sure your pan holds heat evenly.
Have all of your ingredients pre-measured. You need to move fast when the sugar is ready.
Make sure you are laser-focused on your sugar at all times. At first, it seems like things are taking forever. Then you hit that critical 30 seconds where the sugar goes from being not done, to perfectly done, and then to burnt!
Once the sugar is done, remove it from the heat. Especially if you are using an electric burner. That burner still stays hot for quite a while.
Do not, under any circumstances stick your finger into the sugar for a taste. Melted sugar is ridiculously hot. It looks delicious and inviting but not can easily give you a second-degree burn or worse. Safety first – give it time to cool!
Happy Halloween and I hope that you enjoy this caramel sauce. Give it a try and let us know how it came out.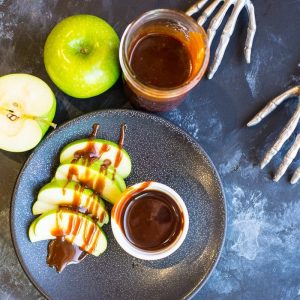 Brown Butter Salted Caramel Sauce
Rich, buttery caramel sauce. Easy to make. Just reheat before serving for pourable caramel sauce.
Print Recipe
Pin Recipe
Instructions
Heat on medium high until it is bubbly and a rich amber color.

Add butter and stir. I use a whisk.

Add cream and stir. Mixture will bubble. Stir quickly being careful not to splash.

Remove caramel from heat.
Nutrition
Serving:
2
tbsp
|
Calories:
150
kcal
|
Carbohydrates:
16
g
|
Fat:
9
g
|
Saturated Fat:
5
g
|
Cholesterol:
28
mg
|
Sodium:
198
mg
|
Sugar:
16
g
|
Calcium:
8
mg
(Visited 126 times, 1 visits today)