Need Some Delicious Packable Protein In Your Life?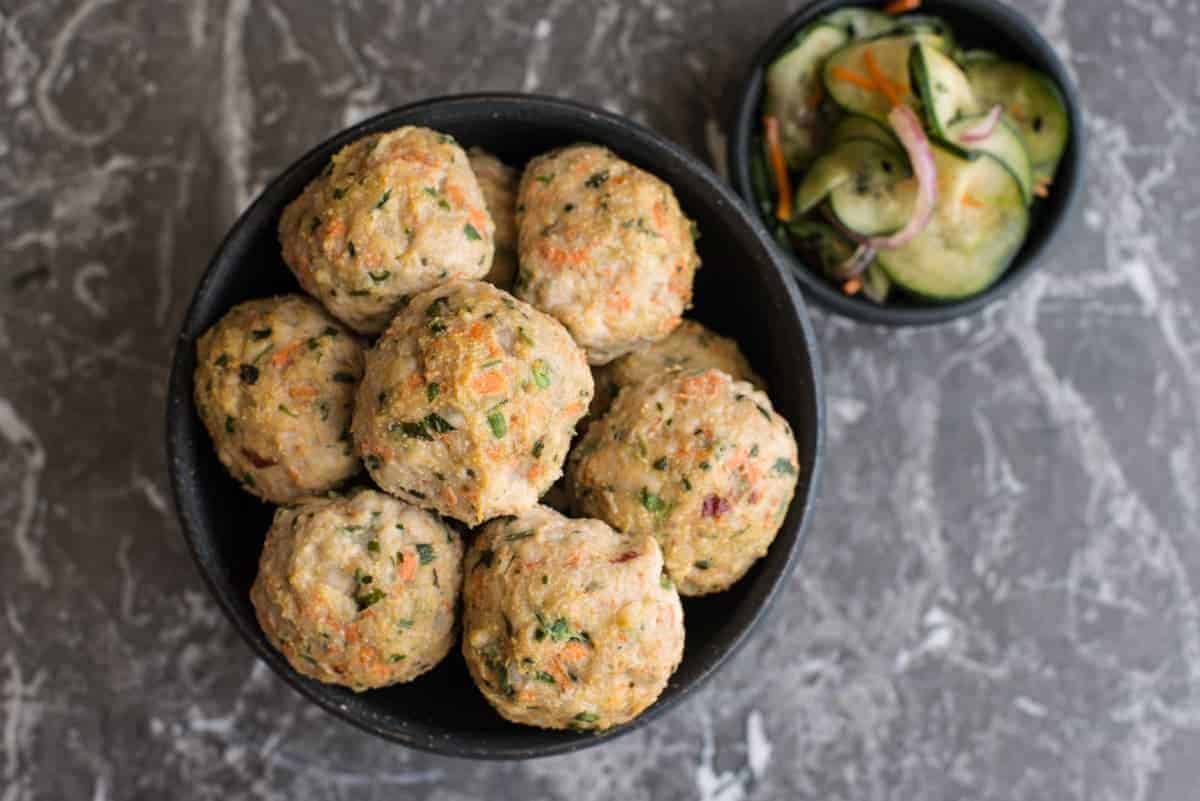 Asian-Style Chicken Meatballs With Spicy Cucumber Salad.
I've told you before that when I'm busy working, I can often be seen grabbing food right out of my fridge to throw right into my face! I'm busy and I need fuel. What can I say? If something tastes good enough to eat cold – It's a keeper!
These Asian Chicken Meatballs have been a staple in my house for many years. Not only because they taste fantastic right out of the fridge; but also because they're delicious in a lot of different ways. They're flexible, like me. They can stay!
Meal-Prep In Real-Time REquires Seeing all The Possible Options for A Protein.
Meatballs are super flexible! You already know about spaghetti and meatballs – why not think outside the box? Like, Asian Meatballs and all the ways you can eat them this week!
Rice Vermicelli Bowls with Asian Chicken Meatballs.
Asian Meatball 'Bahn-Mi Style' Tacos.
Asian Meatballs with Rice and Cucumber Salad.
Asian Meatballs right out of the fridge and into your mouth.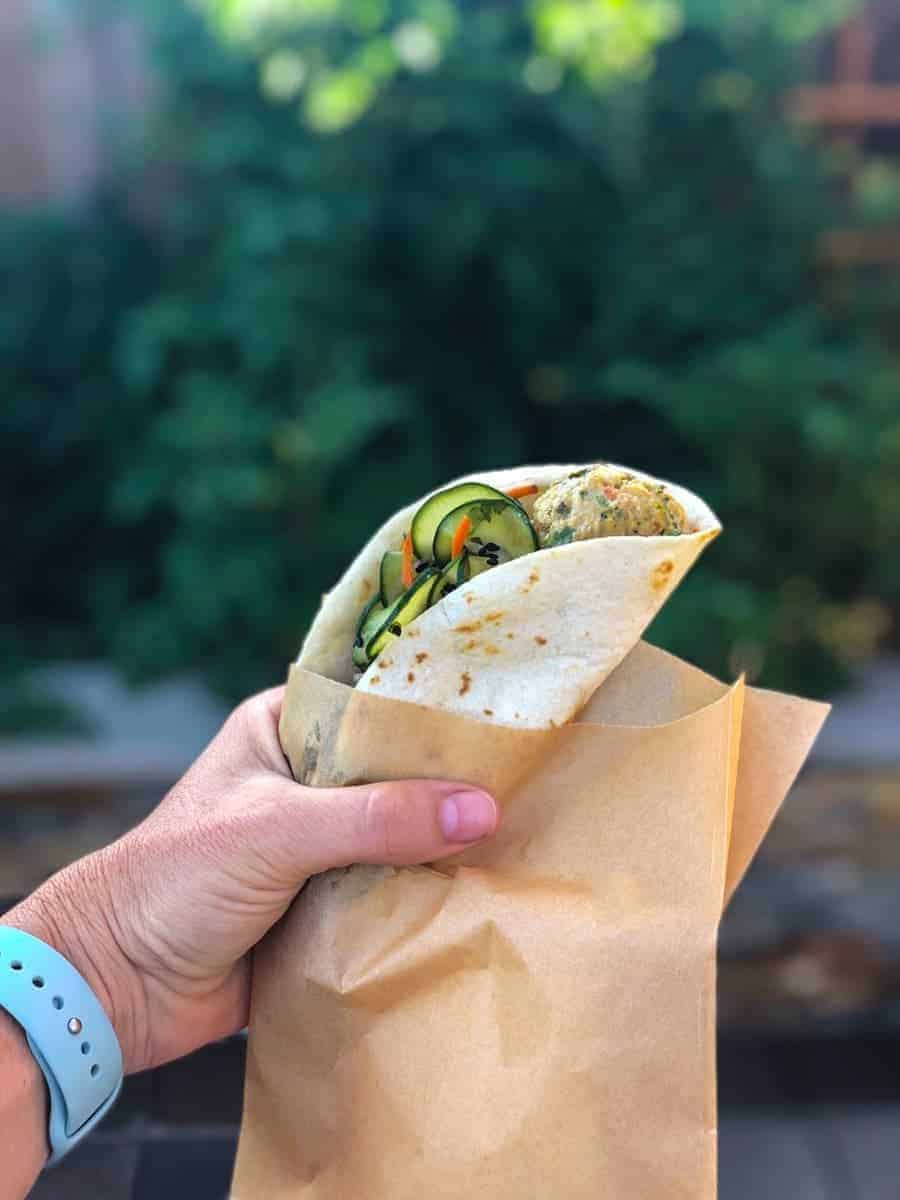 I told you I can make anything into tacos. Yum – Bahn Mi Tacos for the win!
When I'm Building A Core Protein, I always Have a Formula
My Meatball Formula:
Ground Meat (2-3 lbs)
About 2 cups of veggies (always including onions and garlic)
Spices
#40 cookie scoop (for easy portioning)
Once you have a basic formula figured out, you can mix and match different proteins with different veggies and spice combinations. When you make these, you'll know how to make a delicious, gluten-free, paleo, Whole 30 compliant meatball. Yeah, we've got you covered!
Once you master the basic formula, you can adapt it to different styles...
Anything Can Be A beast Bowl!
This tasty bowl of deliciousness, the "Thai Chicken Meatball Beast Bowl" was the first Beast Bowl ever on my menu. I ate it all the time. I know it's technically not Thai, it's probably more Vietnamese-inspired. No matter what it's called, this Beast Bowl is fantastically delicious and full of protein and veggies.
Thinking back on the evolution of the Beast Bowl, I can clearly see my inspiration. I love vegetables, but salads, meh, not so much. I mean, not salads in the traditional sense. I find salad way too lettuce-y. The Beast Bowl provided an alternative way to get a lot of my favorite vegetables. Technically, building a Beast Bowl is like building a salad that's heavy on the toppings, light on the lettuce.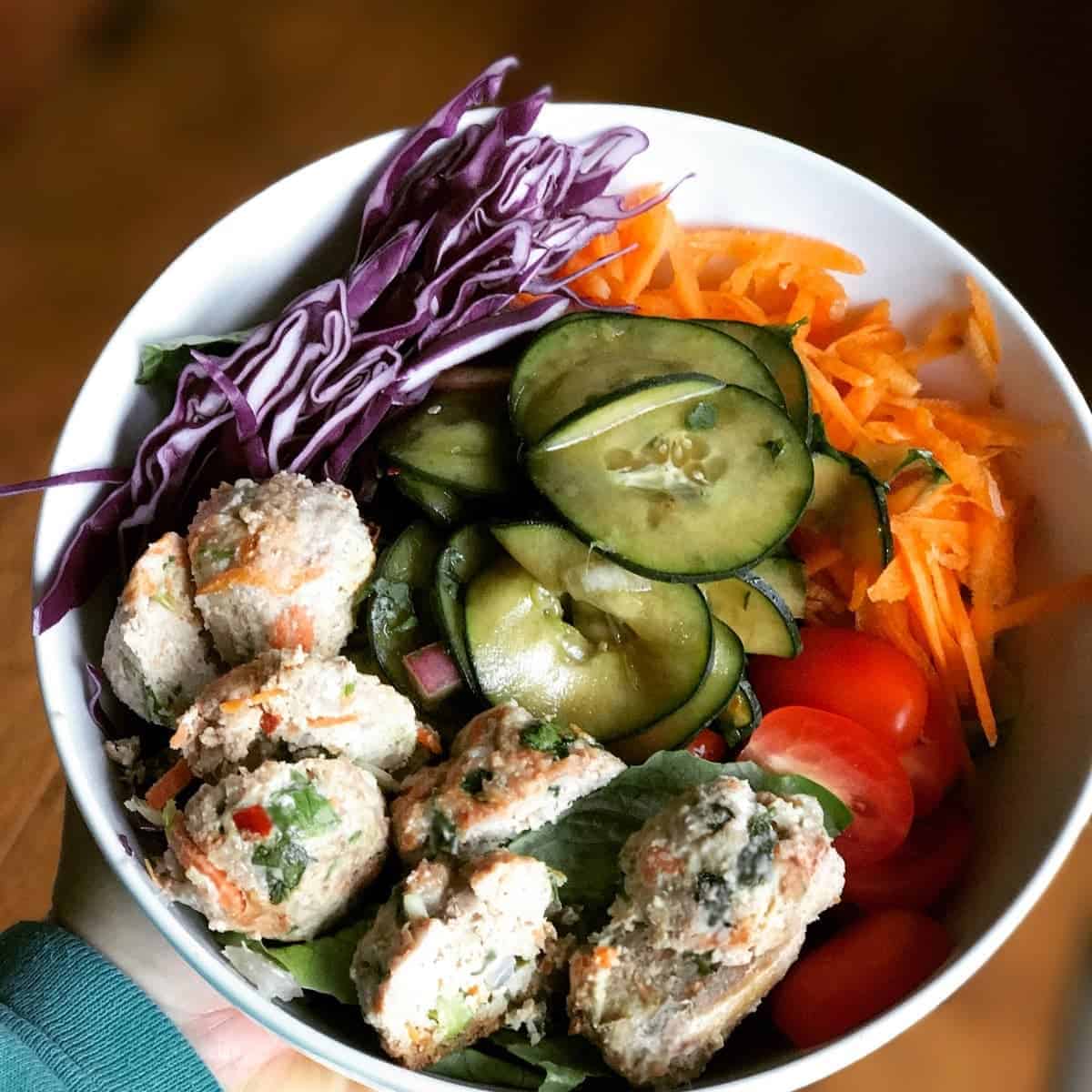 The Thai Chicken Meatball Beast Bowl. The OG Beast Bowl – it was the very first one!
If you like this recipe make sure and leave us a comment below.
Do you have a favorite meal-prep recipe? Let Us Know what it is. Don't miss out on Our other core proteins.
Baked Mediterranean Style Fish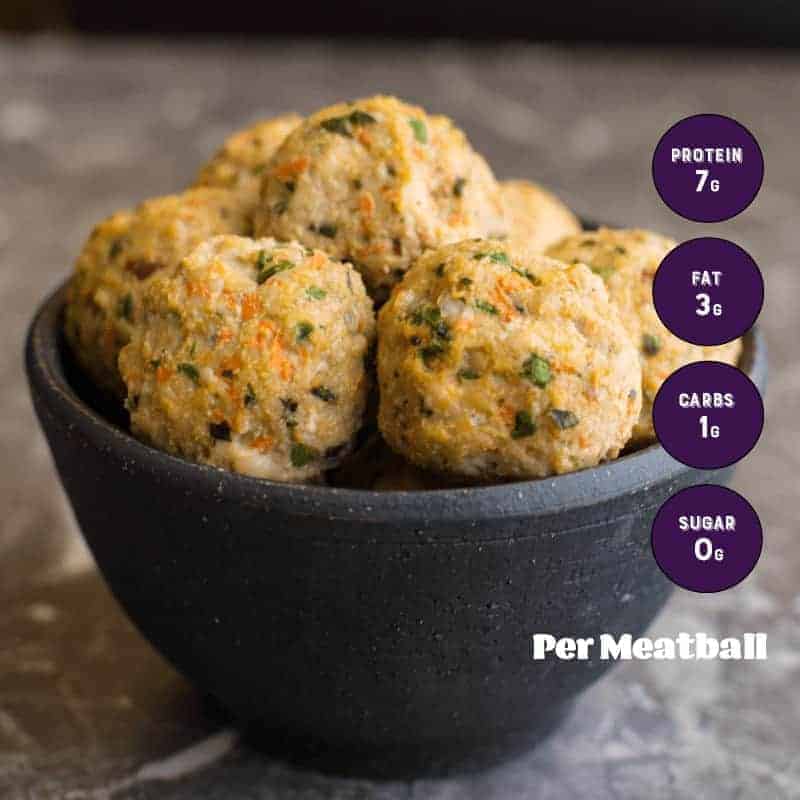 ASIAN CHICKEN MEATBALLS
Asian-style chicken meatballs are a perfect core protein for meal-prep. These delicious tasty balls add protein to a Beast Bowl or Build a Bhan Mi Taco.
Ingredients
3

lb

Ground Chicken

¼

cup

Green Onions

approx 5, finely chopped

½

bunch

Cilantro

finely chopped

¾

cup

Carrots

shredded

¼

small

Red Onion

approximately finely diced

3

cloves

Garlic

minced

4

teaspoon

Ginger

minced

2

teaspoon

Chili Paste

2

tablespoon

Soy Sauce

or coconut aminos

1 ½

tablespoon

Fish Sauce

1

teaspoon

Crushed Red Pepper

2

Eggs
Additional Equipment (Optional)
Instructions
Add all of the ingredients in a large bowl. Mix well with hands.

Make meatballs, using a medium sized cookie scoop.

Place on parchment-lined baking sheet.

Bake for 12-18 minutes. (oven temperatures vary)
Nutrition
Calories:
67
kcal
Carbohydrates:
1
g
Protein:
7
g
Fat:
3
g
Saturated Fat:
1
g
Cholesterol:
41
mg
Sodium:
147
mg
Calcium:
6
mg
Iron:
0.5
mg