We're in the home stretch.
The house is almost clean, the food plans are coming together, family from out of town will arrive soon...but your menu still needs something.
Here are three side dish ideas that can be whipped up at the last minute:
Green Bean Bundles - the best part about these is that they only take 10 minutes to cook and you can assign the kids the task of assembling the bundles. Even better, everyone likes them! (As my friend John used to say 'Bacon makes everything better.')
Roasted Potatoes - Cut the potatoes into bite-sized pieces or fries, season and bake. What could be easier than that? (Okay, a bowl of cereal...but you can't serve cereal for Thanksgiving dinner!)
Cucumber and Onion Salad with Sour Cream and Herbs - Want something fresh and crunchy in the mix? Slice up some cucumber and white (or yellow) onion. Make a dressing out of sour cream or plain yogurt, lemon juice, garlic, and herbs. (Hey, that sounds like tzatziki sauce! Okay, you got me there. If you've hung out around here for any length of time you know how much we love the flavor of cucumbers with tzatziki!)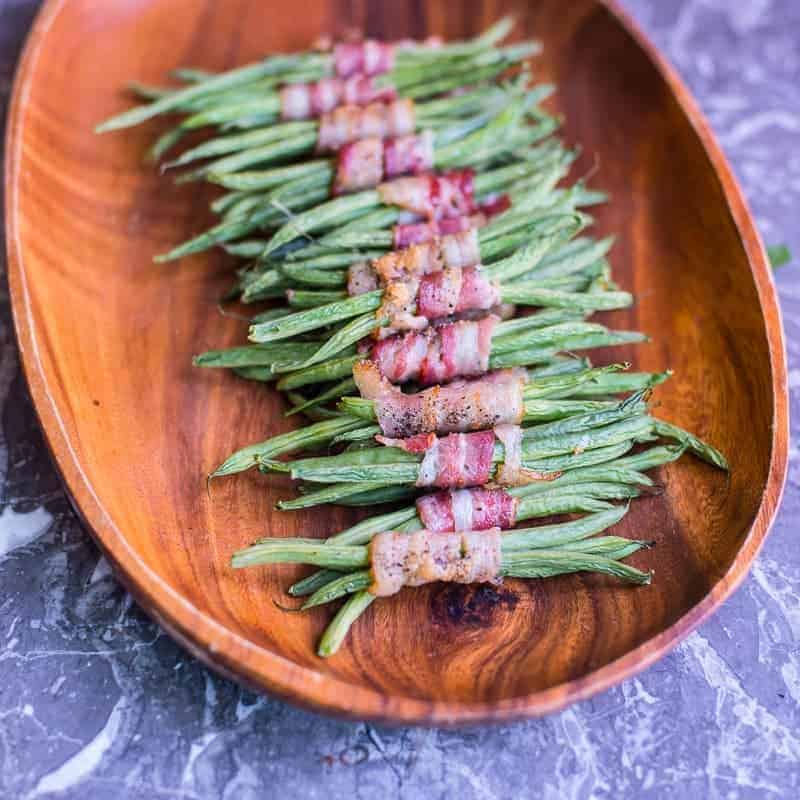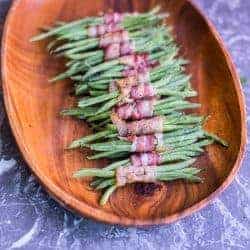 Bacon-Wrapped Green Beans
These are super easy to prepare – and even the most veggie-adverse kids will eat them.
Ingredients
2

pounds

Green Beans

Thin French beans are best

1

pound

Bacon

raw, sliced into thin strips

½

cup

Brown Sugar

leave off if you are watching you sugar
Instructions
Wash and trim the green beans. [Shortcut: buy French green beans that are pre-washed and have had the stem-end trimmed.] NOTE: If you use Blue Lake (large) green beans, blanch them before making them into bundles.

Cut strips of bacon in half (to make them shorter), then in half again (lengthwise this time) to create narrow strips.

Make bundles by spiral-wrapping the bacon around 'small handfuls' of beans. Use about 5 French beans (or 3 Blue Lake beans) per bundle.

Lay the bacon-wrapped bean bundles on a jelly roll pan (or a cookie sheet covered with foil). You are going to want edges on your pan to contain the bacon fat. Sprinkle liberally with brown sugar. Also add a bit of salt and pepper.

Bake at 375 degrees until done - about 15 minutes.
Laura's Tips + Notes
Don't stress about the specific quantities on this one! I almost didn't put them in. It really doesn't matter. Grab some beans, wrap with bacon, sprinkle with sugar, salt and pepper. Bake a few minutes to cook the bacon. That's it.
Nutrition
Calories:
216
kcal
Carbohydrates:
15
g
Protein:
6
g
Fat:
15
g
Saturated Fat:
5
g
Cholesterol:
25
mg
Sodium:
257
mg
Fiber:
2
g
Sugar:
11
g
Calcium:
37
mg
Iron:
1
mg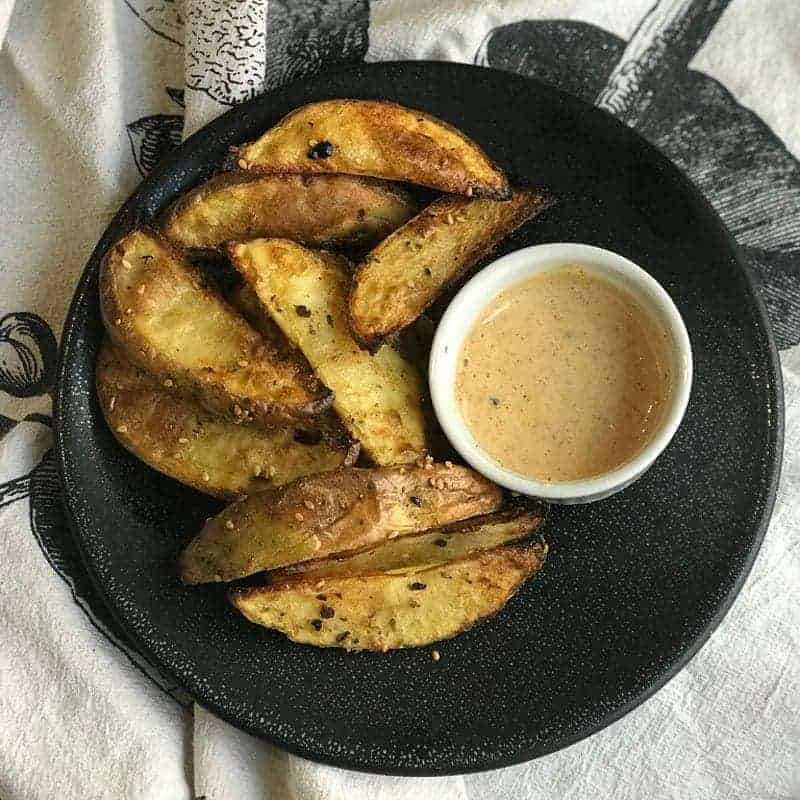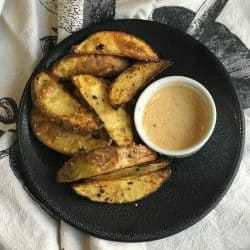 Easy Oven Roasted Potatoes
The easiest roasted potato recipe. Potatoes are the ultimate comfort food. They are easy to make and great with almost any meal.
Ingredients
4

lbs

Yukon gold potatoes

2

tbsp

avocado oil

2

tbsp

fresh rosemary

or Mediterranean Spice Mix

2

tsp

salt
Instructions
Wash and cut the potatoes into evenly sized pieces. Think bite-sized cubes or fries.

Put the potatoes into a roasting pan or on top of a baking sheet.

Toss with oil, salt, and the Seasoning Blend.

Roast for 10 minutes and then rotate the baking pan. Use tongs or a spatula to flip over the potatoes.

Roast for an addiitonal 10 to 15 minutes. Time may vary. Roast until browned and tender inside. I like mine well browned and crispy.
Nutrition
Calories:
163
kcal
Carbohydrates:
28
g
Protein:
5
g
Fat:
3
g
Sodium:
604
mg
Fiber:
5
g
Calcium:
69
mg
Iron:
7.4
mg
Cucumber and Onion Salad with a Cool Sour Cream Dressing.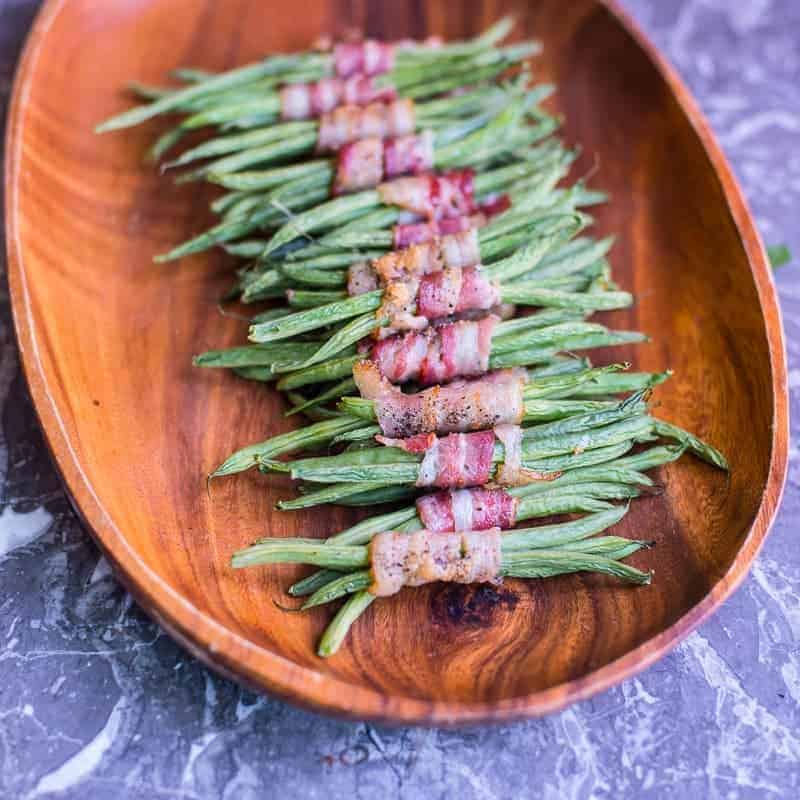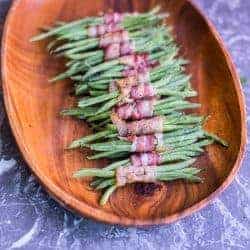 Cucumber and Onion Salad
This quick salad can be thrown together at the last minute.
Ingredients
4

cucumbers

sliced thin

1

medium

onion

white or yellow / sliced

¾

cup

sour cream or greek yogurt

2-3

Tbsp

lemon juice

1-2

Tbsp

Herbs...Dill or chives

Fresh (or not)...chopped

1

clove

garlic

pressed (or garlic powder if no fresh garlic)
Instructions
Toss the sliced cucumbers and onion into together in a serving bowl.

In a small bowl - whisk together sour cream or yogurt, lemon juice, pressed garlic and herbs.

Pour over cucumbers and onions, stir to coat. (If you have extra fresh herbs, use them for a bit of garnish on your finished salad.)